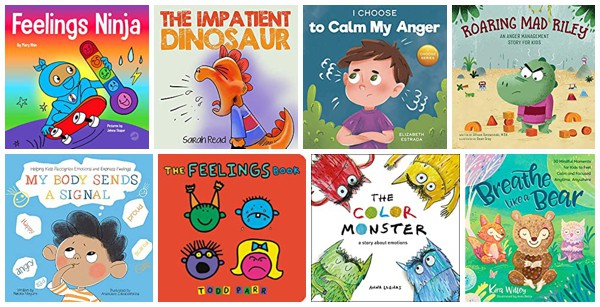 By using this site, you agree to our Terms of Use. This post may contain affiliate links. Read our disclosure policy.  
Follow us on Instagram for more fun ideas for kids!
Books about feelings are important for preschoolers to cope with their emotions. Preschoolers are just beginning to understand their emotions and may have difficulty expressing them. 
Books about feelings can help them identify and label their emotions, understand what causes them, and learn how to cope. 
What's more, reading books about feelings can be a fun and bonding experience for both you and your child! 
Kids will love these engaging and relatable stories, and you'll feel good knowing you're helping them build emotional intelligence. 
Let's look at some of the best books about feelings for preschoolers.
13 Books About Feelings that Every Preschooler Should Read
The Impatient Dinosaur is the perfect book for young children who are struggling to deal with their emotions. This relatable story follows the adventures of a Little Dino who has no patience. 
He wants what he wants when he wants it and reacts badly when his parents say they'll do something in a minute. 
Through this funny and charming story, kids will learn that some things are worth the wait. 
The Impatient Dinosaur is perfect for boys, girls, preschoolers, pre-K, and Kindergartners and an excellent resource for counselors, parents, and teachers.
Children are often overwhelmed by their emotions and feelings. Help your child cope with their emotions by teaching them to recognize and identify them. 
Feelings Ninja is a fun book that helps children learn about emotions and feelings. 
In this story, Feelings Ninja experiences many feelings and learns how to recognize and identify emotions: Positive, Calm, Lonely, Frustrated, and Angry. Life is tough. But so are you! 
The new children's book series, Ninja Life Hacks, was developed to help children learn valuable life skills. Fun, pint-sized books with a lot of heart—just what your little ninja needs!
Written and illustrated by bestselling author Todd Parr, this fun and quirky book is perfect for kids and adults alike. 
Parr brings his signature style to the pages of this vibrantly illustrated book, paying special attention to the ever-changing, sometimes nonsensical emotions we all feel. 
The Feelings Book, which is aimed at young children who are just learning to read, will encourage kids to discuss their wide range of emotions in a kid-friendly, approachable format.
The Feelings Book is written in Parr's recognizable bold, bright colors and silly scenes, so it's sure to become a favorite in your home or classroom!
If you're looking for a book to help your child understand and cope with anger, look no further than "I Choose to Calm My Anger." 
This rhyming story told from Jackson's point of view will help your child understand what it feels like to be angry and how to deal with it. 
Through colorful illustrations and rhythmic rhymes, Jackson will teach your child coping mechanisms on how to deal with big emotions like anger. 
With in real-life examples, your child will develop their understanding of their own emotions. This book is a must for any parent looking to help their child manage their anger.
Waiting Is Not Easy! The latest book in the Elephant and Piggie series is sure to be a hit with kids and adults alike. 
In this story, Piggie and Gerald embark on yet another adventure, and once again, Gerald loses patience with Piggie when she keeps promising to surprise him while making him wait.
He reacted by grunting several times and repeatedly telling Piggie that waiting is difficult.
Piggie understands the wait was worthwhile, but she still needs to keep Gerald present to see the surprise.
As usual, the straightforward language and emotive illustrations show how easily the obvious can be missed and how beauty can be found everywhere.
Join Riley and his friends on an adventure as they learn how to control their anger! 
Roaring Mad Riley: An Anger Management Story for Kids is a fun and educational picture book that teaches children ages 5 to 7 easy ways to manage their anger. 
Through engaging illustrations and simple text, kids will learn how to take deep breaths, count to 10, shake it out, and more. 
At the end of the story, there are even several activities for kids to do with their parents to help them practice what they've learned. 
Do you have a little one at home who is just learning about emotions? Or maybe you're an educator looking for a fun and creative way to teach your students about emotions. 
Either way, the A Little SPOT of Emotion 8 Book Box Set – Books 1-8 is the perfect tool! This box set includes eight books, each teaching children about a different emotion. 
With delightful illustrations and easy-to-understand text, your little ones will have no trouble learning all about happiness, sadness, anger, anxiety, love, confidence, peacefulness, and more. 
Not only will this box set help children to understand emotions better, but it will also help them to navigate their own emotions more maturely. 
The Color Monster is an emotional tale that teaches young readers how to recognize and feel in control of their emotions. One morning, Color Monster awakens feeling incredibly perplexed.
He experiences many emotions, including anger, happiness, calmness, sadness, and fear. He is assisted by a young girl who uses color to explain to him what each emotion means.
This cute monster develops self-awareness and peace as he learns to categorize and define his jumbled emotions.
This concept book's straightforward, approachable approach to socio-emotional development and color concepts will appeal to all readers.
If you want to teach your kids about emotions and feelings, this book is for you! 
My Body Sends a Signal: Helping Kids Recognize Emotions and Express Feelings has everything you need.
The book includes a cute story that kids can relate to and short stories to teach kids empathy. 
This book is a must-have for every parent who wants to raise emotionally intelligent and well-rounded children. 
With this book, you will be able to help your kids understand their emotions, healthily express their feelings, and develop empathy for others. 
If you're looking for a way to help your kids find calm and focus throughout the day, look no further than Breathe Like a Bear! 
This beautifully illustrated book offers 30 mindful moments for kids to feel calm, based on Kira Willey's award-winning CD, Mindful Moments for Kids. 
These simple, short breathing practices and movements can be performed anytime, anywhere – in the car to the grocery store, during homework at home, or even at a child's desk at school. 
With Breathe Like a Bear as your guide, you and your family will establish a fun and consistent mindfulness practice that everyone can benefit from. 
My Magical Feelings is an innovative and life-changing self-help experience for children. 
It helps them to name their feelings, feel them without judgment, and move through them rather than ignoring or pushing them away. 
This is essential for young children to make sense of the world and create happiness. This book empowers kids to understand and control their emotions. 
It's packed with magical illustrations that bring the concepts to life in a way that kids will love. 
My Magical Feelings is an essential tool for parents, teachers, and counselors to help kids learn how to cope with their feelings healthily and productively.
In My Heart: A Book of Feelings is the perfect way to help your little one understand and express their emotions. 
With beautiful illustrations and simple, lyrical language, this book explores a full range of feelings, from happiness and sadness to bravery and anger. 
Each spread includes an irresistible die-cut heart that extends through the page, making this book a fun and unique way to learn about emotions. 
The Growing Hearts series celebrates the milestones of a toddler's emotional development, from conquering fears and expressing feelings to welcoming a new sibling. 
In My Heart is the perfect introduction to the series and is sure to become a storytime favorite.
Big emotions can be tough to deal with, especially for kids. That's why The Emotions Book: A Little Story About BIG Feelings is an essential read! 
This book helps children understand and self-regulate their emotions, so they can effectively act when faced with overwhelming feelings or challenging circumstances. 
Louie, a brave little elephant, teaches kids that their body and mind are simply telling them something when they experience big emotions like anger, sadness, frustration, or happiness. 
They might need a hug or to take a breath and relax. Kids will learn to welcome their feelings and listen to them instead of impulsively reacting. 
This book is the 5th in its series and follows the theme of helping children find their inner bravery by navigating through big emotions. 
Takeaway
Now that you know a little bit more about books that explore feelings and emotions perfect for preschoolers, it's time to go out and get some of your own! 
These books are great resources for parents, teachers, and caregivers who want to help kids healthily understand their emotions. 
With beautiful illustrations, simple language, and relatable characters, these books make learning about emotions fun and easy.
The post 13 Encouraging Books About Feelings For Preschoolers appeared first on hello, Wonderful.