Click here to read Clothespin Names and Letter Match so Simple for Kids on Hands On As We Grow®
---
Make learning your child's name fun with this simple letter match clothespin activity.
Bonus, your kids will build those fine motor skills while they do it!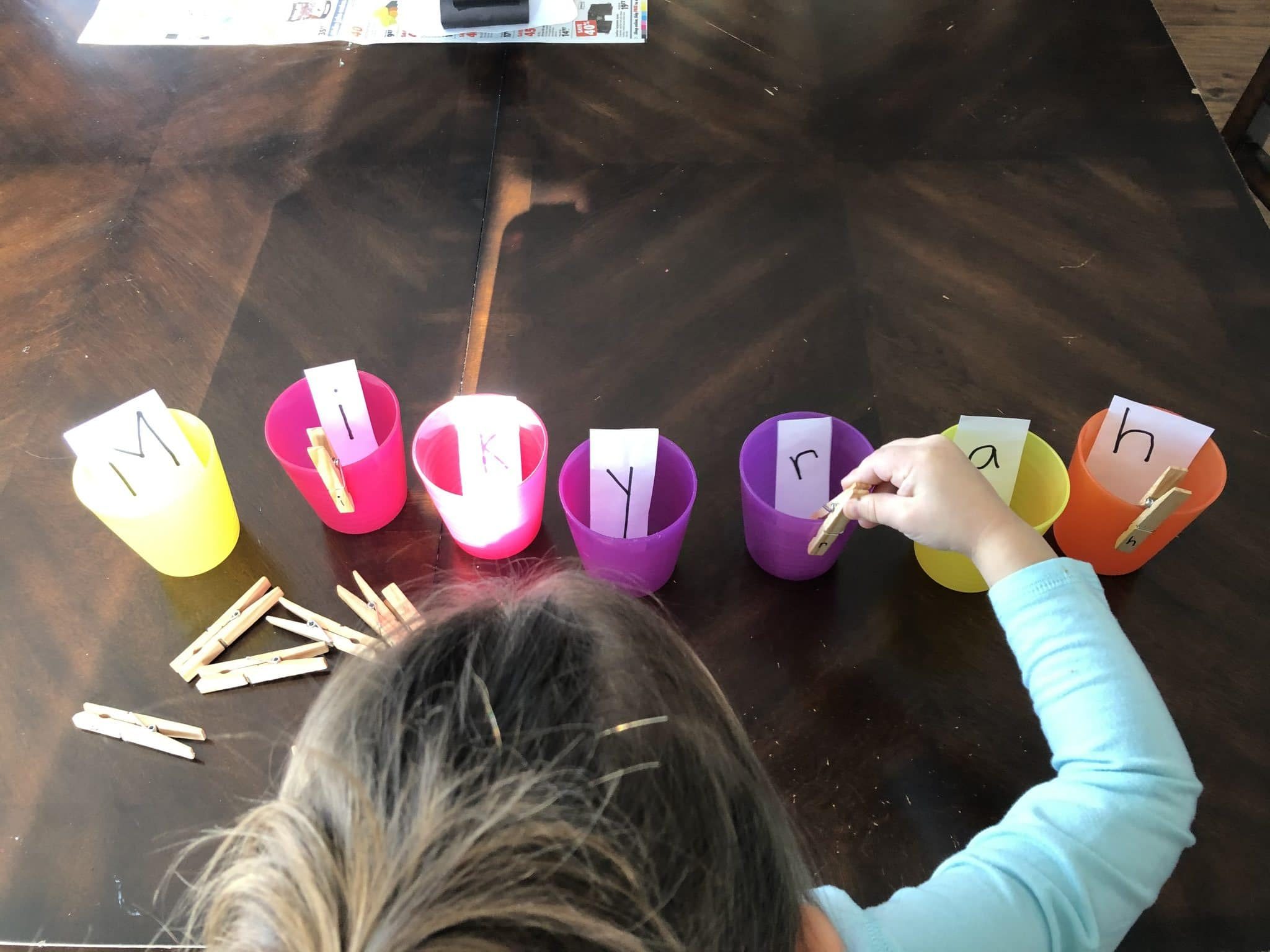 For a child to learn how to spell his/her name is a major preschool milestone.
However, if your like me and blessed your children with unique names this can been tricky process.
I'm always looking for new ways for my youngest to learn her name. And this is why I came up with this fun fine motor clothespin and cup practice.
If your looking for other great ideas, I have lots of name practice activities.
Clothespin Name and Letter Match Activity
To build your own clothespin name activity you will need:
Cups (equal to the number of letters in your child's name)
Paper
Marker
First, write your child's name on the paper in large letters and then cut each letter out.
Next, write the letters of your child's name on each of the clothespins three times.
Finally, place one paper letter into each of the cups or have your child help you do this.
At this point, my child was getting excited. Anything to do with her name makes her feel so special.
Now your all set up and ready to play this clothespin name and letter match game.
Have your child clip the clothespins to the corresponding letter cups.
Clipping clothespins is amazing fine motor practice for young children.
If your child loves this activity, here is another great way to use clothespins.
My child instantly loved the clothespin name letter match activity. After she completed it, she wanted to do it again.
She then took off all the clothespins, which is also great for fine motor practice, and started again.
What more could you ask for? This was definitely an activity win in my books.
Try some variations for other ages!
For younger children you could do colors! Or even do each letter of their name in a different color and then have the clothespins matching colors.
For older kids you could use sight words instead of letters.
Or even math problems. Try having the solution in the cup and a variety of math problems on the clothespins that match up with the same number sum.
What other fun ways have you used to practice your child's name?
Share with us your ideas.