Exploring the outdoors with a medically-complex child can seem overwhelmingly hard and scary. There are so many considerations to take into account concerning the health and safety of your kid. However, getting outside and into nature has been proven time and again to help both children and adults lead happier and healthier lives. The benefits of nature are immense and while it's never easy to get outside and explore with a medically-complex child, it's almost always worth it. Today, we have Creative Team member Meghan Garriott, Illinois mom of two, here sharing her story of how their family gets outside with a medically-complex child and how nature has been beneficial for the whole family.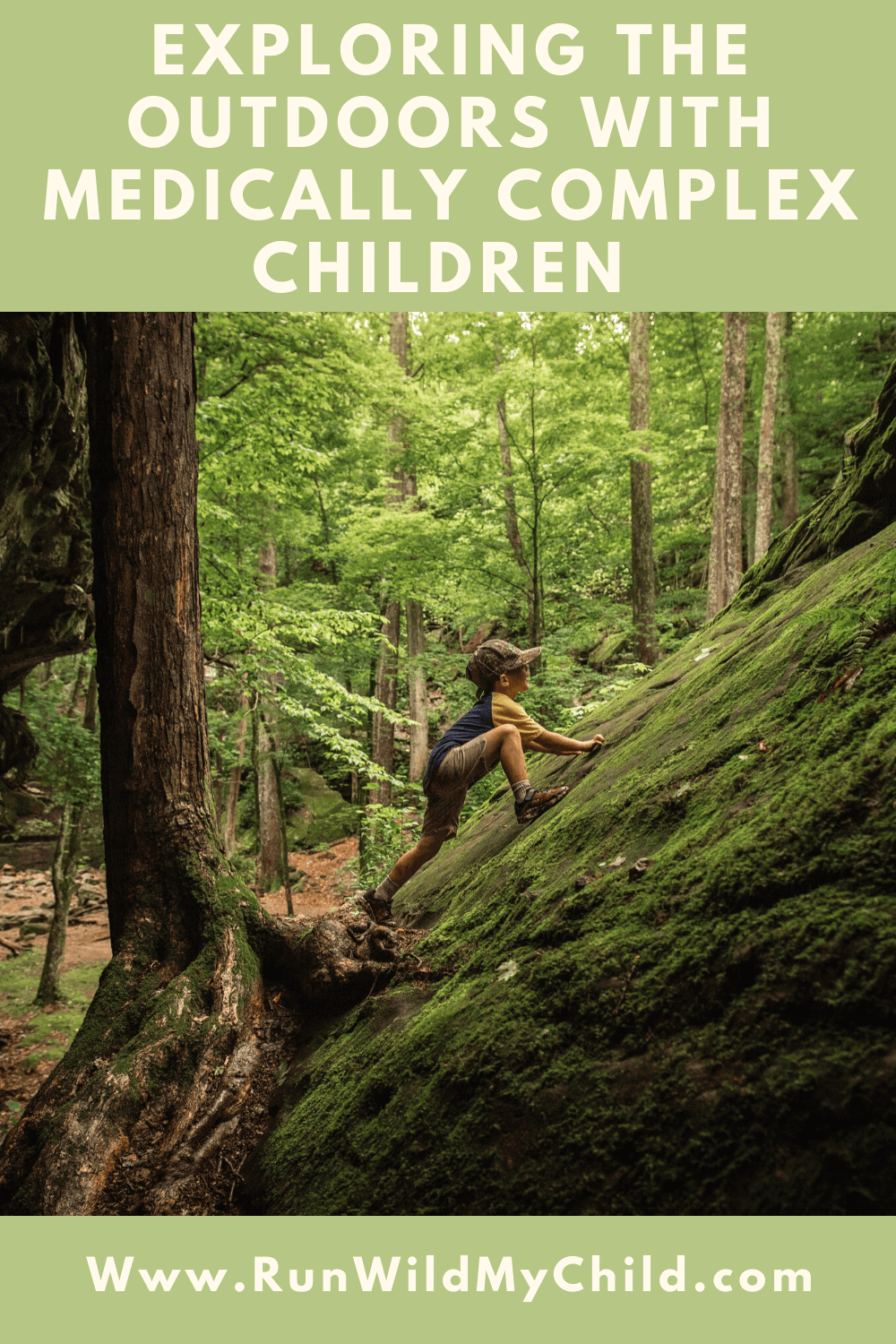 Difficulties of medically complex kids
Caring for a medically complex child can be stressful and isolating. Learning when and how to introduce children to the natural world can be daunting. Understanding your limits as a caregiver and your child's limits may be a slow process, but it will be well worth it. Exploring the outdoors with medically-complex children is not only beneficial to the child, but for the whole family. As a family, getting outside can help to reduce stress and increase physical activity for the whole family without a financial burden. Being in nature is a great way for kids to safely learn and grow. Here are some fun activities and tips my family has found throughout our journey with rare disease,  bone marrow transplant, and isolation.
Get started in the backyard
Getting started adventuring outdoors with medically-complex children can be the hardest part. Where do you even begin and how do you know if it's safe? There are a lot of precautions to take when exploring outdoors with medically-complex children, but the good news is that you don't have to go far to enjoy some good quality outdoor time. Your own backyard is a great place to start while staying within your comfort zone. This is a great place to start that allows you the safety of home, combined with fresh air and sunshine. 
One of our favorite backyard activities is gardening. Planting and weeding a garden is a simple and wonderful way for children to get outside and learn. Growing their own food, and being proud of their harvest, may help with picky eaters or those with food aversions to be more open to trying new things. As long as the dirt stays out of cuts or sores, it's perfectly safe for kids to handle. You can use gloves, waterproof bandages or Tegaderm to help keep out dirt and germs when handling dirt. Letting kids pick out their own gardening gloves can get them excited for the job while also teaching them about safety.
If the maintenance of a garden is too much for your little one, consider going outside each morning to stretch or do some yoga. Sit in the backyard on a blanket and read or listen to music. Watch the clouds drift by or have a picnic. These are simple ways to fit in that backyard outdoor time and get kids comfortable with nature in a safe environment.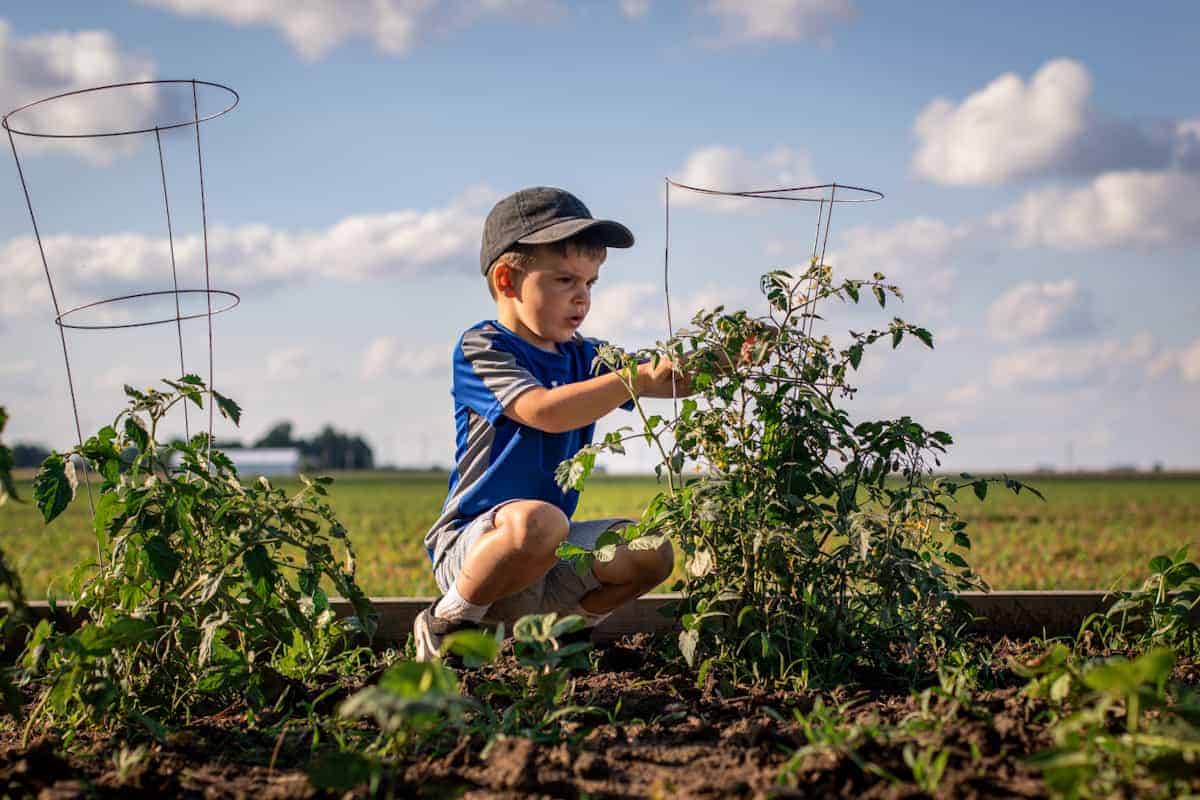 Outdoors in your community 
Exploring the outdoors with medically-complex children doesn't mean you have to go deep into the woods or to exotic locations. If you are ready to get out and away from the house, but aren't sure how to safely start, consider local parks. Many community parks offer safe activities that don't involve coming into contact with people. Going to the park at non-peak hours of the day will also help. Non-peak hours may differ depending on the time of year and where you live, so you may have to do a bit of research on this (or trial and error). 
Most community parks have paved or gravel paths for walking or bike riding. Bike riding is a fun way for the whole family to get out and be active. If a child isn't physically able to ride a typical bike, that's not a problem! Try asking a physical therapist or occupational therapist about adaptations that can be made to a bike to allow your child to ride. Enclosed bike trailers are also a good option for kids that can't ride themselves or for longer/harder rides. This way they can still sit and enjoy the ride and nature all around them. Don't forget the helmets no matter which option you choose. 
Searching for wildlife 
Observing wildlife is a great way to help your medically-complex child explore the outdoors get your kids interested in nature. When you're outside, bring along a pair of binoculars and a journal for birdwatching and wildlife sighting. Have your children write down or draw a picture of the different birds that they see. Pick up field guides to help you identify birds, bugs and other local wildlife. For younger kids, turn this into a game to keep their attention and interest. Some community parks have small ponds that are really fun for kids to explore and find wildlife. These ponds are great for searching for minnows, fish, tadpoles, frogs, and toads. There are also usually interesting birds and bugs around water. Remind your child to look but don't touch and keep a safe distance from the water, if they can/shouldn't swim or get wet.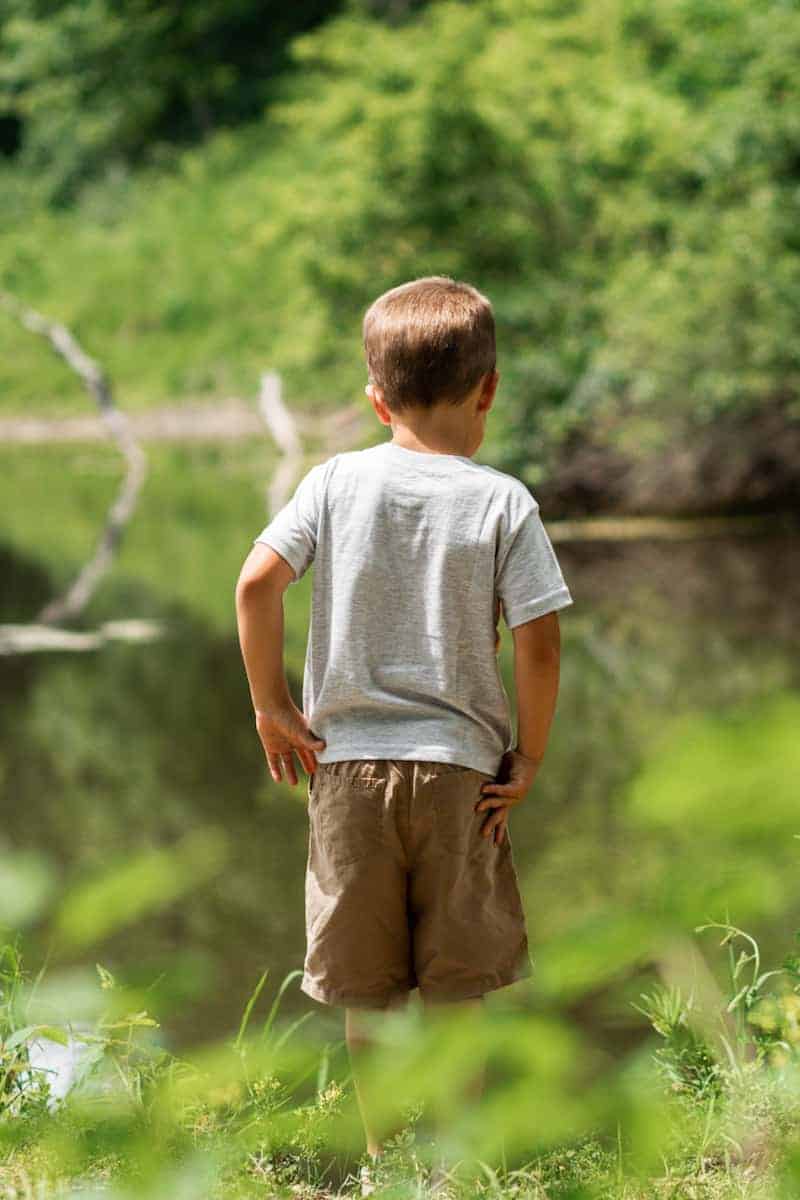 Hiking 
Hiking is one of our family's favorite outdoor activities. Hiking with medically-complex kids involves a little more planning than the previously-mentioned activities, but it's worth it. Many state and national parks have handicap accessible trails that are great for medically-complex children. Check out this helpful like for info on national parks accessibility. Paved paths make it easier to avoid bugs and poisonous plants. Knowing the types of trails that are available and their length is important when choosing a hike. Make sure to set realistic goals for both you and your child. Start on short flat paved (easy) trails to get a feel for how fast you can do them. Work up from there.
When preparing for the hike, long pants or socks are a must. A long sleeve shirt is also a good option if the temperature allows. While these items are good for kids in general, they're especially important for medically complex children. Skin is the first defense against infection. You'll want to protect your child's skin from being cut by twigs or stones, getting bug bites or touched by poisonous leaves.
You'll also want to avoid the crowds and the hottest time of day when hiking. Usually, the best time to go hiking while avoiding contact with others is in the early morning. After your hike, be sure to check for ticks, bites, scrapes, cuts and rashes. Treat immediately, if necessary. 
Water activities 
Water activities such as swimming, boating, and water sports can be a lot of fun for medically-complex kids when done safely, with certain precautions taken. However, lines like ports, central lines, and feeding tubes can make water activities more difficult. When my son had his Broviac line, we used aqua guard for a while but found that Press 'N Seal worked the best for keeping water away from his line. We simply wrapped it around the end, then wrapped it around his chest where the line entered him. Now we use Tegaderm to cover infusion sites and small abrasions to keep dirty water causing infections. Unfortunately, lakes and rivers aren't always the cleanest or safest for medically-complex kids. You'll want to be cleared from your doctor before participating in any water activities, just to be on the safe side.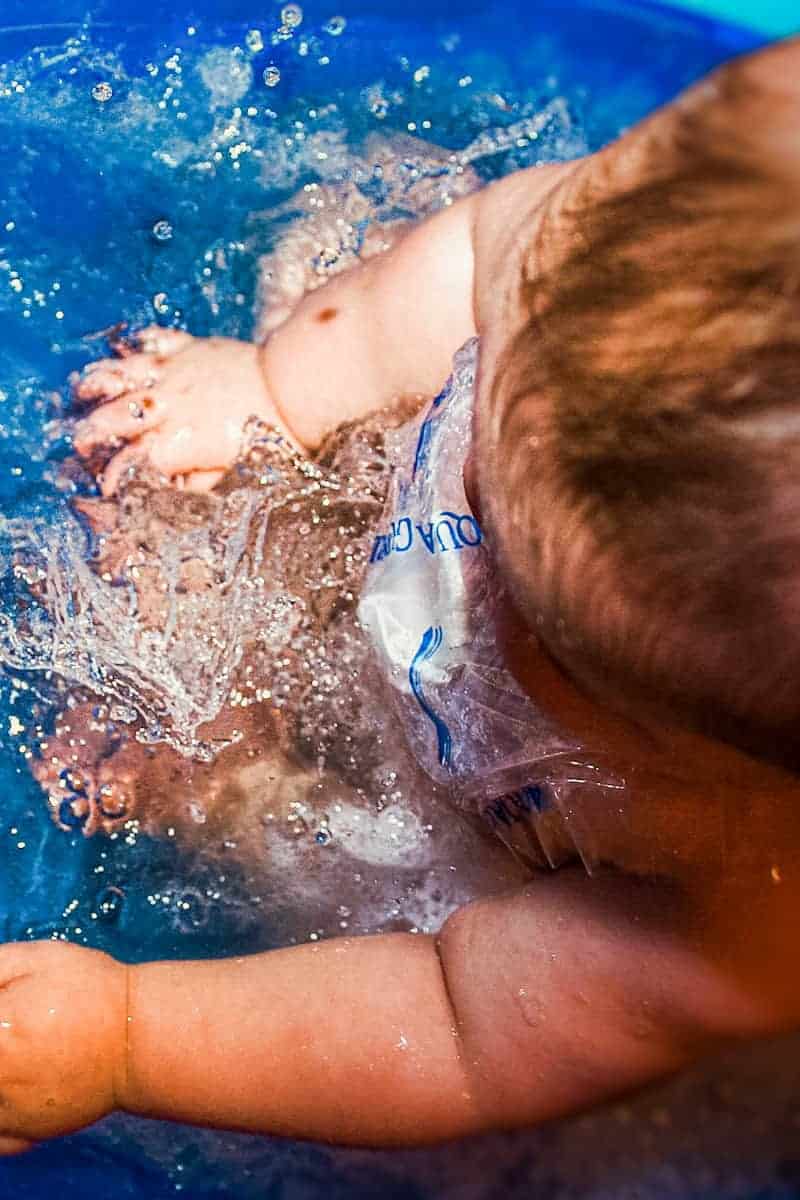 Talk to your doctor about new things
Don't be scared to ask your doctor if you can try new things outdoors with a medically-complex child. I assumed that swimming in a lake would be a hard NO for my son after his bone marrow transplant. I asked his doctor if he would be allowed to swim and surprisingly (at two years post-transplant), his doctor said YES! He was allowed to swim in the lake as long as he understood the importance of not drinking the water. We definitely talked to him about this and stressed the importance. Now, swimming in the lake is one of my son's favorite activities and it keeps him very active! I'm so glad we asked about it!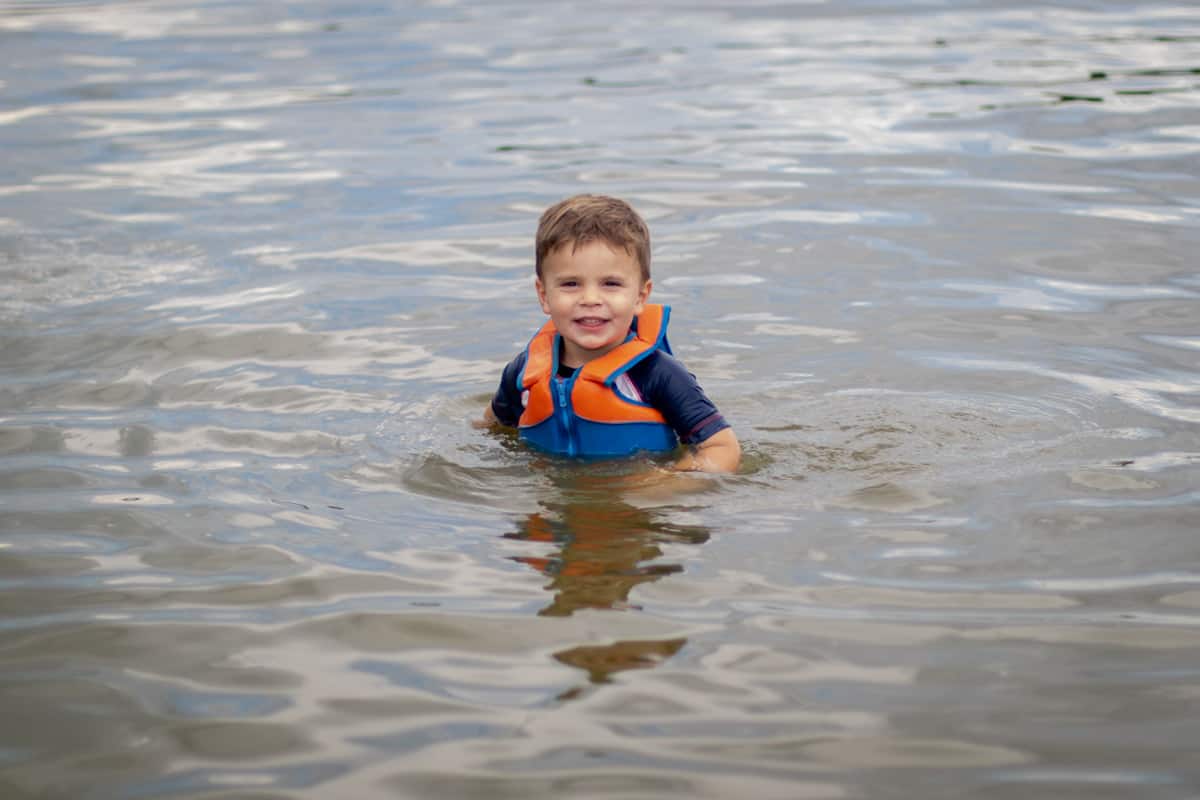 Just a splash
Sprinklers and splash pads are other fun places to visit to enjoy some water fun. Most splash pads are handicapped accessible or have accessible activities. As with other activities trying to go at non-peak times to avoid crowds and the high heat of the day. Also, try calling the park to see if they allow private rentals or have certain dedicated hours for disabled or medically-complex kids.
If you don't have access to a splash pad, you can turn on the sprinkler in your yard and let the kids run and play with the water. Sometimes, something as simple as a sprinkler will bring your kids hours of fun and enjoyment!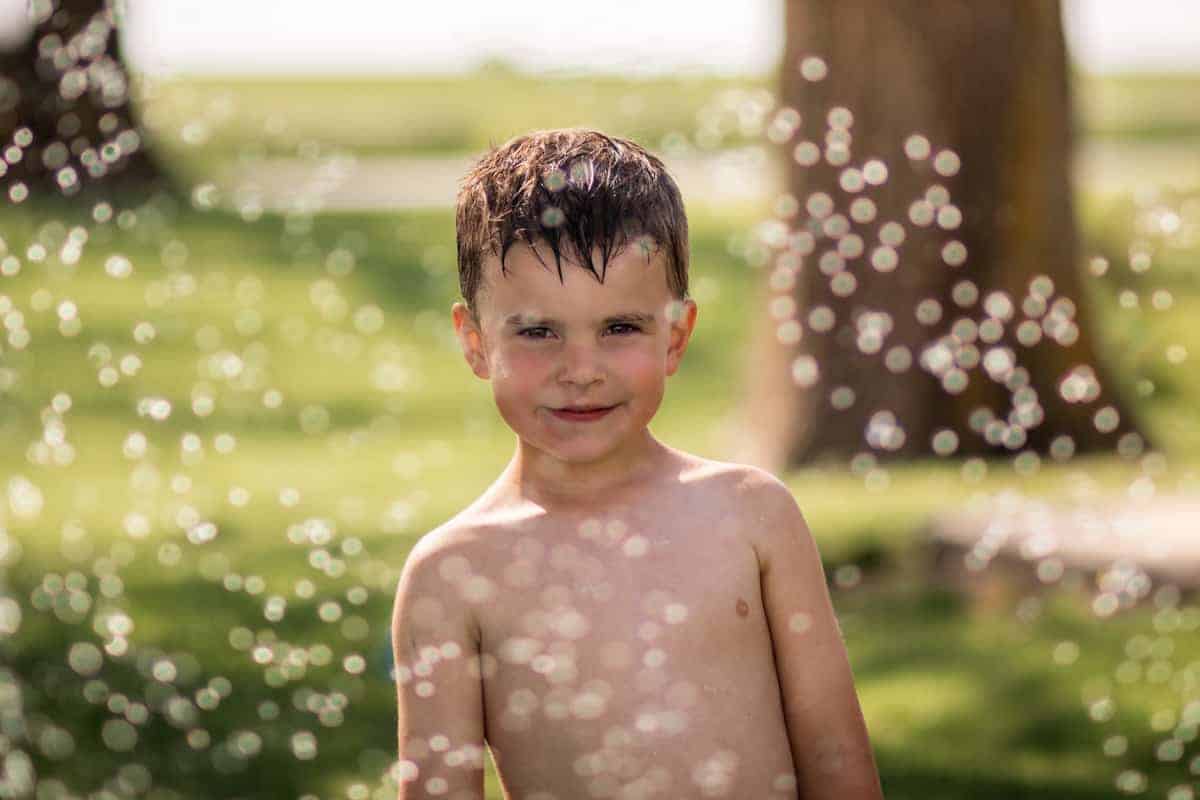 Activities around water (but not in it)
Exploring the outdoors with medically-complex children doesn't mean you have to get wet and dirty. There are so many activities that can be done around water without jumping in. Fishing is a fun activity that can be great for kids of all ages. Depending on where you live, fishing can be done all year round in any number of locations. You can fish off a boat, the bank, or a dock. Some places require a fishing license for adults but most do not for kids.
Birdwatching and rock skipping are also fun active activities to consider if you are near the water. When visiting the ocean/beach, don't let the sand slow you down. There are all-terrain stabilizer tips that can be placed on the ends of walkers, crutches, and canes to make walking on sand easier. You can find these at most medical equipment stores or even Amazon. There are also places that will allow you to rent wheelchairs that go on sand!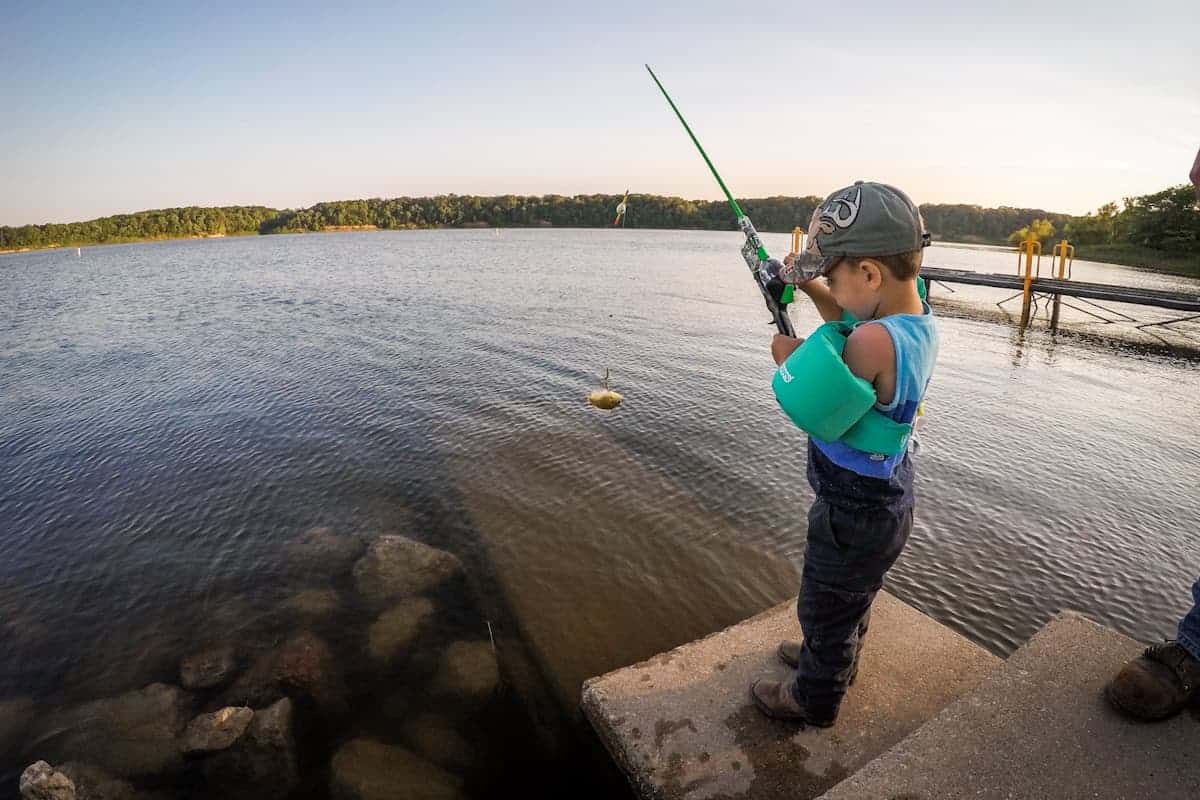 What to bring when adventuring
Before setting out on your adventure outdoors with medically-complex children, make a list of all the things you need to bring the night before your outing. Medically-complex kids can need quite a few things that aren't on your typical outdoor adventure list. On the day of, make sure you check everything off that list. If you will be bringing medicine, injections or feeds try to have them pre-portioned and ready to administer. This way it can be done easily while you were out and about.
Bring a cooler. Not only for water but so that you can keep medicines in there too. Diaper bags that have built-in coolers or insulated bags work best for us. Set your alarms so you don't miss a medication time. When you are out and about time seems moves differently than when you are at home on your own schedule. Set alarms to remind you when to give medicines or feeds.
Lastly, bring some extras of everything –  extra bandages, extra tegaderm, extra socks, extra clothes, extra snacks. Whatever you may need, having extra is a great way to ensure peace of mind for parents and makes your outing more enjoyable when you're not stressed about time or not having everything you need.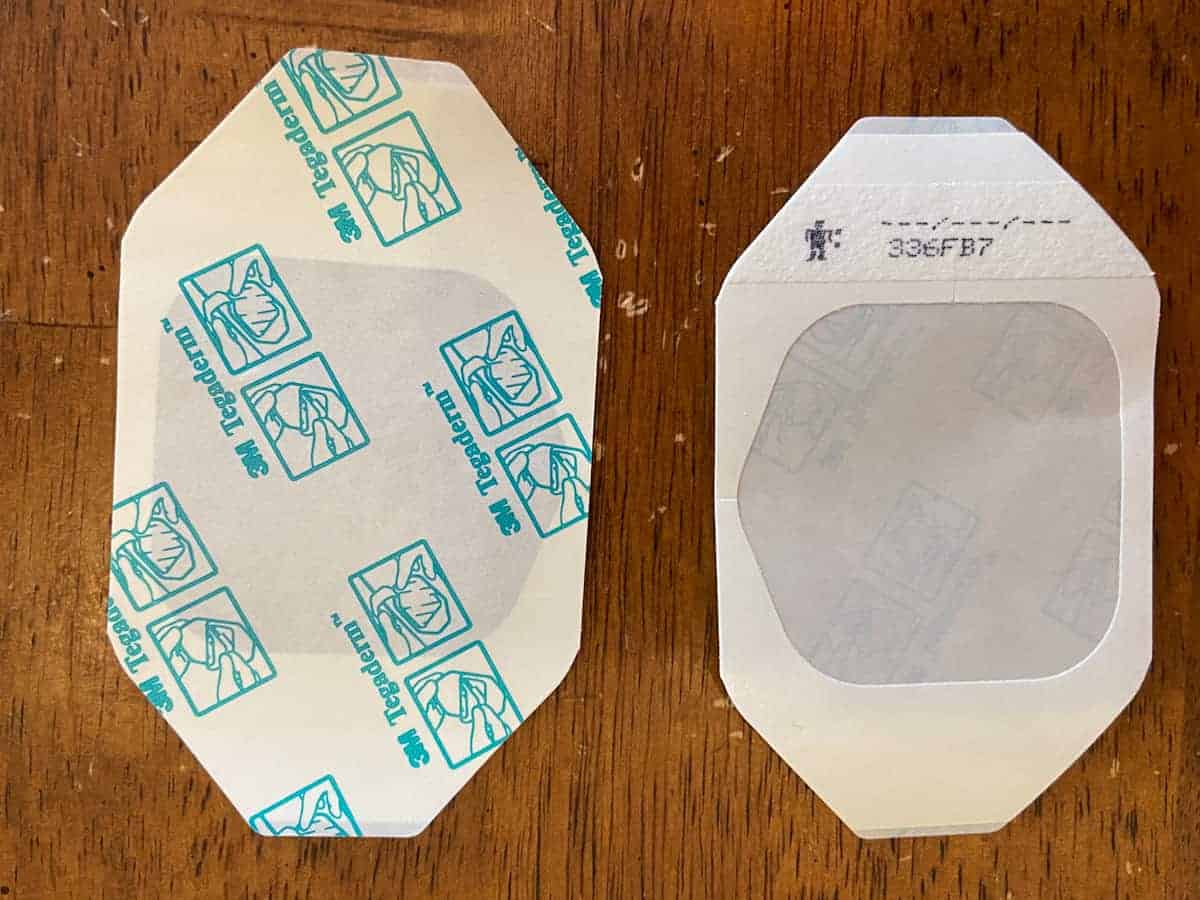 Climate-controlled learning about nature 
If you are interested in teaching your child about nature but aren't ready to go out in it, there are still options. Give your local conservation office or nature preserve area a call. Most of these offices will allow you to have a private tour when you explain your individual circumstances. Both of our local conservation offices have large bird-viewing windows. These are great because they allow you to sit inside, in a controlled environment, and still enjoy nature and wildlife.
A lot of small local nature centers also have injured or rehabilitating animals that they use these for demonstration and teaching. These animals can include birds, turtles, lizards, snakes, and small mammals. Many nature centers will bring these out so that kids can see wildlife up close, in a safe environment. Permanently disabled or rehabilitating animals are also a great way to teach children about their own disabilities, and how to adapt and thrive.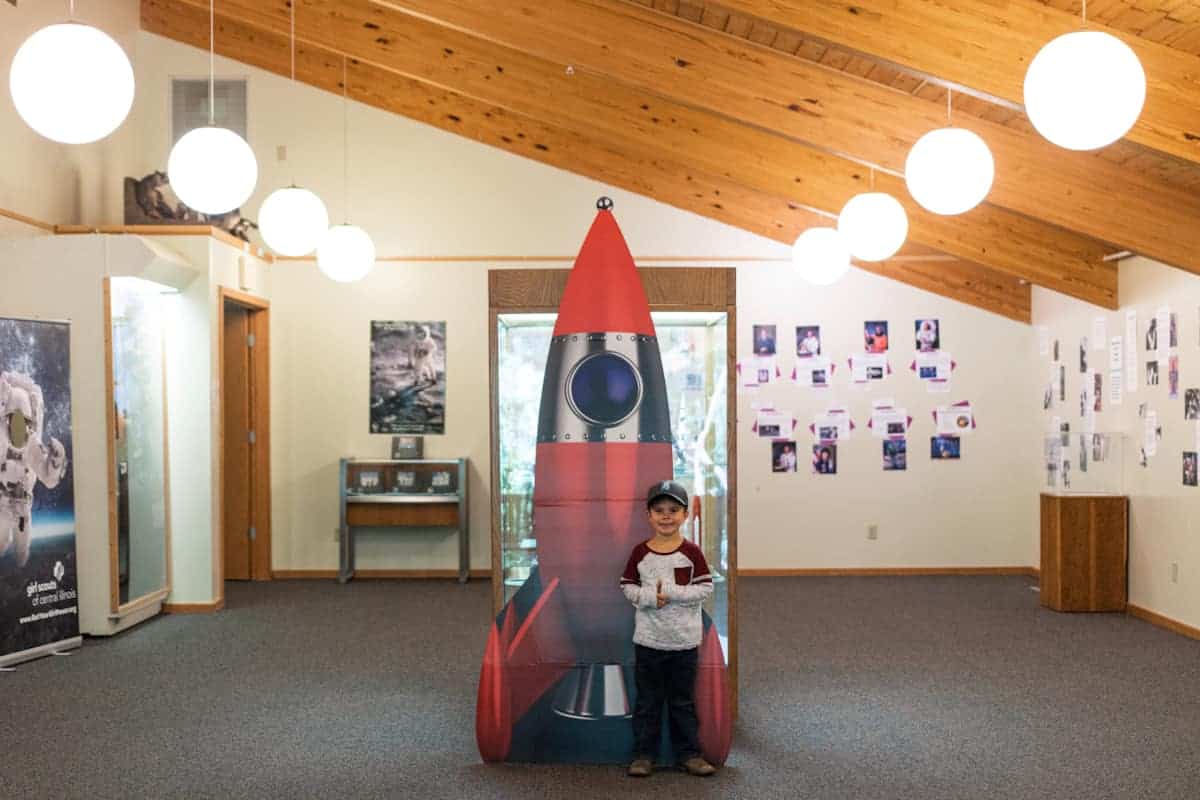 Benefits for the entire family 
Having a medically-complex child with chronic illnesses, disabilities, or rare disease can be stressful. Isolation from people for health reasons doesn't mean the fun has to stop. Sometimes, it just takes a little extra planning, some accommodation (and compromise) and some practice to keep the fun going. Getting outdoors and enjoying nature has been proven to decrease stress, increase happiness, and improve children's development. Outdoor adventures can teach children not to put limits on themselves or their abilities. Exploring the outdoors is not only safe, but it's a great way for the whole family to learn and grow together. 
How do you explore the outdoors with a medically-complex child?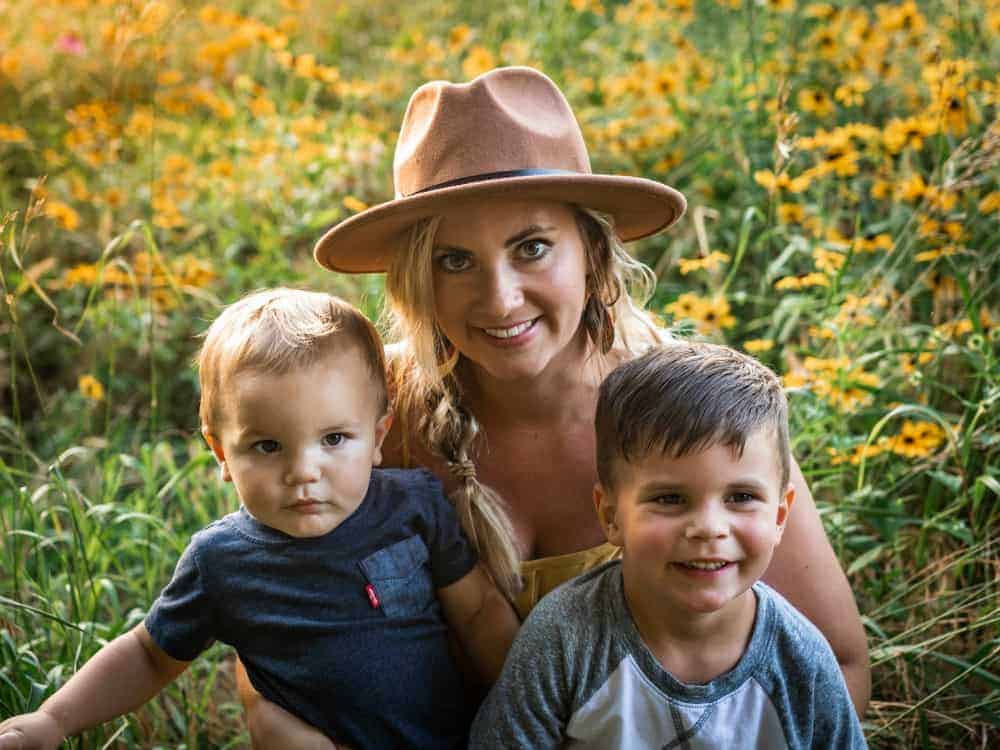 About the author
Meghan is a country living, mom of 2 boys in rural central Illinois. She is a Physical Therapist Assistant by trade but spends most of her time outside with her family. At home, she has large flower, herb, and vegetable gardens to tend and 3 large dogs to play with. As a family, they enjoy hiking, camping, boating, fishing, and helping her in-laws show and raise livestock. Photography became a hobby while on isolation after her oldest son's bone marrow transplant. It has since become a passion to capture her family's daily life. Throughout her family's journey with rare disease and transplant, the outdoors have been a safe space for the whole family to grow, learn, and thrive.
You can find more from Meghan online in the following locations:
Instagram: @meghangarriott
The post Exploring the Outdoors with Medically-Complex Children appeared first on RUN WILD MY CHILD.