There are few things kids look forward to more than summer break. Yet, things are different this year. Most kids have already been home for two months. They've been balancing school at home, but for most kids, it's been more "hard and different" than "fun."
This summer, keep kids both entertained and educating with FUN SCHOOL. All of these activities are as fun for the parents as they are the kids … and they are all FREE!
Free Audiobook
My kids love audiobooks. We listen to them on car rides, and during art and craft time. We listen to them while playing Legos and baking cookies.
Some of our favorite audiobooks are by Jim Hodges. They are great for the whole family—lots of fun and exciting adventures and completely clean. (Even Dad enjoys them!) 
You can sign up to receive a free audiobook HERE.
And if you enjoy this audio as much as I think you will consider signing up for the Download-a-Month Club. A digital download normally costs $18. But, with the Download-a-Month Club, YOU decide what title goes on sale as a download every month, and you only pay $6.99 per story! Your family will love having a constant stream of exciting audio stories month after month.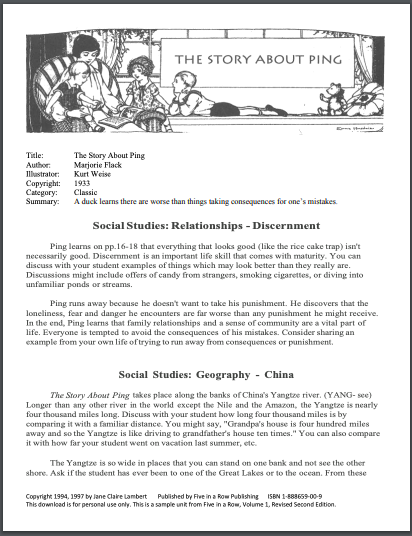 Free Unit Study
My kids have fallen in love with unit studies. We love taking one subject and learning about it from different angles. Recently, we've been enjoying Five In a Row studies. For these studies, you read one classic storybook five days in a row, and then each day explore a different element around the story.
Download a free Unit Study HERE.
This free download is for The Story of Ping. In it, kids can learn about relationships, animal kingdoms, geography, culture, literature, literary devices, art mediums, and more! After reading the book each day you pick what areas to explore.
Free Stay Home Journal
Stay Home Journals help kids focus on good things.
During this time, kids need a place to think, write, or draw what is going on in their hearts and minds. Writing helps kids process emotions. Writing moves thoughts from a kids' emotional brain to his thinking brain, allowing him to process all that's going on.
I believe in this so much, I've created Stay Home Journals for kids.
Download your free Stay Home Journal HERE.
More Free Resources! (Not just for kids!)
Finally, I've put together a list of over 200 amazing resources and courses for you. This is a ton of great educational resources for all ages. From the tiny tots to the parents, there are some wonderful sites on this PDF. Yes, you can go to the Smithsonian, tour Yellowstone, or travel to Paris without leaving home!
I'm especially looking forward to every Wednesday, where there will be free, online, worship-painting classes with Blossoming Hearts Studio on Facebook. And don't forget about the free Lamplighter audiobook too!
The list also has sites for every subject you can imagine. Pass this on and share it with your friends.
I hope you enjoy these resources. Remember, education can be FUN!