Mountain biking is a great way to get kids outside, active, and taking healthy risks. Mountain biking has become a very popular sport, which can be done nearly anywhere. Today, Michelle Garret, California mom and founder of Wonder Club Explorers, is here with all the basic info you need to know to get started mountain biking with your kids. Her family recently spent some time with the experts at SkyPark Bike Park and is sharing all the wisdom she learned about the fundamentals of mountain biking and recommendations for the best mountain bikes for kids. 
Best mountain bikes for kids
Let's cut to the chase…if you're here for our recommendations, here they are! We've chosen four bike manufacturers known for making quality kids mountain bikes. We've also provided all the info you need to know about mountain biking with kids below! 
The thrill of the ride
There's something about the thrill of zooming downhill. Maybe it's the wind in your face, the butterflies in your stomach, or (as they say in the movies), the need for speed! You can come across this sensation on a good rollercoaster, skiing down a mountain, or in all sorts of aerial sports. For the rest of us, kids included, mountain biking is a great sport and pastime for experiencing all the fun of the downhill. Read along as we take you through the paces of mountain biking 101 and share with you the best mountain bikes for kids.
We recently ventured to SkyPark in Lake Arrowhead, California, to learn everything we needed to know about mountain biking and cruise some of the best mountain biking trails in all of Southern California. At SkyPark, the staff was courteous, patient, and friendly. Their bike shop was fully stocked with bikes for rent and for sale, which was fantastic for anyone in the market to buy mountain bikes for kids. Fully outfitted and ready to hit the trails, the SkyPark bike instructors found us a quiet spot to learn some mountain biking basics.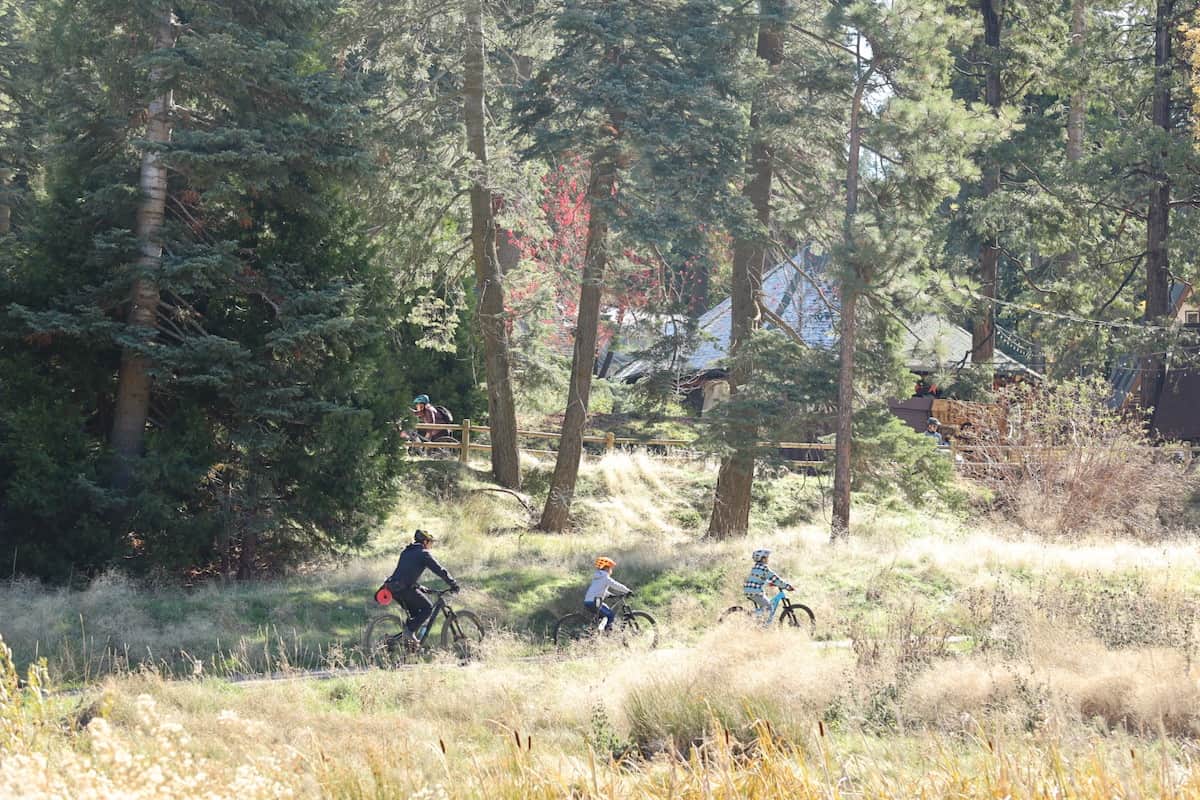 Difference between biking and mountain biking
So, what is the difference between biking (or cycling) and mountain biking? Mountain biking is a sport that uses a bicycle but is done on rough terrain. It can also involve options like free riding, dirt jumping, downhill, trail riding, and cross country. Mountain bikes are constructed differently than normal bicycles; designed to endure rough terrain, they have flat and wider handlebars, lower gear ratios, off-road tires that provide more traction, and suspension forks.
Mountain biking fundamentals
If you're new to mountain biking, there are certain fundamentals you'll need to know. Just like regular bike riding, you'll need to master things such as balance, stability, brake control, and eye placement. These skills are all the more important when mountain biking, given the uneven and unpredictable terrain. A stable rider keeps their pedals level to avoid inadvertently hitting the pedals on rocks in the road. Balance and stability are important for keeping you, and the bike, upright.
If your child hasn't used hand brakes before, they'll need to learn proper hand and finger position. This may be a bit of an adjustment for young riders, but they'll catch on quickly. When operating mountain bikes, kids will generally use a two-finger grip on hand brakes. As they grow older and become more experienced, they might eventually settle into a single-finger grip.
Eye placement is incredibly important for steering. When riding a bike, whether on the street or on a mountain, it's important to keep a high visual horizon. If you're looking at the ground underneath your tire, you're likely to fall. Riders should keep their eyes focused ahead (anywhere from 15-20 feet in front of them), so they can scan their terrain and be prepared for potential obstacles.

Mountain biking body positions
Beginner mountain bikers will benefit from learning three basic body positions on the bike. Each position will help deliver more confidence and stability on a trail.
Foot Position – When bike riding, it's important to keep the ball of your foot in the center of the pedal (just behind the pedal axle). Foot placement is important for leverage, maintaining control, and safety. Keep even weight on both pedals.
Neutral Position – In the neutral position, riders stand tall, keep their feet level, and maintain a slight bend in their elbows and knees.
Ready Position – Sometimes called the "ninja position," the low ready position is the most often used mountain biking position. It lowers your center of gravity and maintains level pedals, eyes ahead, bent elbows, and a crouched position.
Pro Tip: When mounting or dismounting your mountain bike, lean the bike towards you to lower the saddle position. This makes it easier to get on and off the bike.

Braking & bike control
When conquering trails and downhills, it's important to maintain control of the bike. A technique called the "foot wedge" is the best way to help maintain control on downhills. A rider pushes their feet against the pedals with the front heel down and back toes up. With feet and legs fully engaged, you'll have the stability to conquer downhill speeds and uneven terrain.
While you never want to ride the brakes, whether in a car or on a bike, it's important to know how to use them. To avoid being tossed over the handlebars, a mountain biker should lower their body position as they apply the brakes. Riders should use their front foot and leg to brace for the speed differential about to occur. By pushing their front heel down, the legs act as shock absorbers and help the rider maintain control when braking.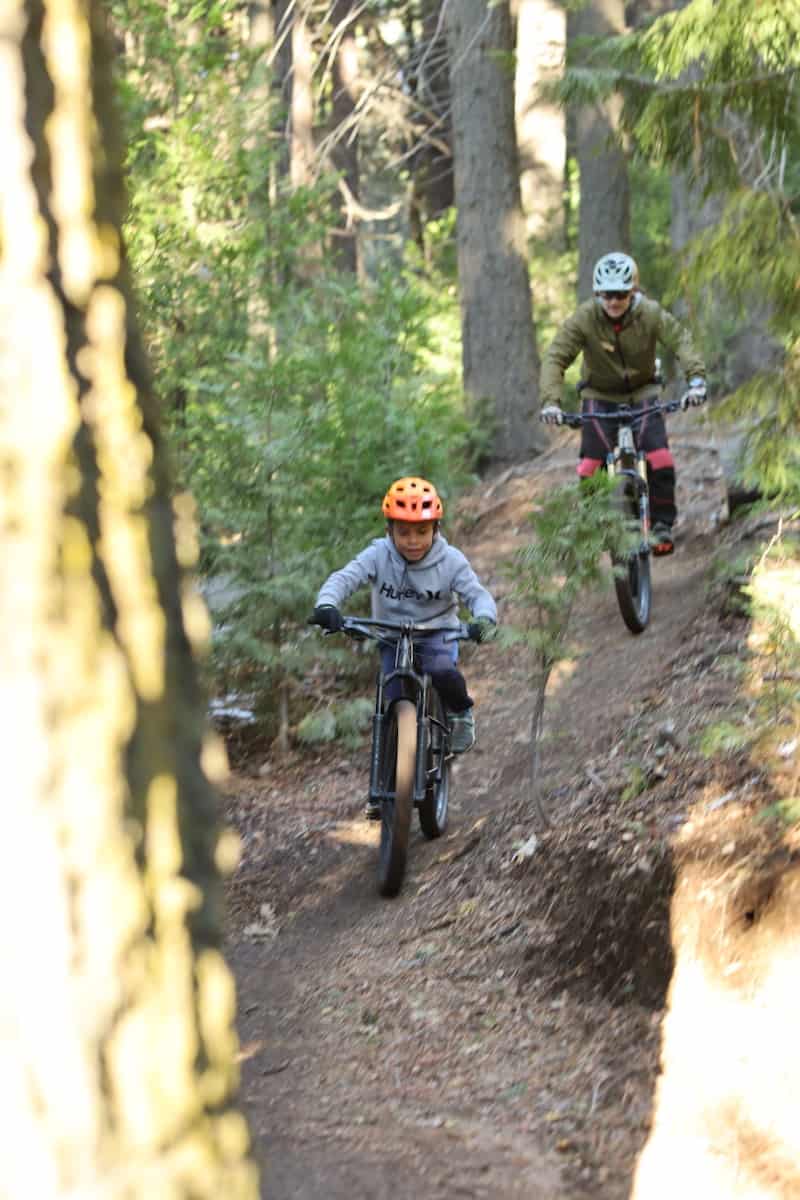 Intermediate mountain biking skills
With saddle time, comes experience. And pretty soon, your mountain biker will be ready to tackle more intermediate skills. At a place like SkyPark, you'll see some pretty experienced riders that maneuver with flair. Some of the intermediate skills to look forward to include: high-speed cornering, lifts, loads, and hops. While we didn't advance to these skills on our first outing, it was great fun to watch others shred.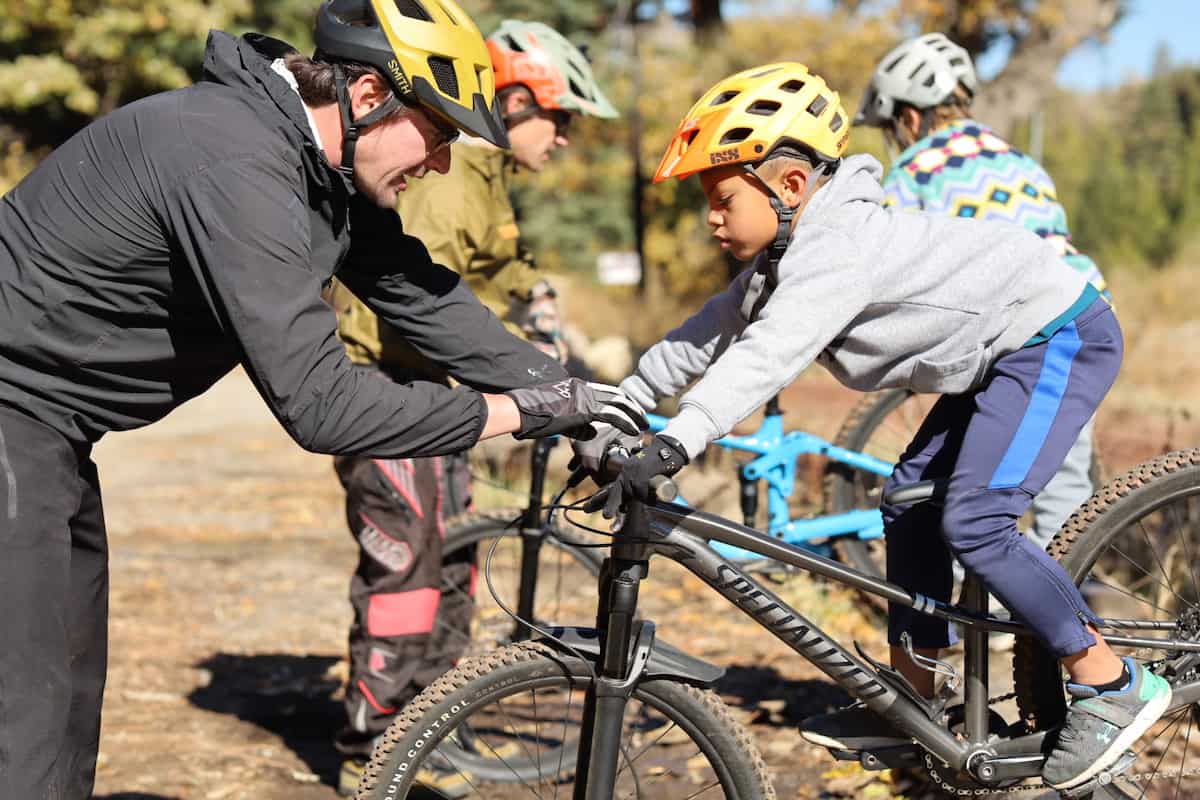 Ready to ride? Know your mountain bike ABCs
Alright! You've got the fundamentals down, and it's time to hit the trails. Before you ride, remember your ABCs.
A: Air in tires! Check your tires to make sure they have the proper air pressure or PSI (pounds per square inch). Look for raised text and numbers on your tires to find the proper PSI for your tires.
B: Brakes functioning. Yes, this is important! You don't want to find out too late that your brakes aren't working.
C: Chain lubed & gears/shifters in working order. You don't want to hear clinks, clanks, and grinding when riding your bike. A little bit of lube can keep your bike running smoothly.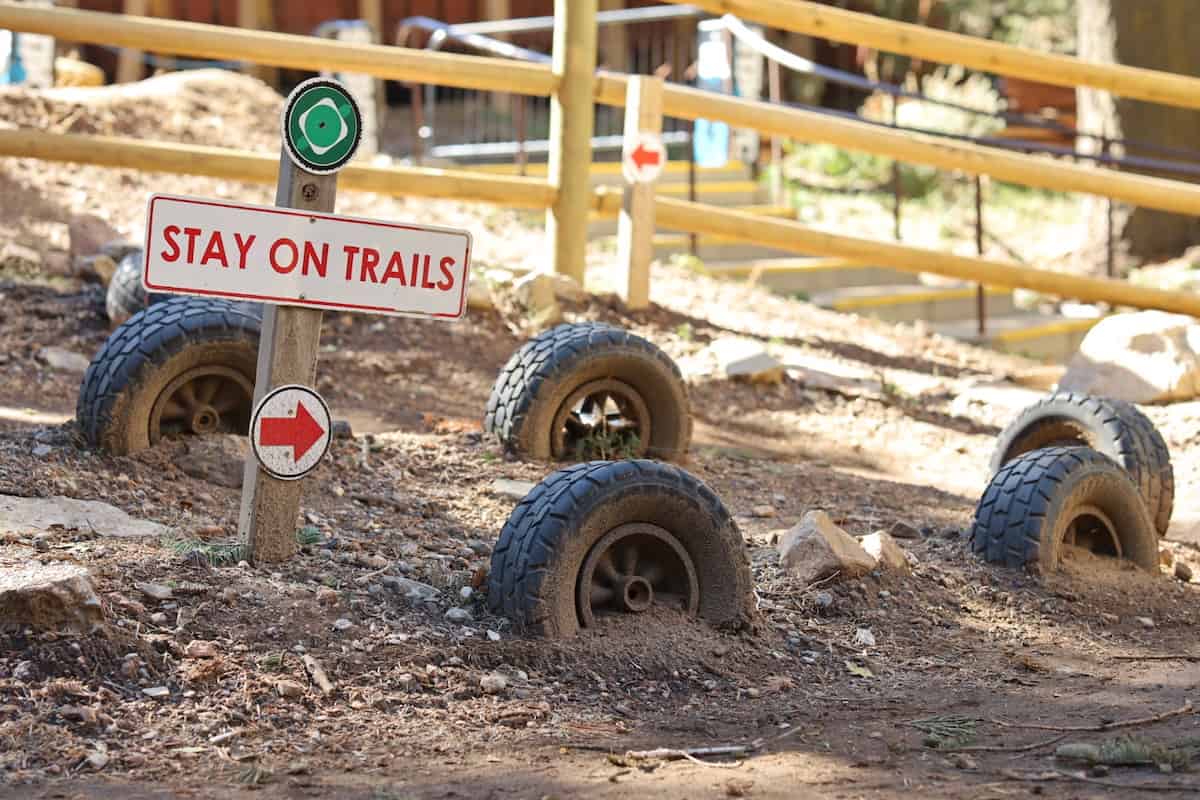 Mountain bike pricing
Full disclosure (and probably shocking to no one): good mountain bikes for kids aren't cheap. They are essentially the same quality build as an adult mountain bike, but in a smaller frame. Pricing can range from a few hundred dollars to thousands for high-end options. One of the biggest factors in how your kids will enjoy mountain biking is how well their bike performs (and how comfortable it is for them). Your child's mountain bike doesn't have to be the most expensive bike on the market to be fun. But, it does need to be lightweight, fit properly, and work well for the intended purpose. 
If you're not ready to make that kind of investment investment, there are a few options:
Consider a regular bike with knobby tires. This might be sufficient for gentle dirt trails or the neighborhood pump track. Your local bike shop can help you outfit a regular bike with the tire you need for off-trail adventures. 
Look for 2nd hand mountain bikes. Many local bike shops resell trade-in bikes that are in great condition for the fraction of the price of a new bike. You can also scour your local buy/sell/trade groups and pages on social media. 
Rent a mountain bike. If a mountain bike isn't something you think you'll use all the time (maybe you just need it for a weekend or a trip), consider renting one from a local bike rental shop.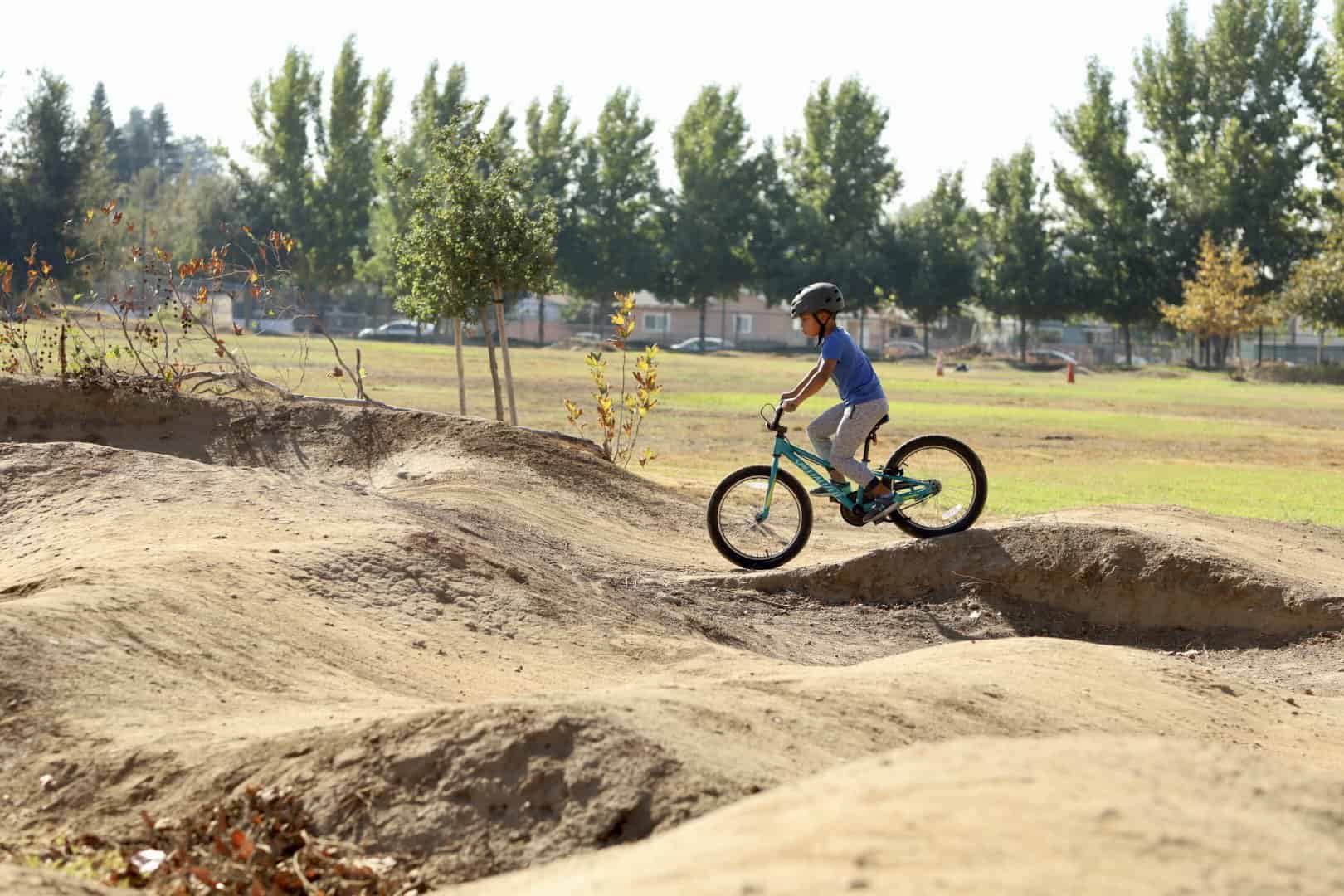 Things to consider when purchasing a mountain bike for kids
The most important feature to look for in mountain bikes for kids is a full suspension set-up. Full suspension bikes have front and rear shocks. This combination of shock absorbers makes a bumpy trail or mountain ride more comfortable. The more comfortable the ride, the longer the activity might last and the more enjoyable it will be!
Wheel size on kids' bikes is also something to consider. Wheel sizes range from 20 inches to 26 inches. My son is 4'2", and he was fitted on a 24-inch wheel. His cousin is 4'7", and he was fitted on a 26-inch wheel. Adults generally ride on 27.5 to 29-inch wheels. 
Weight of the bike is another consideration. Some kids' mountain bikes can weigh up to 40 lbs! We recommend looking for a bike between 20 and 30 lbs. – the lighter, the better. Alumnium frames make lightweight bikes that are easier for kids to maneuver.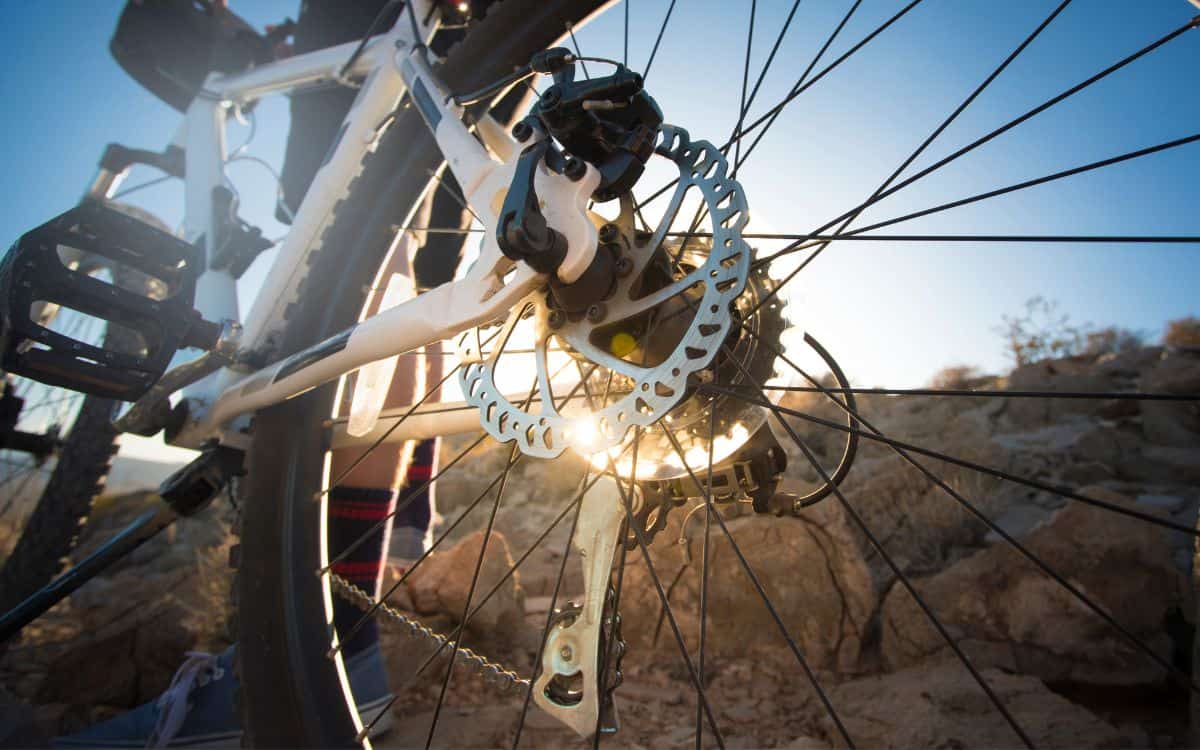 The best mountain bikes for little kids
Littlest kids – balance bikes
If your little one is showing interest in mountain biking but isn't ready for a big bike, you'll want to get your hands on a coaster bike with no gears or pedals. Woom bikes are great balance bikes that are cleverly engineered for children as young as 18 months. A balance bike can help kids learn invaluable bike handling skills right from the start. If you like Woom balance bikes, they also make ultralight and robust mountain bikes for kids when they're ready to graduate into a bigger bike.
Best mountain bike brands for kids
Big kids & tweens – full suspension bikes
Kona Bikes
Kona Bikes gets kids, and they make the best kids mountain bike. This bike manufacturer offers a complete line of mountain bikes for kids, from the littlest kids to the big ones. Kona kids bikes are spec'd with kid-friendly components, including wider tires, simple shifting, coaster brakes, and kid-friendly geometry. When you're child is ready to make the leap into a kid-sized mountain bike good enough for an adult to ride, Kona Bikes offers adult bikes, too.
Rocky Mountain 
Whether your kid is just getting started or is an experienced rider, Rocky Mountain Bikes offers a bike for every step of the way. From gentle trails to rowdy single tracks, the Rocky Mountain line of mountain bikes for kids are quality bikes that help to build confidence with developing riders. The Vertex Jr. is a great kid's bike for junior riders who are ready to tackle beginner and intermediate trails.
Specialized 
The Riprock by Specialized is a fantastic mountain bike for kids. Brought to you by a company that knows cycling, the Riprock was designed to make riding more comfortable for kids. Whether using data to reimagine how kids grip and sit on bikes or updating geometry to decrease the risk of injury and increase pedal power, these bikes rock. And, this mountain bike doesn't completely break the bank as far as mountain bikes go.
Transition 
The Transition Ripcord is an amazing bike for kids! We can't help but love this company for touting that one ride on the Ripcord, and your kid's PlayStation will become a dust collector. The Ripcord is a 24-inch mountain bike that features air front and rear shocks, hydraulic disc brakes, and knobby Maxxis tires for braking and cornering control. This super fly bike comes in gold, raw alloy, grape, and teal.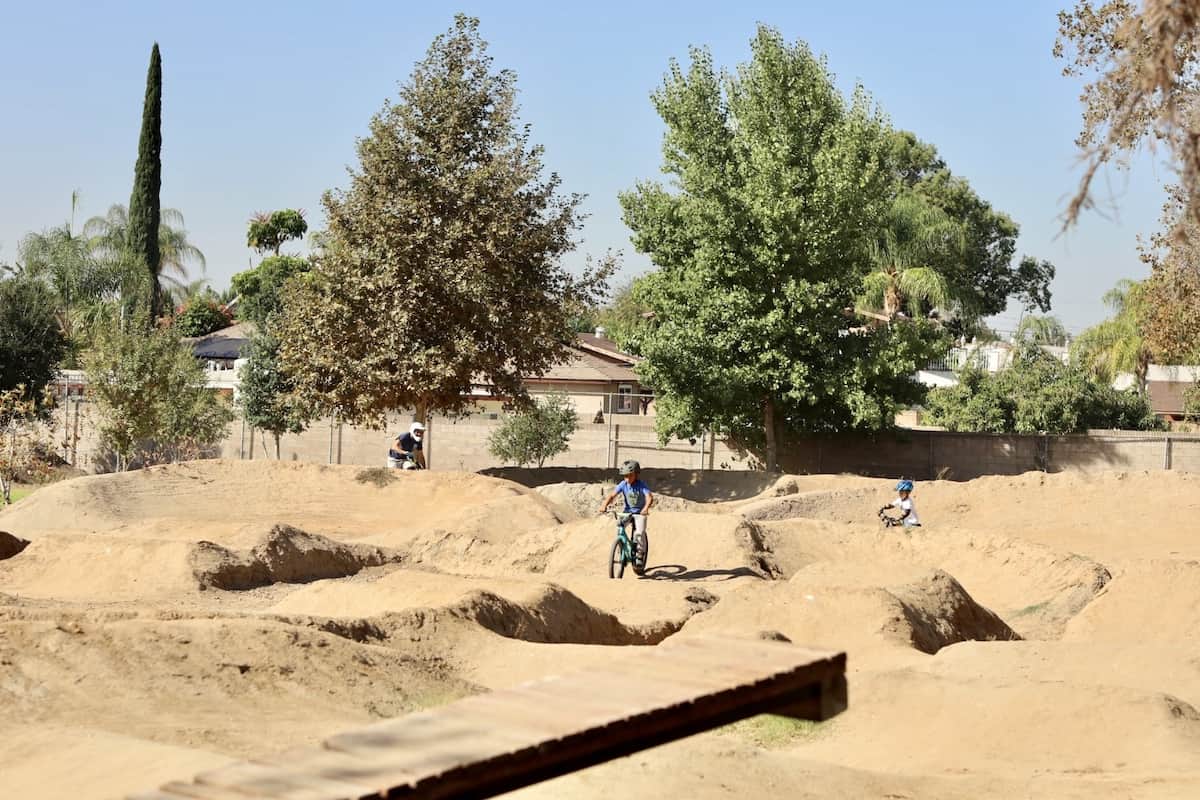 Where to go mountain biking with kids
If you don't live near the mountains or you don't have access to mountain trails, never fear! Mountain biking has become more popular and accessible than ever before. Kids can get their fix and saddle time in the backyard or community pump tracks, neighborhood singletracks, or even a bike park. The forest, desert, and beach often have trails for biking, but read the trail rules before you ride to make sure that bikes are allowed.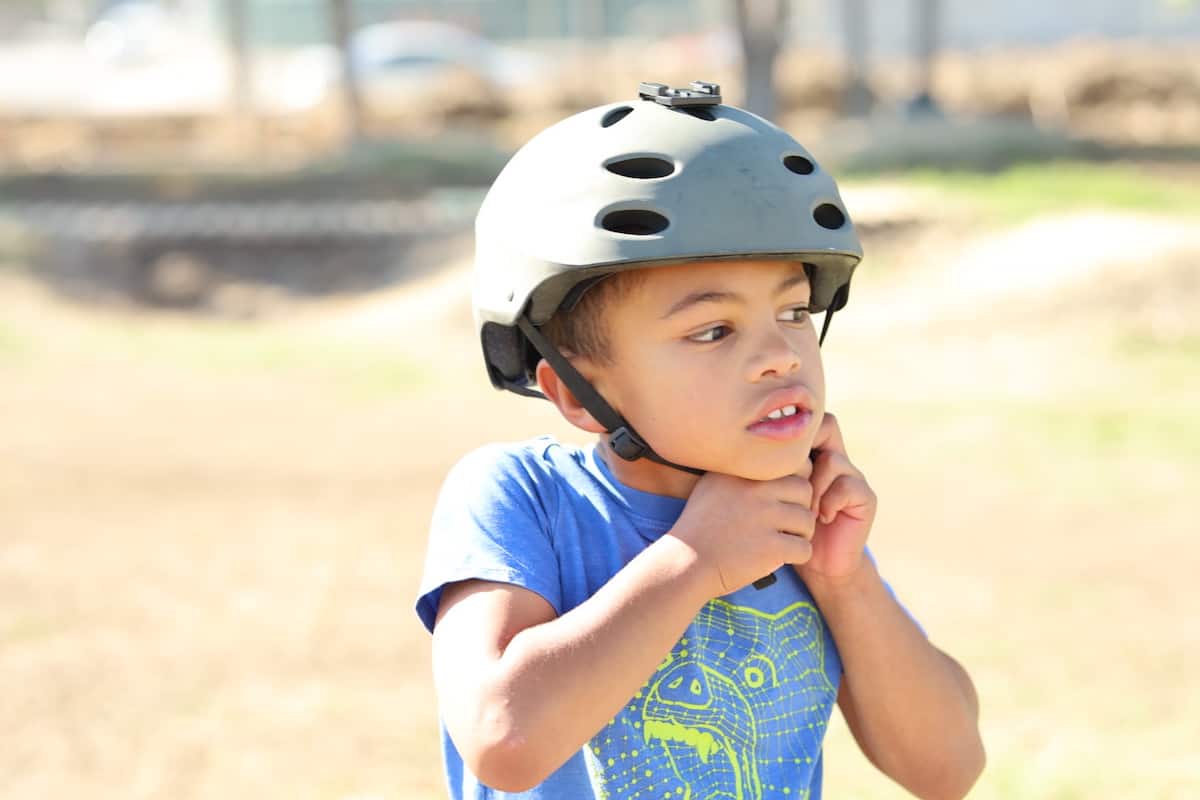 It's giddy-up time!
Mountain biking is such a thrilling activity for kids! It builds on regular bike riding skills and adds a healthy dose of risk and adventure. Like with all adventure sports, mountain biking comes with some risks. Remember to always wear a helmet, hydrate, wear proper protection, and hit the trails with a buddy. By mastering a few fundamentals and investing in a quality bike, kids will develop a new hobby and pastime to get them outdoors. We hope to see your kids in the saddle and shredding soon!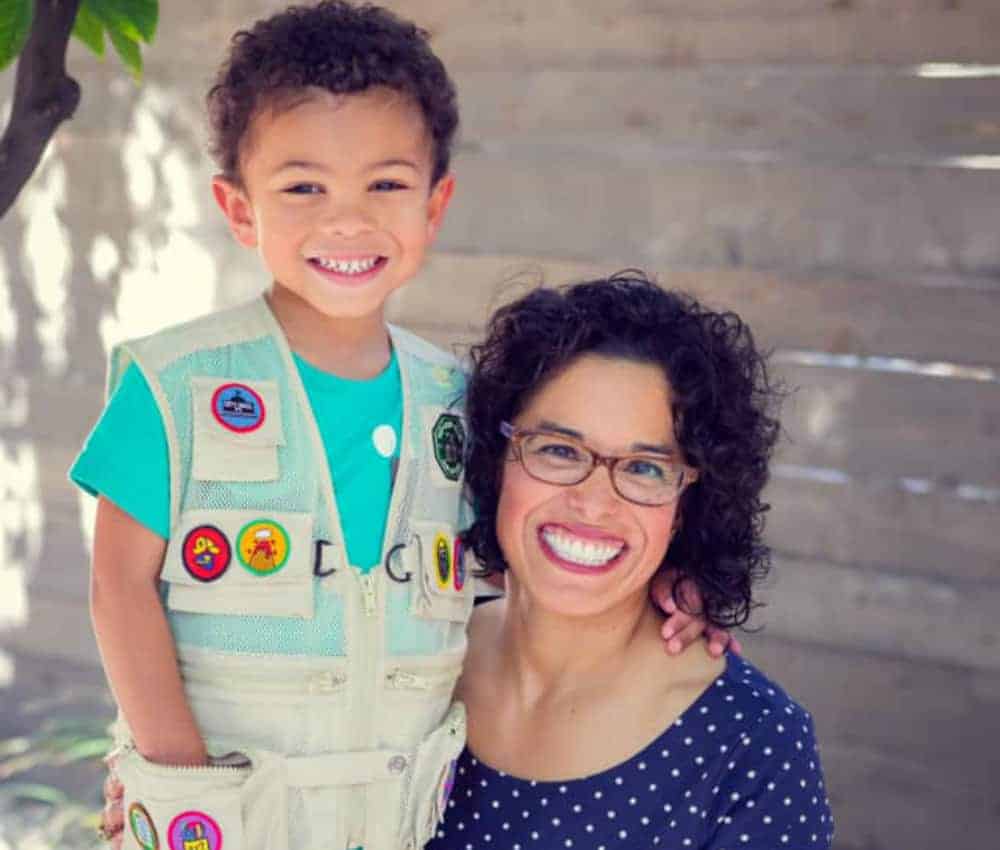 About the author
Michelle spends her days working on projects to improve the quality of life for the citizens of her community and her nights reading books to her 6-year-old about every kind of dinosaur there ever was (there are 900 validated species, in case you're wondering). Together with her son, Michelle created Wonder Club Explorers, a company to inspire wonder and curiosity in kids. She carves out time for herself on the weekends as an early morning exerciser and metalsmith of fine jewelry. Michelle is also the co-host of the Run Wild My Child podcast. She resides in Altadena with her husband and son amongst California oak trees and a stone's throw from the San Gabriel Mountains. 
You can find Michelle online in the following locations:
Instagram: @wonderclubexplorers
Website: www.wonderclubexplorers.co
RWMC posts: Michelle Garrett
The post Mountain Biking Basics & the Best Mountain Bikes for Kids appeared first on RUN WILD MY CHILD.