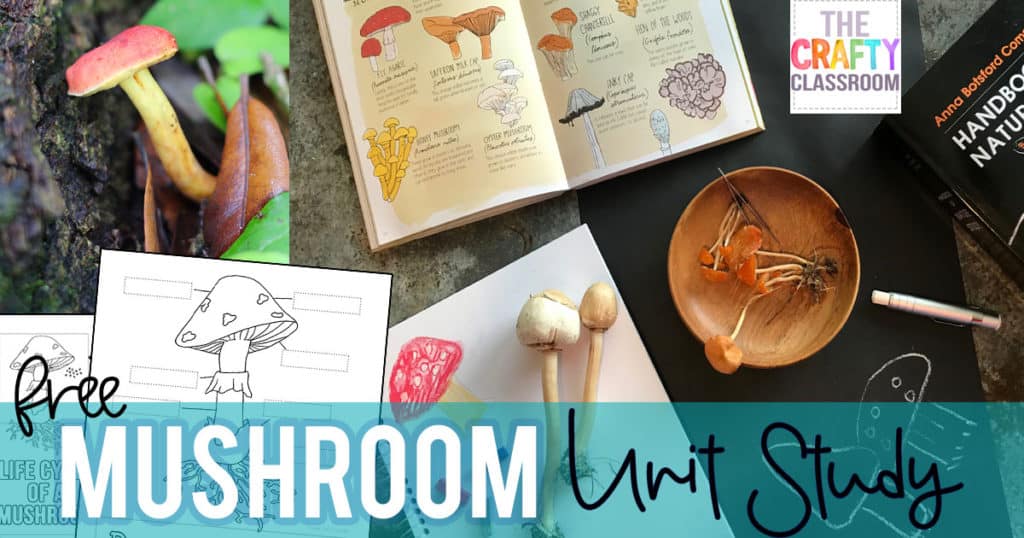 September is National Mushroom Month, its the perfect time to dive into a nature study on the topic. You really don't need to wander farther than your own backyard, the next open field, or local state park to unearth your next nature study. There are so many things to learn about and enjoy while keeping it simple.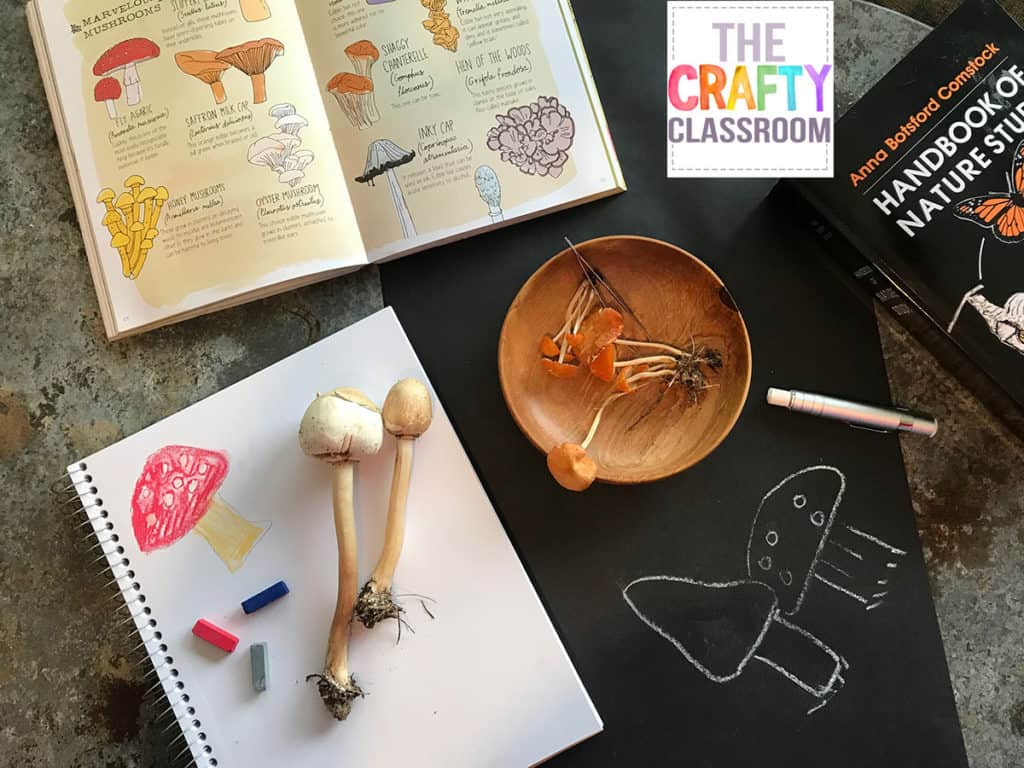 Free Fall Unit Study
Just choose a topic, like mushrooms, and expand upon it with books, nature walks, videos, hands-on activities and even recipes. I have gathered some starting points for you here that would make a great unit study on their own, choose just one, or expand on them even further!
If you are unable to find any mushrooms growing wild in your area you can use your reference books or look online and complete most of these activities.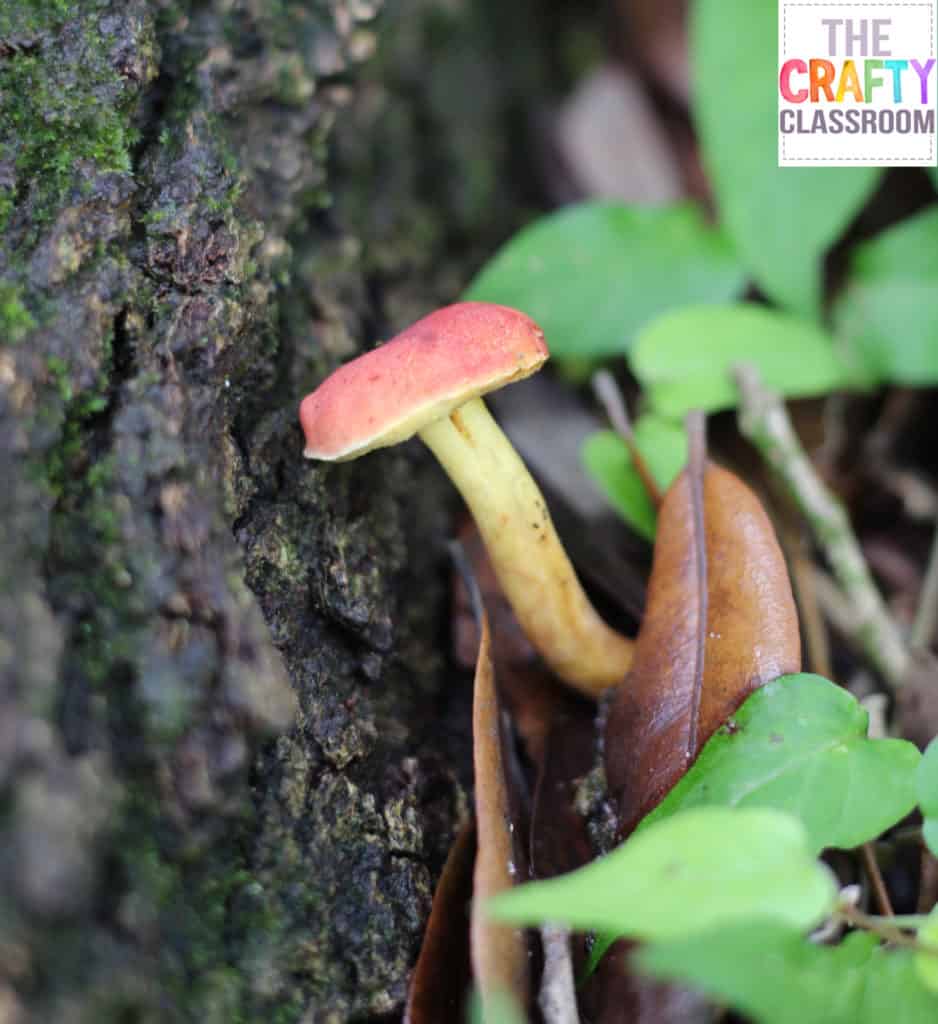 Mushroom Investigation- Go on a nature walk and bring some mushrooms home (we found all these in our own backyard). Be sure that you know they are safe, I personally prefer to be the one picking the mushrooms and I use gloves at that. Maybe that is overkill but it works for me. There are a few recommended books for learning about mushroom identification that I'm sure you could find at your local library before your nature hike.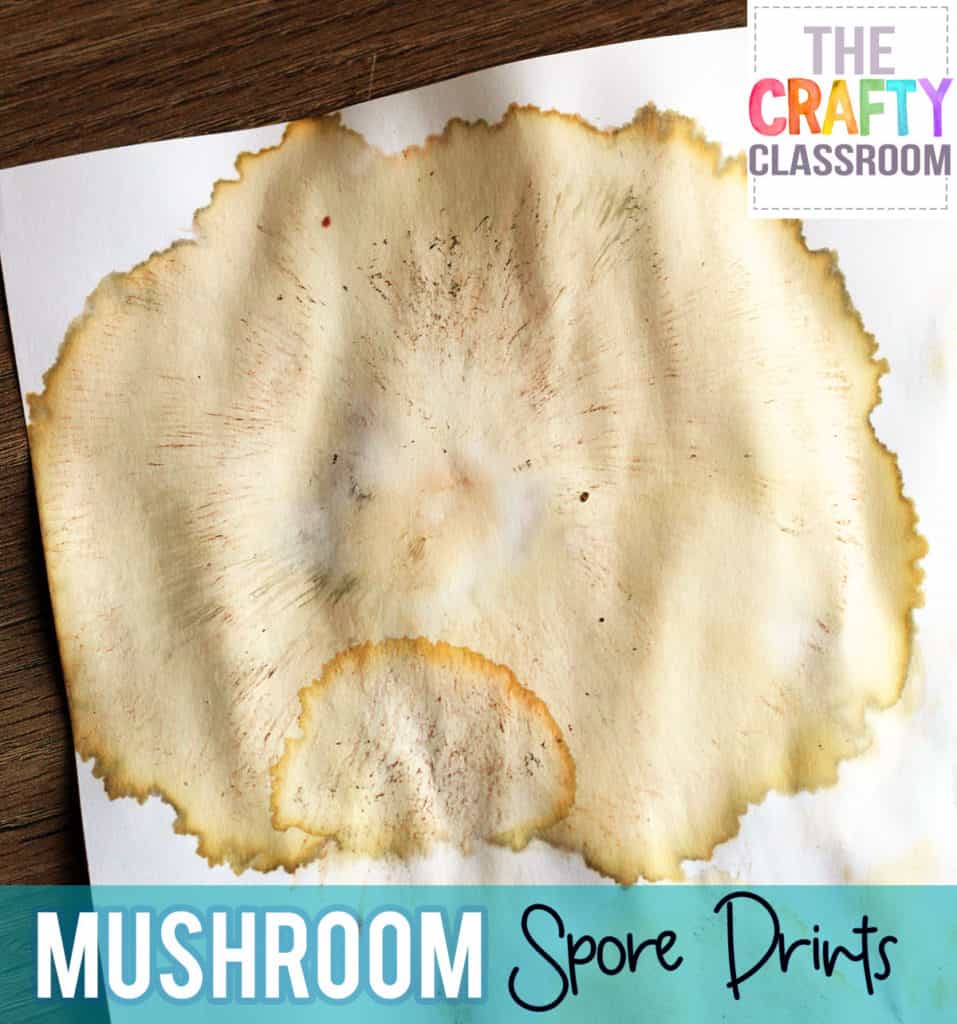 Spore Prints
Mushroom Spore Prints- Spore prints are the powdery residue that is left behind under mushrooms and other fungi. They are often used to identify different types of mushrooms. You can make spore prints at home for some fun mushroom science!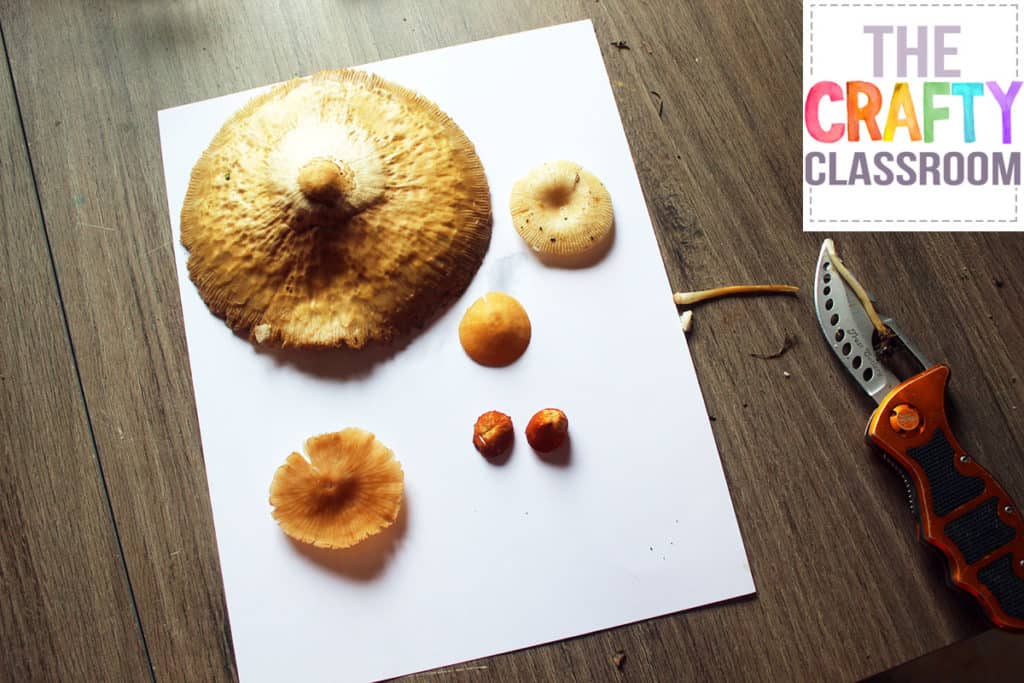 How to Make a Spore Print:
Cut the stems off your mushrooms and spread them out on a piece of white paper with the gills (underside) facing down. Add a little water to the top of the mushroom by spritzing lightly with a spray bottle or use a paintbrush to apply.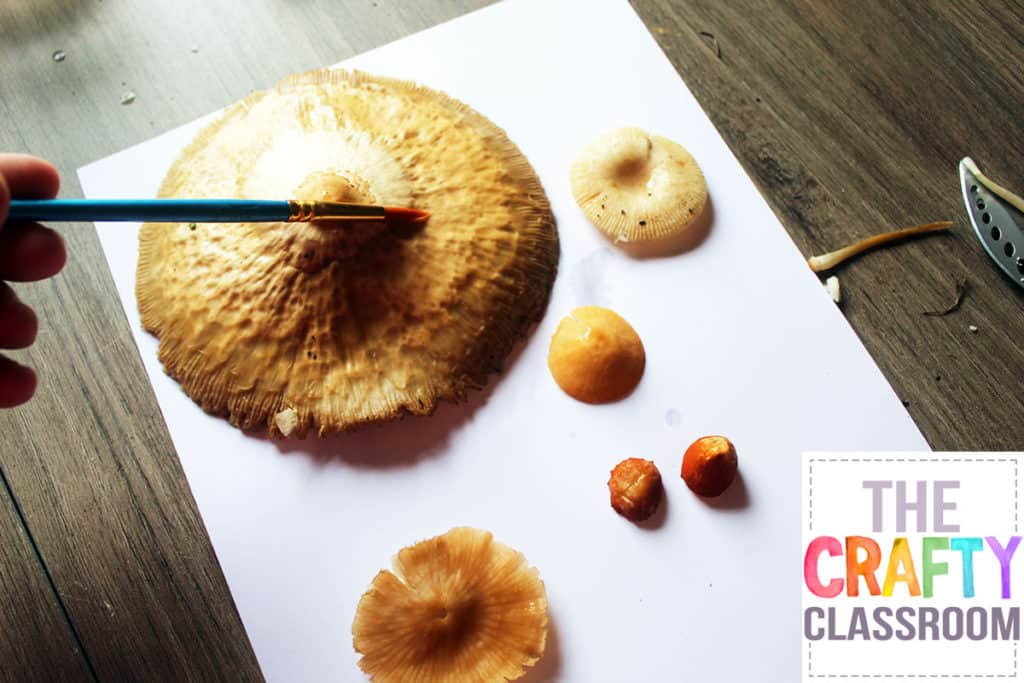 Let your mushroom tops sit at least overnight. When your pull your mushroom top up you will see the unique prints it leaves behind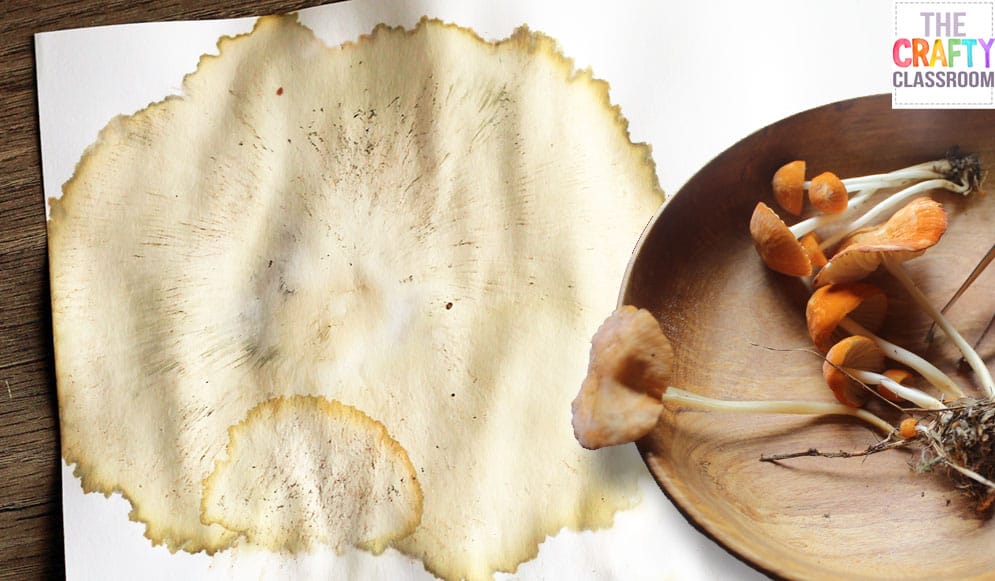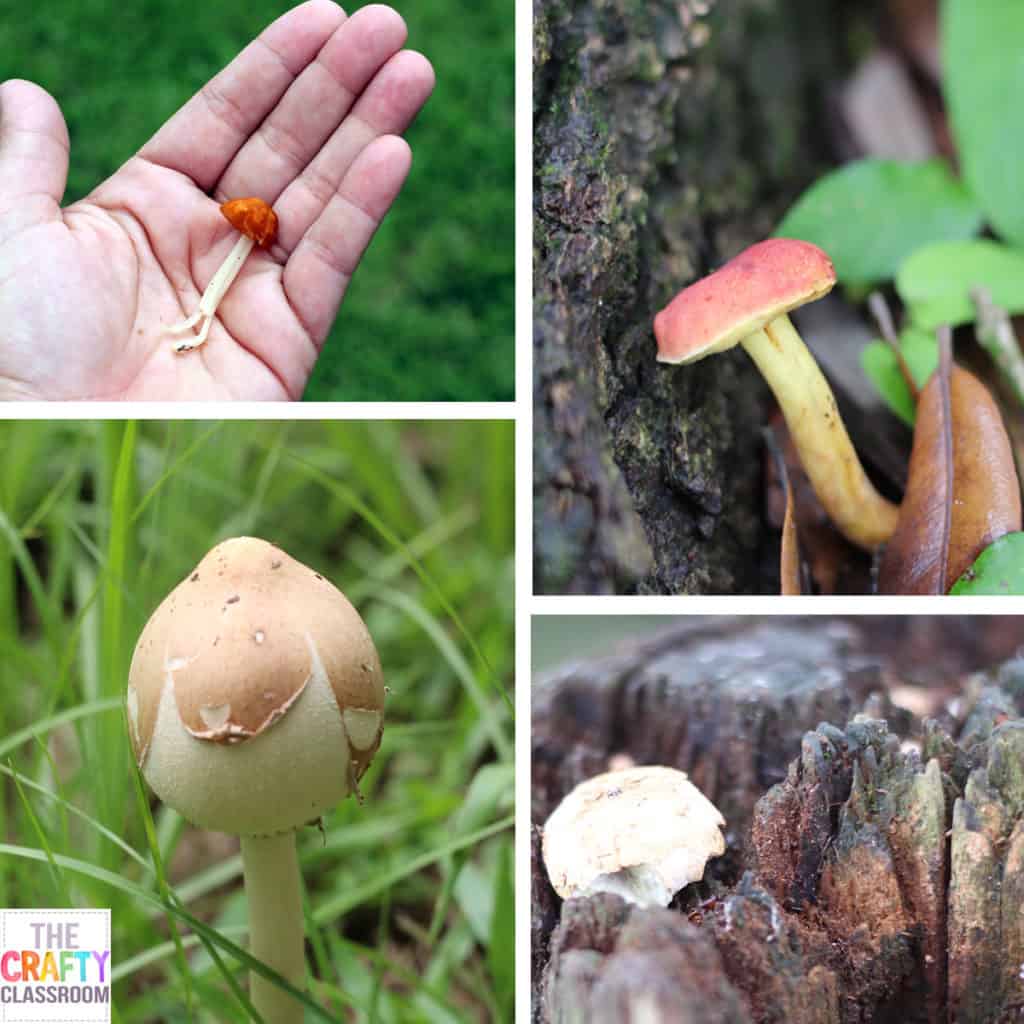 Mushroom Photo Hunt
For this activity, you can let your child use a digital camera or smartphone. Head out on a nature walk and look for different types of mushrooms or other fungi and capture them with a photo. If you want to know what you found right then and there you can use a program like iNaturalist to identify them immediately.
Print the photos or simply review them on the phone and research the names using a combination of internet and reference books, this is a great easy way to incorporate some research skills!
Research the names of each.
Identify at least 3 different types of mushrooms.
Determine whether the mushrooms are edible or not.
Observe the color, the size, the location you found them,
Spelling/Vocabulary-Have your child look up the definitions for and use the following words as spelling practice for the week: Fungi, spore, mycelium, scales, hymenium, annulus, stipe, gills, and volva. Younger children can work on simple terminology like cap, stem, mushroom.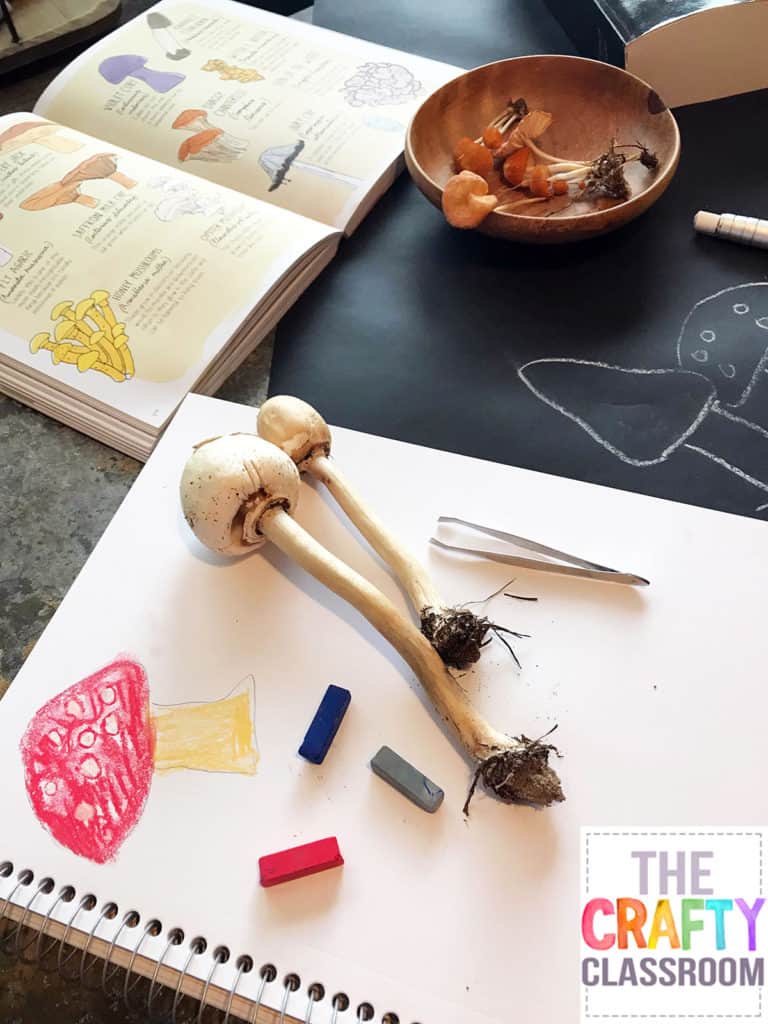 Parts of a Mushroom Worksheet
Nature Journal Sketch- Whenever we do a nature study I like to spend at least one day a week creating a page related to our study in the nature journal. I like to give the kids a spiral-bound notebook with watercolor pages, it is great for many different mediums like a pencil to sketch, beautiful watercolors, chalk pastels, oil pastels, and good old colored pencils.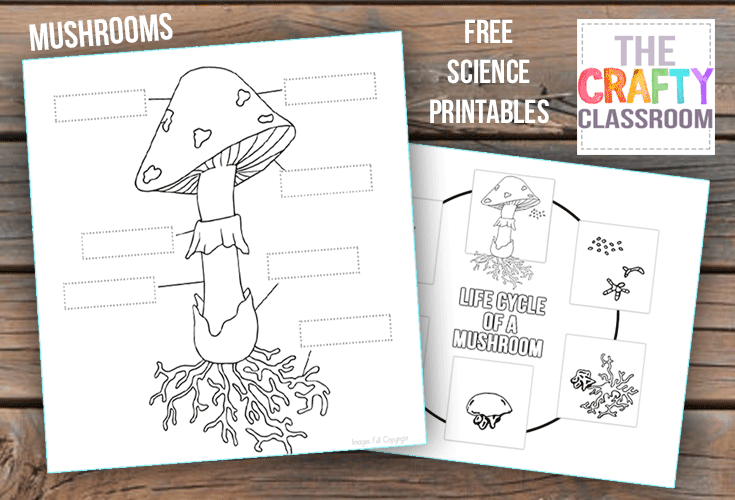 Life Cycle of a Mushroom Worksheet
Encourage your child to lightly draw images of mushrooms with a pencil and then color it in with watercolor.  Once dry, let them label the types of mushroom as well as its parts depending on their ability. You can use your favorite medium but I love watercolors because they are light and easy to carry out in the field or to use at home. For your art journal, you could also draw and paint the life cycle of a mushroom.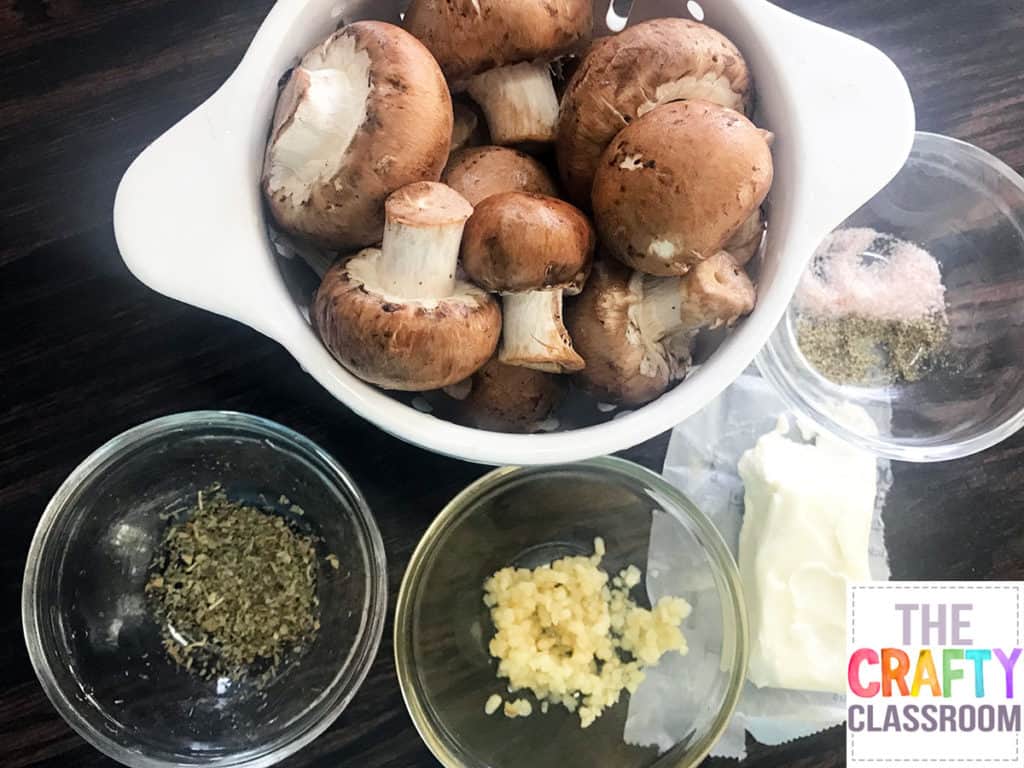 Sauteed Baby Bella Mushrooms
I like to incorporate cooking into our lessons as much as possible because it can utilize so many skills- math, science, following directions, geography, knife skills, and other basic life skills. We grabbed some Baby Bella mushrooms from the grocery store and I incorporated them into a very simple dish for the kids to make and they were able to use knife skills and learn about stove safety while tasting something they made with their own hands!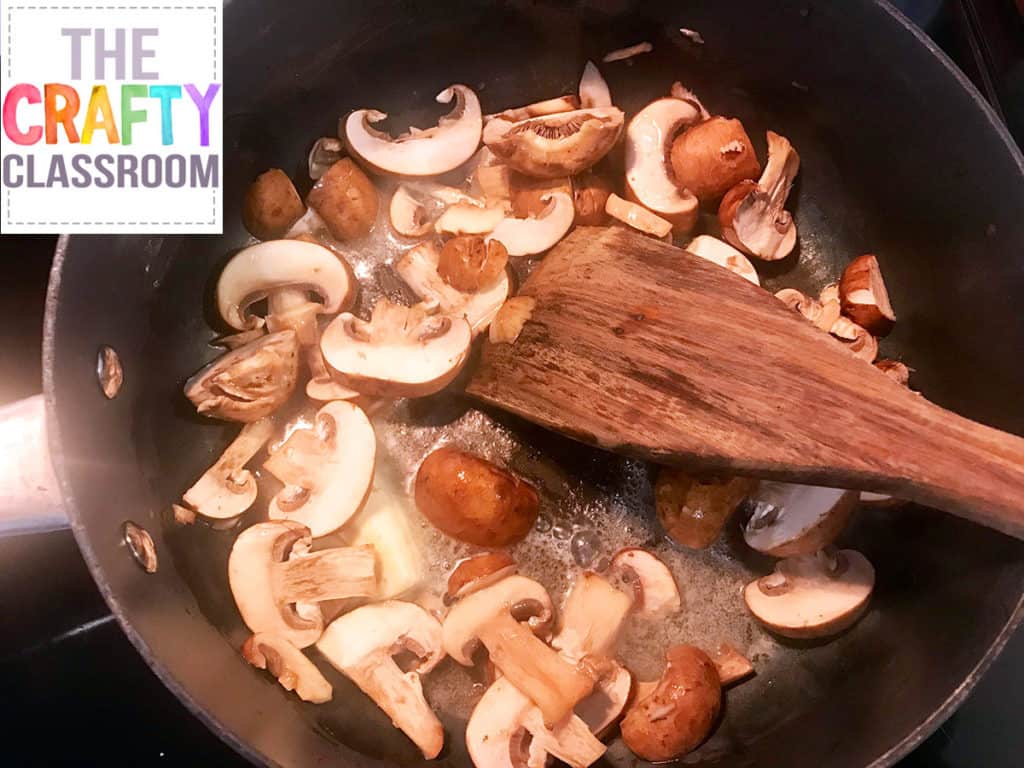 You will need 1 package Baby Bella mushrooms, 3 T. butter, 2 teaspoons diced garlic, 1 tsp. Dried parsley, salt, and pepper to taste.
Rinse and wipe off mushrooms well with a paper towel to remove any remaining dirt.
Slice mushrooms into thick pieces.
Melt butter over medium-high heat.
Stir in mushroom slices and all seasonings except garlic, sautee for 5 minutes.
Add garlic and cook for an additional 2 minutes.
Add mushrooms to hamburgers, over green beans, or eat them straight off the dish!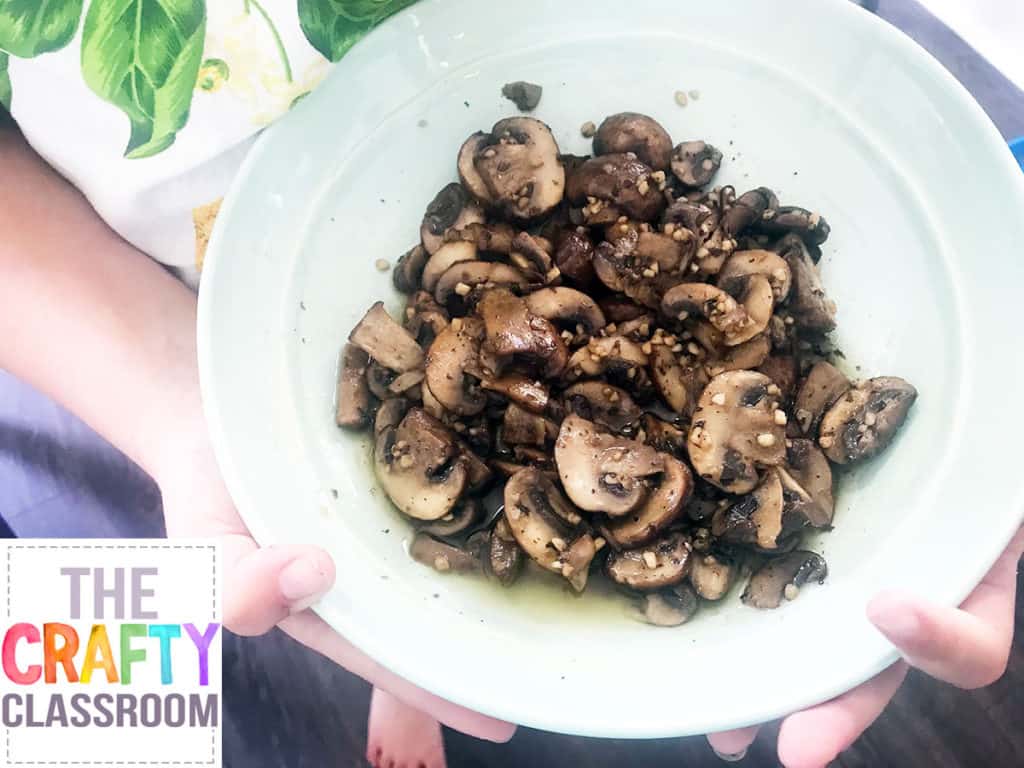 Ideas for younger children:
Create your own mushrooms with playdough.
Make and paint a mushroom with paper plates.
Make a mushroom sensory bin with soil, moss and fake mushrooms.
Sort edible mushrooms by size.
Learning about mushrooms can be tons of fun! With all the possibilities for art projects, nature hikes, hands-on journaling, and even recipes, this is definitely a unit study you want to add to your fall line-up!
The post Mushroom Unit Study appeared first on The Crafty Classroom.