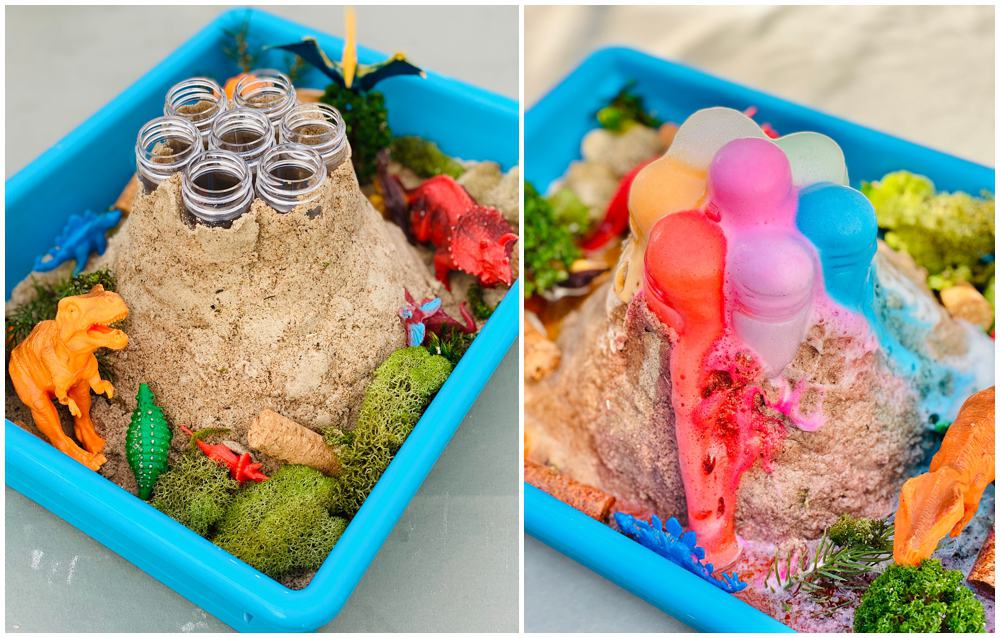 Follow us on Instagram for more fun ideas for kids!
Watch the video below to see this fun Rainbow Baking Soda Volcano Experiment in action. Make sure to subscribe to our YouTube channel for more fun videos!
This rainbow baking soda volcano experiment is a mesmerizing and colorful science experiment kids can make with common kitchen household items.
Your kids will love making this colorful rainbow baking soda volcano with just a couple of kitchen items you probably already have at home like baking soda, food coloring and vinegar!
In our house, we encourage what we like to call messy play. And when it's also something that teaches the kids about STEM and science, we're always intrigued and ready to give it a try.
What we love about this DIY volcano experiment is that it's really great for kids of all ages. From early learners to curious tweens, they'll all love the process and outcome of this simple science experiment.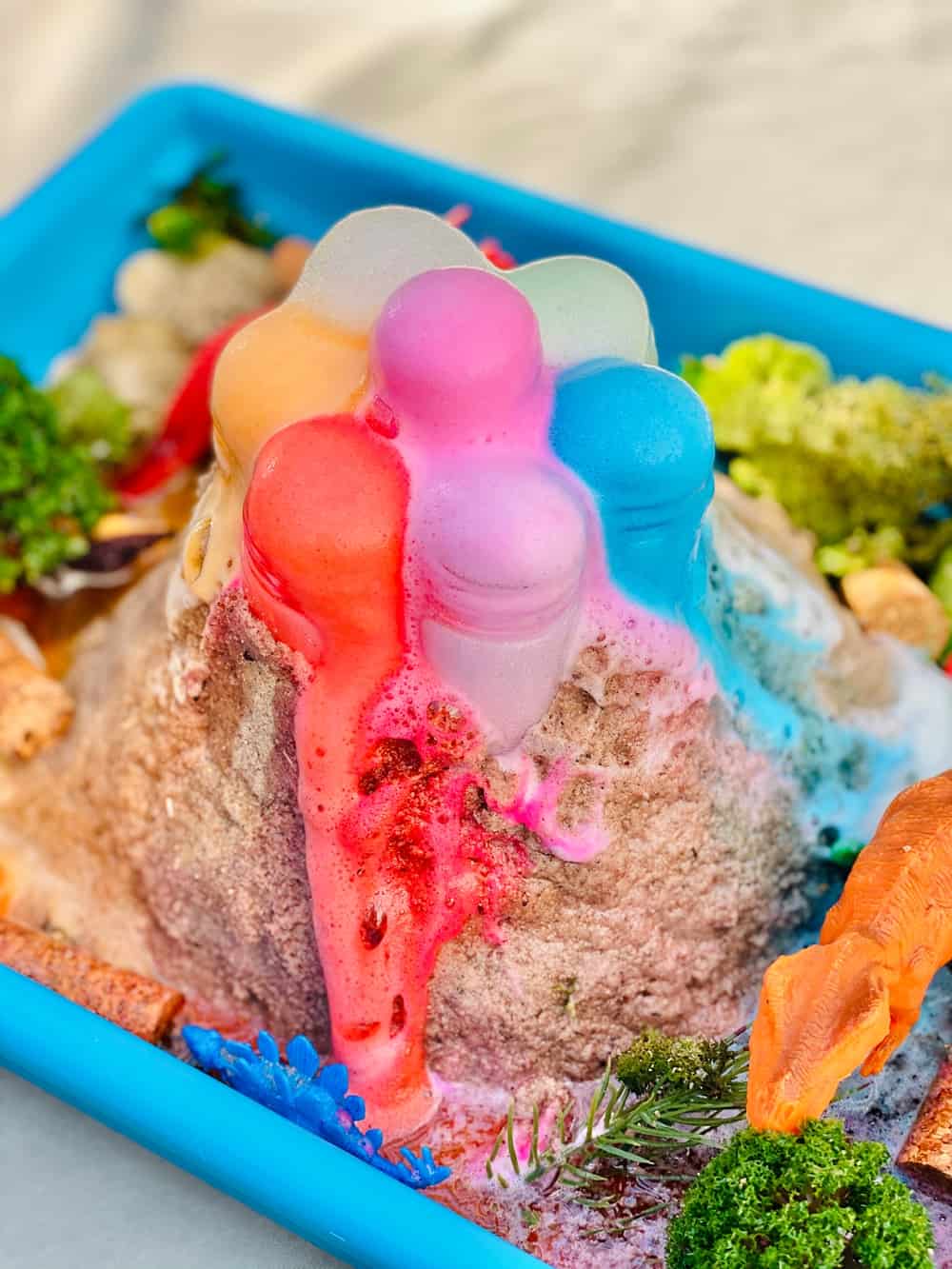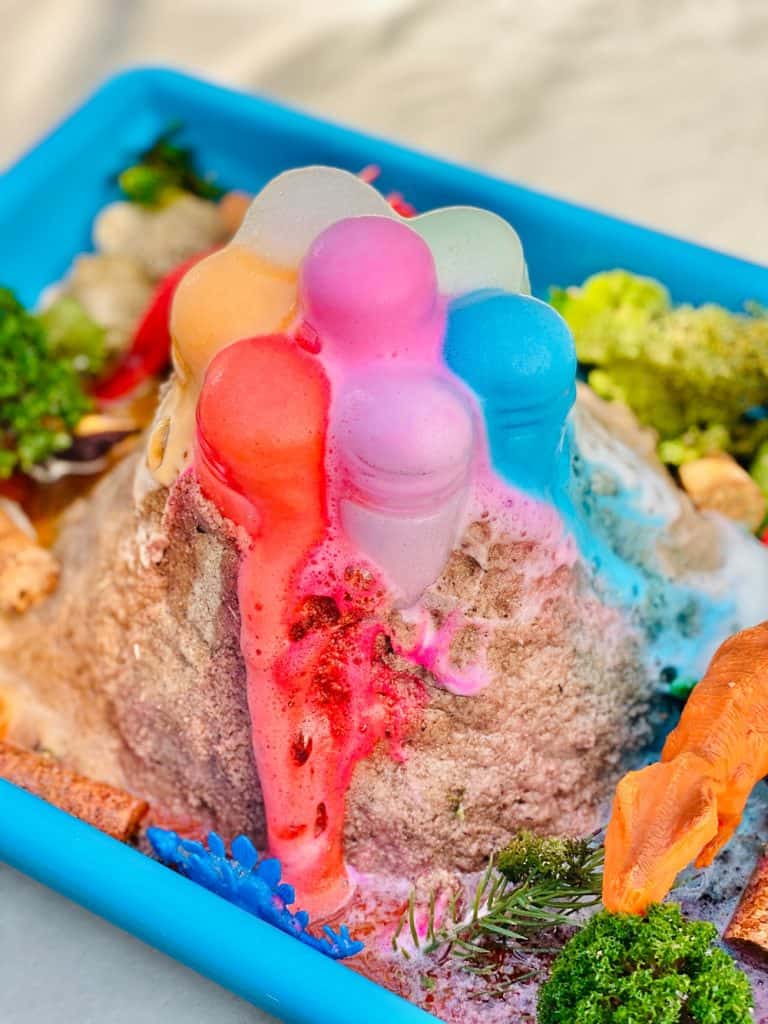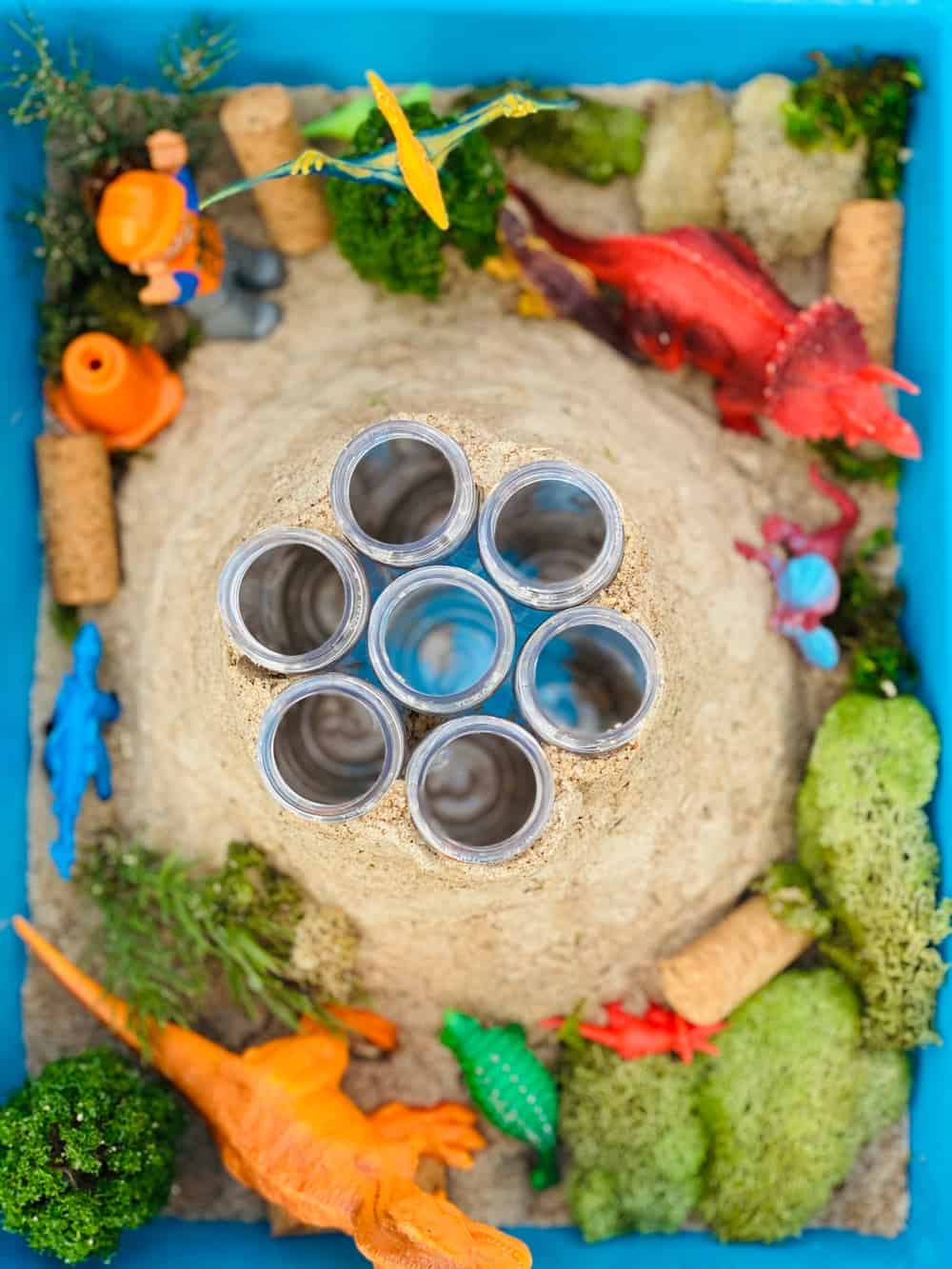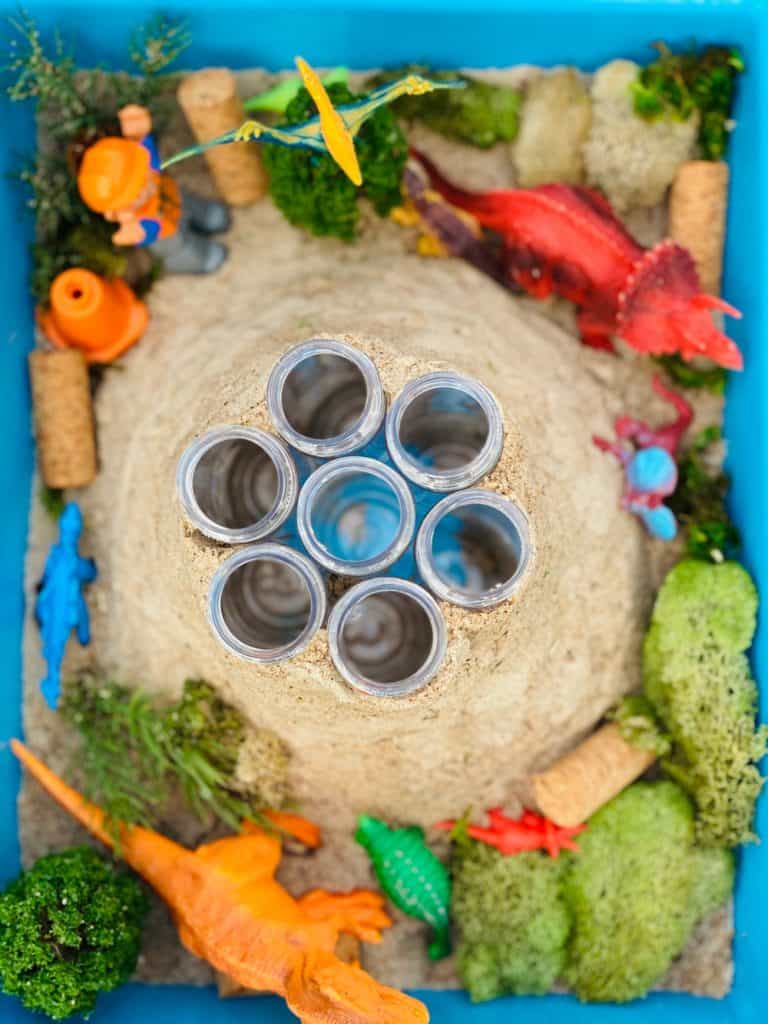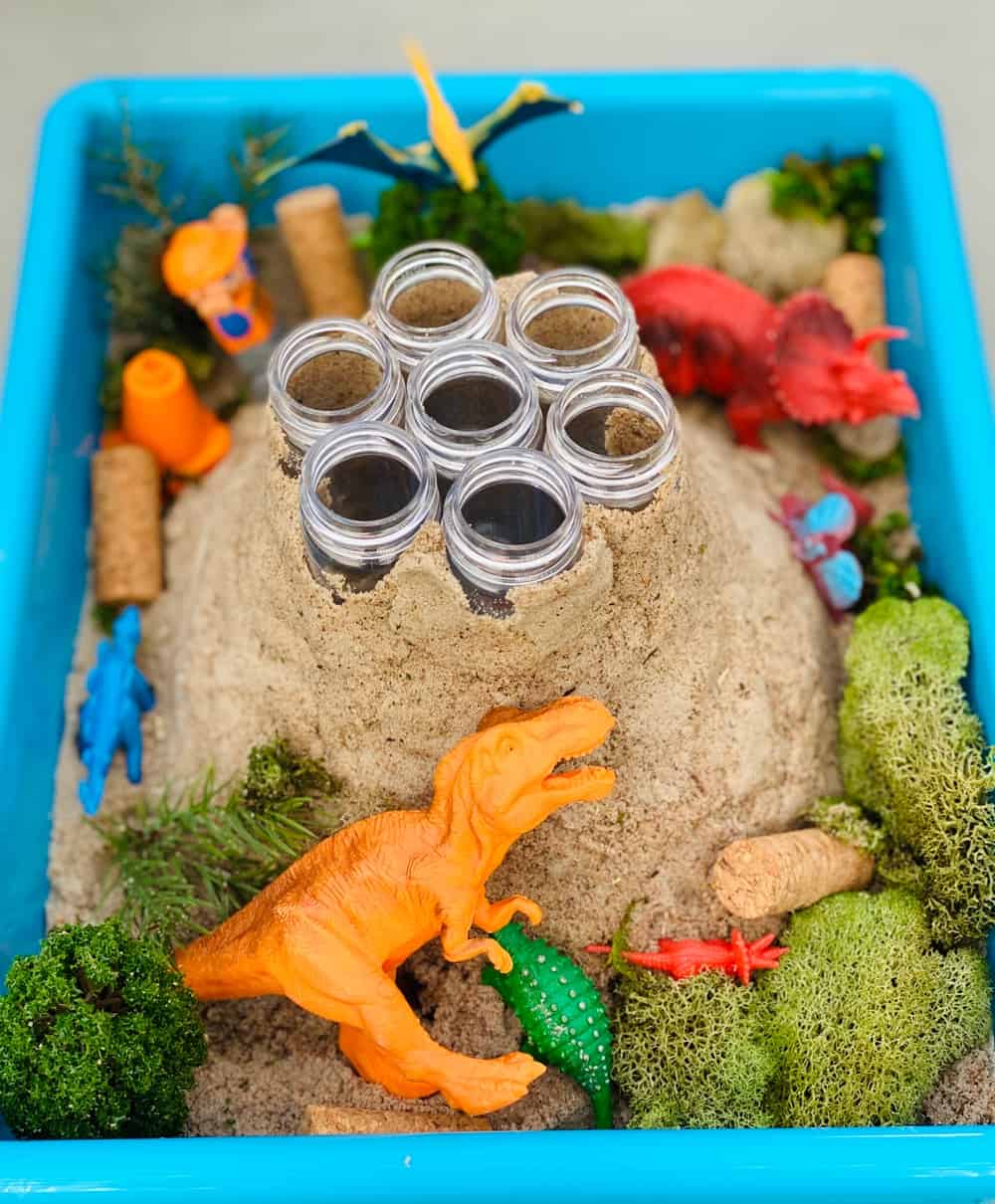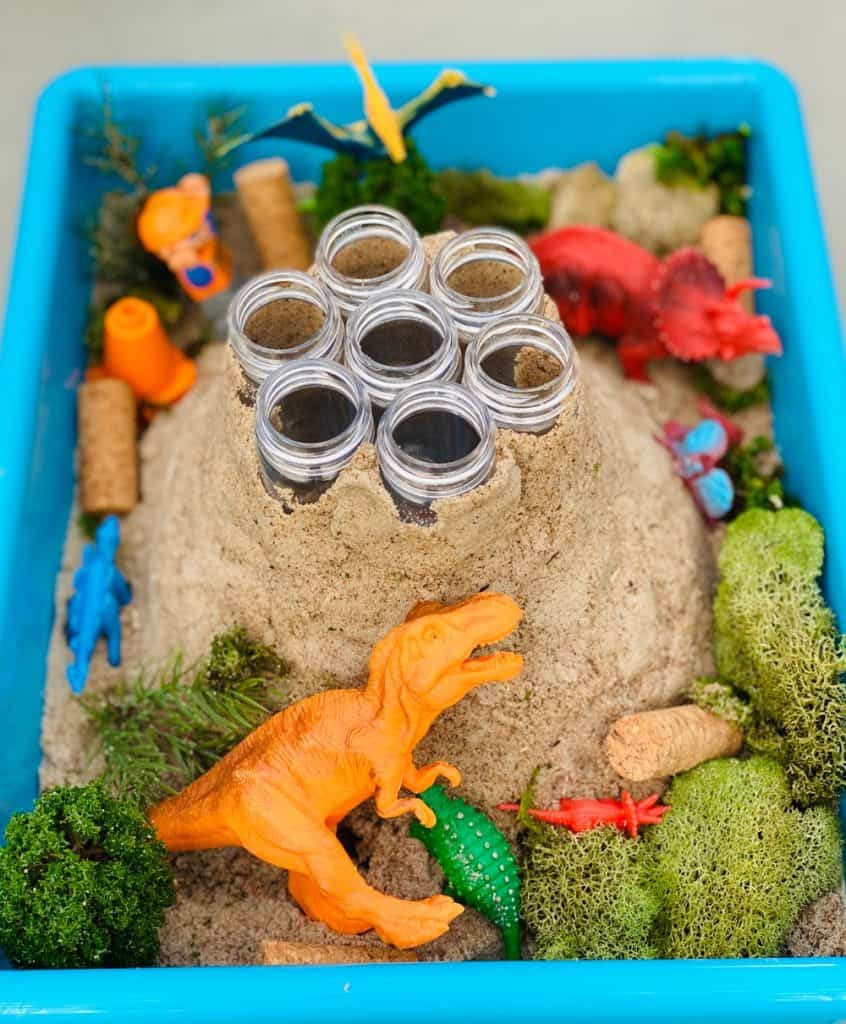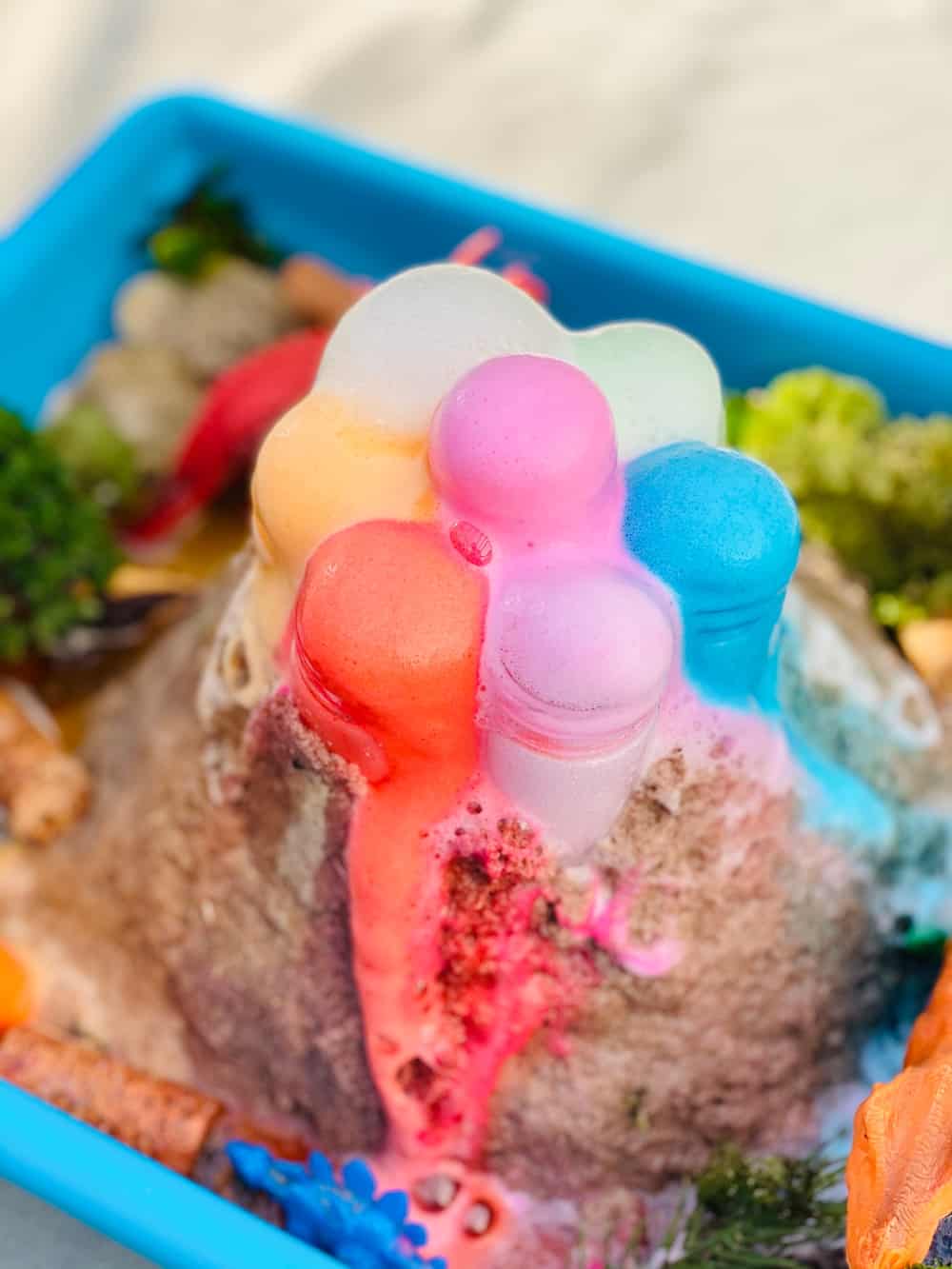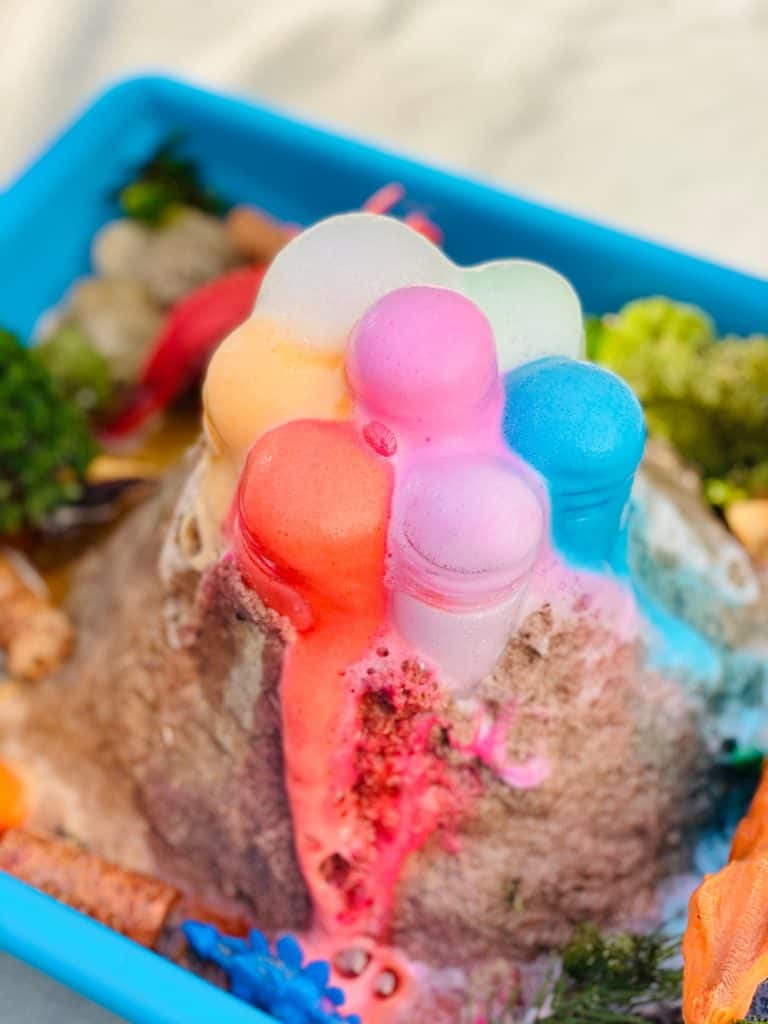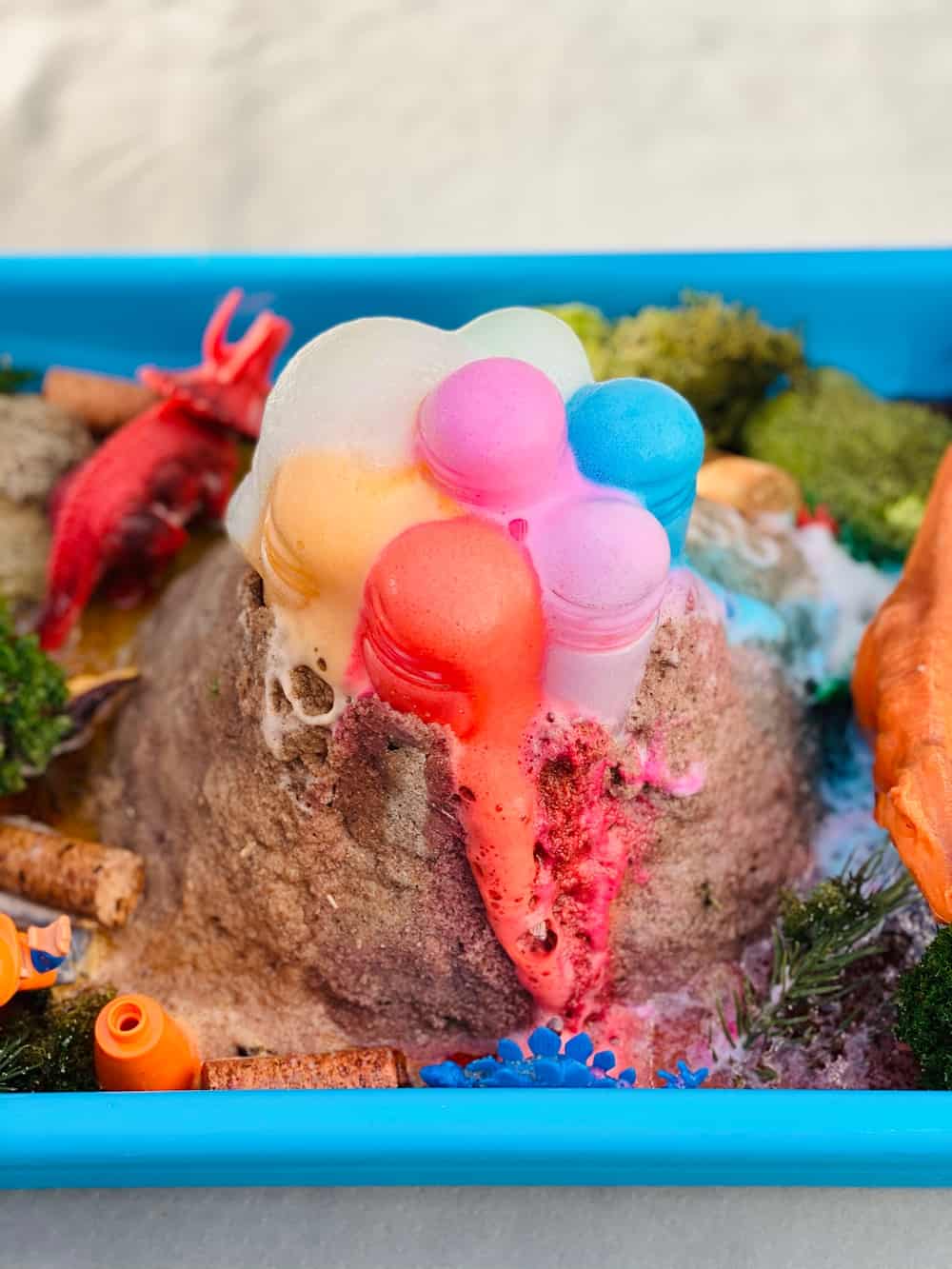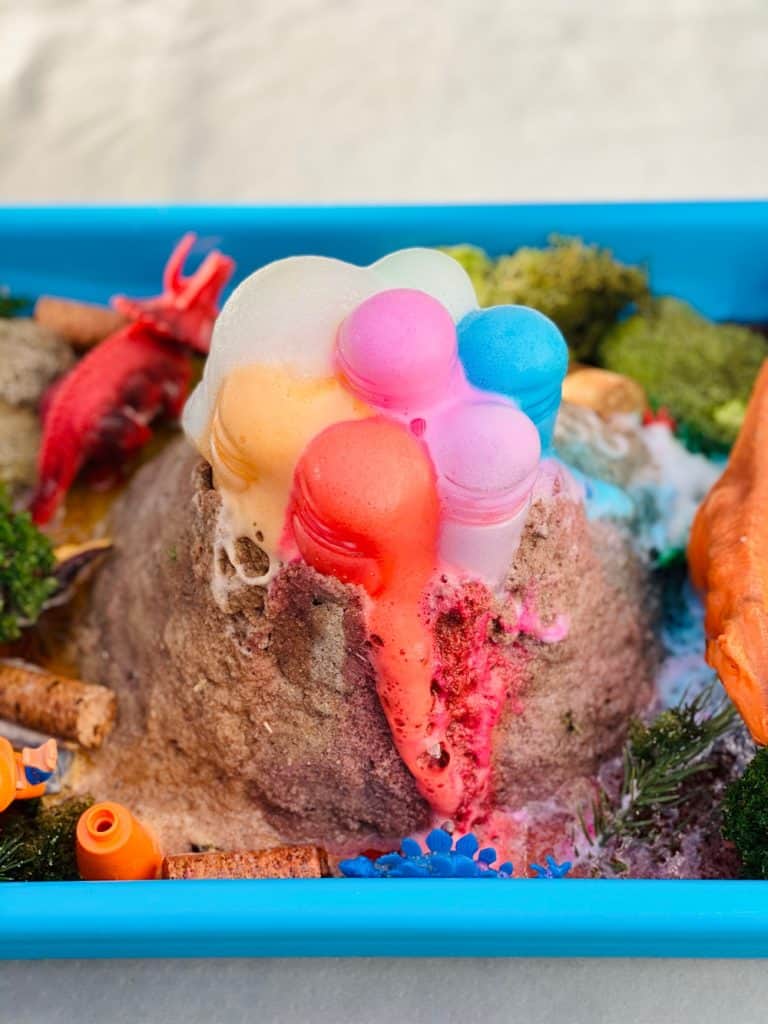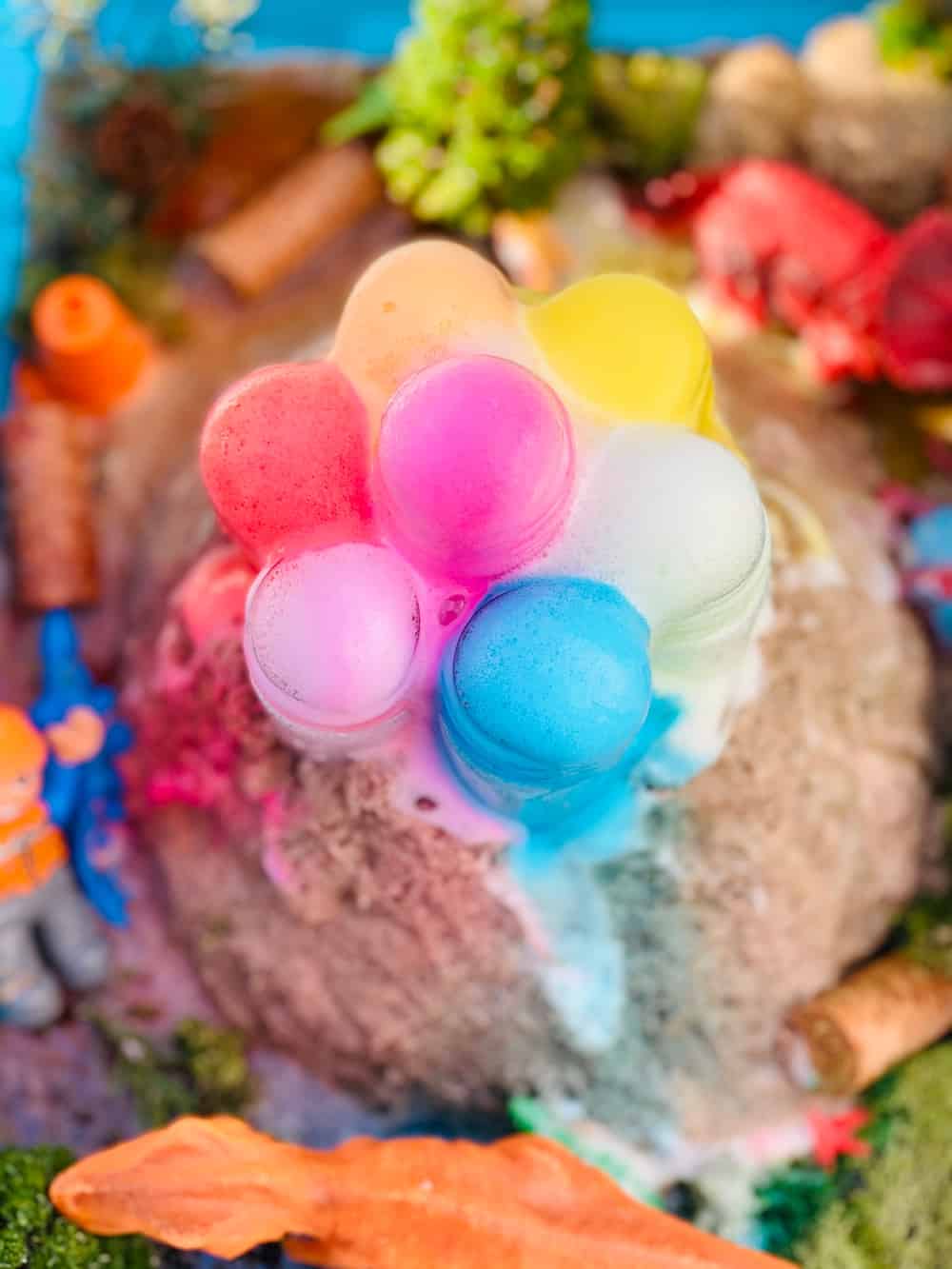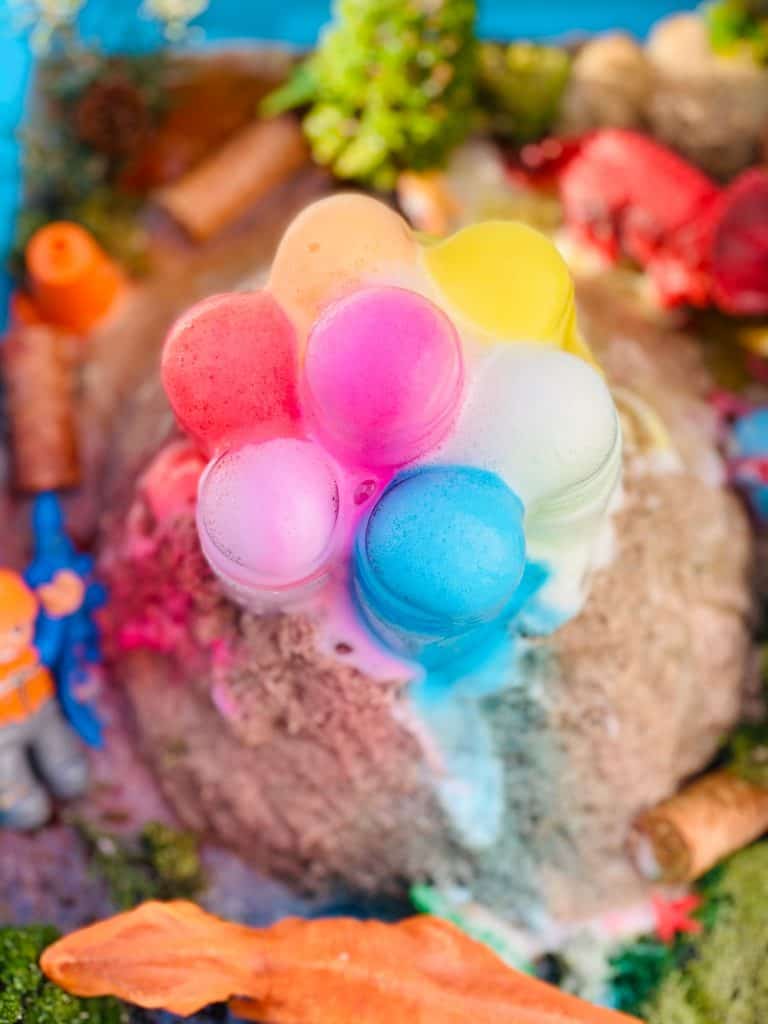 What causes the baking soda reaction?
Like our giant balloon baking soda experiment, this is experiment is an acid/base reaction. Vinegar is acidic and baking soda is a base. When you mix an acid with a base, two new chemicals form, carbonic acid and sodium acetate. The new acid then decomposes into water and carbon dioxide which causes bubbling. 
Show the kids that learning can be fun! When you're ready to have an mesmerizing project at home, this is the simple experiment that you need to do! 
What I love most about this easy activity for kids is that it's a quick and simple science experiment that results in guaranteed fun and excitement. Who wouldn't love to see a volcano erupt into the colors of a rainbow? I'm an adult and even I loved this experiment! 
Get ready for this to be a fun activity that the kids ask for again and again because I can assure you that this cool sight never gets old.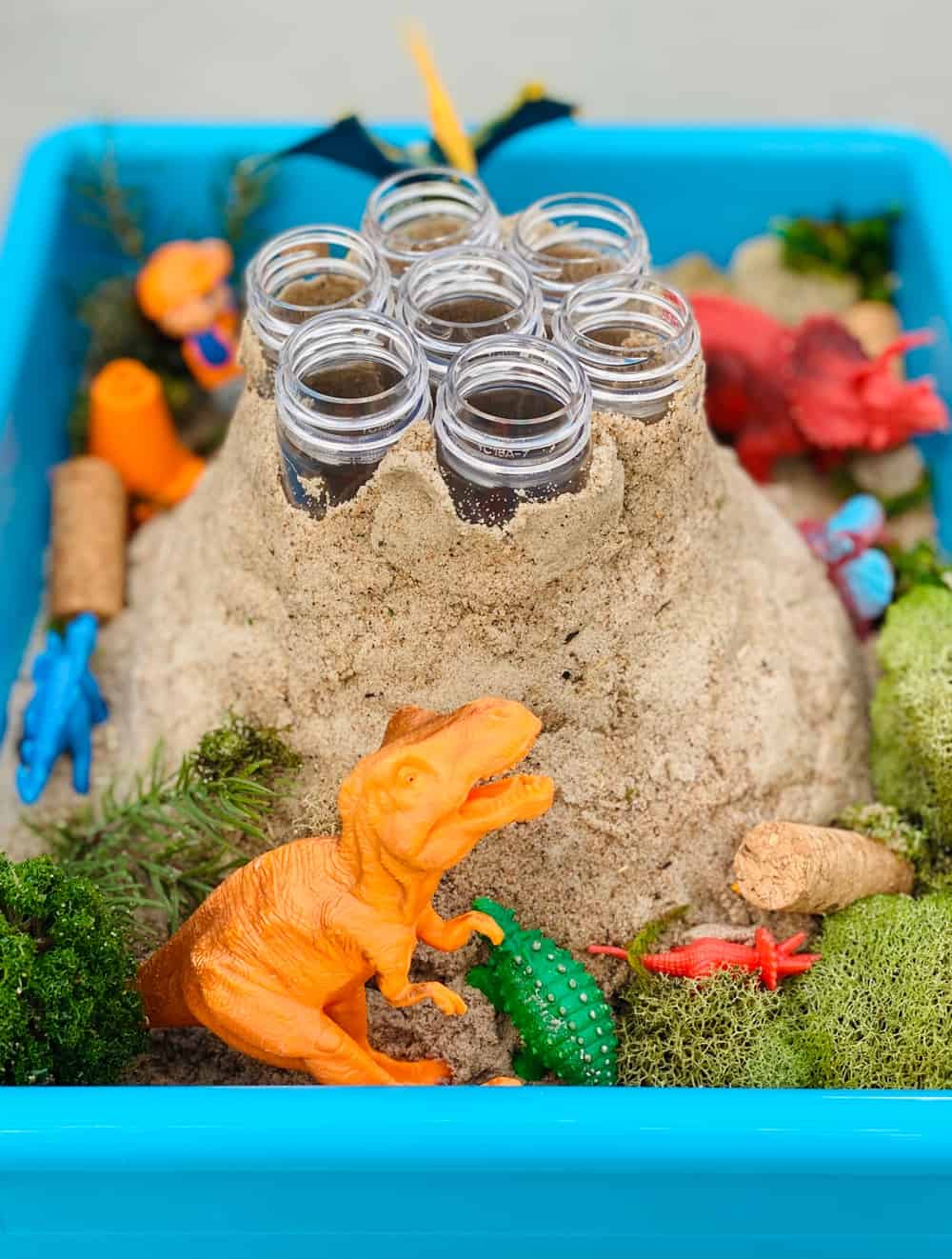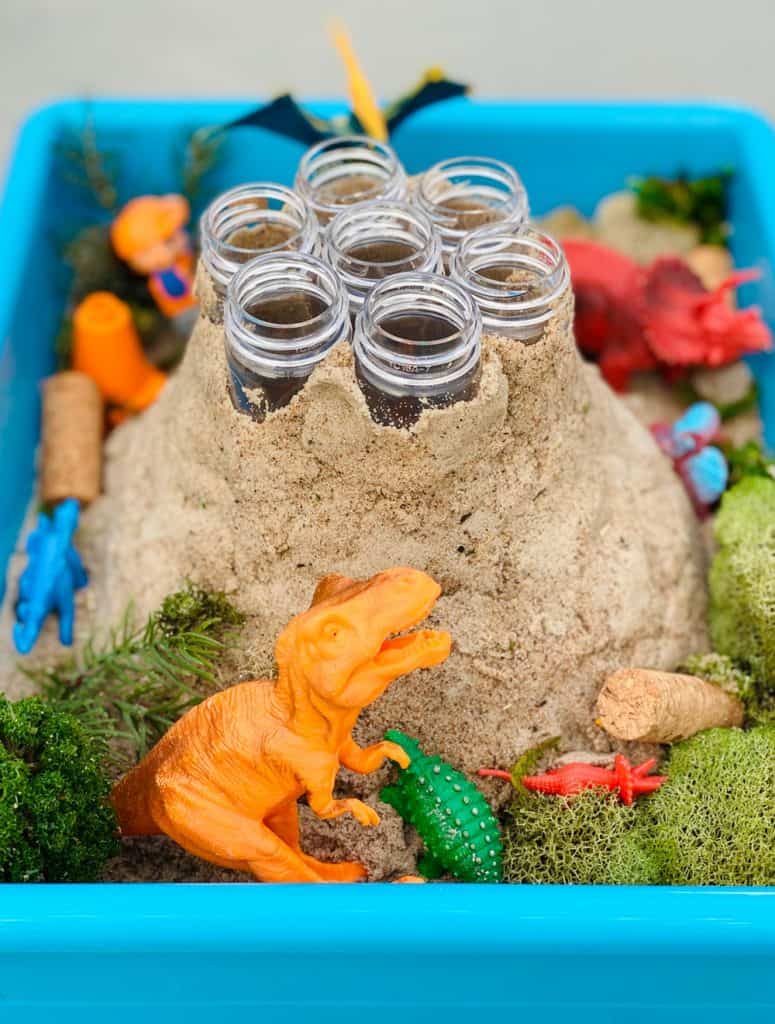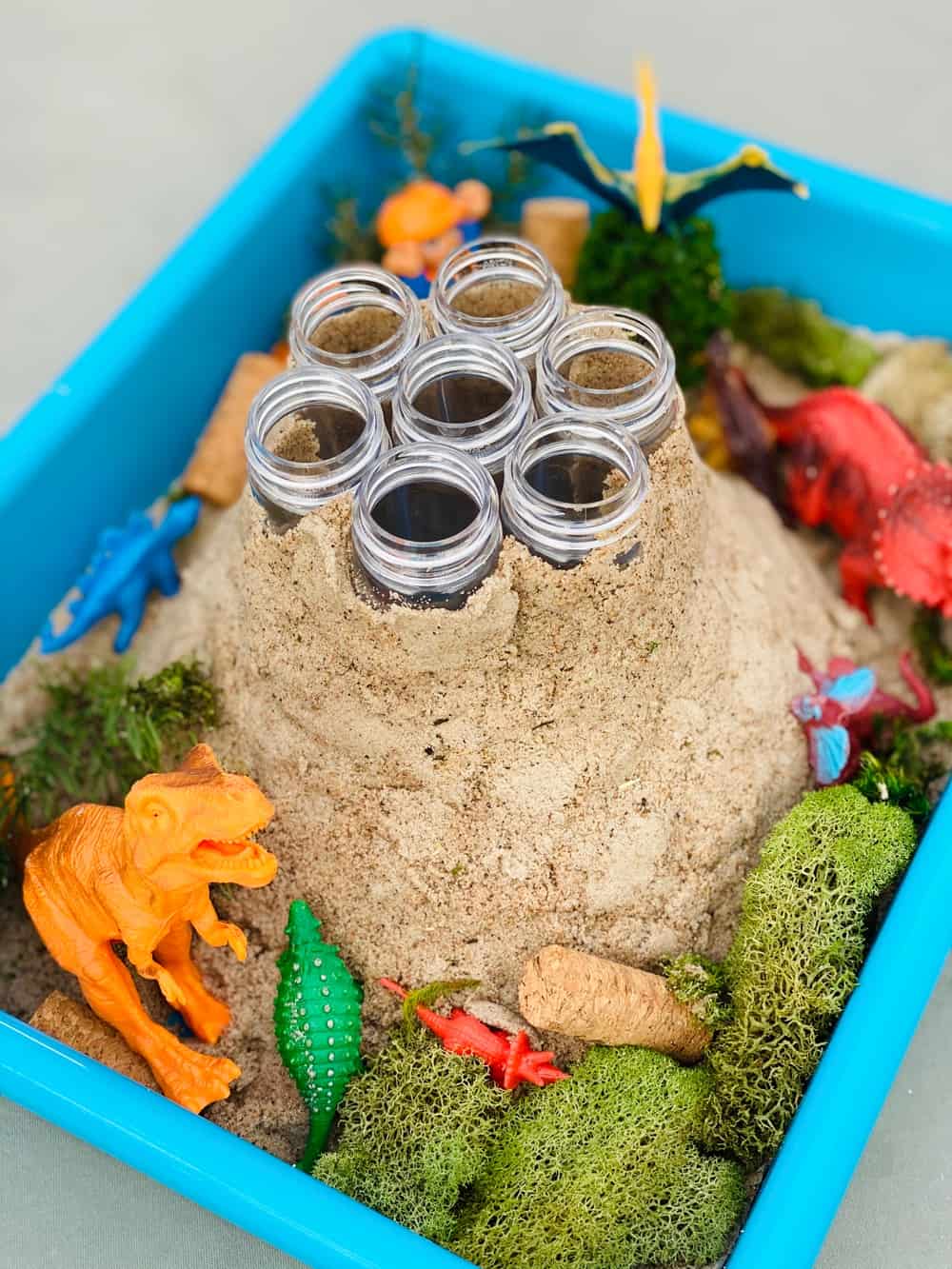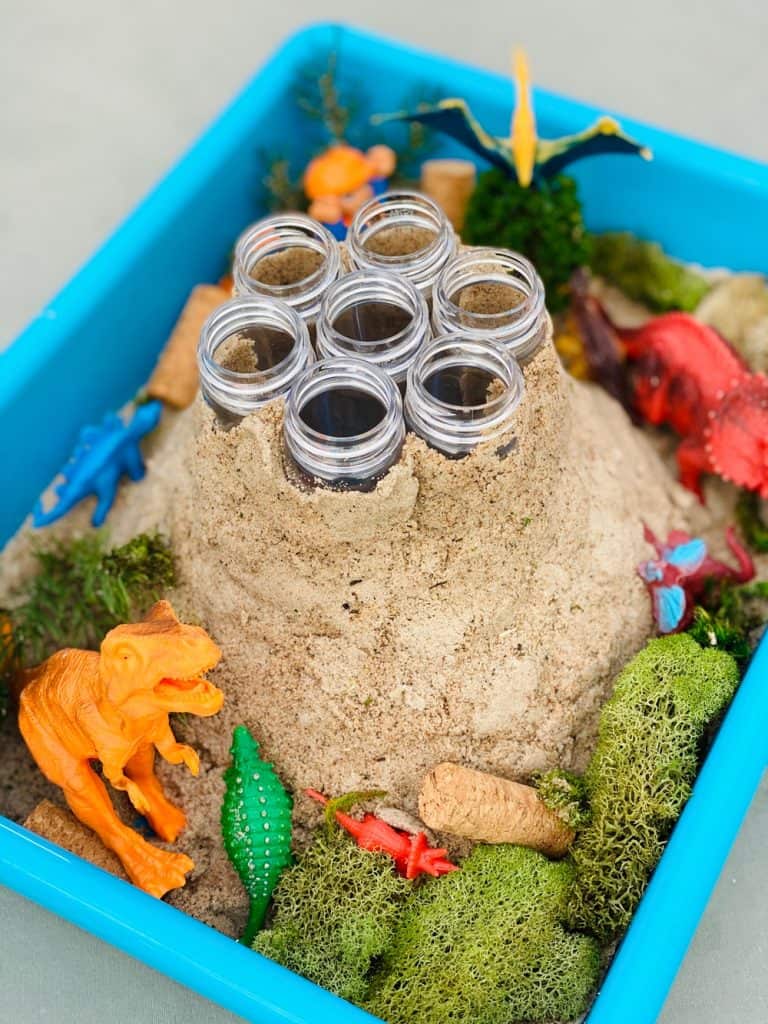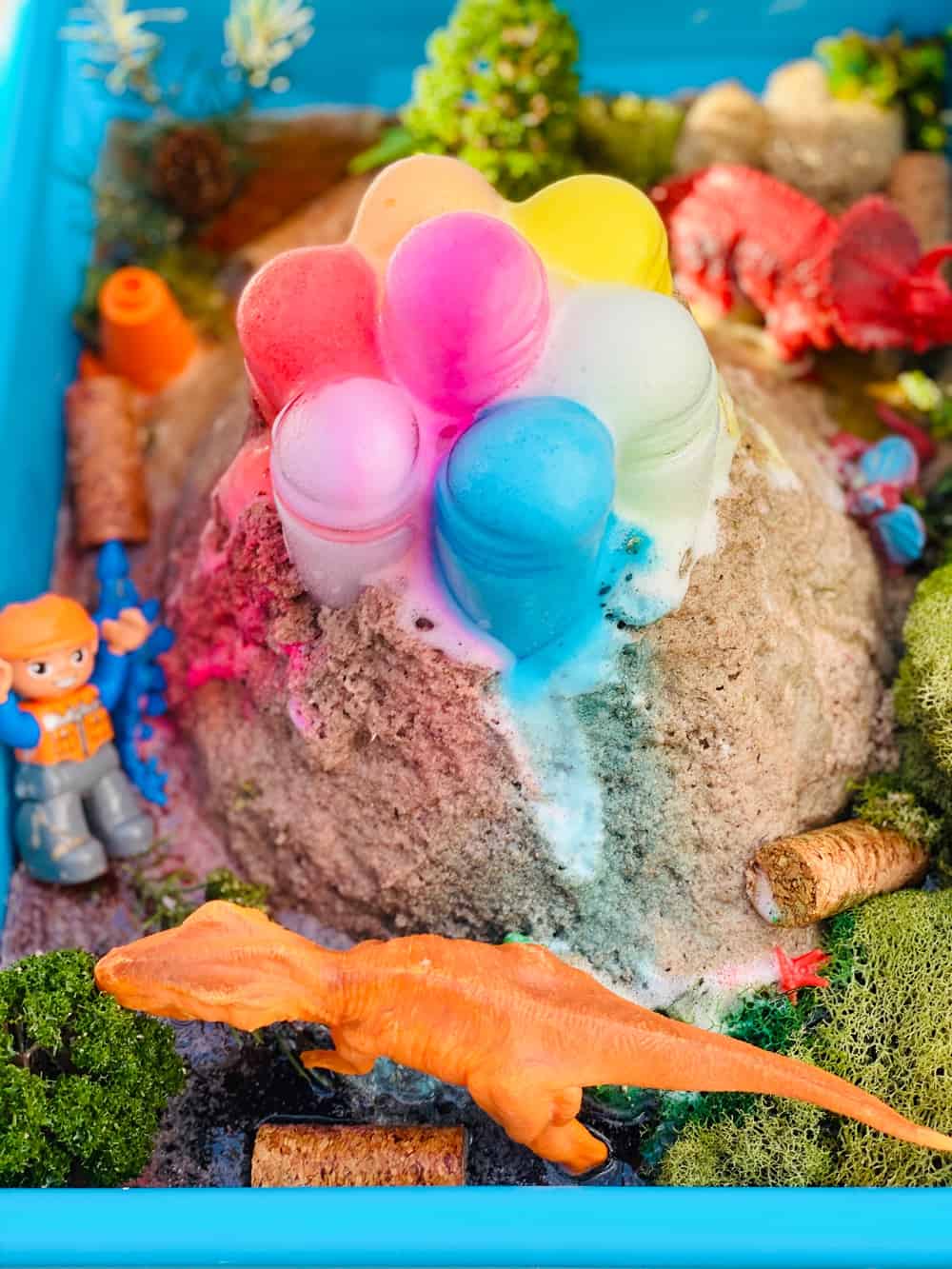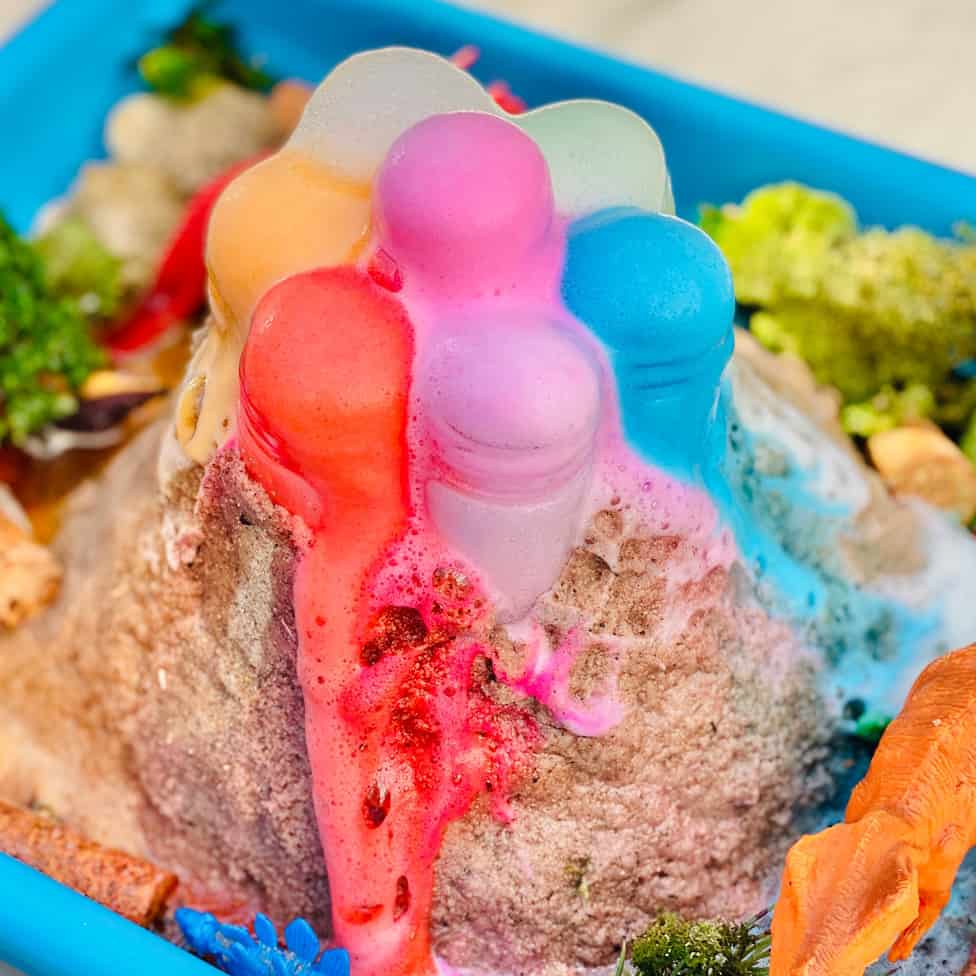 Is this volcano science activity safe for kids?
The ingredients to make this rainbow volcano are simple and safe like food coloring, vinegar, baking soda and dish soap so you can focus on learning. 
But just like with all kids' activities, parental guidance is needed. Since this volcano doesn't actually "explode" there's no real harm that could happen to the kids but if you're worried about it, just sit with them and join in on the fun. 
We've typically done this project at home on our dining table but it is a messy project so keep that in mind. If you want to take it outdoors and have it done there, it's such a simple project with very few supplies so that shouldn't be hard to do. 
Just gather up what you need and set up your science station in an area that is safe and easy to get to for the kids. One tip is placing it all on on a plastic bin that doubles as a sensory bin to play with once the volcano erupts.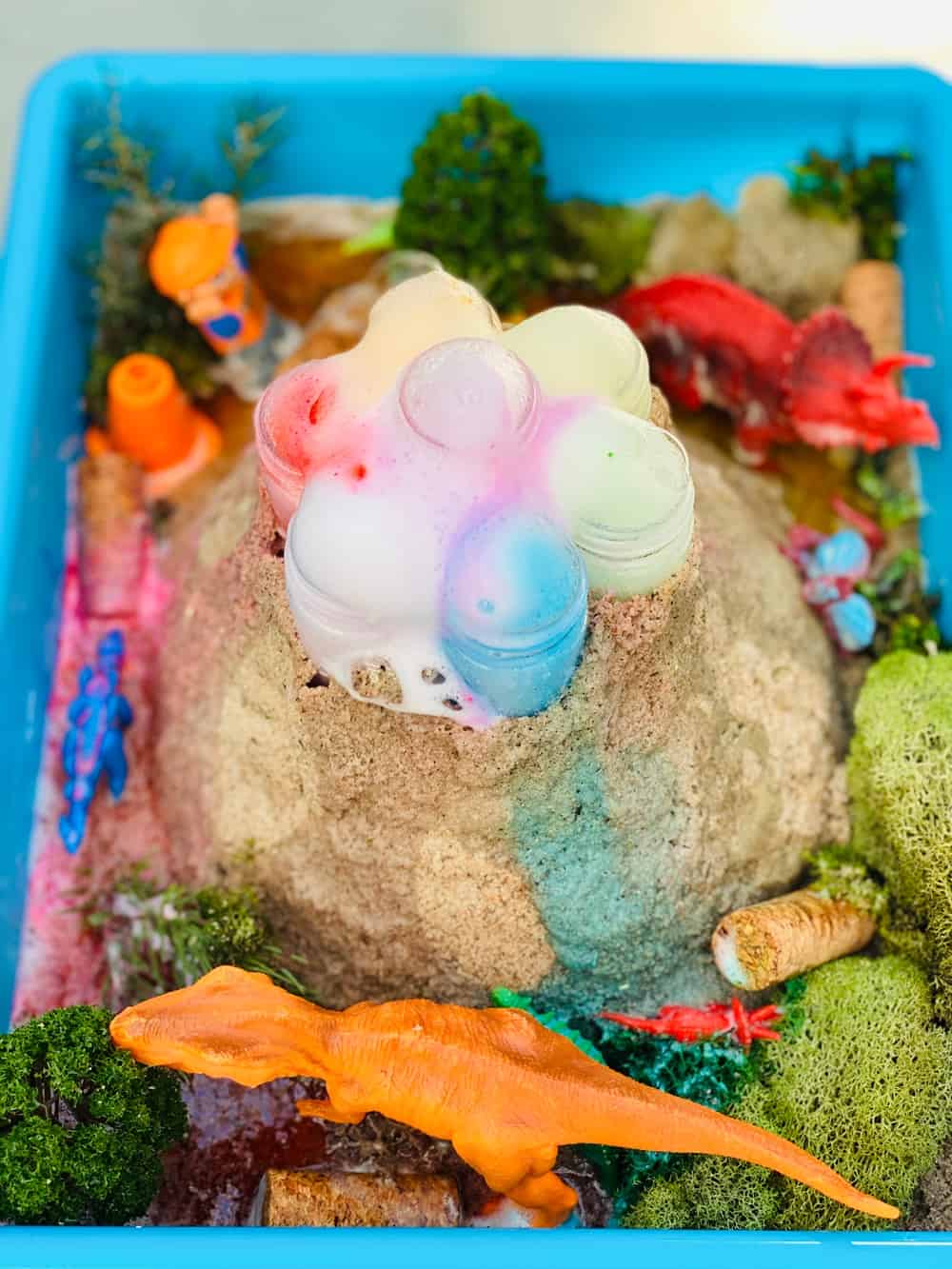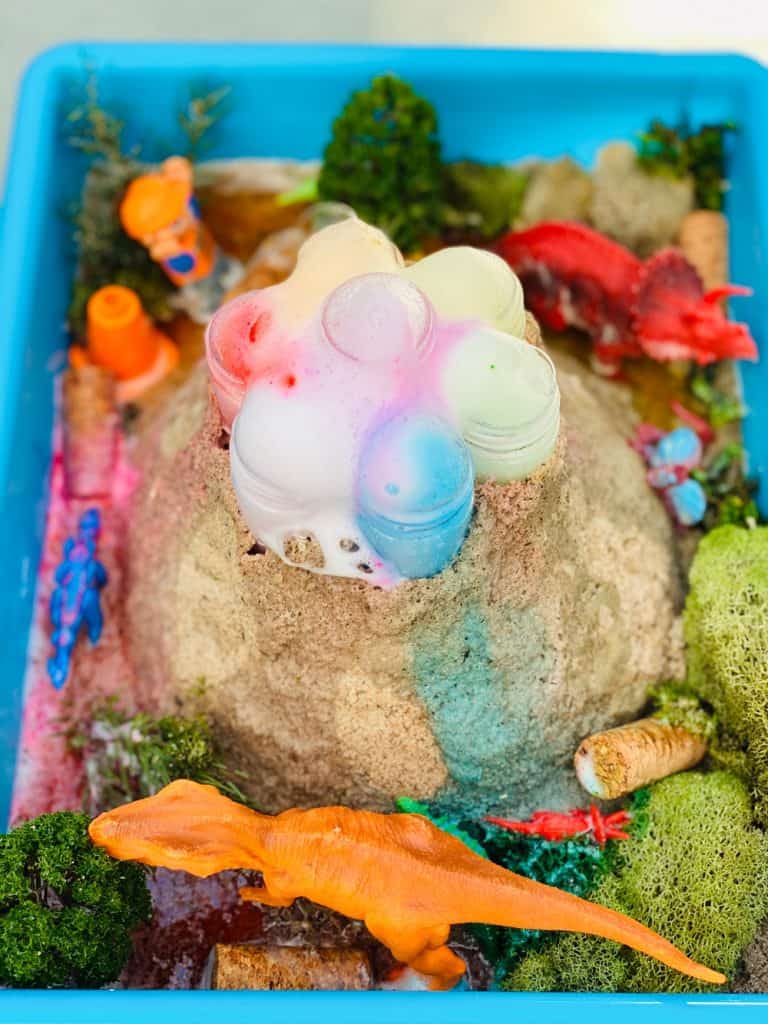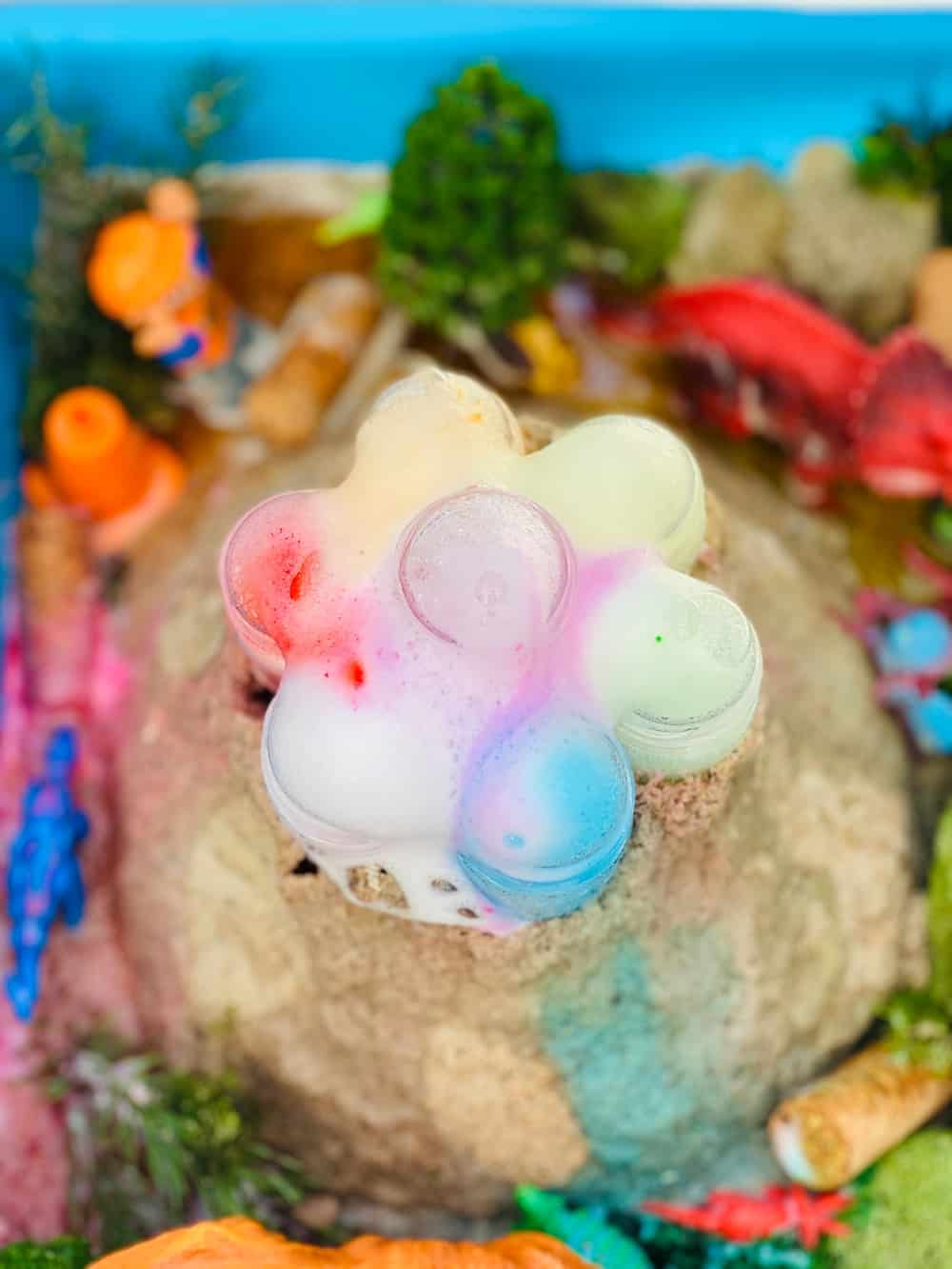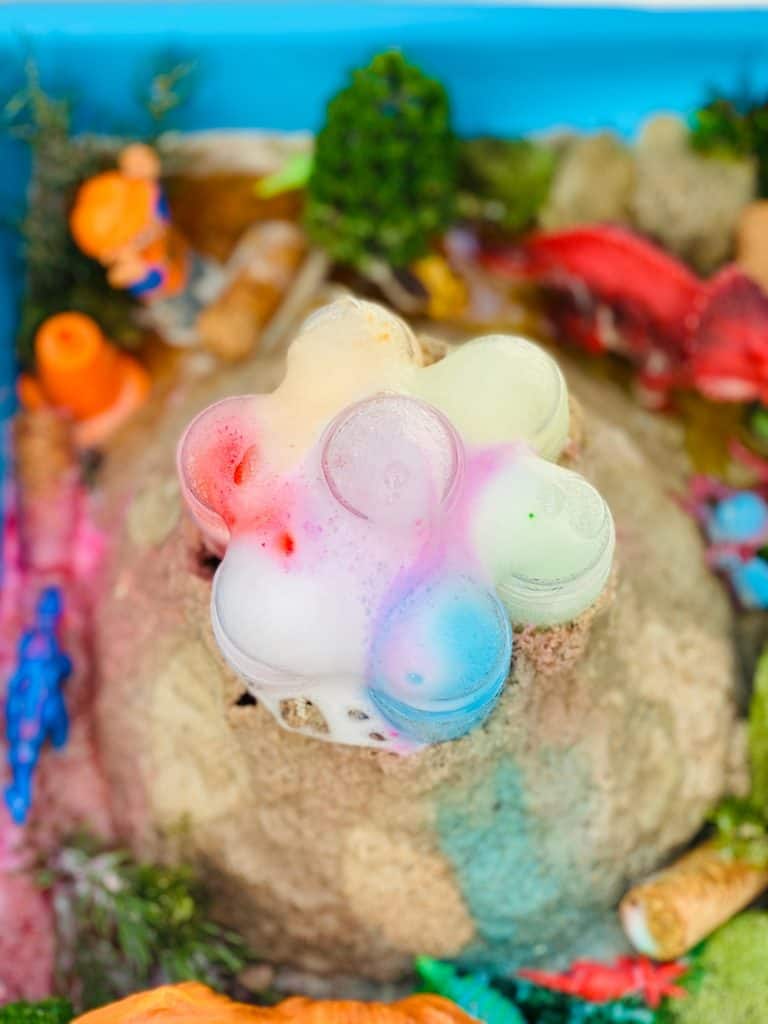 What are some other ways to have fun with this volcano activity?
What we did to make it extra fun is have them create this volcano out of sand. Our kids also added some toy dinosaurs so after the volcano erupted it created a fun sensory bin! 
If you're looking for ways to make this project last, you can always tie in some volcano learning or rainbow learning as well. Read a few good books or take the time to research fun topics online.
You can also have the kids get creative with their imagination and have them pretend that they're scientists as well. Get out the lab coats and let them create this rainbow experiment in their laboratory at home! 
Rainbow Baking Soda Volcano Experiment – Materials: 
Rubber band

Baking Soda

Food Coloring (we recommend gel colors for vibrancy instead of water base)

Vinegar

Dish Soap

Sand (we used kinetic sand but you can also use regular sand with water)

Toy dinosaurs, plants, etc

A plastic bin to keep the volcano mess contained
The video will show you the process but it's as simple as adding the baking soda to the glass bottles or containers followed by a few drops of food coloring to each bottle. Then top with water and watch the rainbow reaction occur!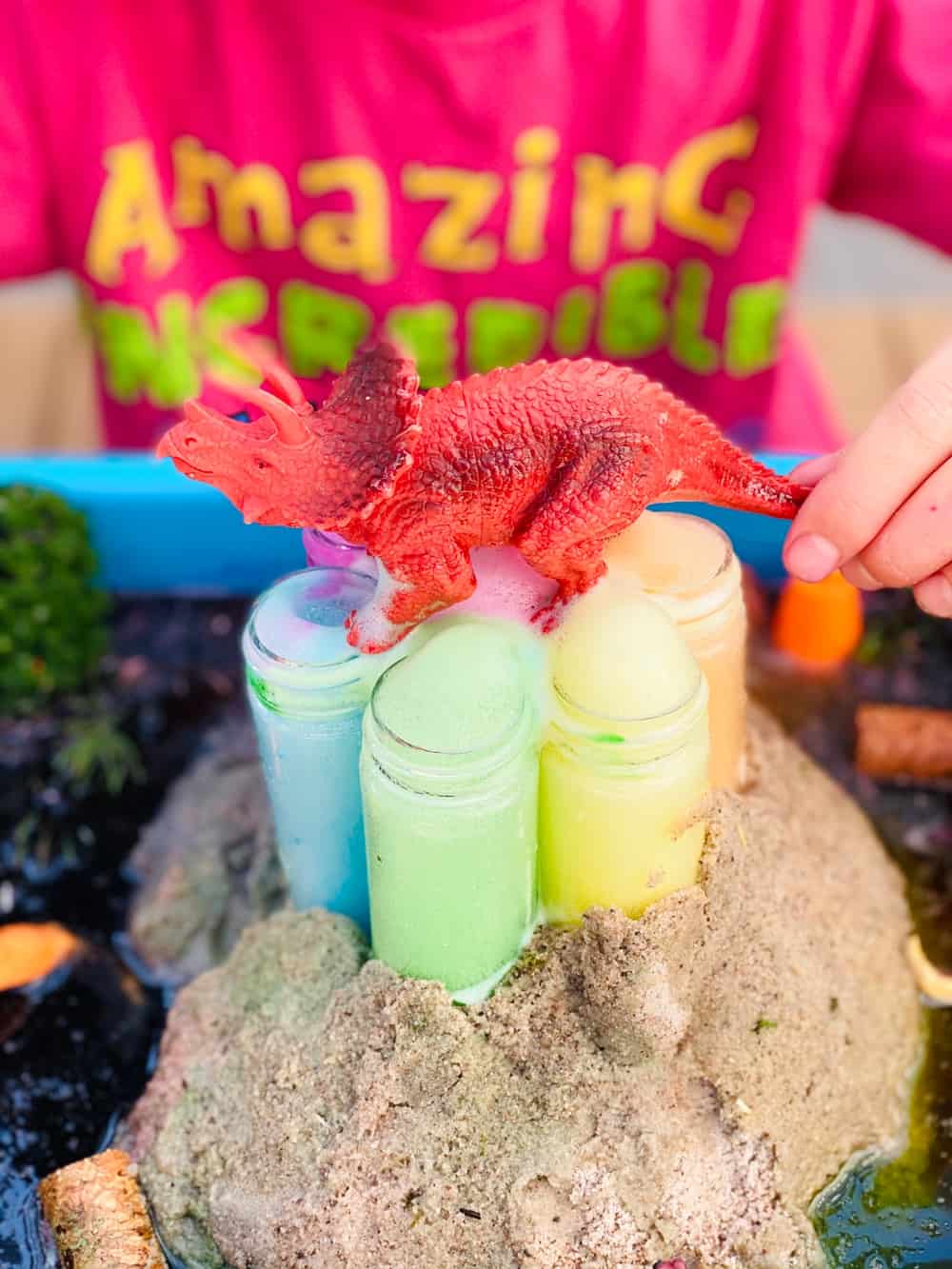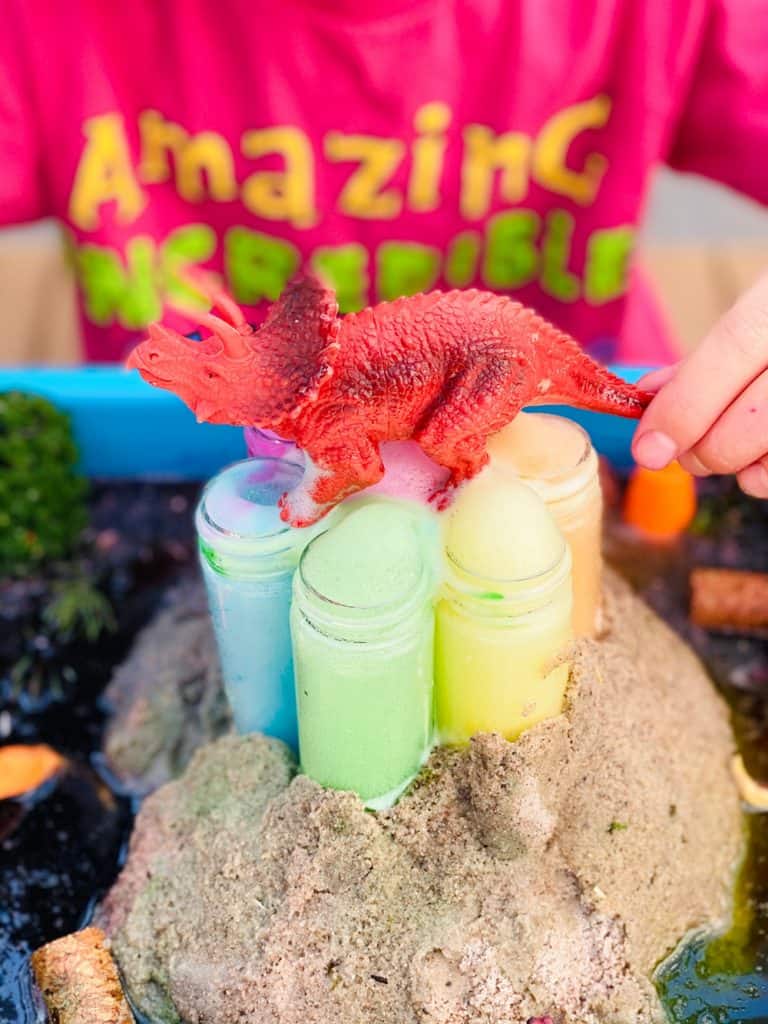 INSTRUCTIONS 
(Watch the video in the post)
Step 1. Tie your plastic test tubes together with a rubber band to hold them in place, one per each color of the rainbow. 
Step 2. Place your tubes upright inside a plastic bin and add sand around it to make a volcano. We used kinetic sand so we didn't have to use water to mold around the tubes but you will need it for regular sand. Keep in mind, after the volcano erupts the kinetic sand will not be reusable. 
Step 3. Add about a tablespoon of baking soda into each tube, followed by a couple drops of dish soap, and food coloring – one color per tube (gel colors lead to the most vibrant colors). 
Step 4. Add vinegar inside the tubes to the top and watch the explosive colorful fun! 
Notes:
You can continue to add more gel colors, dish soap, and baking soda/vinegar after the first eruption. This is why in the video, you see varying colors and levels of eruptions come out. In some cases, we added a lot of food coloring, some more baking soda, vinegar, etc.
Test theories out with your kids. What happens when we add more or less of an ingredient? 
If you love this Baking Soda Rainbow Volcano Experiment, make certain to take a peek at some of our fun science experiments
The post RAINBOW BAKING SODA VOLCANO EXPERIMENT appeared first on Hello Wonderful.