by Aimee
Simple, relevant tips for camping with kids at any age, including necessary gear, healthy snacks and how to survive anything.
Camping is a longstanding Wimbush-Bourque family tradition. From a young age, Danny and I both have been deeply moved by the beauty and tranquility of nature.
That connection to the countryside was one of the reasons we moved to Nova Scotia. There's a wildness here – starting right outside our back door and extending to the shoreline that wraps this ocean province.
Whether you have a busy toddler or an unmotivated teenager, I hope my tips for camping with kids will inspire you to pack up, get out there and make a few camping memories of your own.
1. Start with the Right Mindset
I can give you all the practical tips for camping with kids, but unless you have a positive mindset about spending 48 hours outdoors with your humans, my tips won't help much.
For starters, accept that you will get dirty, encounter bugs, possibly get rained on, and miss precious sleep.
But know that you will also connect with nature, make memories, slow down, bond together…and see more stars than you could ever imagine.
Pro Tip: Start with a backyard campout before going to the remote wilderness.
2. Equip Little Kids for the Big Woods
The joy of camping can be squelched when our children are not comfortable. Most often it's nothing more than a skinned knee or bug bite, but it's important to be prepared for anything.
Get The Gear
Year ago, as a camper with very young children, most of my problems were solved by outfitting my little ones in head-to-toe breathable outdoor gear. Theres no such thing as bad weather, just bad/wrong clothing.
Nowadays, my kids run around in shorts and a t-shirt most of the time, but they always have hoodies, raincoats and rain boots packed. Layers are key and a hat is key.
Bring the Pharmacy
We have a small Rubbermaid tub with everything we need to combat bugs and the weather. Sometimes it feels like we've packed an entire drug store aisle, but it comes in handy.
Think bug spray, sunscreen, after sun, soap, shampoo, bandaids, burn cream, fever reducer, toothpaste, anti-itch cream…and that's just the basics.
Let Loose those Free Range Kids for Risky Play
Since you've got them in the right gear, and packed the necessary first aid kit, go ahead and let them run wild. Seriously, kids need unsupervised play and the added element of "danger" in nature has proven to have its benefits.
3. Get Kids Involved
One of my my top tips for camping with kids is getting them involved every step of the way. This isn't an all-expense paid vacation for them! Everyone needs to learn to do their part around camp.
Clean-up:
PSA: Doing camp dishes is fun! Our crew and their friends always help with clean-up after at least one meal. It's required, but they don't mind. Read about our set-up on how to wash dishes when camping.
Fire-making:
Children have a natural curiosity towards fire, but instead of discouraging it, teach them the basics of safety and fire building. Young kids can collect kindling for starting the fire, while older youth can build and tend the flame. As a result, you'll always have a helper for building a S'mores campfire.
Cooking:
Granted, I dominate the campfire cooking, but I DO involve the children in the food preparations at home. They help mix up instant oatmeal, bake our Monster Cookies, and much more. Get them to help you plan and prep The Ultimate Camping Food Day.
Packing/Unpacking:
Everyone knows that the real work begins at home. Get everyone involved with rounding up their own gear and packing the vehicle.
4. Don't Bring Any Devices
Kids can play anywhere, with most anything. The Great Outdoors provides everything they need to keep themselves busy.
And if nature isn't enough, kids love gear! For instance, a multitool is almost as engaging as a smart phone, right? Our boys got their first pocketknife around age 10. My teen loves his Leatherman Signal Camping Multitool.
10 Alternatives to Screen Time
Fireside story time
Beach-combing
Scavenger hunt around camp
Card games in the tent
Rock collecting
Frisbee toss
Star-gazing
Building a shelter
Making a fairy garden
Reading a book
Don't be too worried about your kids getting bored. It's good for them to come up with activities on their own.
Ask The Kids…. What do you love about camping?
"I love the soft warm sands on the beautiful beaches and the sound of the crackling fire when I'm in my sleeping bag."

Clara, age 8
Bonus: How to Survive Anything
We travel with TWO first aid kits: one is actual medical supplies – and the other is emergency food and drink. Think dark chocolate, cold brew coffee, a sleeve of Hobnobs…
To put it simply, a stash of everyone's favourite snack food or drink can lift the spirits. Yes, even if you are sitting in the car, waiting out a tornado (true story) or holed up in the tent nursing a bad sunburn.
Our Top 10 Homemade Snacks:
Homemade snacks don't have the longest shelf life, but they sure taste great and are definitely the more nourishing option. We usually make one or two of these for our road trips and camping excursions.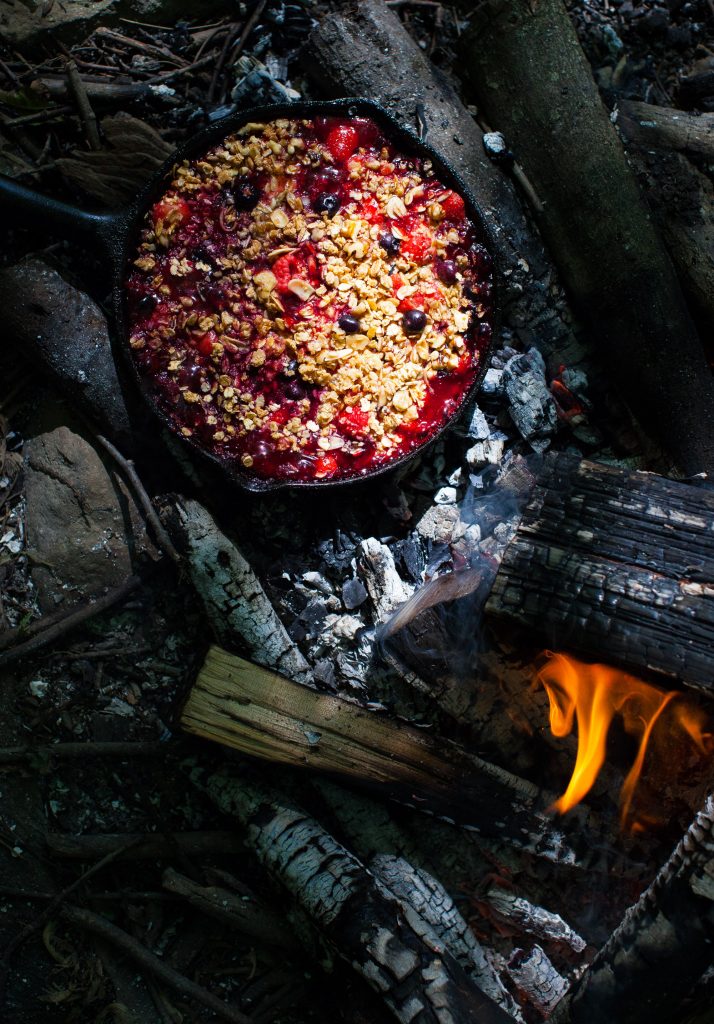 Looking for Recipes?
I've covered camping food fairly extensively already. Here are some of the best posts for planning your menu.
Go forth and camp!
It's been amazing to pass our love of nature down to our three children and watch it bloom. We hope that when they all become adults they will look back on our camping trips with fond memories — and recognize the value of those early outdoor learning opportunities.
ALL images by the incomparable Tim and Angela Chin (they shot my cookbooks, remember?) I'm lucky enough to have best friends who are also supremely talented photographers, not to mention kind and generous camping enthusiasts.
Original article: Tips for Camping with Kids.