30 Delicious Rhubarb Desserts that you can make with rhubarb from the market, your garden or allotment.
This collection of rhubarb recipes is full of wonderful ideas for warm and chilled desserts, crumbles, tarts & pies, cakes, bars, and ices. I hope it will be as useful a recipe resource to you as it is to me!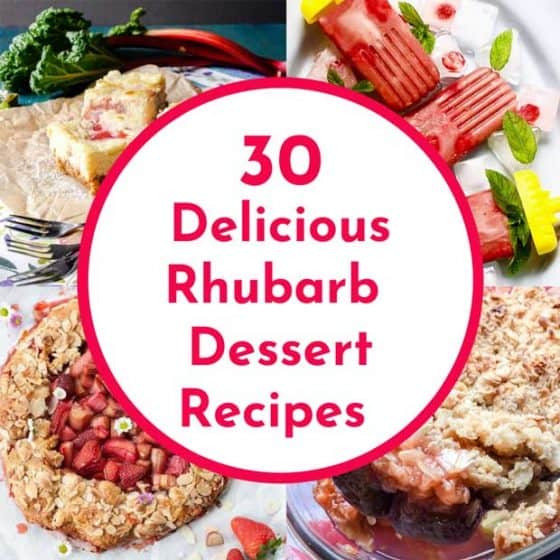 What is Rhubarb?
Rhubarb is a hardy perennial plant with pink, red or pale green stems that are most often used in desserts like crumbles and pies.
It has a tart flavour and is too sharp to eat raw, but combined with sugar and other ingredients it has a delicious tangy taste. 
How do you grow rhubarb? 
Rhubarb is grown from a crown.  This is a thick rhizome that is planted just below the surface of the soil.
Rhubarb plants like lots of moisture and you need to mulch the plant to keep it from getting too dry. 
When is rhubarb in season? 
The best rhubarb is available in Spring.  The earliest rhubarb you can buy is forced, this means it has been grown in the dark. Forced rhubarb has pale pink stems and is tender and sweet.  
Rhubarb continues to grow throughout the summer but as the season progresses the stems become tougher.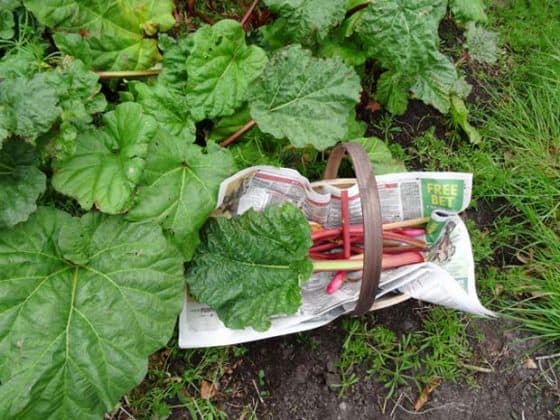 My garden rhubarb
I have several well-established crowns of rhubarb in my garden. They have been in the garden for at least 50 years and pop up every year providing lots of delicious rhubarb stalks. 
Rhubarb Tarts & Pies
Rhubarb Tarts and Pies are probably the most popular rhubarb desserts. There are lots of ways to ring the changes too with some great fruit combinations.
Sometimes a simple rhubarb tart is all that you need. This recipe includes a simple shortcrust pastry enhanced with ground almonds and filled simply with rhubarb.
Strawberries are a popular fruit to combine with rhubarb, especially in the USA. This Strawberry Rhubarb Galette from Everyday Delicious looks very pretty.
I would never have thought of combining rhubarb with apples and cinnamon, but it's a great way to stretch a small quantity of either fruit to make a tasty dessert.
This Rhubarb Strawberry Tart from My Kitchen Love is a slightly different take on a rhubarb tart. It has a creamy lemon filling topped with strawberries and rhubarb.
Rhubarb Crumbles & Crisps
A very close second to the pie comes the humble rhubarb crumble or crisp. This easy recipe of soft sweetened rhubarb that combines so well with a delicious baked topping, mix the rhubarb with other fruits for a bit of variety.
Classic Rhubarb Crumble is always the first recipe I make with the rhubarb from my garden, it's so easy to make and a real crowd-pleaser. 
Add strawberries to your rhubarb crumble and you can use less sugar, what a clever idea from Sneaky Veg.
This crumble recipe from Greedy Gourmet, combines apples and rhubarb to make an inexpensive and easy dessert.
Rhubarb Crisp Recipes
As far as I can see Rhubarb Crisp is another name for a Rhubarb Crumble although sometimes there is an oaty crumble on the bottom as well as on top of the dessert.
Strawberries and rhubarb are sandwiched between sweet crunchy layers in this easy dessert from Sustain my Cooking.
I love the idea of a Cherry Rhubarb Crisp from My Sequinned Life, a really inspired combination of fruits.
Gluten-Free Dessert
It's good to have a Gluten-Free option and Faithfully Gluten-Free has provided a suitable recipe for a GF Strawberry Rhubarb Crisp.
Warm Rhubarb Desserts
Crumbles are not the only warm desserts you can make with rhubarb. Here are five very different warm rhubarb desserts for you to make.
Warm Rhubarb & Raspberry Meringue Dessert combines elements of trifle and warm meringue pie and it is really good.
This pretty dessert from Lost in Food combines warm, sweet stem ginger with rhubarb in a simple Clafoutis dessert.
I am always interested in different recipes and I am intrigued by these Rhubarb Fritters with their flavourings of cardamom and grains of paradise.
Gluten-Free Dessert
The best ingredients cooked simply in this gluten-free and stress-free Strawberry and Rhubarb Gratin from Mad about Macarons.
Chilled Rhubarb Desserts
Rhubarb is too tart to eat raw, so cook it and cool it to make some gorgeous chilled desserts.
Rhubarb and Orange Fool is a very simple recipe combining roasted rhubarb, orange zest and whipped cream. Find out more about this classic British dessert, check out the recipe.
Eton Mess is a classic recipe usually made with strawberries, but this time rhubarb is the star of the show in this recipe from Christina's Cucina.
Summer Pudding is another classic British dessert. Baking Sense has included roasted rhubarb in this sweet summer berry delight.
I love cheesecake and this No-Bake Rhubarb Cheesecake from Food Meanderings combines rhubarb, strawberries and white chocolate with an oreo base. That sounds pretty good to me.
Rhubarb Cakes
Rhubarb is a great addition to a cake if you are careful with the quantity of liquid. That touch of acidity enhances the sweetness, just like in a Lemon Drizzle cake.
Peaches work really well with rhubarb and this versatile cake can be serve warm as dessert or cold as a coffee cake.
Rhubarb Coffee Cake is a simple rhubarb cake with a crunchy streusel topping from My Happy Mess. It's ideal to enjoy with your coffee or tea.
This Vanilla Rhubarb Bundt Cake from My Kitchen Love is such a pretty cake. I love how the stalks of rhubarb are arranged carefully around the base of the cake.
A Rhubarb & Ginger Crumble Cake from Gluterama that tastes just as good when made gluten-free, egg-free and dairy-free! That's quite an accomplishment and perfect for a vegan diet.
Rhubarb Bars
Bar cookies and desserts are a great standby, they are easy to make, serve and eat. here are some great ways to include rhubarb in your bars.
Rhubarb Cheesecake Bars are probably my favourite rhubarb dessert. The combination of the flapjack-like base, creamy cheesecake and sharp rhubarb is just about perfect.
Rhubarb Flapjack Oat Bars from Baking Queen 74 are ideal for packed lunches or home time snacks for children and adults.
Another oat bar, this time Strawberry Rhubarb Oat Crisp Bars from Nourished Simply. These tasty bars have a layer of fruit sandwiched between two oaty layers, easy to eat and less messy.
A soft Rhubarb Cake with a Cream Cheese Frosting. This cake from Coffee with Us 3 would work perfectly for dessert or an afternoon tea treat.
Frozen Rhubarb Desserts
Rhubarb is not generally associated with frozen desserts, but the recipes below show just how versatile it can be.
No-Churn Ice Cream recipes are so simple to make, especially if you don't have an ice cream maker. Curly's Cooking has made a Roasted Rhubarb Ice Cream with this simple method.
Simple, elegant and with an intense rhubarb flavour and a hint of rose, I think this Rhubarb Rose Sorbet from Mad about Macarons is worthy of a place on everyone's summer table.
Too warm for Rhubarb Crumble? Here is the solution, Rhubarb Crumble Ice Cream from Christina's Cucina, all the flavour and texture of a rhubarb crumble in a frozen dessert.
If you need to cool down then these Strawbery Rhubarb Mint Popsicles from Urban Bliss Life look just about perfect.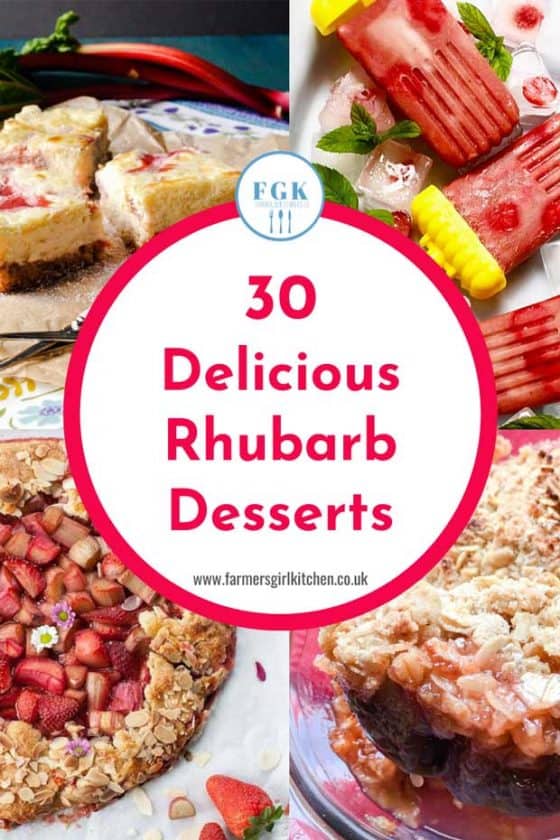 PIN FOR LATER
LET'S GET SOCIAL!
Stay in touch with everything that's going on at Farmersgirl Kitchen.