Banana Omelette Cake (バナナオムレットケーキ) is thin sponge cake folded in half, looking like a half round, and filled with a whole banana and whipped cream inside. Omelette cake is called "omelette" because of the resemblance of the shape of egg omelet. Classic banana and cream taste never betrays anyone's expectation. Although this cake is rather simplistic (looking), it is sweet and soft and very tasty. This dessert is a bit old fashioned in Japan, but it's still got steadfast popularity to be found at many shops there.
The origin of Banana Omelette Cake is not clear, but they said that some French restaurant in Tokyo served it in the 1960s. Also a bread company in Northern Japan were selling similar cake around the same time. Banana Omelette Cake was very popular in the mid Showa Era (60s-80s) in Japan. Fancy European style cake shops today don't usually sell these cakes, but supermarkets and convenience stores stock them very well. Some people may make Banana Omelette Cake at home too, but it might take too much time and effort for ordinary folks. Many Japanese people opt to buy it from shops in exchange of a few dollars. You and me outside Japan may not have that choice but still want to indulge the dessert time to time, so let's try to make this at home.
Sponge cake part of this sweet is similar to chiffon cake. We cooked one cake at a time in a frying pan. Use parchment paper and cook slowly at low heat so that cakes don't get browned deeply. Light colored cake is the signature look of this cake. It is a little hassle to make this kind of cake, but end product is far better than some other alternatives. We don't recommend recipes using pancake like cake for this dessert because that is more like banana pancake. Filling is the easy part. Whip heavy cream and peel bananas, and that's it. You don't like bananas? No worries. You can put strawberries or any other fruits of your choice. Get all the ingredients ready, watch our video a couple of times, then you are all set. Hope you like it!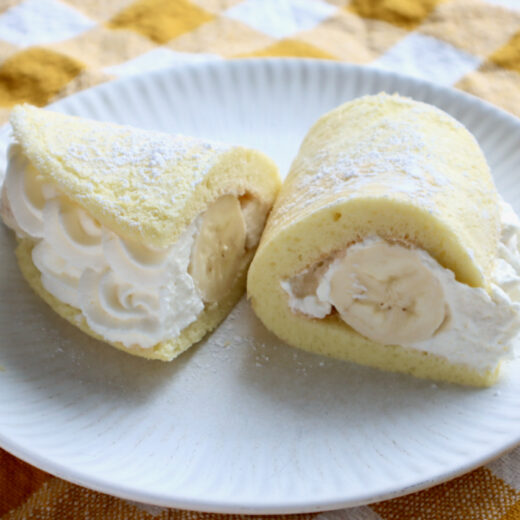 Print
Banana Omelette Cake
Keyword
banana, cake, whipped cream
Ingredients
Sponge Cake
2

eggs

1/4

Cup

sugar

1/3

Cup

Cake flour

1/4

tsp

baking powder

1

Tbsp

oil

2

Tbsp

water
Filling
2

bananas

1

Cup

heavy cream

2

Tbsp

sugar

powdered sugar for decoration

optional
Instructions
Cut parchment paper into four 7" (18 cm) rounds.

Separate eggs into yolks and whites in different bowls.

Whisk flour and baking powder together.

In a bowl with the yolks, add half of the sugar, the flour mixture, oil and water. Whisk very well until the sugar has dissolved completely. Set aside.

In a bowl with the egg whites, add the other half of the sugar slowly while whipping with an electric hand mixer. Whip until stiff peaks form. Take some of this meringue, add to the yolk mixture and mix. Then fold the meringue in 2 parts in the yolk mixture. Take care not to deflate the foam in the batter.

Heat a frying pan at low heat. Place a round of the parchment paper in the pan, and pour half of the batter on it. Cover and cook 4-5 minutes. Place another paper round on top of the batter, turn over, cover, and cook another 4-5 minutes. Repeat for another cake.

Cool cakes a few minutes and remove the paper. Fold the cake gently in half without breaking. Wrap with plastic to hold the shape.

Cut off the ends of the bananas and peel. Whip heavy cream with sugar to form medium to stiff peaks.

Pipe a line of whipped cream in the middle of the cake, place a banana along it. Fold the cake and pipe more cream next to the banana. Sprinkle powdered sugar on top if you like. Repeat for a second cake.
Video