[Click here to view the video in this article]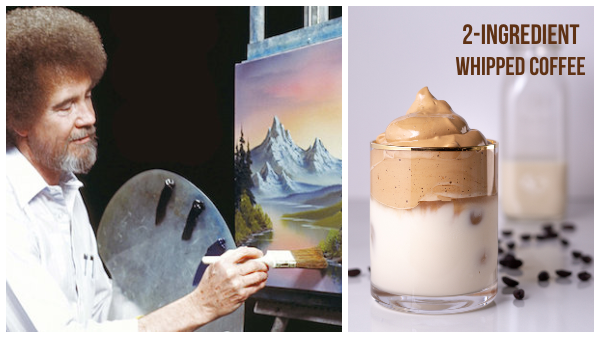 Images via Netflix and Shutterstock
It can be a stressful time for everyone as COVID-19 continues to spread globally, with little sign of slowing down.
Luckily, there are
more productive ways
to keep yourself occupied than panic or binge-watch series after series.
Below, you'll find a number of calming activities to do to keep your mind off coronavirus-related news. Take a look.
Dalgona whipped coffee
This three-ingredient beverage with a whipped coffee foam has been taking over the internet lately. The drink, called Dalgona coffee,
gained emergence on TikTok
and is named after a traditional Korean honeycomb toffee candy with a sponge-like texture. What makes it such a popular activity during this time of self-isolation is that the coffee supposedly requires (at least) 400 whips by hand to turn into the topping—a good way to pass time and give your arm a workout.
The whipped coffee itself requires just two ingredients: instant coffee granules and sugar. You'll need to mix equal parts of instant coffee, sugar, and hot water, and then whisk them together into a meringue-like mixture with stiff peaks. Pour it over a glass of milk.
People have been whipping the mixture by hand to keep themselves busy during the coronavirus outbreak, but you can also skip to the good part by using an electric mixer.
Paint along with Bob Ross
The world could do with a lot more of Bob Ross' positivity right now. If you have a Netflix subscription, you can paint along with the late artist on two shows,
Beauty is Everywhere
and
Chill with Bob Ross
.
A number of episodes, as well as the full
Bob Ross: The Happy Painter documentary
, are also available on the official
Bob Ross YouTube channel
.
Brighten up your days—and walls—with free coloring pages
Cultural institutions around the world have turned their artworks into free coloring pages, delivering hours upon hours of art therapy. Many of these illustrations are truly bizarre, albeit fitting for these strange times.
Live workout sessions
Home Work-in Day 7
Join us for a 🎉 Sunday Funday 🎉 Family edition of Home Work-Ins!
The weekend still feels like the weekend when you're staying active! Join us on Facebook Live at 7pm ET. United We Move!
Posted by
Planet Fitness
on Sunday, March 22, 2020
Every day, Planet Fitness hosts live 20-minute workout classes for free at 4pm PT on its
Facebook page
, so you can get your daily exercise in. Don't worry if you skip a session, the fitness center uploads its previous sessions online.
You can also check out
Apple's favorite workout apps
to keep you fit during the stay-at-home period.
For more ideas on how to keep busy during self-isolation,
head here
.
[via various sources]