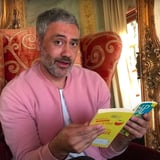 Story time has gotten a special upgrade recently thanks to certain celebrities who are lending their time (and voices) to give parents a break. Plenty of stars are getting involved with virtually reading to kids, from Jennifer Garner's "Save With Stories" to Michelle Obama's Monday reading corner. Now, JoJo Rabbit director Taika Waititi is diving into Roald Dahl's "James and the Giant Peach" with the help of some very famous friends. It's just as adorable as it sounds.
Taika kicked off the series on May 18 with his first two episodes, starring Nick Kroll, and Chris and Liam Hemsworth, as well as Meryl Streep and Benedict Cumberbatch. The stars fully committed to their characters with the exact silly voices kids love to hear during story time. (Personal highlight: Chris and Liam's Aunt Sponge and Aunt Spiker.) On top of being an enjoyable distraction for the whole family, this series also benefits Partners in Health in its efforts to combat coronavirus.
Check out the trailer above to see which stars you can expect from Taika's series - Mindy Kaling, Cara Delevingne, Ryan Reynolds and more - and then keep reading to see the episodes that've dropped so far.