Easy Blender Onion Gravy is a simple recipe that makes the most delicious, smooth and tasty onion gravy with no lumps and no fuss. This onion gravy will make even the simplest meal taste fantastic.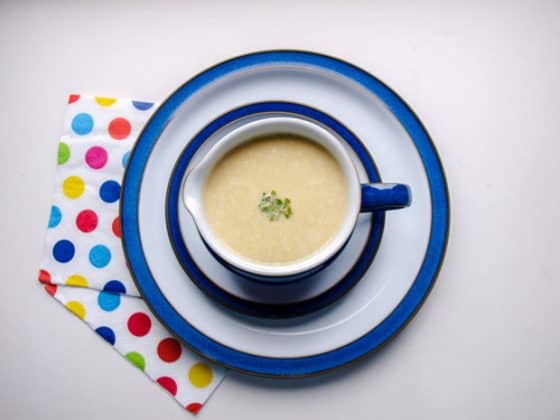 Advertisement: This post contains affiliate links for more information please see myPRIVACY POLICY
What is in Easy Blender Onion Gravy?
The ingredients are simple, onions roasted in olive oil, stock and a little cornflour (cornstarch) to thicken the gravy.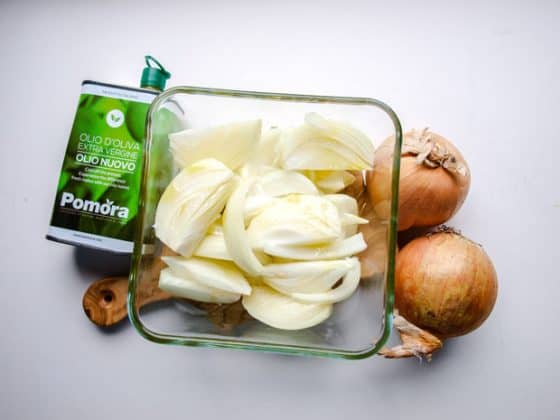 Roast the Onions
I use my Optimum Froothie Healthy Fry Air Fryer for many simple tasks including roasting onions. The Healthy Fry Air Fryer is ideal for baking and roasting as well as air frying, try my Air Fryer Baked Potatoes and Wholemeal Soda Bread recipes.
If you dont have an Air Fryer, then you can either gently saute the onions until soft or roast them in the oven at 180C for 15- 20 minutes.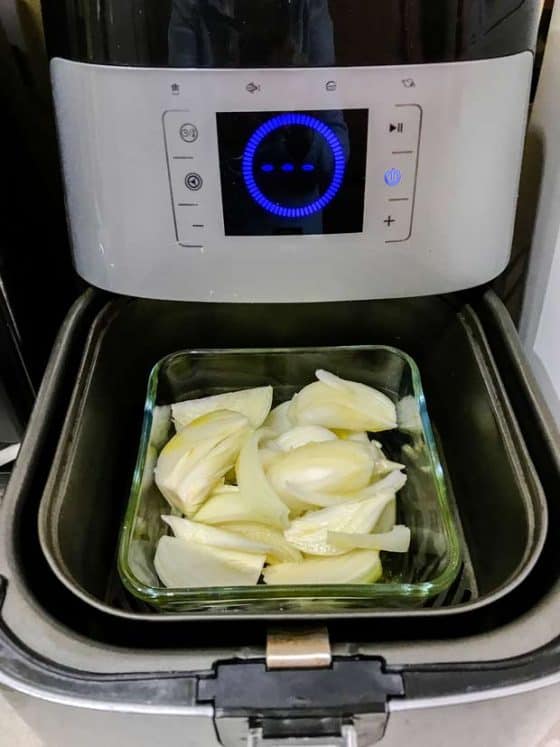 The Stock
Mix the cornflour with a little cold water then mix it with the stock. You can use your own homemade stock, a stock cube or ready-made stock.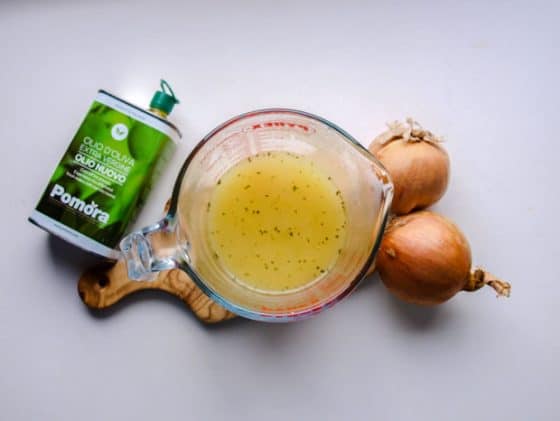 Making the Easy Onion Blender Gravy
Add the roasted onions and stock mixture to the blender. I use the Froothie Evolve Blender and choose the SAUCE option.
If you dont have a Froothie Evolve with a sauce making function, blend until smooth and then heat through, either in a pan on the stove or in the microwave to cook out the cornflour.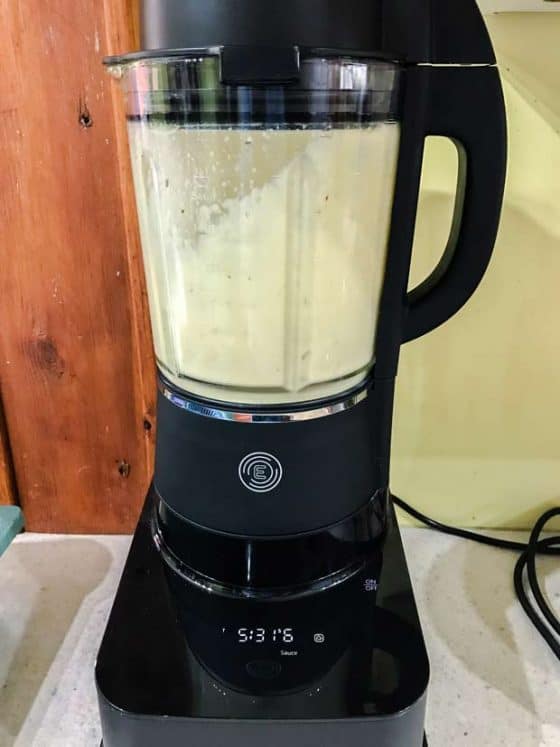 And thats it, pour into your gravy boat or jug and serve. Easy Blender Onion Gravy will also keep fresh in the fridge for 3 days or you can freeze it. Let it defrost and then reheat to serve. If the gravy separates, simply give it another pulse in the blender.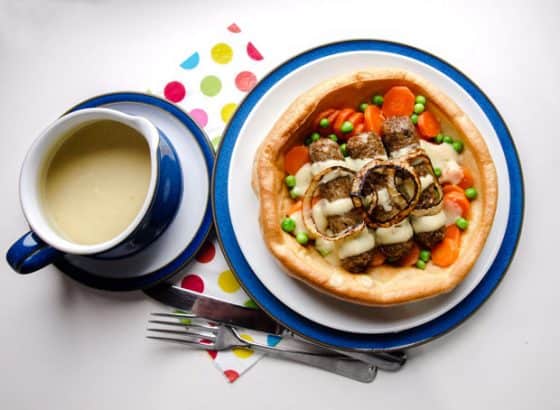 Easy Blender Onion Gravy Serving Suggestion
Serve the onion gravy with large Yorkshire Puddings filled with steamed carrots (you can steam them in the Froothie Evolve) and peas, veggie sausages and some fried onion rings.
If you would like to make your own large Yorkshire Puddings, follow my recipe How to make Yorkshire Puddings but use a 20 cm sponge cake pan to get the size. The recipe will make 2 large puddings, so double up if you want to make 4.
Alternatively, you can buy frozen Yorkshires and simply heat them in the oven.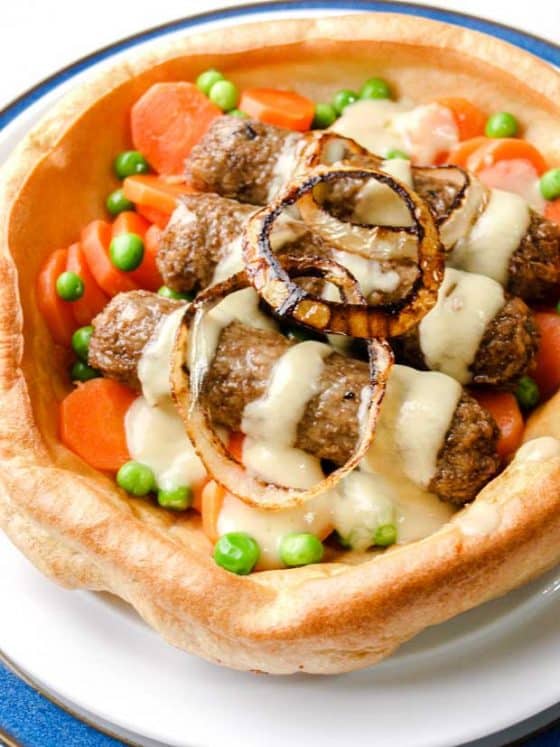 The Froothie Evolve Blender
I made the Easy Blender Onion Gravy in the Froothie Evolve which has a heating jug as well as all the advantages of a super-powerful blender.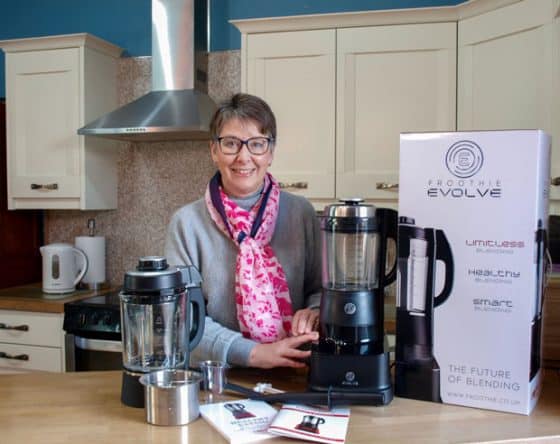 What is different about the Froothie Evolve Blender?
You can steam vegetables in the blender using the heating jug and the steaming basket.
You can make smooth or chunky soup in the heating jug, everything goes into the blender jug and the automatic programme does the rest.
Tempered Glass Jugs means no more plastic in contact with your blended food.
Vacuum Blending reduces oxidisation and blended mixtures do not separate or discolour.
Voice Activation makes choosing the right programme really easy.
Read my review of the Froothie Evolve for full information.
Special Offer
Currently on sale at 499 on the Froothie. Buy through my Ambassador Link and you get an additional 2 years warranty, which brings the warranty to 7 years.
To get this special offer please add the following text in the comment box when you order: Ambassador (3116) special 2 extra warranty years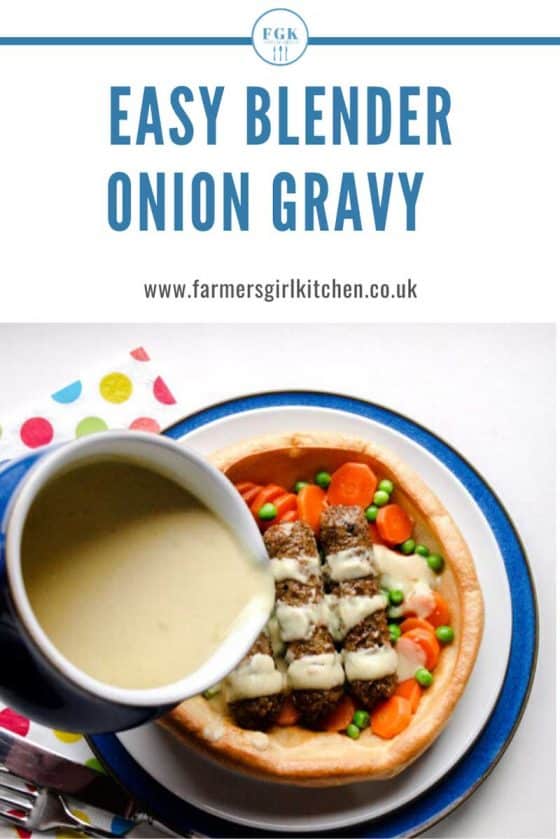 PIN FOR LATER
Lets connect!
Stay in touch with everything thats going on at Farmersgirl Kitchen.
Facebook Pinterest Instagram Twitter
Easy Blender Onion Gravy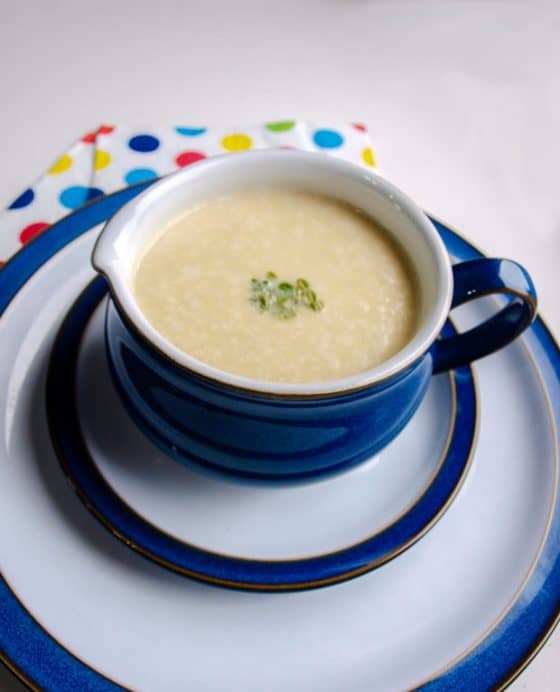 Onion Gravy is always a popular sauce to serve. This easy blender recipe makes a rich and creamy gravy that livens up any meal.
1 tbsp olive oil
2 medium onions (cut into wedges)
tsp sea salt
few thyme sprigs or tsp dried thyme
1 tsp light brown sugar
1 tsp cornflour (corn-starch)
500 ml vegetable stock
1 tsp butter (optional)
Put the onion wedges in an ovenproof dish with 1 tbsp of olive oil. Season with salt.
Roast the onions in the oven or in an Airfryer for 15-20 minutes at 180C until they are soft and just starting to turn golden.
Put 1 tbsp of cornflour in a heatproof jug or bowl and add 2 tbsp of cold water.
Crumble the stock cube into the jug and fill up to 500ml with boiling water, stirring.
Put the roasted onions, and stock into the Froothie Evolve Blender with the thyme, sugar and butter (if using).
Activate the Froothie Evolve with voice control Hey Froothie, make my sauce or use the manual settings for sauces.
When the cycle is complete, pour the gravy into a serving jug.
If you have a different power blender, start by pulsing the ingredients for three or four pulses, then blend for 3 minutes.
This recipe makes a smooth pourable Onion Gravy. If you like more onion pieces in your gravy. Slice or chop one additional onion and saut until soft. Stir into the sauce once the blending process is finished.