Moving into your first apartment is so exciting but stocking it up with kitchen essentials can be difficult. This First Apartment Grocery List helps you plan for everything you need in your new apartment kitchen.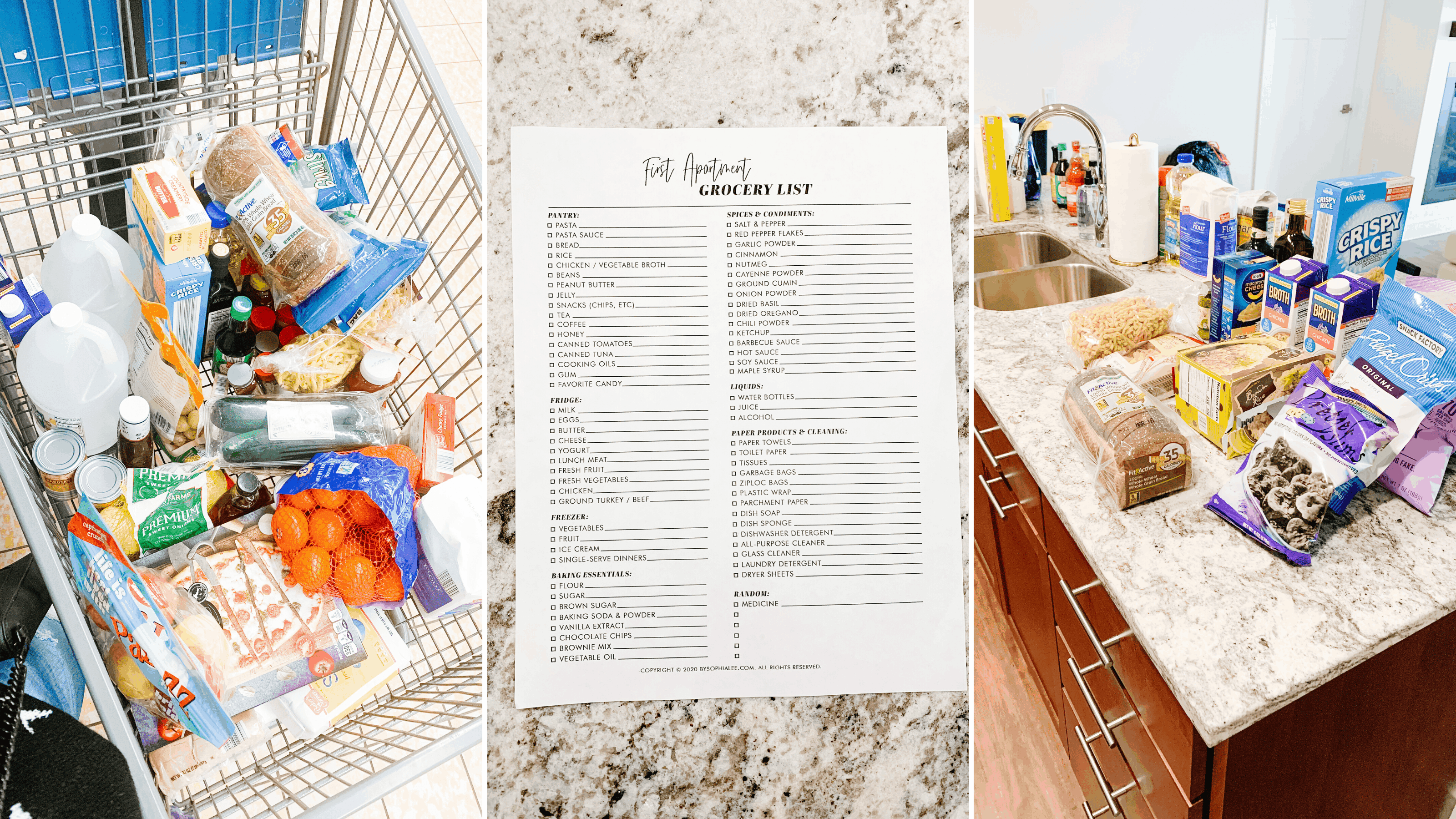 For some reason, when I moved into my first apartment one of the things I was so excited about doing was going grocery shopping for all the kitchen essentials.
I moved in with no food so I needed everything. I began thinking about all the different essentials I needed from spices, to pantry items, to all the paper products.
I created this First Apartment Grocery List to keep me organized but realized it would also be helpful for anyone else moving into their own first apartment!!
This post goes over everything you need for your First Apartment Grocery List.
First Apartment Grocery Shopping Tips: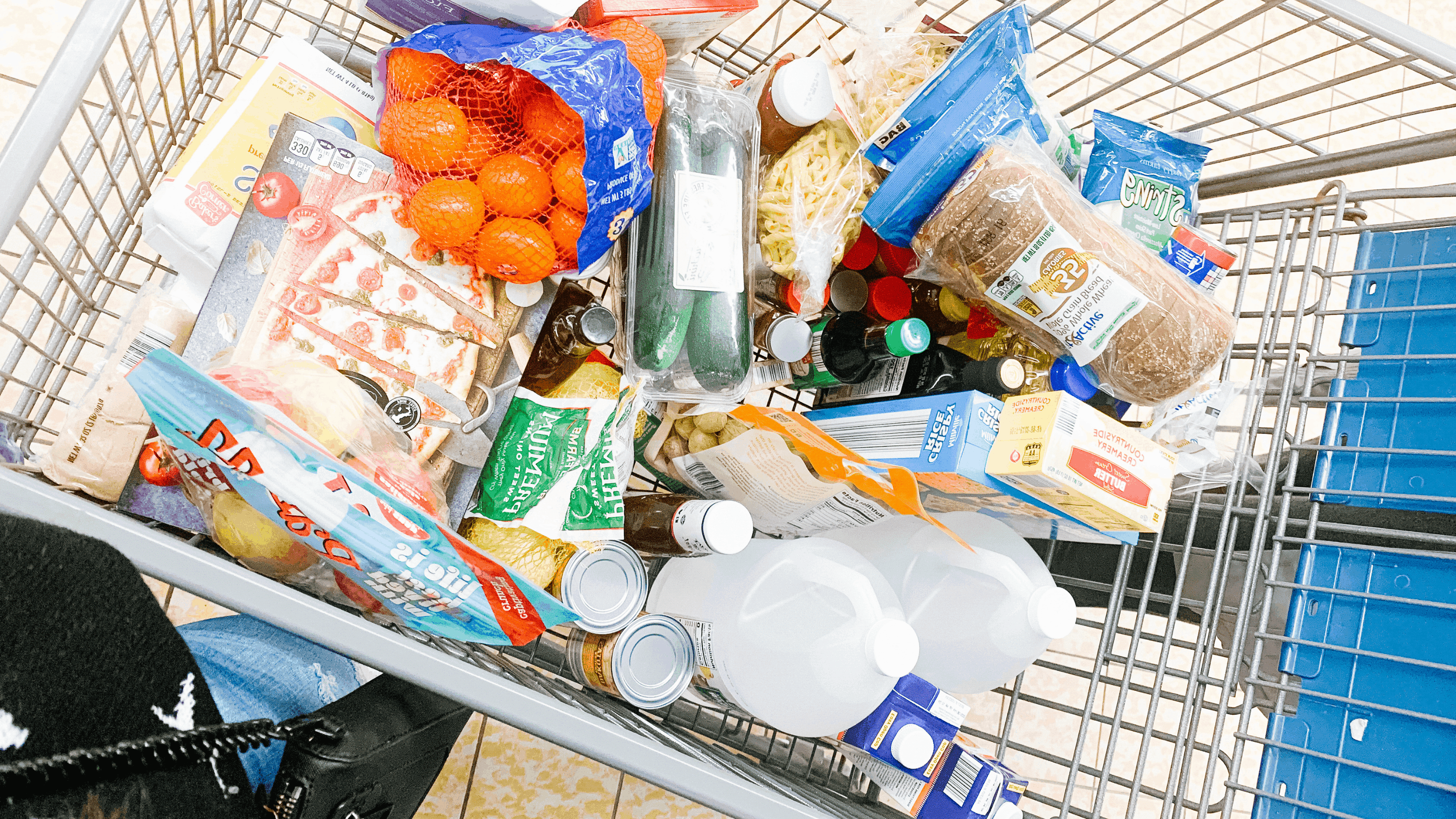 I learned a lot while grocery shopping and one of the main things is where you can find the cheapest products.
For my own personal grocery shopping, I went to Aldi's, Trader Joe's, Costco, and Meijers.
By far, Aldi's had the best value for everything and made it SO easy. If you have an Aldi's around you, I highly recommend going there first. The way their grocery store is set up has majority of the staples you need right away. And no, not sponsored by them at all just highly recommend.
If you would like a quicker option, you can always order food from Amazon Fresh or another food delivery service.
How much did this grocery shopping trip cost?
I was planning on this shopping trip being expensive since I was basically stocking up starting from zero. In my head, I was planning around $400 dollars.
However, this first apartment grocery trip only cost $200ish dollars!! For all the food I got, I was really impressed with this. 
Once again, thank you Aldi's ;).
Want a printable version of this First Apartment Grocery List?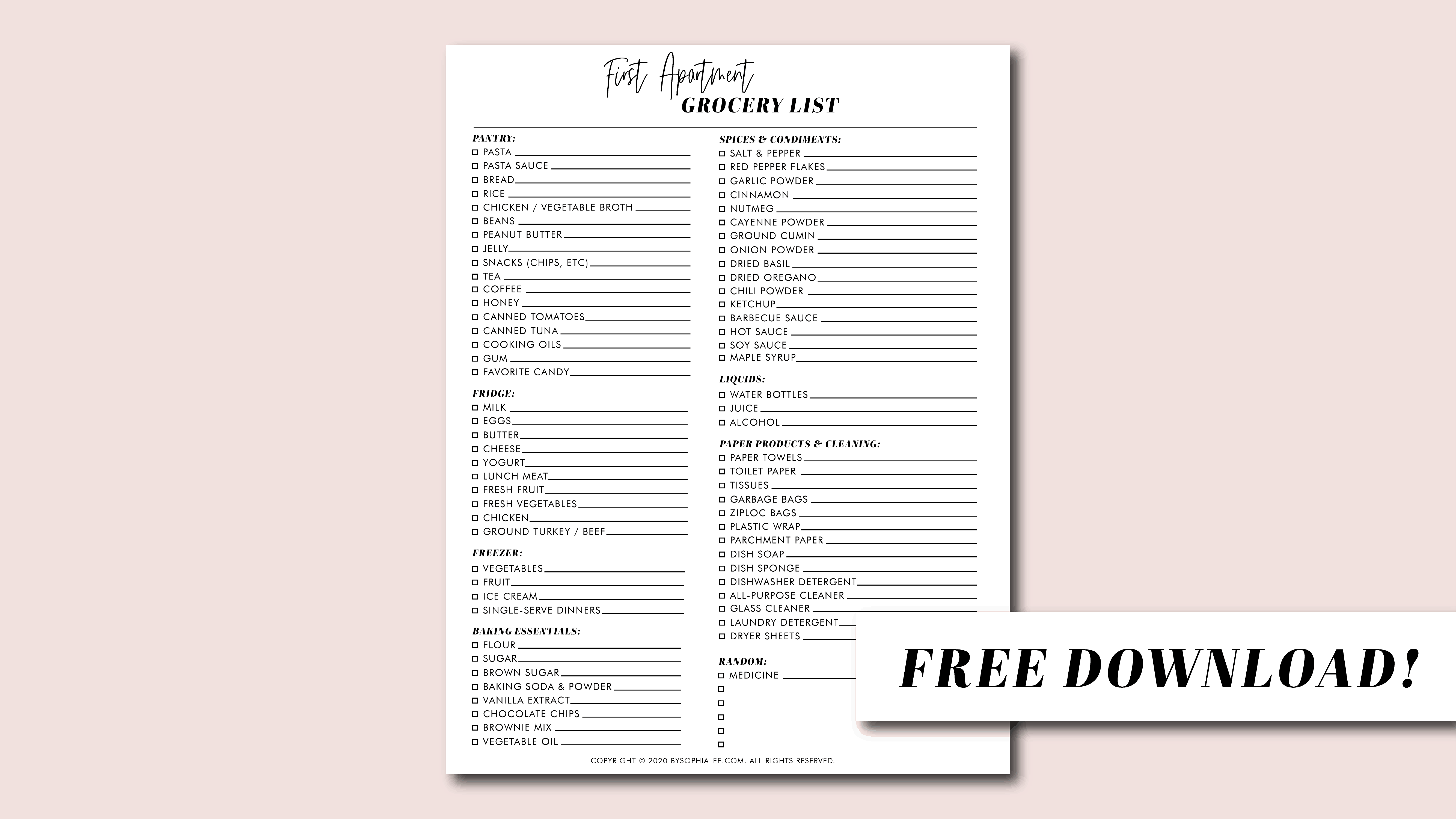 This First Apartment Grocery List makes everything SO much easier. It goes over everything from pantry essentials to paper products + cleaning.
First Apartment Grocery List:

Pantry Essentials
These are some of the essential food items that you keep in you pantry and reach for at random times. I actually forgot about needing a lot of these products because they are ones that you always just randomly have haha. I would highly recommend having these on your must-have shopping list.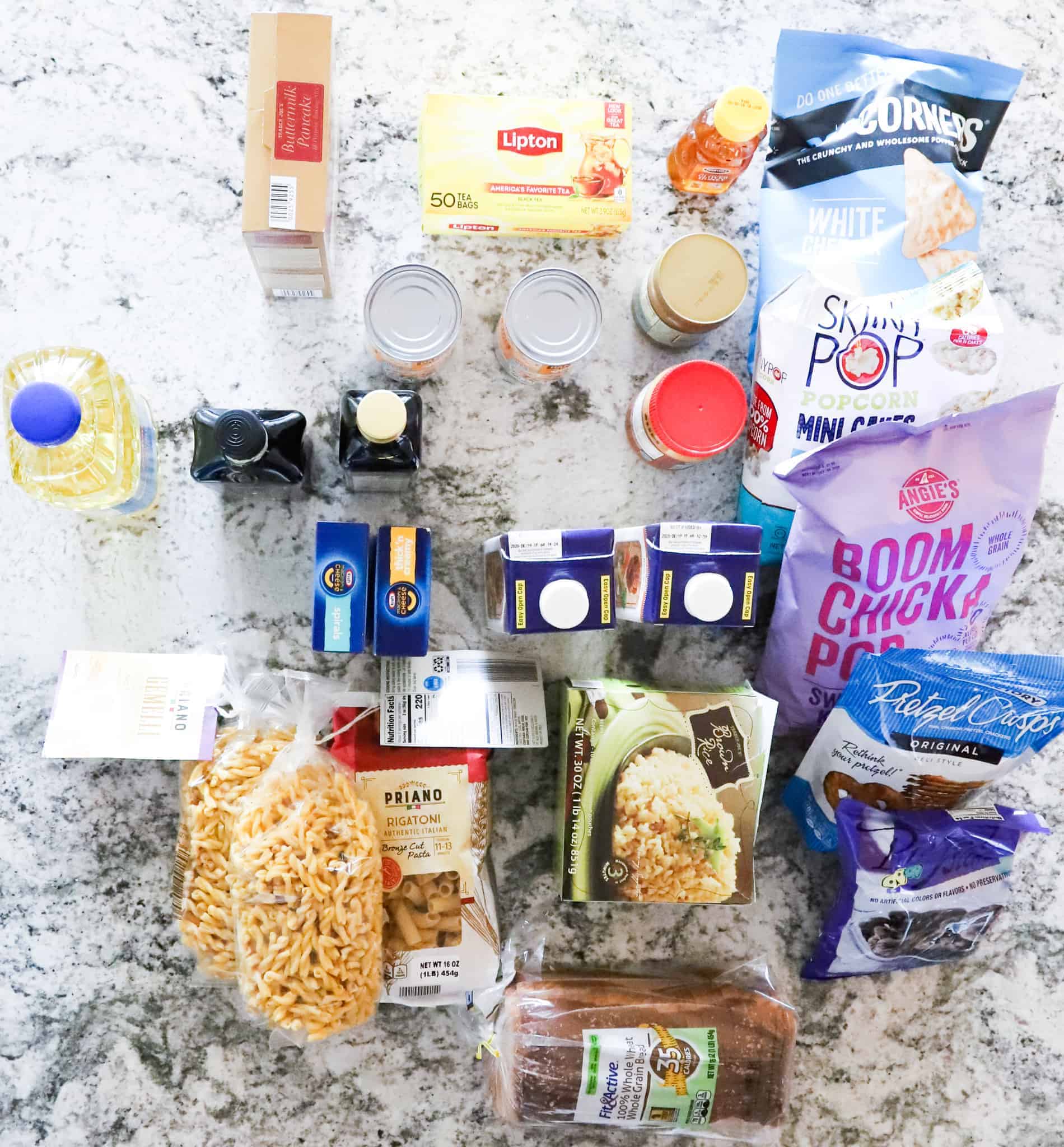 Pasta
Pasta Sauce
Bread
Rice
Chicken/Vegetable Broth
Beans
Peanut Butter
Jelly
Snacks (Chips, Crackers, etc)
Tea
Coffee
Honey
Canned Tomatoes
Canned Tuna
Cooking Oils
Gum
Favorite Candy
First Apartment Grocery List:

Fridge Essentials
The fridge essentials are more of the fresh items that you should add to your first apartment grocery list. I know by the end of the move I was craving some of these healthier items since you tend to eat really unhealthy during the moving process (at least I did ;). 
Fridge Staples:
Milk
Eggs
Butter
Cheese
Yogurt
Lunch Meat
Fresh Fruit
Fresh Vegetables
Chicken
Ground Turkey/Beef
First Apartment Grocery List:

Freezer Essentials
I always keep my freezer stocked with essentials and meal ideas that I can quickly make during my busy schedule. I am loving Trader Joe's currently for frozen food ideas so highly recommend going there and stocking up.
Freezer:
Vegetables
Fruit
Ice Cream
Single-Serve Dinners
WANT A FREE Apartment PACKING LIST?
---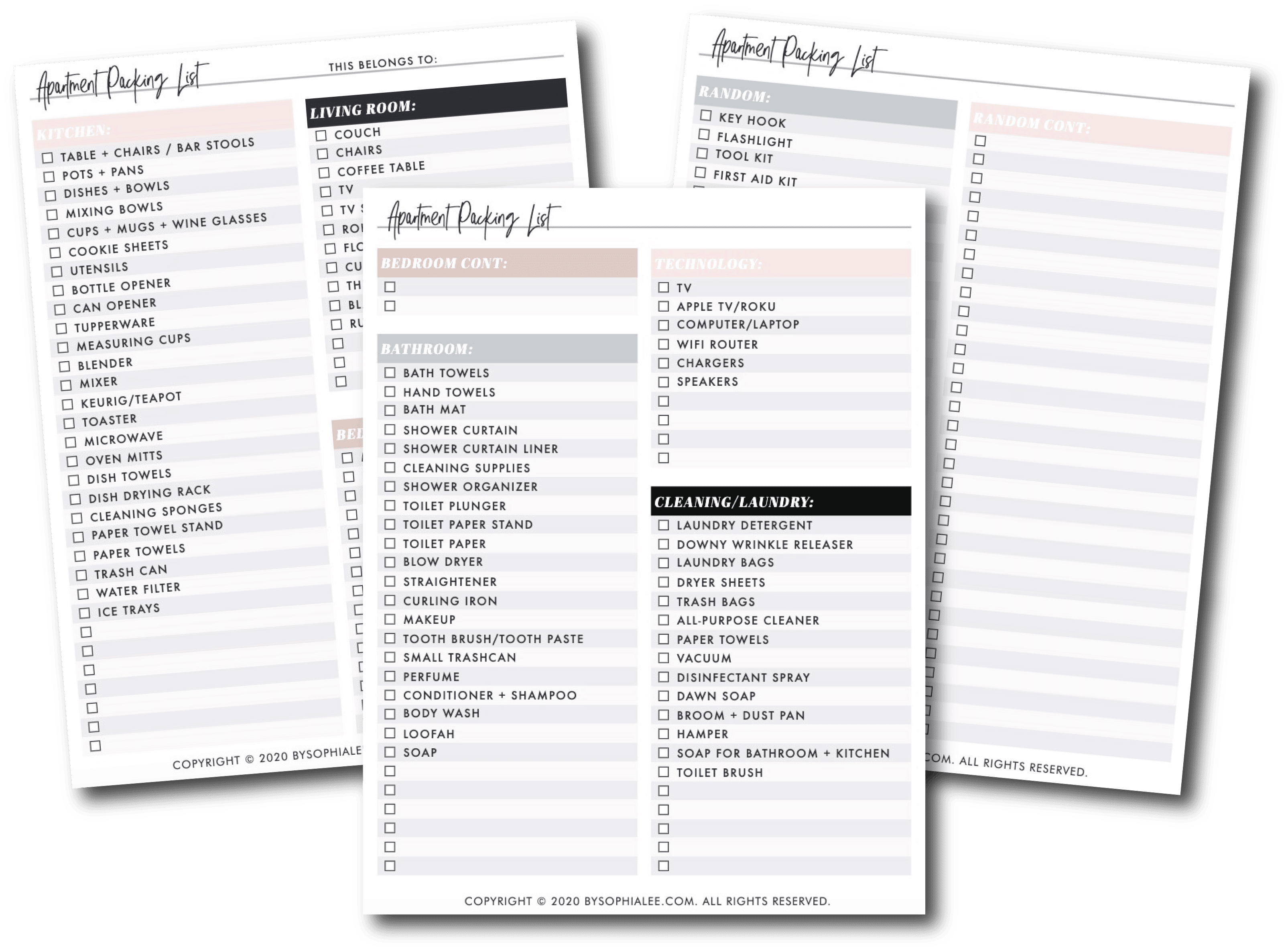 Simplify your apartment move with our amazing FREE Apartment Packing List. Simply click the button below to get your Apartment Packing List delivered straight to your inbox!
First Apartment Grocery List:

Baking Essentials
I love baking and made sure to buy the baking essentials. I have always wanted to have ingredients on hand for chocolate chip cookies when I was in my own place so I made sure to grab everything for that.
I would at least get sugar and flower since you sometimes use that in dinner recipes.
Baking:
Flour
Sugar
Brown Sugar
Baking Soda + Powder
Vanilla Extract
Chocolate Chips
Brownie Mix
Vegetable Oil
First Apartment Grocery List:

Spices & Condiments
This was the section that I thought was going to be the most expensive part of my grocery trip FOR SURE. However, Aldi's had spices for less than $2 and I was able to stock up on all of those. I hate when I make a recipe and don't have the staple spices so I wanted to make sure that I had majority of them on hand.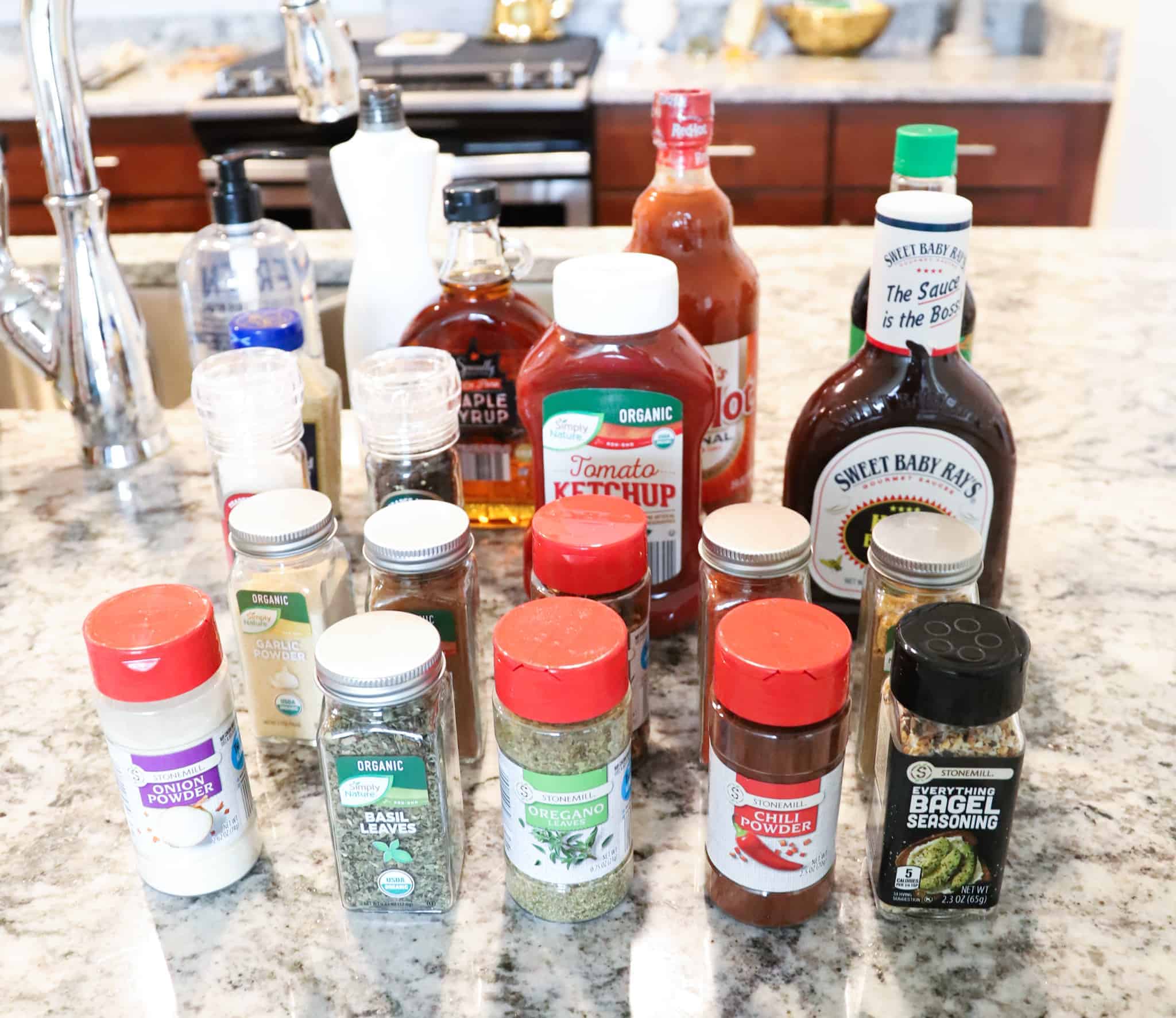 Salt + Pepper
Red Pepper Flakes
Garlic Powder
Cinnamon
Nutmeg
Cayenne Powder
Ground Cumin
Onion Powder
Dried Basil
Dried Oregano
Chili Powder
Ketchup
Barbecue Sauce
Hot Sauce
Soy Sauce
Maple Syrup
First Apartment Grocery List:

Liquids
Liquids are a small bracket on this list for me which include water bottles, juices, and alcohol. Simple but very important ;).
Liquids:
Water Bottles
Juice
Alcohol
First Apartment Grocery List:

Paper Products & Cleaning
I am a clean freak so this section was weirdly exciting for me. Ironically, when I went shopping for all of this was just one week before the Coronavirus started and I was able to get all of this before it was emptied off the self. Talk about that for good timing.
Paper Products & Cleaning: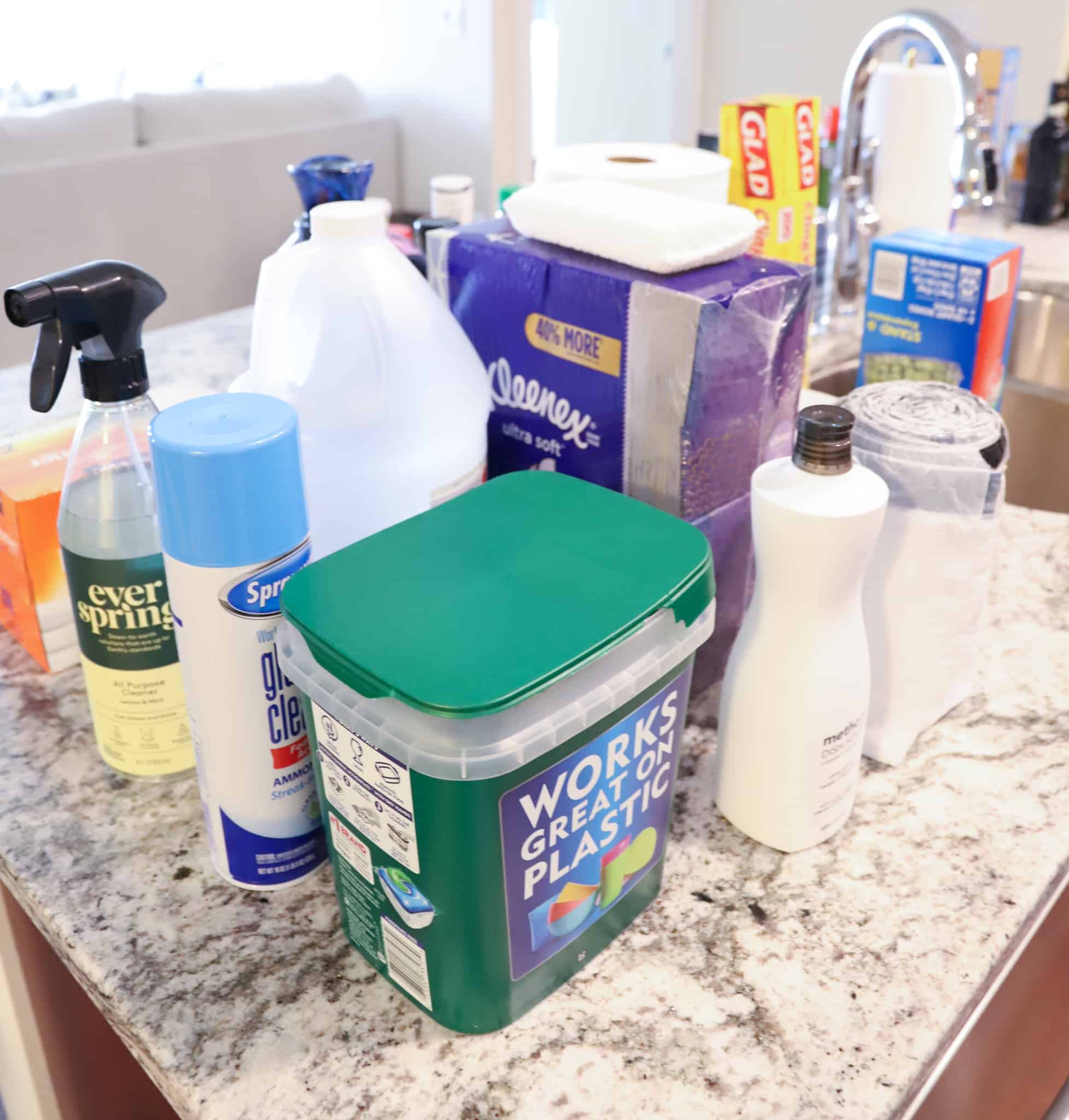 Paper Towels
Toilet Paper
Tissues
Garbage Bags
Ziploc Bags
Plastic Wrap
Parchment Paper
Dish Soap
Dish Sponge
Dishwasher Detergent
All-Purpose Cleaner
Glass Cleaner
Laundry Detergent
Dryer Sheets
Medicine
This post was all about the best First Apartment Grocery List.
Other Posts You May Like:
The post First Apartment Grocery List | The Ultimate List of Kitchen Essentials You Need For Your First Apartment appeared first on By Sophia Lee.