I'm always on the hunt for great makeup. Over the last few years, I've found a few foundations that are true stand-outs for me (which is saying a lot since I'm picky!), and today I'm reviewing one from a favorite makeup brand of mine — Ilia Beauty, a beauty company started by Sasha Plavsic.
I first tried the True Skin Serum Foundation in the fall of 2022. I got hooked on the water-based Super Serum Skin Tint (which is similar to a tinted moisturizer), and after trying and LOVING it, I decided to try their full coverage foundation too. I was very pleasantly surprised by how hydrating it is, especially since it's made for more oily skin/combination skin and I have dry, aging skin.
In this post I'm going to do an in-depth review of the ILIA True Skin Medium Coverage Foundation so you can decide if it's right for you.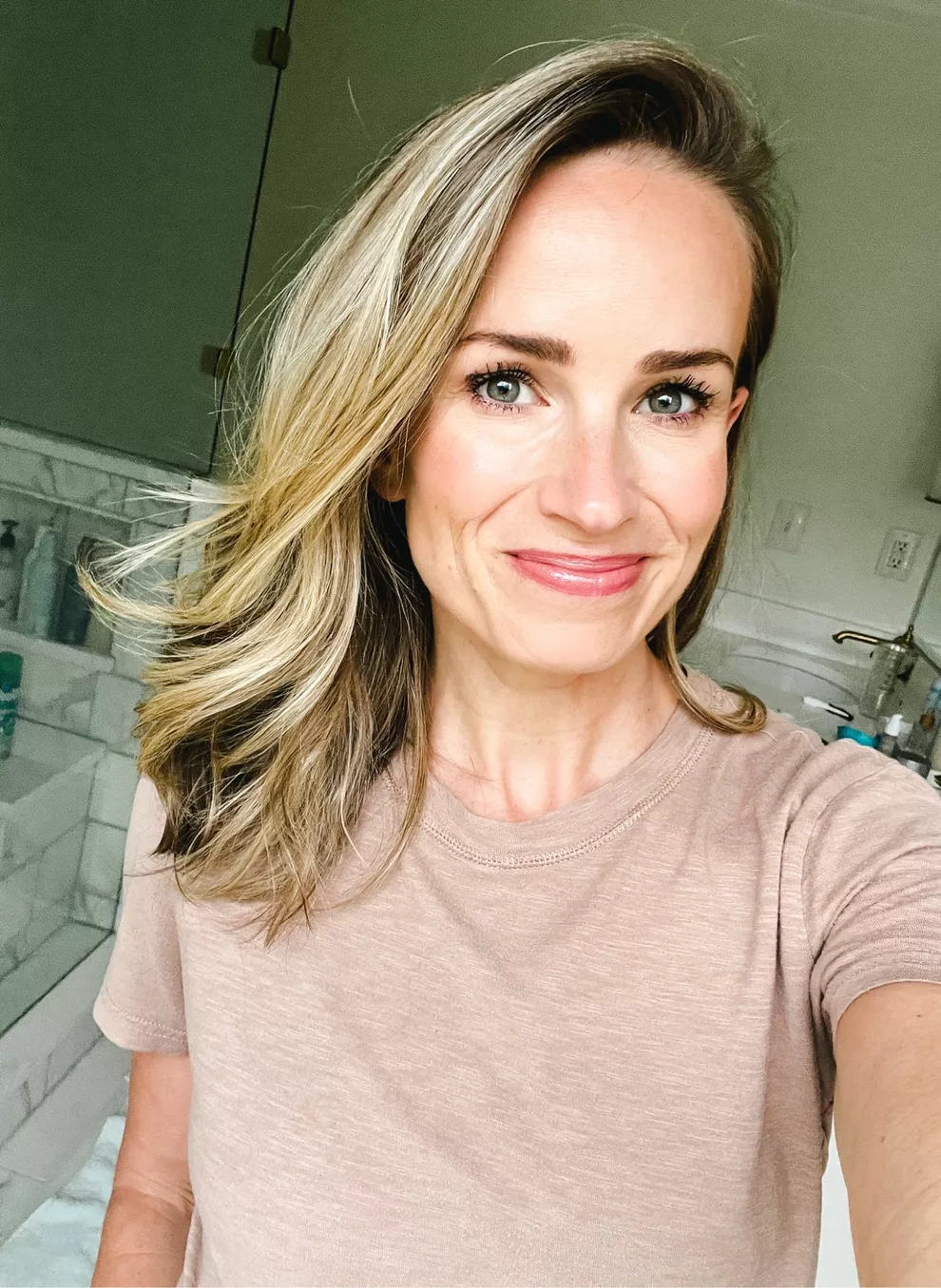 Ilia Foundation Makeup Review
The ILIA True Skin Medium Coverage Foundation is a  weightless, medium-coverage foundation with a VERY natural looking finish. It also contains active skin care ingredients like Niacinamide and Allantoin, which nourish your skin even after you've taken your makeup off for the day.
The foundation has won two impressive awards: PureWow Editors' Pick for Best Multi-Tasking Foundation in 2022 and the Best Clean Foundation in the EBONY Beauty & Grooming Awards (2022). So, in addition to nearly 3600 positive customer reviews, the media also gives this foundation high praise.
It comes in a 1 fl oz bottle with a pump, and it meets all of my requirements for foundation:
Non-comedogenic
Safe for sensitive skin, and all skin types
Fragrance-free
It's also cruelty-free and vegan.
What I love about this foundation (in addition to everything I just mentioned), is that truly looks like my skin when I'm wearing it. I don't have many freckles, but when I do have a few, they still show through the foundation, which I appreciate. I don't like when a foundation covers the skin so much that it looks totally different. I prefer to use foundation that enhances my skin, and makes it look more radiant, while providing a smooth, even base for the rest of my makeup. This foundation is just that.
Ingredients List
Like I mentioned above, this foundation contains Niacinamide and Allantoin along with other skin care ingredients. Niacinamide visibly smooths and refines uneven skin texture and tone, while Allantoin soothes the look of irritation and redness, making it great for acne-prone skin. This foundation also contains aloe which hydrates and nourishes, which is likely why my dry skin also likes it.
Packaging
The look and feel is the packaging isn't anything super special, but I do like that it has a pump to dispense the product. I don't like digging into a jar (like I have to with my favorite Chantecaille foundation) to get product out. It just feels unsanitary. I find that I apply products with a pump like this one directly to my skin, just apply a small amount of product onto the parts of my face where I typically apply foundation.
Something that is noteworthy about their packaging however is that it's recyclable. Once the bottle is clean and empty, you can recycle it through most curbside recycling services. You can also recycle the pump and cap through Pact Collective.
Formula
The formula is very lightweight and smooth. It's silky and breathable, which helps it melt into skin and blend super easily. There's no "dragging" this product around your face, which is nice. I'd say it's a medium weight foundation. It's not thick or pasty, but it's also more than a moisturizer. It's on the thinner side of other medium-weight/medium coverage foundations I have.
Application
I have a few different methods for applying my foundation. When I'm in a rush, my fingers are my best bet. Since there are natural oils on my fingers, I find that this helps warm up the product and provide a super natural finish. Plus it's quick and easy. When I have extra time, I like to use a damp beauty blender or a foundation brush.
Coverage
I'd say this foundation has a medium coverage. In the winter months, I find that I like a little more coverage than in the summer, so this is perfect. It's not FULL coverage like I'd use for an event, but it's perfect for everyday where I want to look polished but not overly made up.
Finish
The finish is very natural and  slightly dewy. It's not glowy and it's not matte, but either of those looks could be achieved with some liquid highlighter or with a pressed powder. I have SUPER dry skin, and this does not get dry or cake-y throughout the day.
Is ILIA Foundation Water Based?
This foundation is not. However, if you're looking for a water-based foundation, the ILIA Super Serum Skin Tint is water based. The Serum Skin Tint is fragrance-free, and has SPF for sun protection, squalane, hyaluronic acid, and niacinamide which all hydrate your skin and decrease the look of inflammation. It's not full coverage, but rather evens skin and provides light coverage.
Is ILIA Non Comedogenic?
Yes, ILIA's foundation is non-comedogenic, meaning it will not clog your pores. This is true for their Super Serum Skin Tint as well.
Is ILIA Clean Beauty?
Yes. Their motto is: "Clean, skin-centric beauty. We challenge the conventions of clean beauty to create something radically new—through safe, potent formulas that protect and revive your skin," and this does accurately describe the brand. They don't use undisclosed fragrance, which is super important.
How to Apply ILIA Foundation
Prep your skin
ILIA recommends pairing their foundation with the True Skin Radiant Priming Serum, but I haven't tried it.
Shake the bottle
Shake the foundation well before using it to ensure the product is well blended for the easiest and smoothest application.
1-2 pumps
I recommended 1-2 pumps at first, and then add more if you need more coverage.
Blend with fingers or sponge
Like I mentioned above, depending on how much time I have, I'll either apply it with my fingers or I'll use a damp Beauty Blender sponge or foundation brush.
Press palms into skin to melt the foundation.
I finish the application by pressing my fingers into my skin to help the foundation melt in. Some days I'll finish the look with a host of other products, and other days I'll just use the ILIA Multi Stick for a little color on my cheeks and lips (I also love this Balmy Gloss Tinted Lip Oil). I also really like their Limitless Lash Mascara when I want a no-makeup, makeup look.
For more tips on how to use the ILIA Foundation, see this post on My Makeup Routine.
Here's the finished look with the rest of my makeup:
Where to Buy ILIA Foundation
ILIA is carried at multiple retailers, so you can shop wherever you'd like.
And while you're shopping, be sure to take a look at the ILIA Multi Stick, Mascara, Liquid Powder Chromatic Eye Tint, Lip Oil, and Clean Line Liquid Liner. I genuinely love ILIA beauty products and if you like natural-looking makeup, you will too.
Shop The Post

The post Ilia Foundation Makeup Review appeared first on A Foodie Stays Fit.