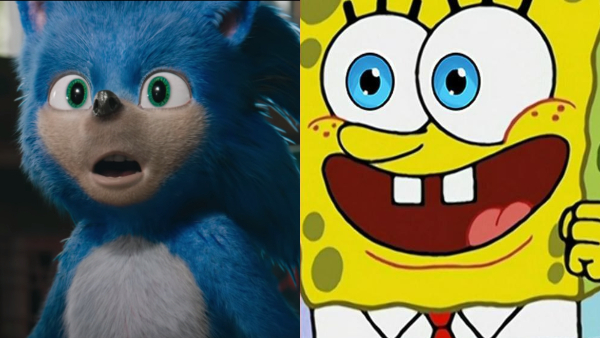 Images via SpongeBob Squarepants and Paramount Pictures
The live-action Sonic the Hedgehog movie is finally reaching theaters after a catastrophic promotional run. Audiences
revolted against
the hedgehogs design when the first trailer dropped, and the production crew
broke their backs
making a full do-over without postponing the films release date.
To commemorate the live-action animations opening, the official SpongeBob SquarePants social media account rekindled memories of the controversial character design by giving the sea sponge a similar facelift, if you can even call it that.
The Nickelodeon toon shared side-by-sides of an original SpongeBob image versus the live-action remake, which is complete with realistic teeth similar to those of Paramount Pictures hedgehog.
The horrifying SpongeBotched is also imagined with vacant blue eyes, gapped teeth, realistic sponge spots, and hairy legs.
If SpongeBob were the #SonicMovie, the official account teased.
Paramount Pictures and Nickelodeon are sister entities, and the little teasing between siblings is amusing to watch.
The Sonic the Hedgehog movie releases on 14 February 2020 in the US.
View this post on Instagram
if SpongeBob were the #SonicMovie
Why pic.twitter.com/qUxUnGizq4
(@JusGlo21)
February 11, 2020
I imagined it more like this pic.twitter.com/ZKbPnRVOYc
Maniac4Bricks (Joey) "HEY!" (@Maniac4Bricks)
February 11, 2020
[via
Comicbook
, images via various sources]