Air Fryer Cauliflower Wings! Looking for healthy, vegan buffalo wings? These air fryer buffalo wings made from cauliflower are a MUST try!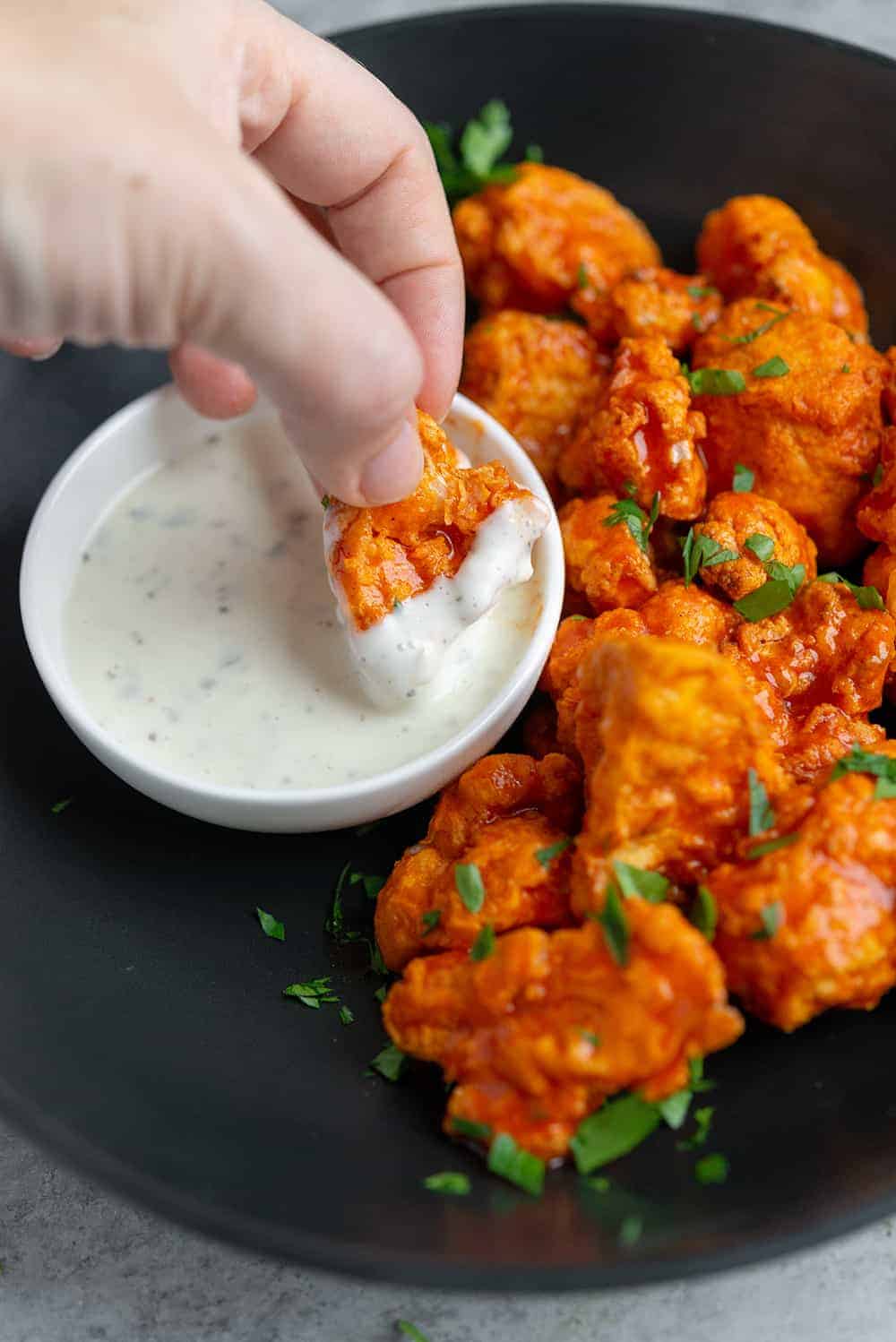 Well, I got an Air Fryer for Christmas. Well, more to the point, I grabbed one impulsively on Black Friday at a major discount and it sat in my car for the following three weeks until our kitchen was finished. I finally pulled it out over the holidays and oh my gosh, where has this thing been all my life?
I need another appliance like I need a hole in my head. My kitchen is brimming with gadgets even though I actively try to whittle down as many necessities as I can. I honestly didnt think Id ever have an Air Fryer, but then Id seen so many rave reviews from friends (and my sister!) that I knew Id eventually be grabbing one.
Do you need an Air Fryer for this recipe? No. Its essentially the same technique for my Sriracha Cauliflower Buffalo Wings, though these are made in a 1/4 of the time and without the need for frying. You know, because the Air Fryer does all of that for you!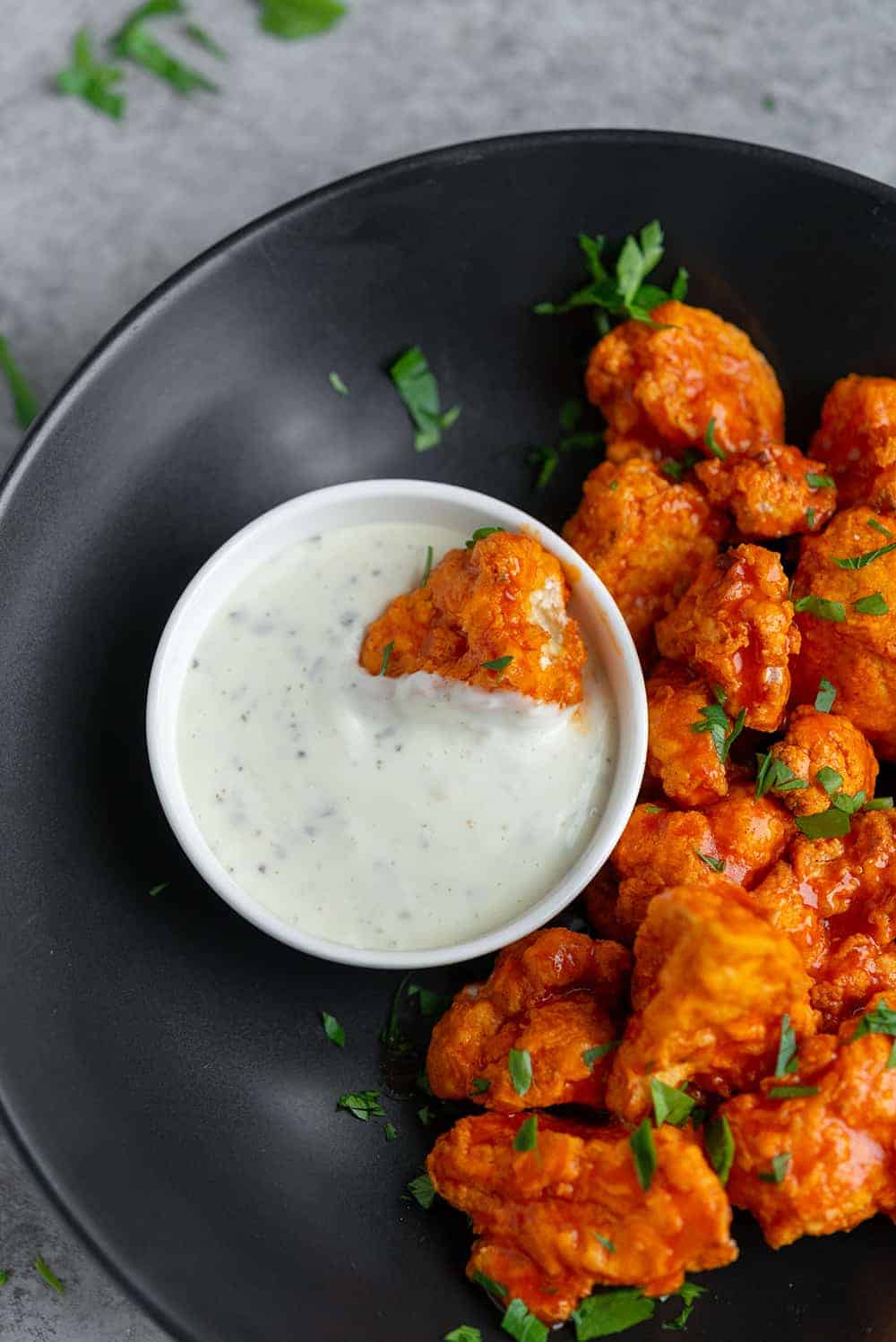 Its no secret that my husband loves buffalo wings. He asks for my cauliflower buffalo wings at least a few times a month during Football season and while Im usually very happy to fulfill his food wishes, those things just take so much time to put together. Theres the baking of the cauliflower, the dredging, the frying, the sauce making. Its great as a special occasion, but not something that Im eager to take on every Sunday afternoon.
Thats the beauty of the Air Fryer! BL can request cauliflower wings and in ~30 minutes, Im presenting him with a giant basket of crispy fried wings covered in whatever spicy sauce hes into at the moment. Im partial to classic Buffalo sauce, but weve also been known to make a honey BBQ sauce, a smokin Habanero sauce and a more mild Asian Chili sauce. All are fantastic on crispy, crunchy cauliflower wings!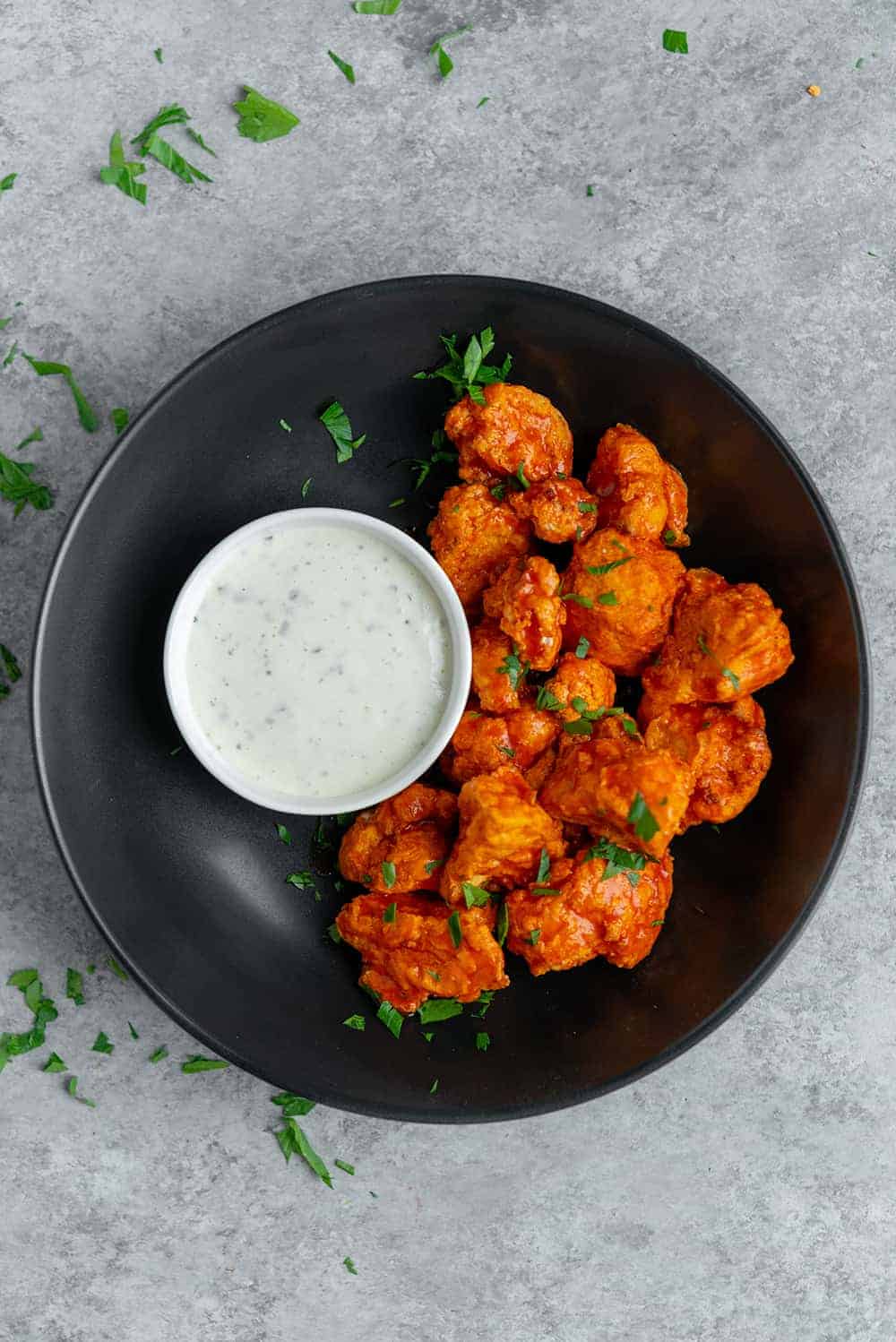 How to Make Cauliflower Buffalo Wings in the Air Fryer
I tested this recipe close to 15 times, mostly to get the timing right. Compared to cauliflower wings made in the oven and then the skillet, these are much easier to overcook. We found that 6-7 minutes is the optimal time for getting a crunchy outside while still keeping some texture of the actual cauliflower.
I also wanted to see if you needed to dredge the cauliflower first. So I made a batch without any coating (boring), a batch with a dry coating (fell off as soon as the sauce was added) and a batch that was already coated in flour and buffalo sauce (meh. Lacked crunch and saucy, lick-your-fingers-goodness.)
My classic way is still the best way. Yes, it adds another step but you are saving so much time by using the Air Fryer that I dont think it matters. Make a thickened egg-like mixture by heating dairy-free milk and cornstarch together, then letting cool slightly. From there, you will do a triple dip: once in the flour, once in the thickened milk mixture and then back in the flour.
Tap off as much excess flour as you can before placing them into the Air Fryer. Then set for 7 minutes at 400 degrees F. and let fry while you whisk together the ingredients for the sauce. So much easier than pan frying, am I right?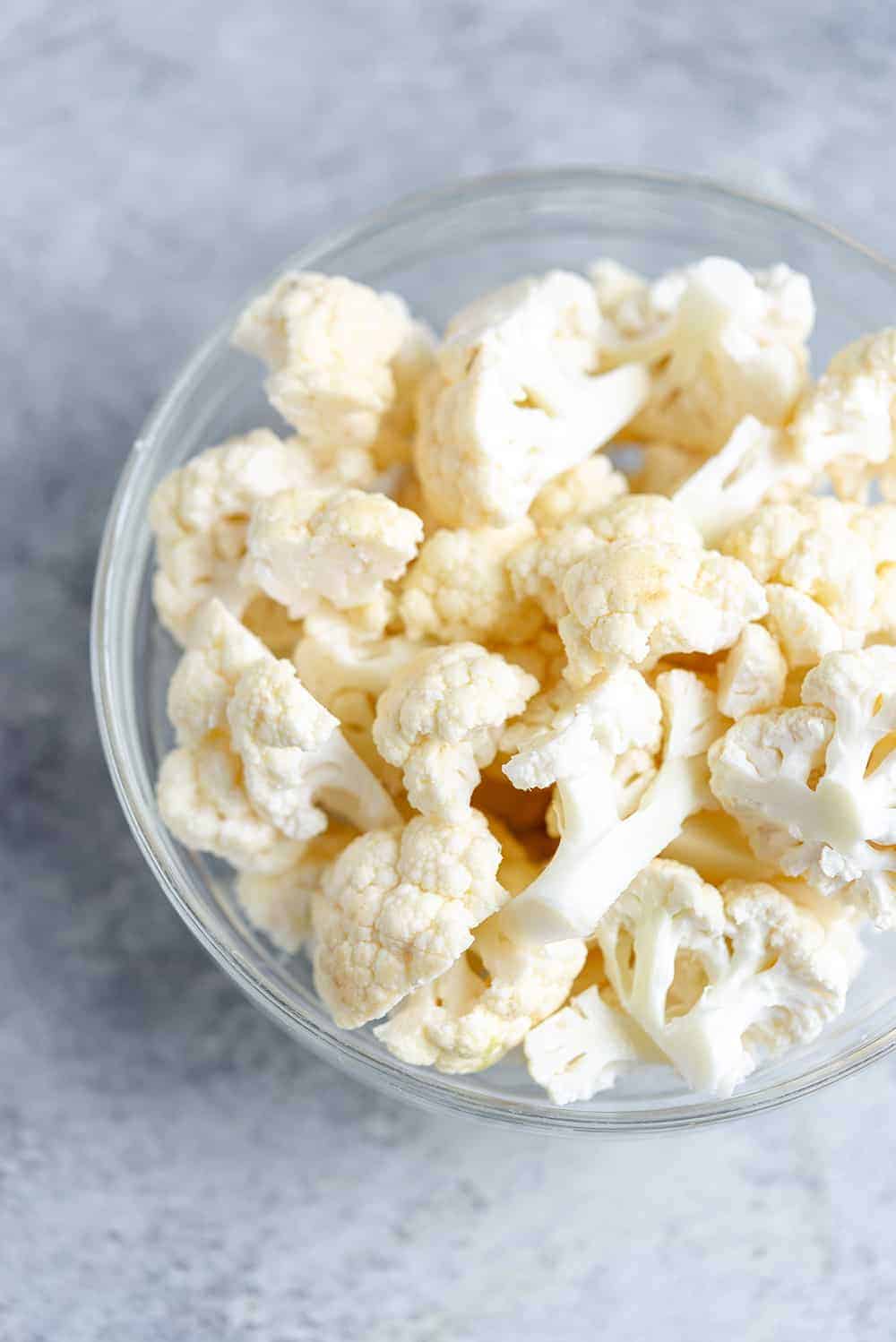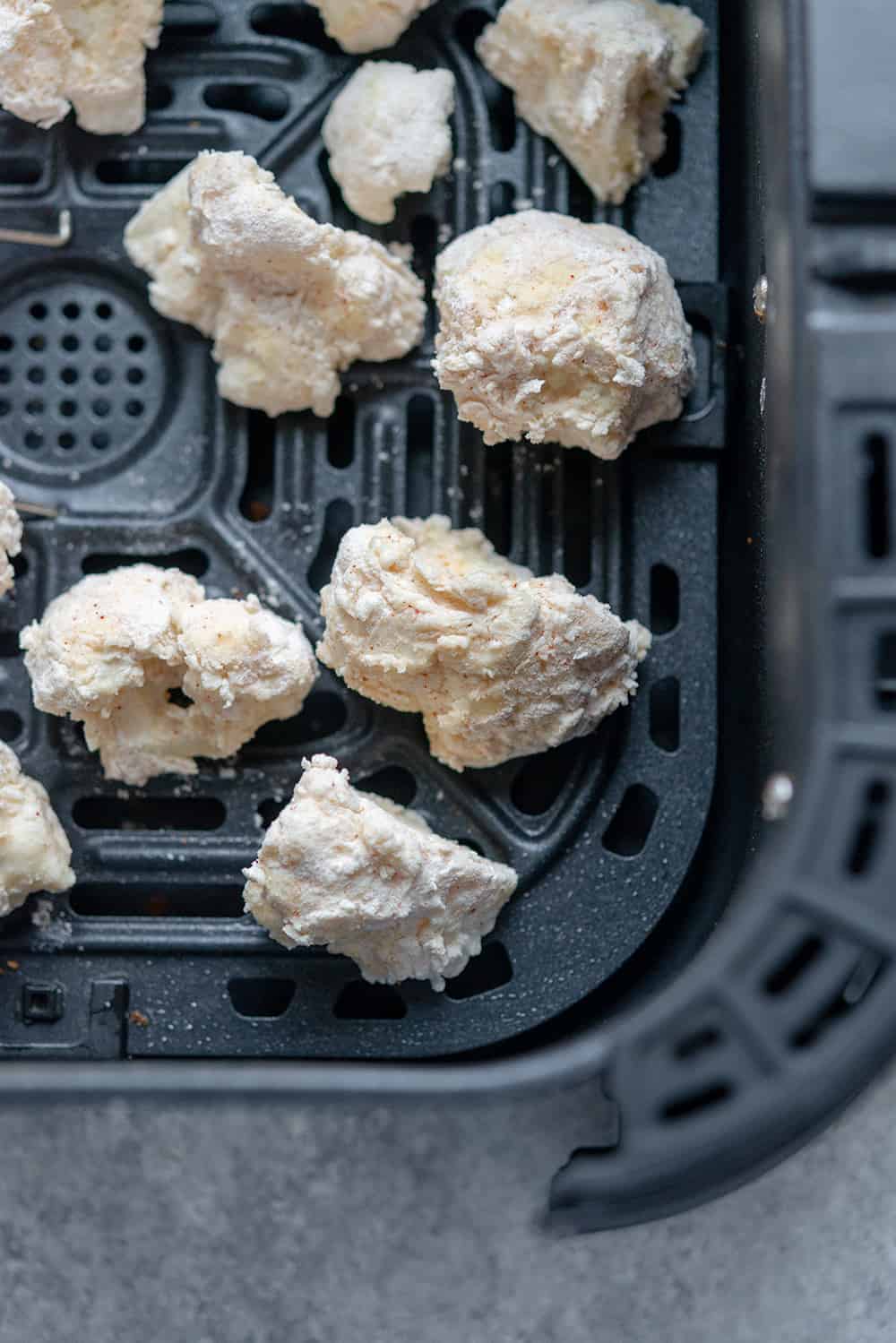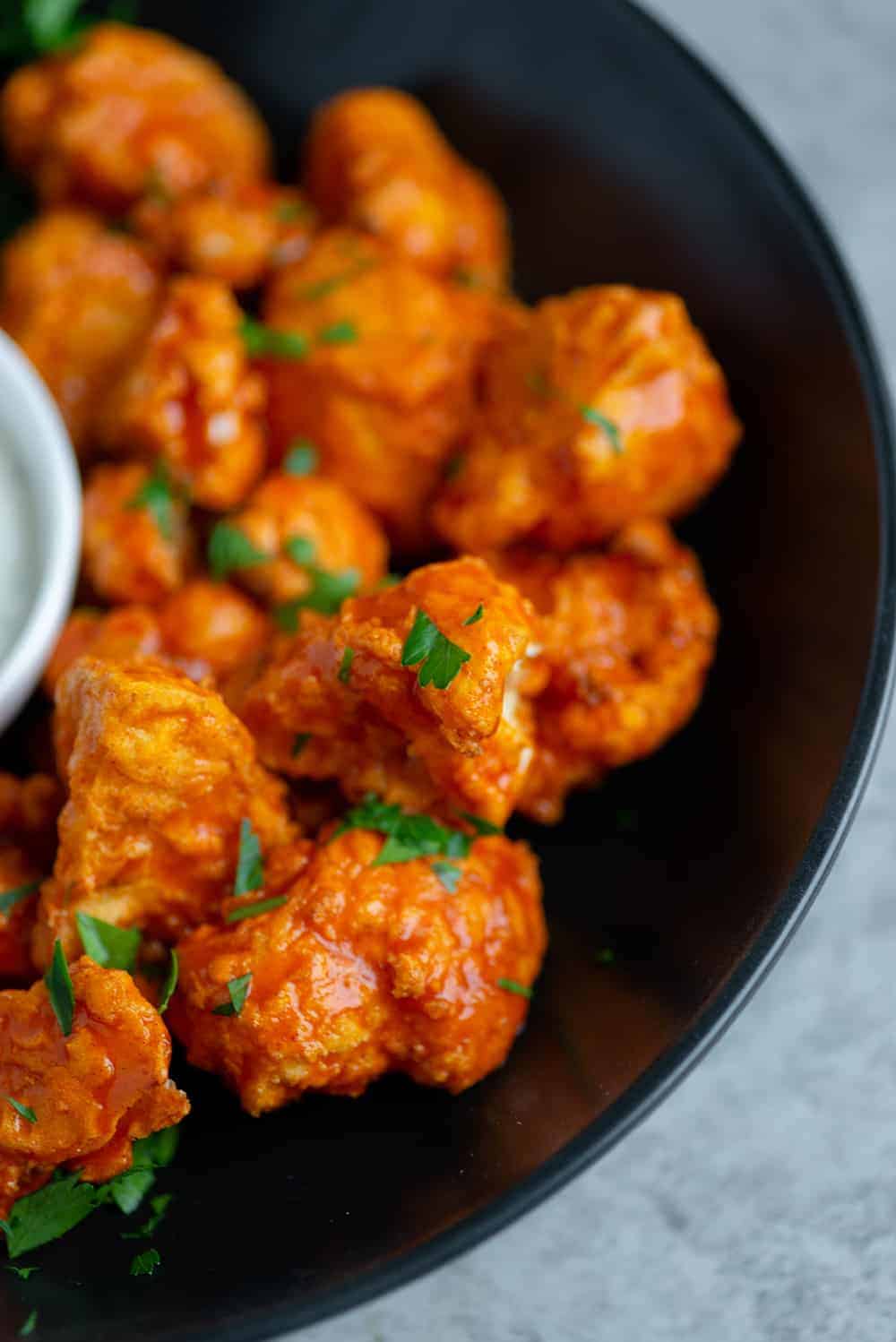 I know you are going to love these buffalo wings as much as we do! They have already become a staple in our house over the last few weeks and I have a feeling Im going to continue to make them almost weekly during Football/Baseball season.
Looking for more vegan appetizer recipes? Then try my vegan nuggets, my vegan chili queso dip, my vegan chorizo queso dip or my roasted tomato guacamole!
Print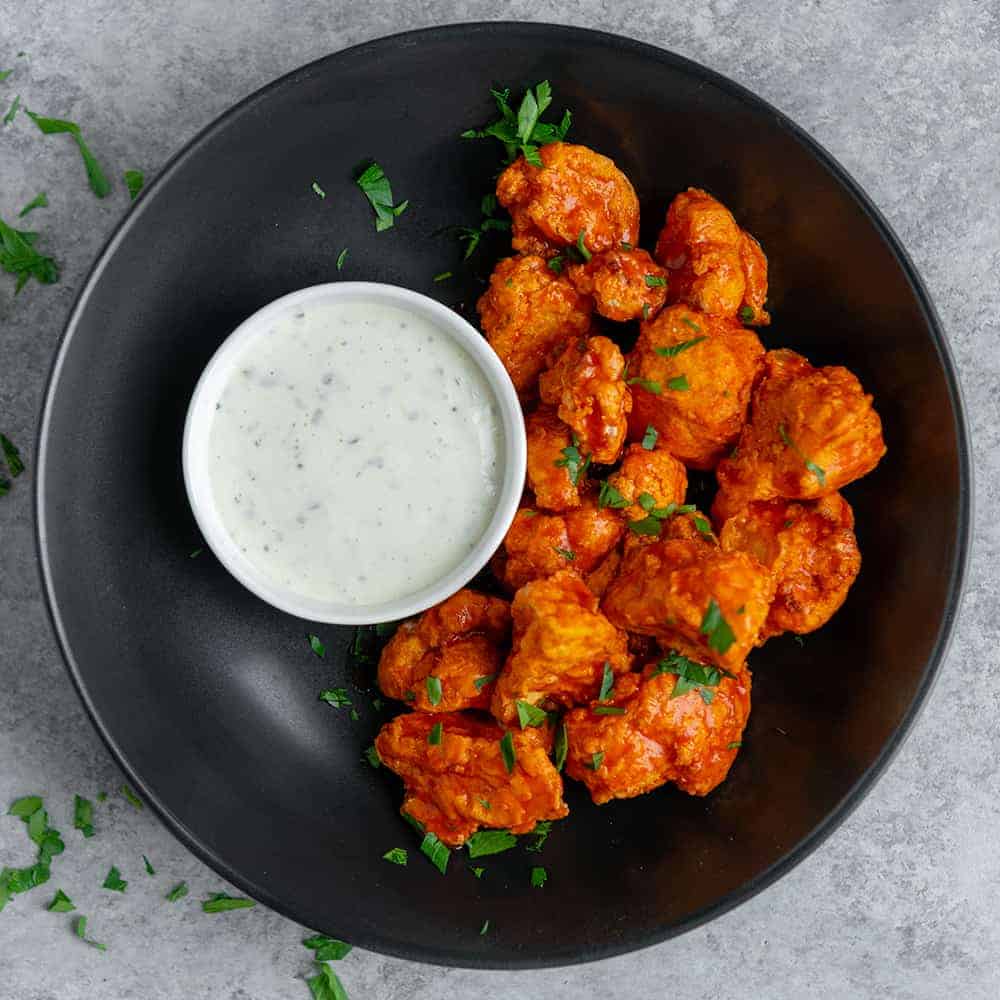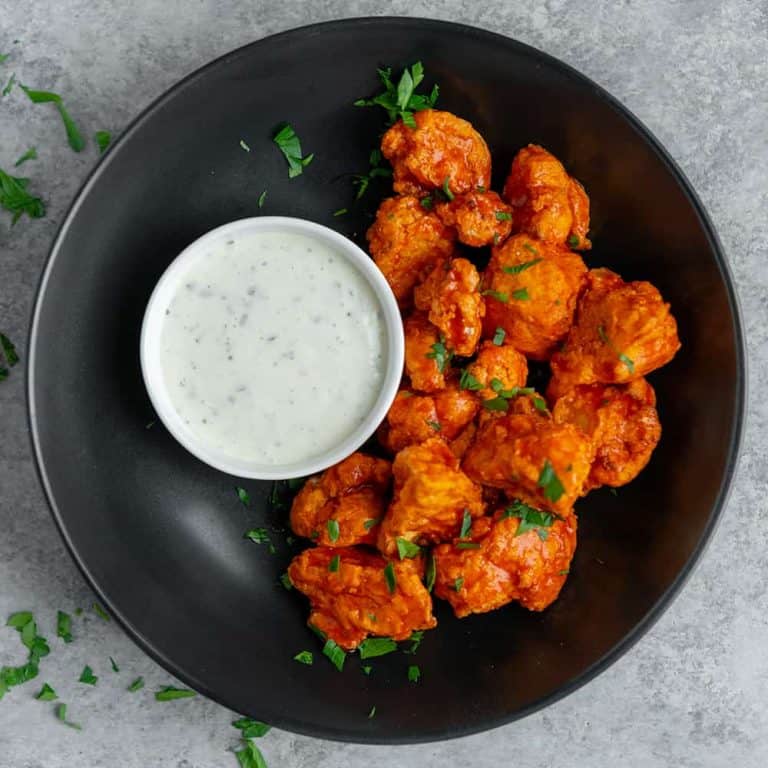 ---
Description
Air Fryer Cauliflower Wings! Looking for healthy, vegan buffalo wings? These air fryer buffalo wings made from cauliflower are a MUST try!
---
Ingredients
1

head cauliflower, cut into drumstick-like pieces

1 cup

soy or almond milk

1 teaspoon

cornstarch

1 cup

all-purpose flour

1 teaspoon

garlic salt

1/2 teaspoon

salt

1 teaspoon

smoked paprika

1 teaspoon

onion powder

1/2 teaspoon

freshly ground black pepper

1/2 cup

Buffalo Sauce (like Franks Hot)

2 tablespoon

s vegan butter, melted

1 teaspoon

white vinegar
Vegan Ranch Dressing
1/2 cup

mayo (or vegan mayo)

1/4 cup

soy milk

1/4 cup

freshly chopped parsley

1 teaspoon

dried dill

1 teaspoon

garlic powder
---
Instructions
Make the ranch dressing, if using. Whisk together the mayo, soy milk, parsley, dill, garlic powder. Add a pinch of salt and season to taste, if needed. Set aside.
Heat the milk and cornstarch together in a medium saucepan until cornstarch has dissolved. Heat the milk over medium heat until slightly thickened, about 4-5 minutes, then set aside to let cool.
Whisk together the flour, garlic salt, paprika, onion powder, black pepper and salt in a large bowl.
Dip the cauliflower into the flour, then into the thickened milk mixture, then back into the flour. Tap off as much of the excess flour as you can, then place in a single layer in the bottom of your Air Fryer. Repeat with the rest of the cauliflower; knowing that you may have to work in two batches depending on the size of your Air Fryer.
Place the air fryer tray into the Air Fryer and set to 7 minutes at 400 degrees F. Let cook, then flip/shake ~halfway through cooking.
While the cauliflower is cooking, heat the butter, buffalo hot sauce, vinegar in a small saucepan over medium heat. When cauliflower is done, toss with the melted buffalo sauce and serve immediately with the ranch dressing.
Heat the butter, buffalo hot sauce, vinegar and Sriracha over medium heat Toss with the crispy cauliflower and serve immediately with the ranch dressing.
---
Keywords: buffalo cauliflower wings made in the air fryer