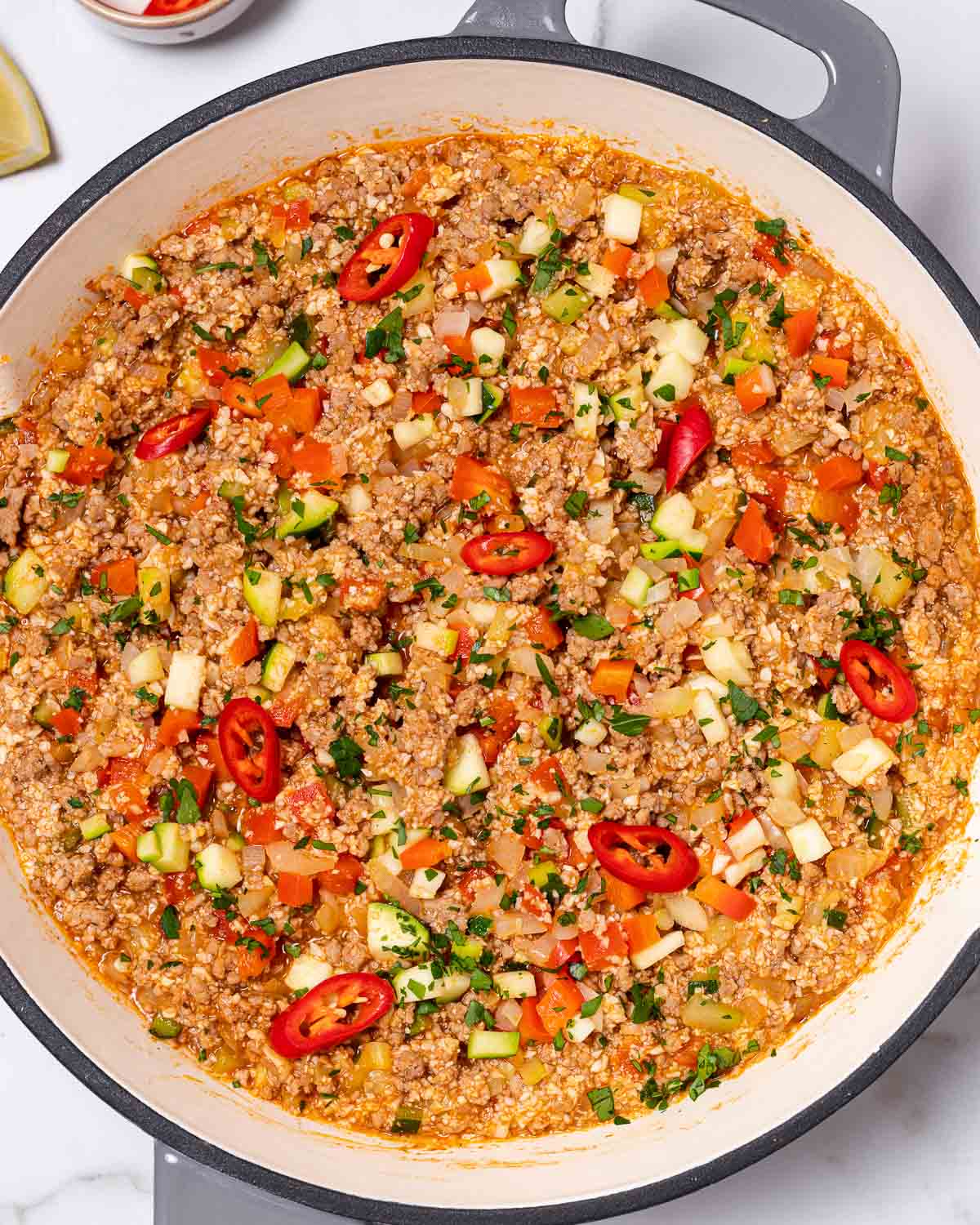 Beef Enchilada Skillet with Cauliflower "Rice"
If you're looking for a simple and delicious recipe to add to your dinner menu this week, we've got you covered here!
Satisfying Beef Enchilada Flavor will leave the family singing your praises
My entire family DEVOURED this enchilada skillet! I love meals like this where we can just set out the toppings and it's scoop & "build-your-own style" because all of our teenagers seem to really like creating their own bowls and everyone is happy because they're in control.
So, make this enchilada skillet then top it with whatever needs to be used up in your fridge! Your family will absolutely love it!
This is EXCELLENT for meal prep too, so consider doubling up the recipe to make a few extra lunches to-go.
For Meal Prep:
Place your leftovers into glass food prep containers in the fridge to reheat for future meals throughout the week. The flavor only gets better the next day! I would recommend storing this dish in the fridge for 3-4 days max.
Rachel's tips:
You can use pre-cut cauliflower rice to make this even quicker! This can be found just about everywhere these days. Often in the deli area as a "freshly chopped" version or in the freezer section at the grocery store.
My 2 favorites are Trader Joe's brand and the big frozen bags found at Costco.
If you're using frozen cauliflower rice, allow it to mostly thaw first.
1 head of cauliflower is equal to about 4 cups of cauliflower rice.
OR – simply make your own cauliflower "rice" using a large head of cauliflower broken into florets.
Place cauliflower florets into a food processor and lightly pulse until broken into rice-sized pieces. Do not over-pulse, or you'll just have mush.
Cauliflower has a lot going for it. Not only is it one of the most versatile veggies, but it also contains some of every vitamin you need, as well as a healthy dose of fiber.
Not bad for a veggie that's 92% water!
Cauliflower is rich in antioxidants and low in carbs and calories .. PLUS it has protective qualities to guard against cancer and heart disease! It's also a good source of choline, which helps your metabolism, cell health, and supports many processes in your body.
Because of its mild taste, it can be added to a number of recipes to replace less nutrient-dense, higher-carb ingredients.
It can be used a ton of different ways in your meals – steamed or roasted, turned into "rice," mashed like potato, or even shredded and used in bread and pizza crust!
REFERENCE:
4 servings
Ingredients:
1 1/2 lbs lean ground beef or bison
1 large onion, finely diced
2 medium zucchini, finely diced
1 red bell pepper, finely diced
sea salt and ground pepper, to taste
4 Tbsps tomato paste
1 1/2 cups cup beef bone broth or stock
2 Tbsps taco seasoning blend
1 Tbsp gluten-free flour, Arrowroot powder, or cornstarch
4 cups riced cauliflower
Topping ideas:
freshly chopped cilantro
sliced red chile
diced avocado or guacamole
freshly grated cheese
pickled red onions
salsa or pico
sliced jalapeños
plain Greek yogurt or sour cream
Instructions:
Heat a large skillet over medium heat.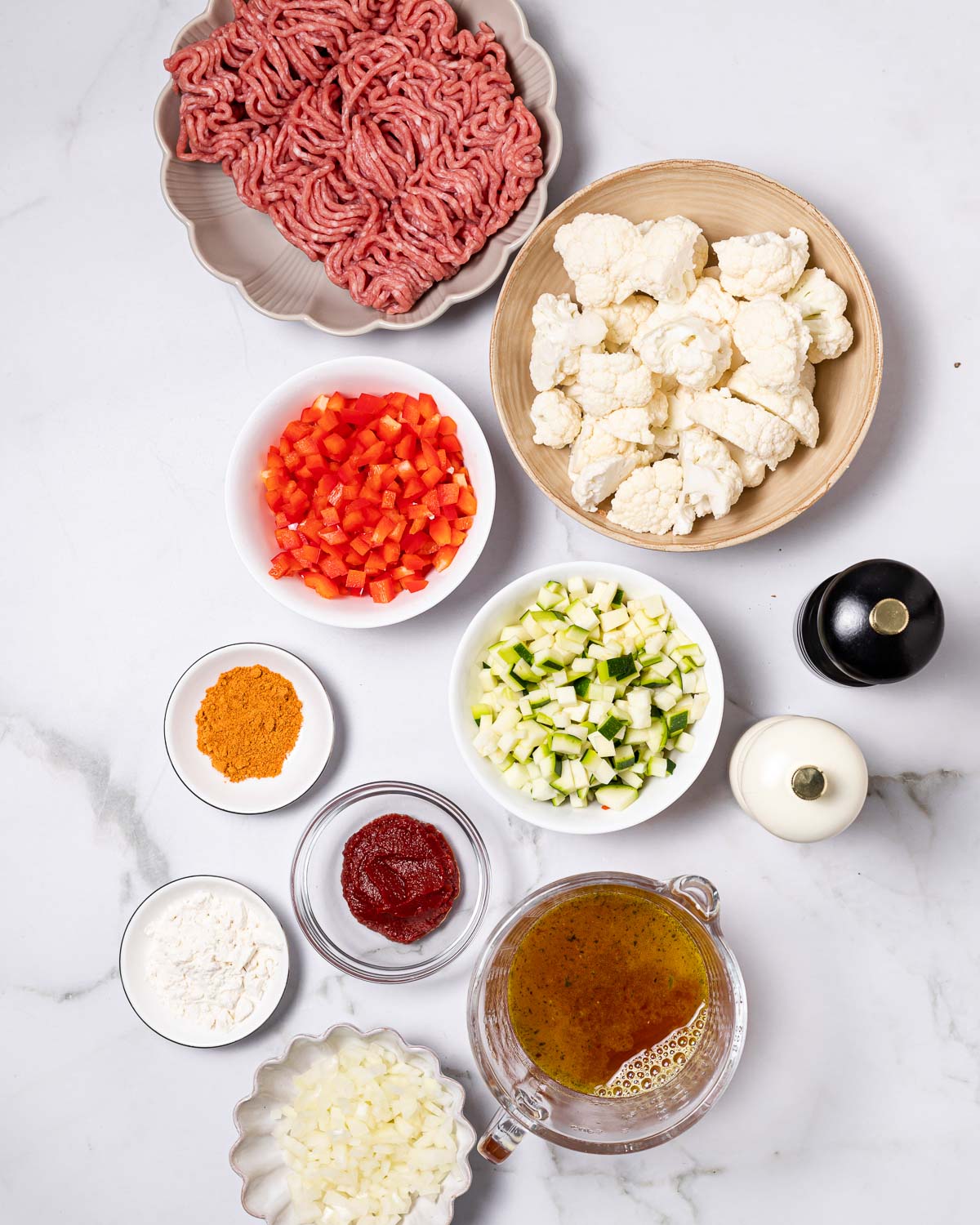 Add beef and cook while crumbling it with a wooden spoon.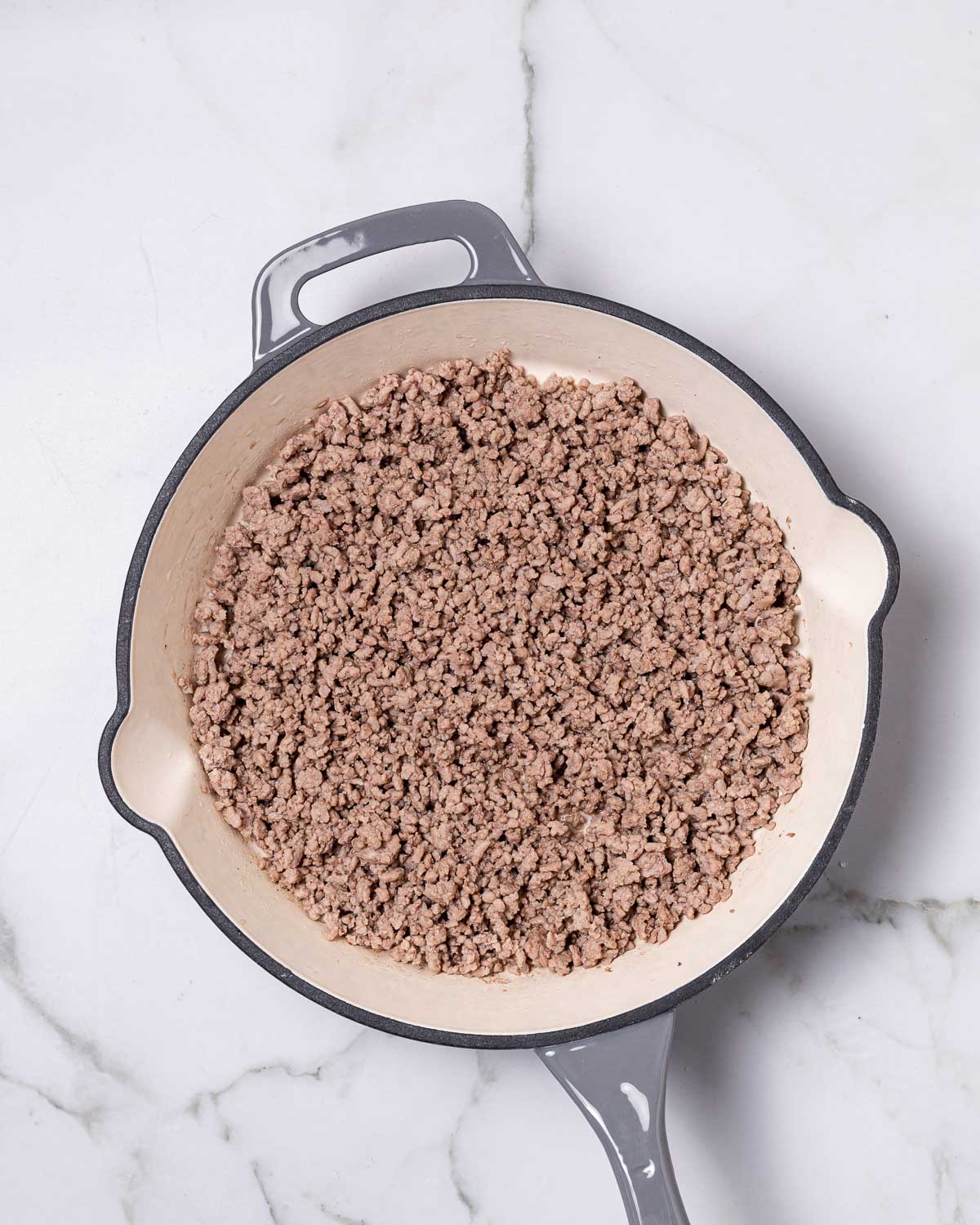 Once the beef is no longer pink, drain and discard any grease.
Return the skillet over the heat and stir in the onion, zucchini, and bell pepper.

Cook, stirring occasionally, for 4-5 minutes. Season with a pinch of sea salt and pepper.
Meanwhile, in a small bowl, whisk the tomato paste, with broth, seasonings, and gluten-free flour or Arrowroot powder.

Add this mixture to the skillet using a spatula to get it all in with the meat and veggies.

Reduce the heat to LOW and allow your sauce to bubble for a couple of minutes.

Stir in the riced cauliflower, and cook over low heat, stirring frequently, until tender, around 6-8 minutes.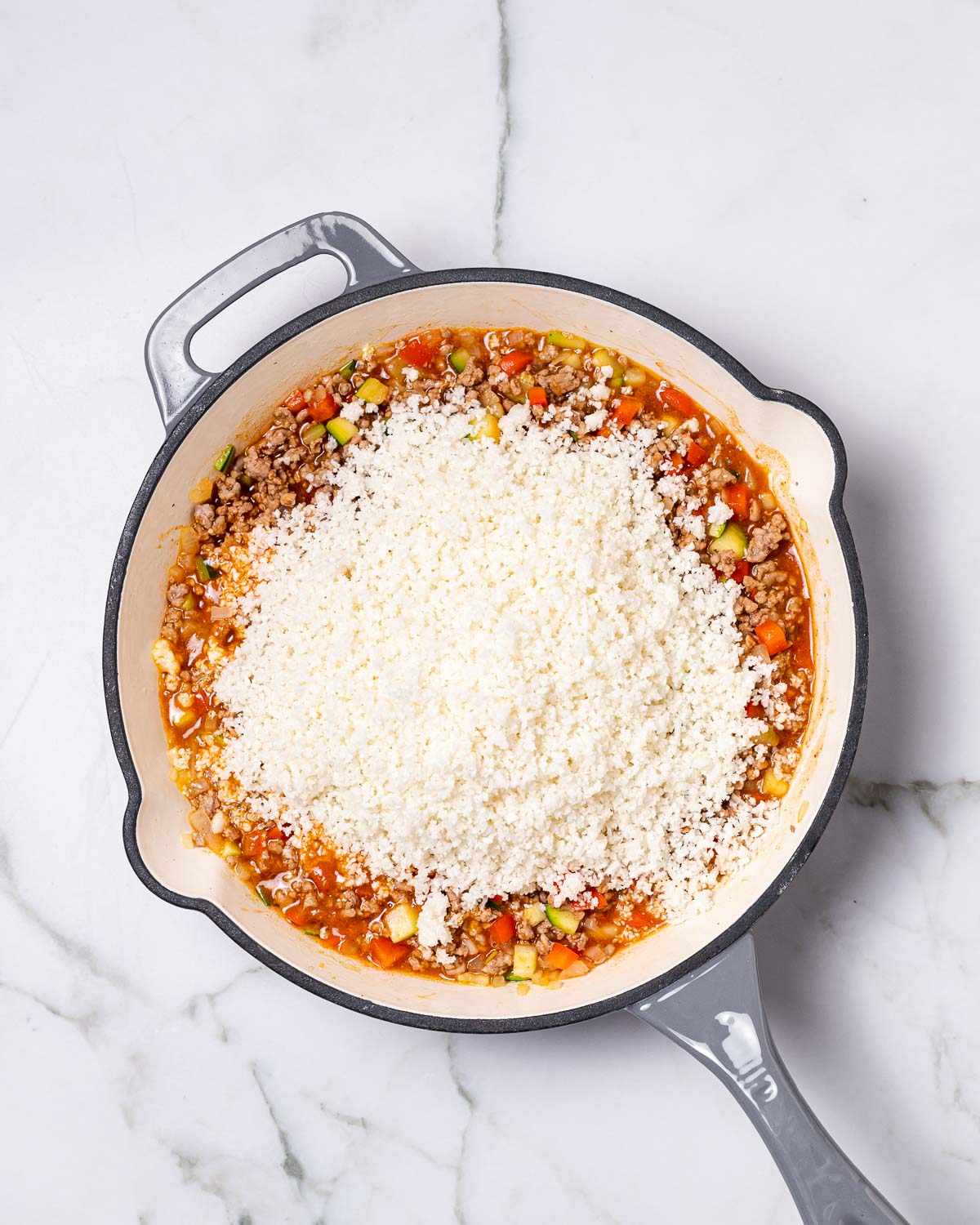 If your skillet needs additional moisture, add a splash more bone broth during the cooking time.
Scoop into bowls and garnish with desired toppings.
Rachel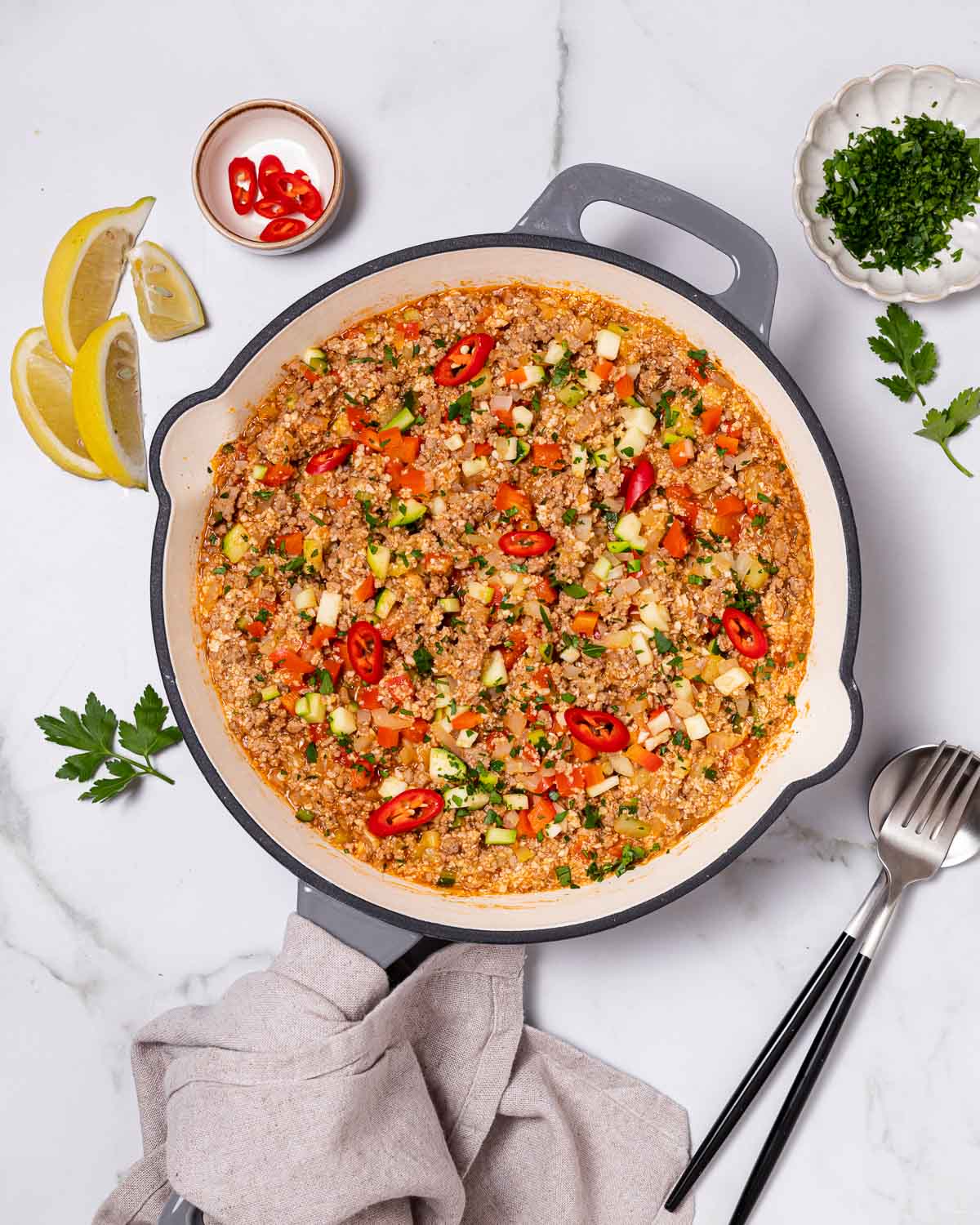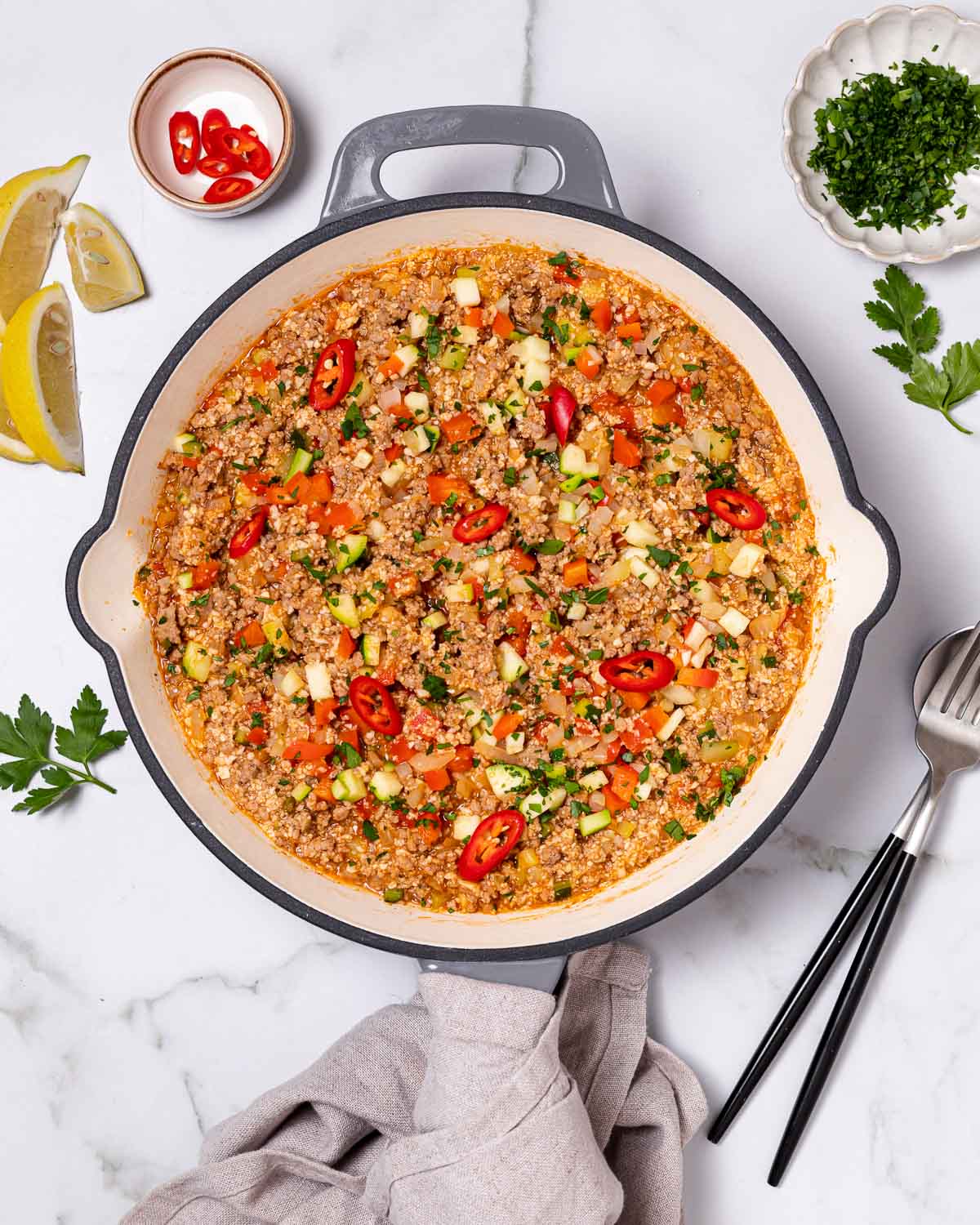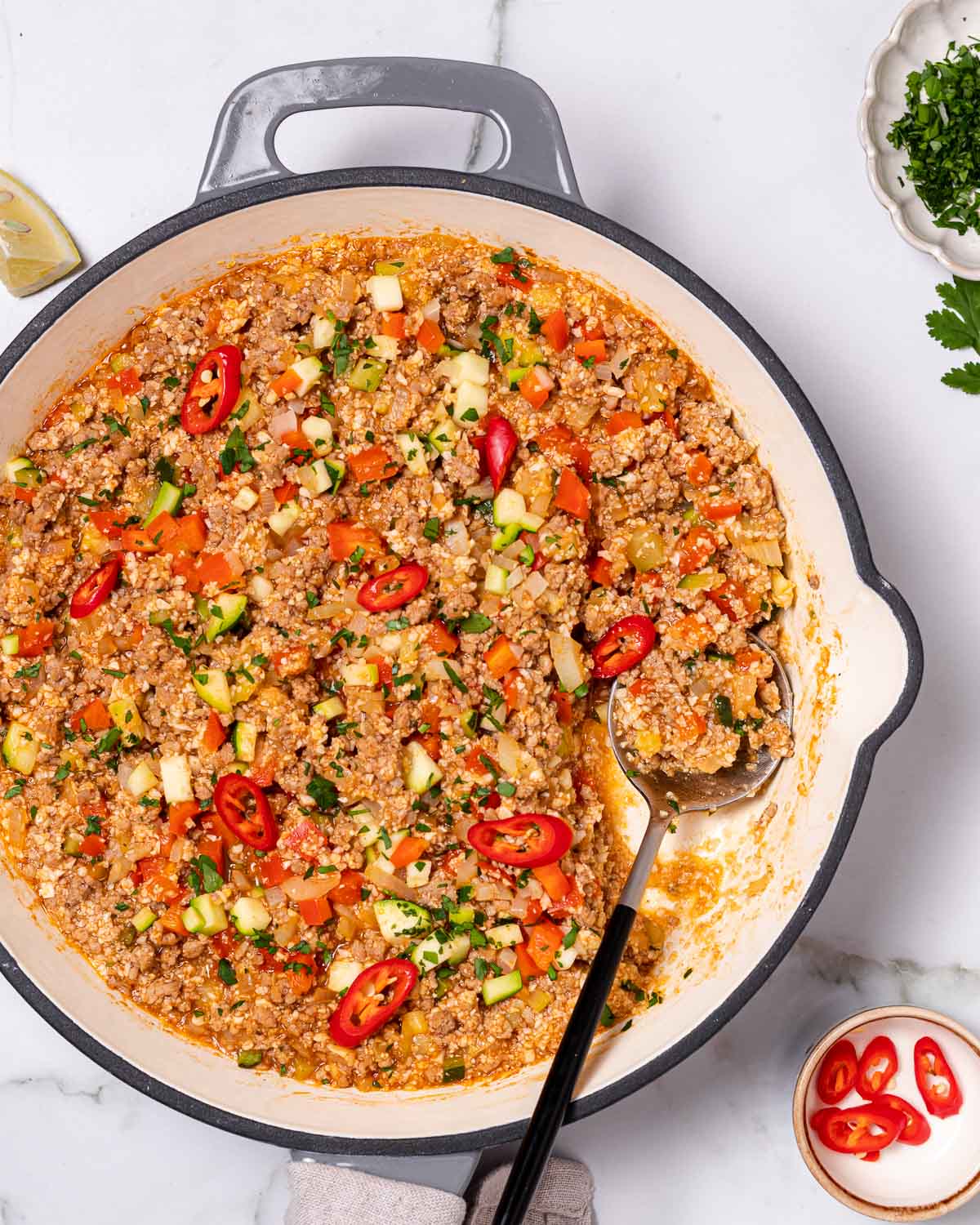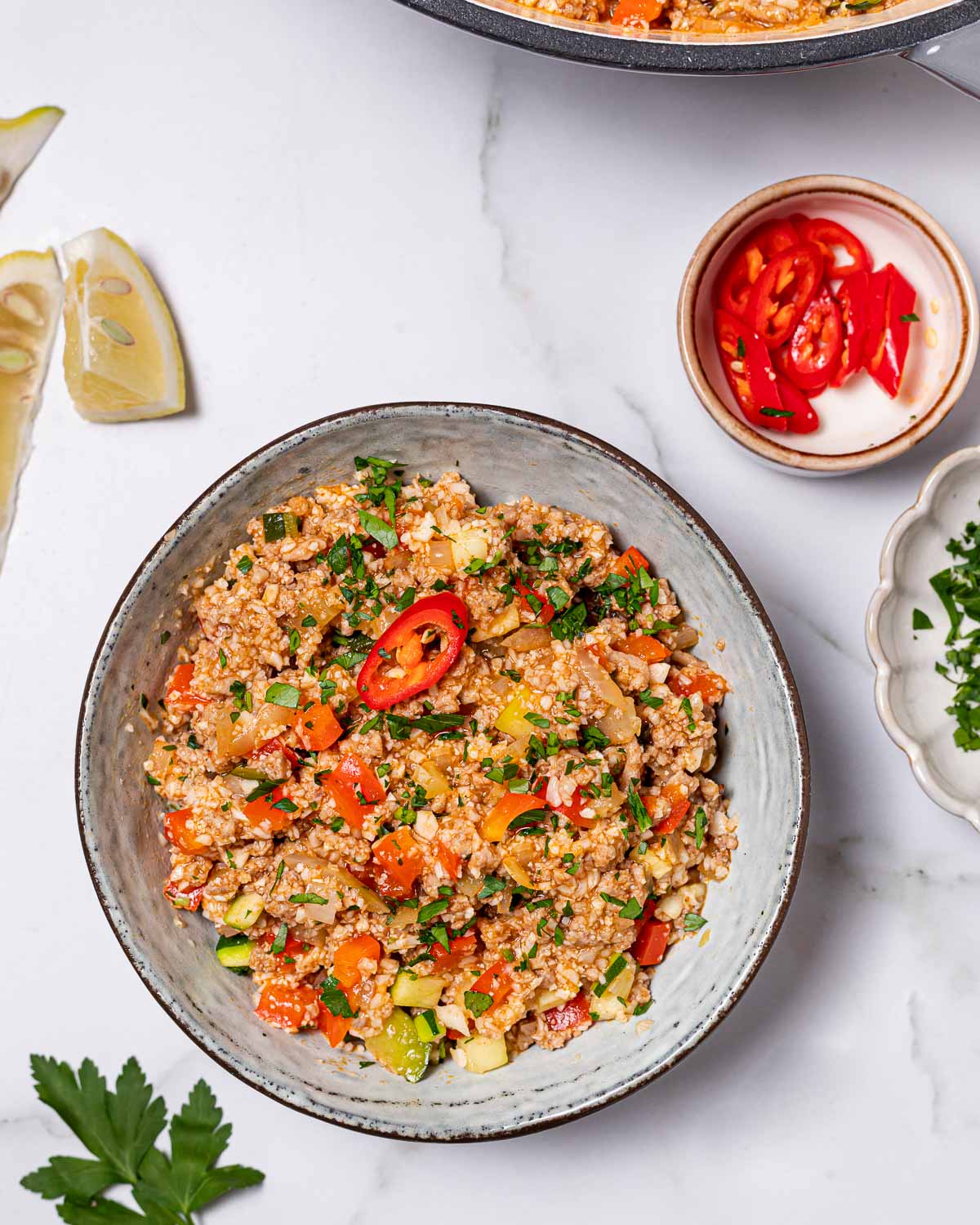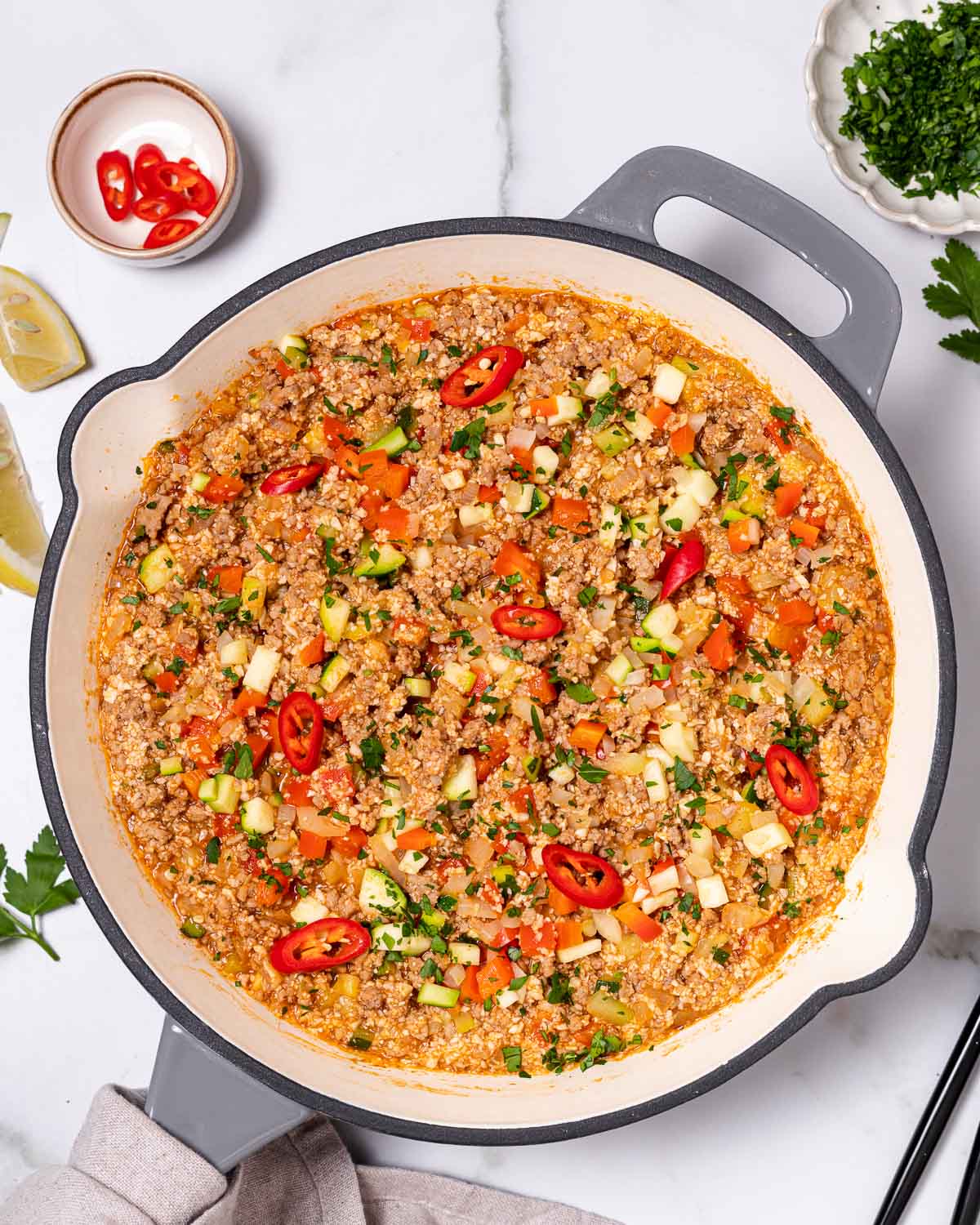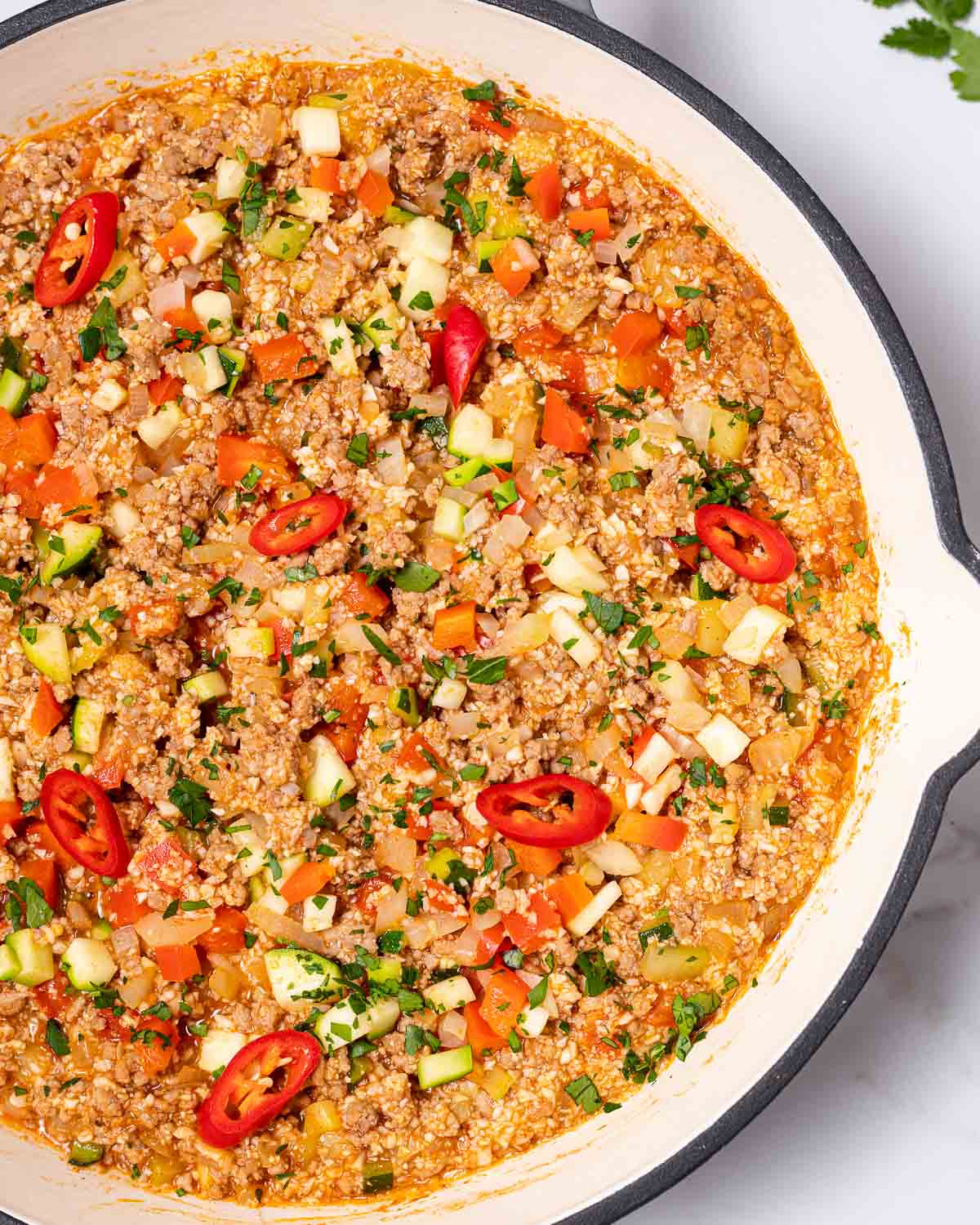 The post Beef Enchilada Skillet with Cauliflower Rice first appeared on Clean Food Crush.