If you're looking for an easy AND filling vegetarian dinner idea, you're going to LOVE these Black Bean Stuffed Sweet Potatoes! They come together with just a few simple ingredients and are very easy to customize based on your personal preferences.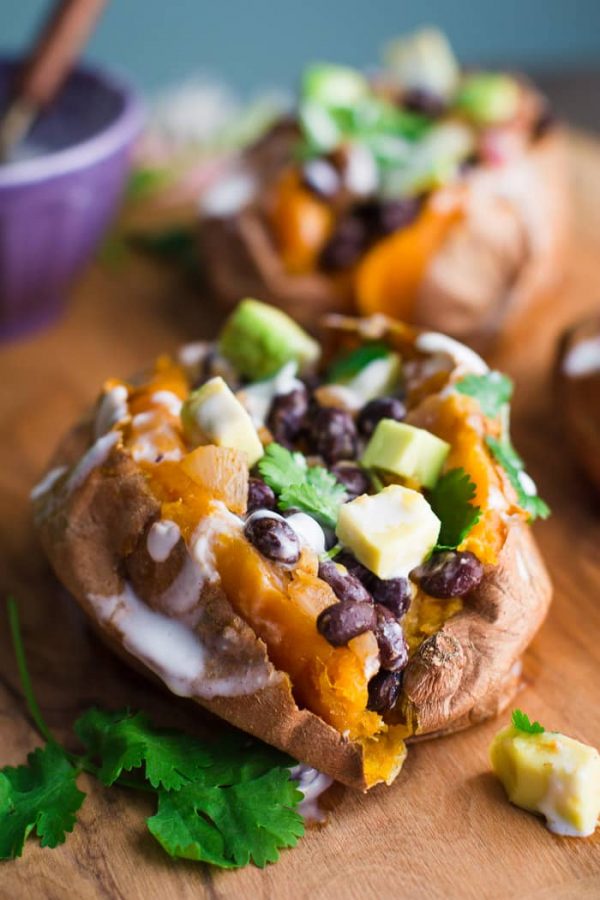 This recipe has consistently been one of the most popular recipes on my blog for many years now. I originally posted it in 2016 and figured that over 4 years later, it could use a bit of a revamp. Next week, I'm going to post a WHOLE Youtube video showing you how to make stuffed sweet potatoes FOUR different ways including the Chickpea Stuffed Sweet Potatoes recipe that I recently posted as well as my Breakfast Stuffed Sweet Potatoes and these Guacamole Stuffed Sweet Potatoes.
Needless to say, I am a HUGE fan of sweet potatoes STUFFED with yummy things :D
I first discovered my love with black beans + sweet potatoes (a match I would have never tried before a few years ago), at a vegan restaurant when I was living in Nashville. I tried their black bean and sweet potato tacos (which I replicated HERE) and immediately fell in love with that combo.
One of the other reasons that we really love this recipe in our house: it makes for AMAZING meal prep. Whether you're prepping lunches or simply trying to meal plan for the week, this recipe makes things SO MUCH easier. I like to bake up a big batch of sweet potatoes at the beginning of the week and then eat on them for the net few days. For lunches, I like to pack the sweet potato and black bean mixture separately and then heat them up + mix them together when I'm ready to eat it.
(more…)
The post Black Bean Stuffed Sweet Potatoes appeared first on Food with Feeling.