Capitol Smokehouse and Grill feels like home. Maybe it's the cozy, almost cramped interior with Arkansas memorabilia adorning the walls. The comfort food permeating aromas from the cafeteria-style bar that smack you in the nostrils might also have something to do with it. Or maybe it's Candy Wilkerson, the smiling owner who feels like family the moment she greets you at the register.
Whatever the case, the eatery, located just a few blocks from our state capitol building, has become a beloved institution for downtown eaters seeking a hearty and affordable weekday lunch. Capitol Smokehouse is, wait for it … a smokehouse, which means they serve barbecue. Sliced brisket, ribs, pulled pork and all the sides are on the menu, but unfortunately, a detailed analysis of 'cue will have to wait for another day. This write-up is about Capitol's Blue Plate specials.
Each plate comes with a main protein and two sides, along with a roll or hunk of jalapeno cornbread (opt for the cornbread). My first visit took place on a Thursday when my friend and I met for a quick lunch. It was the first time for both of us, and my tablemates typically know the drill when eating with yours truly: we order something completely different from each other to ensure plenty of writing material.
I got to snag a couple of bites of his pot roast, which is a dish I wouldn't typically order. But this version, with pieces of gravy-soaked beef, carrots and celery, was nice on a cold afternoon. So were the turnip greens. I am more of a Team Collards guy, but these greens were absolutely fantastic, with not a hint of bitterness that sometimes happens with turnip greens.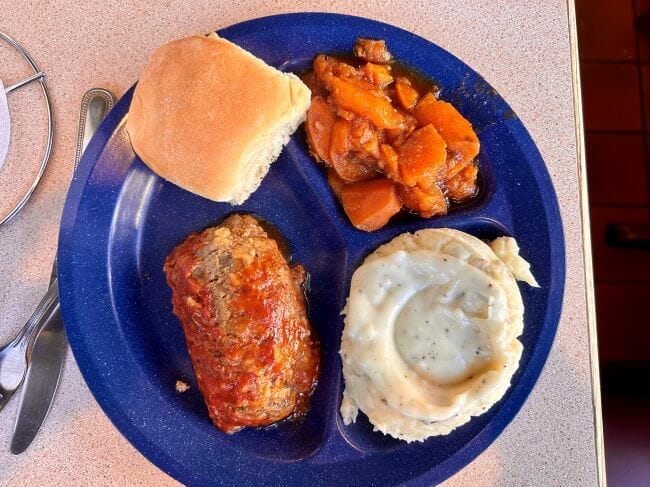 My plate featured the end (or heel) piece of the meatloaf log. Just seeing the loaf resting there in the hot bar was too tempting to resist. I paired it with sweet potatoes and mashed potatoes. Carb nirvana, I know, but again, this was for research purposes. Hey, I have a job to do. The meatloaf was tender to the bite and had a nice, tangy flavor imparted by the thin layer of tomato sauce on top. Hard to imagine better, and that goes for the sides as well. The sweet potatoes could have doubled as a dessert and the mashed potatoes, with their pool of peppery cream gravy dolloped in the center of the pile, were as good as I have eaten in a restaurant. Buttery and light, these scratch-made potatoes are worth a visit to Capitol Smokehouse by themselves. High praise, but it's true.
My second visit happened a couple of weeks later–a Friday afternoon solo venture after just getting back from a week in Oaxaca, Mexico. Truth be told, I'd had my fill of tacos, salsas, guacamole, and moles, and I was craving simple comfort food. Specifically, I really wanted to try Capitol's fried chicken, a boneless filet that is cooked to order by Candy's husband, Donny Anderson. He also playfully shouted that my add-on piece of fried catfish would cost $100. Five minutes later, both the chicken and catfish hit the table as piping hot as could be. Like seriously, I had to wait 2-3 minutes just to get a picture due to that pesky steam. The hand-breaded chicken, which I made sure was smothered with the cream gravy, paired well with the slaw and fried potatoes (although next time, I'm trying the much-heralded squash casserole).
It was all perfect. And yes, the food is expectedly hearty, but the portion sizes are manageable, so don't anticipate walking out stuffed to the gills. Also, I better not gloss over the fried catfish, which immediately vaulted into my Top 10 in the area after a few bites. A thin batter, fried crisp makes all the difference.
I capped off the meal with an order of banana pudding. Regulars had spouted off about my idiotic decision not to order the dessert on that initial trip, so I remedied that mistake. The pudding is super creamy and comes loaded with fresh slices of bananas and wafers. It was everything you want from this classic southern dessert.
In fact, I loved everything about Capitol Smokehouse and Grill. The restaurant has been going strong for 15 years, and from the taste of things, I don't see that changing anytime soon.
Did You Know?
The Blue Plate Specials throughout the week are:
Monday: Chicken & Dressing, Meatloaf, Fried Chicken Breast, Chicken Fried Steak
Tuesday: Fried Chicken Breast, Meatloaf, Salisbury Steak, Chicken Fried Steak
Wednesday: Chicken & Dumplings, Meatloaf, Chicken Fried Steak, Chicken Fried Chicken
Thursday: Pot Roast, Meatloaf, Fried Chicken Breast, Chicken Fried Steak
Friday: Fried Catfish, Fried Chicken Breast, Meatloaf, Chicken Fried Steak
Capitol Smokehouse and Grill
915 W Capitol Ave. (Little Rock)
Phone: (501) 372-4227
Hours: Monday-Friday 11 a.m.-2 p.m.; Closed Saturday & Sunday
Via Only In Arkansas.