Fajitas are one of my favorite Tex-Mex meals, but with it being the great big middle of winter soup just sounds like a really good idea right now. So why not put the two together?! And to take it a step further, and with being so busy in the middle of the Holiday rush, I decided to take the lazy route and make chicken fajitas into a soup instead!
This Chicken Fajita Soup is quick and easy to make, with almost everything being tossed into a pressure cooker for all of an hour of hands off cooking time. Everything you know and love about chicken fajitas is in this soup too. Chicken, onion, bell peppers, jalapeo, and even some rice!
There is four, yes count them FOUR bell peppers in this soup. It might seem like a lot but it really helps to stretch this soup out. You get a HUGE pot full of hearty soup. Thats a whopping twelve servings of soup. I like to cook the soup and then divide it into two, freezing one half for a quick grab-and-thaw dinner for another time.
This soup is full of flavor too. Just like chicken fajitas, this soup has just the right amount of spice, beans, rice, and veggies.
I topped mine off with some shredded Mexican cheese and cilantro, but you can finish it with any of your favorite fajita toppings. A dollop of plain greek yogurt, avocado or guacamole, or even some tortilla strips! The sky is the limit when it comes to the garnish here.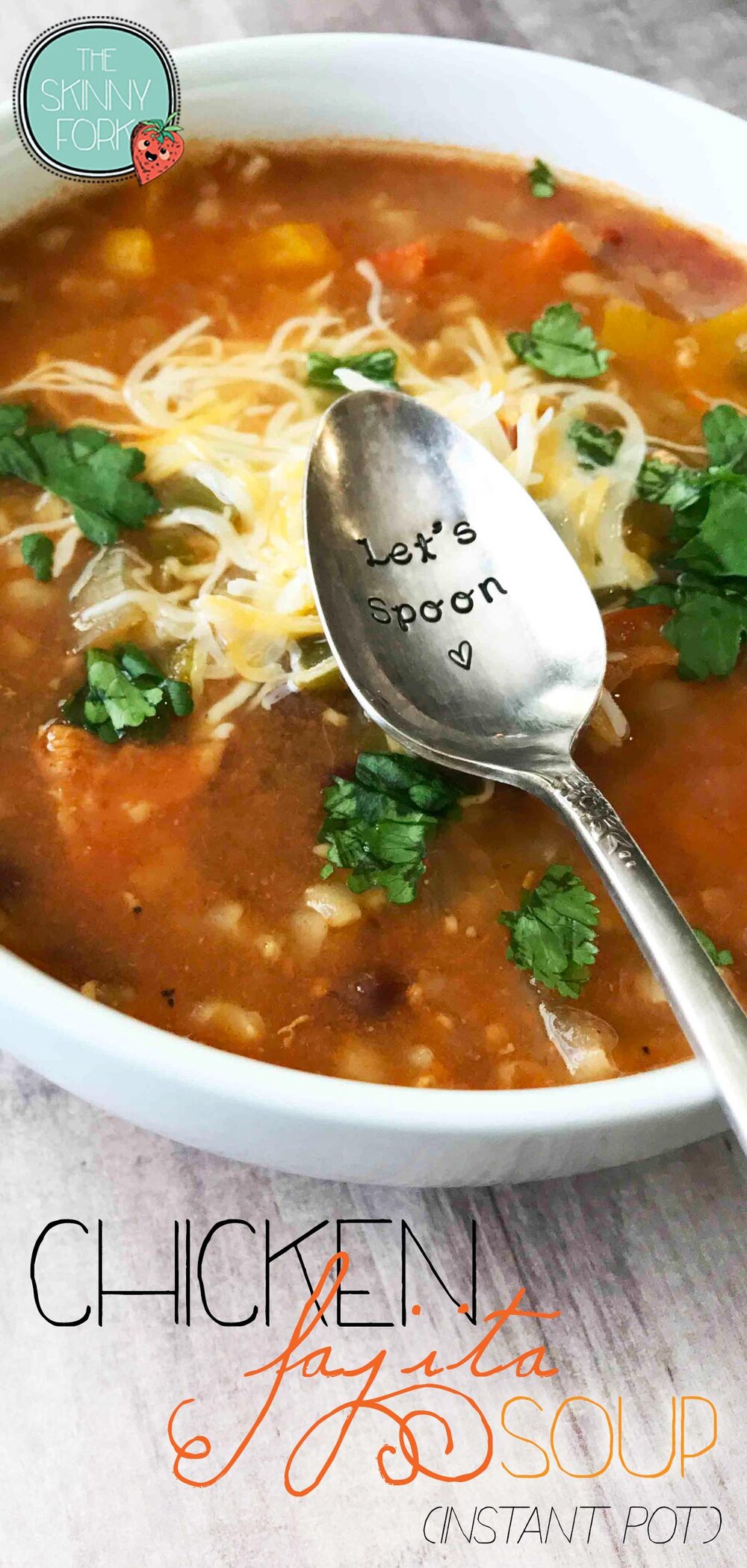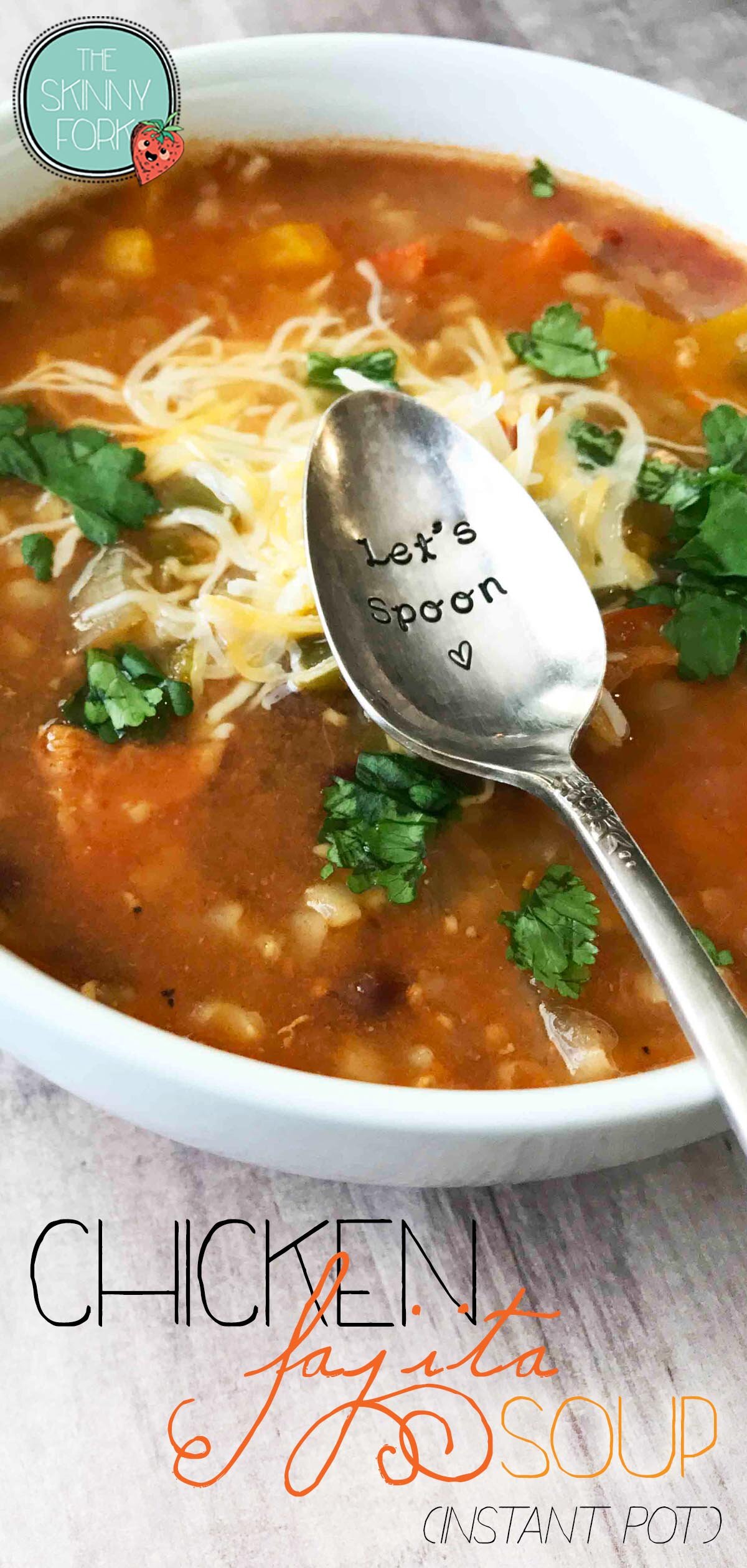 Chicken Fajita Soup (Instant Pot)
TheSkinnyFork.com
A soup that has all the things you love and expect in a chicken fajita - put into a soup! Quick and east to make with just 45 minutes in a pressure cooker.
Prep Time:
10 Minutes
Cook Time:
45 Minutes
The Skinny:
Servings: 10
Serving Size: About 2 Cups
Calories: 212
Fat: 2 g
Saturated Fat: 0 g
Carb: 29 g
Fiber: 6 g
Protein: 19 g
Sugar: 5 g
Sodium: 489 mg
Ingredients:
2 Boneless Skinless Chicken Breasts, Cubed
1 Medium Onion, Chopped
4 Red Bell Peppers, Chopped
1 Jalapeo, Chopped
4 Garlic Cloves, Minced
5 C. Reduced Sodium Chicken Broth
1 (14.5 Oz) Can No Salt Added Black Beans, Drained & Rinsed
1 (14 Oz) Can Crushed Tomatoes
1 (4 Oz.) Can Diced Mild Green Chiles
3/4 C. Long Grain Brown Rice
1 Tsp. Chili Powder
1 Tsp. Ground Cumin
1/2 Tsp. Paprika
1/2 Tsp. Oregano
2 Tbsp. All-Purpose Flour
2 Tbsp. Cornstarch
Salt & Pepper to Taste
Directions:
Place everything into the base of an a pressure cooker - EXCEPT for the flour and cornstarch.

Stir and cover with the lid. Set the steam valve to sealed and set the pressure cooker to 'stew/chili for 60 minutes.

Once the instant pot is done, allow the pressure to release naturally or do a quick release.

Open the lid and remove about 1 C. of the liquid to stir the 2 Tbsp. four and 2 Tbsp. corn starch into. Pour the mixture back into the soup and give it all a good stir.

Secure the lid again and allow to sit for another 10-15 minutes.

Once done, remove the lid and divide evenly among bowls.

Top with shredded cheese and cilantro or any of your fajita favorite toppings!
Step-by-Step Photos:
Nutritional Claims:High FiberLow FatLow Fat AbsDairy FreeEgg FreeMilk FreePeanut FreeTree Nut FreeSoy FreeFish FreeShellfish FreePork FreeRed Meat FreeCrustacean FreeCelery FreeMustard Free Sesame FreeLupine FreeMollusk FreeAlcohol FreeNo Sugar AddedKosher