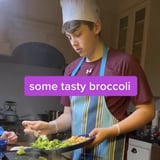 If at-home chefs had Yelp pages, this talented teen would have an overwhelming amount of five-star reviews. While many of us find ourselves at home with the family under unprecedented circumstances, 14-year-old Derek came up with the perfect way to entertain his parents and two sisters . . . and bonus points for keeping them well-nourished! Over the last few weeks, Derek has been making incredibly creative meals for his family, and lucky for us, his sister Caitlin recorded it all on TikTok. Caitlin told POPSUGAR that it all began a couple weeks ago with an airplane-themed meal after he felt bad that Caitlin's Spring Break trip to Florida was canceled due to the coronavirus outbreak. He recited the in-flight instructions and then replicated a fancy plane meal of chicken marsala and wine.
The mind-blowing teenage innovation did not stop there! Derek continued to surprise his family with these visionary meals, and to say he commits to his roles would be an understatement. For hibachi night, Derek made his family fried rice and created his own sake bottle. You best believe he tossed a shrimp in his dog's mouth, too. Another impressive meal was Mexican food night, where Derek made table-side guacamole and margaritas for his parents. Of course, his recent Hooters-themed meal had everyone entertained (and grateful for some delicious wings).
Caitlin said her brother is very creative and has always loved cooking. "Derek has a unique personality and always makes us laugh," she said, as we can tell by his larger-than-life persona. "These dinners have kept us very entertained during this crazy time." Check out his five-star creative dinners ahead, and let's give both Derek and whoever's cleaning all this up a serious round of applause.