A gorgeous, slow cooked golden vegetable soup packed with fresh ingredients and then blended until smooth and creamy. Hmmm mmmm. Gold in a bowl, Baby!
Homemade vegetable soup is one of those classic recipes every Mom should know how to make. This is my slow cooker version, but you can make it on the stove top too, just adjust cooking times as it only takes around 30 in a pot.
The texture of the soup is thick and creamy, and kid friendly. Serve with some toasted wholegrain bread for a complete, hearty meal or on its own for a lighter option (A big bowl of this soup is LESS than 100 calories).
Zero Waste Recipe
Dont let your vegetables get sad and wilted in the bottom fridge drawer. This recipe gives you an opportunity to give them new life.
Can you Freeze Vegetable Soup?
YES you can!! In fact, I recommend it! Consider a little gift to your future self. Finding a frozen, ready made soup in the freezer literally makes your day.
How long can you keep it in the Freezer
I have a freezer rule. I dont keep things longer than three months in my freezer I just dont do it. If we havent eaten it in three months, chances are we wont. So I make a point of using of freezer food before it reaches its three month deadline. Use freezer labels to track the day you packed the food in the freezer and if you want to be super organised, download my Printable ONE PAGE Freezer inventory here (its free!!).
Handy Freezer Tools
Learning to use your Freezer effectively will save you a ton of time and money. These are some of the the freezer tools you will find really helpful.
How many Servings does this recipe make?
The recipe allows for 6 8 serves (this can vary due to appetites and bowl size). There is a little serving size box where you can type in how many servings you want to make and the ingredients are automatically calculated for you.
How to Make Golden Vegetable Soup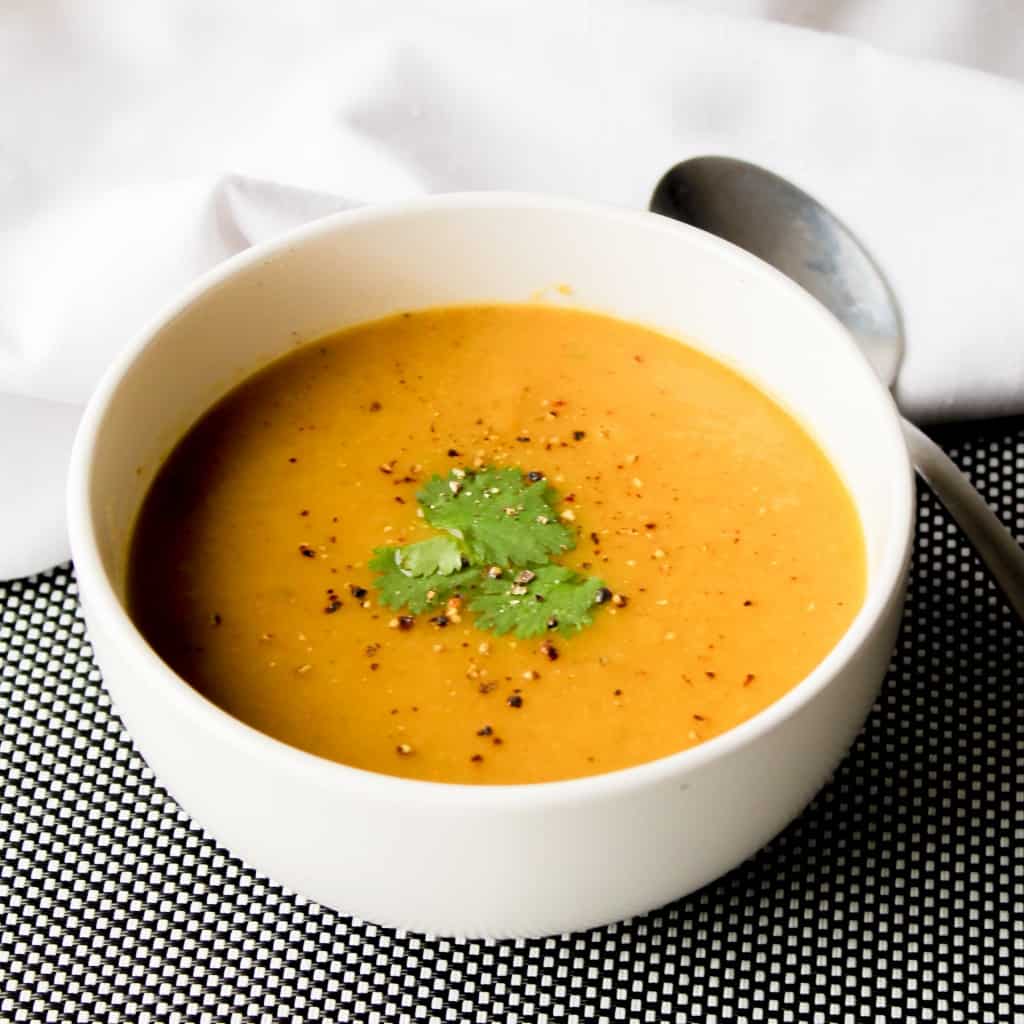 Kitchen Tools you will need:
Slow Cooker
Stick Blender or Regular Blender
Knife and Chopping Board
Ingredients
Fresh Vegetables leek, onion, broccoli, sweet potato, potatoes, carrots,
Herbs & spices dried Oregano, salt and black pepper, fresh coriander
Other vegetable stock
GOLDEN VEGETABLE SOUP
Clean Eating Golden Vegetable Soup
A thick and smooth Gorgeous soup that is kid friendly and makes a great Winter warming meal or delicious crowd pleasing Appetizer. Fantastic freezer meal too!
1 whole leek (Finely sliced, white bits only)
1 onion (Finely diced)
1/2 head broccoli (roughly chopped)
1 large sweet potato (Peeled and chopped)
2 medium carrots (Chopped)
1 teaspoon Dried Oregano
3/4 teaspoon salt
1/2 teaspoon ground black pepper
2 cups Vegetable stock
4 cups Hot Water
1 tablespoon Fresh Coriander ((To serve, so this is optional))
Turn your Slow Cooker to High

Chop all vegetables (the smaller you cut them, the faster they will cook) and pop them into the slow cooker

Add stock, water, Oregano, salt and pepper.

Cook on HIGH for 3 hours until all vegetables are soft.

Use your stick blender to blend until smooth. If you are using a regular blender, you will need to transfer the soup in batches to the blender.

Serve with a sprinkle of fresh coriander
RECENT POSTS
LIKE IT? PIN IT HERE
The post Homemade Golden Vegetable Soup appeared first on Clean Eating with kids.