Huevos Rancheros is an easy-to-make Mexican farm-style egg dish with homemade salsa. Its packed full of flavor and is the perfect start to your day!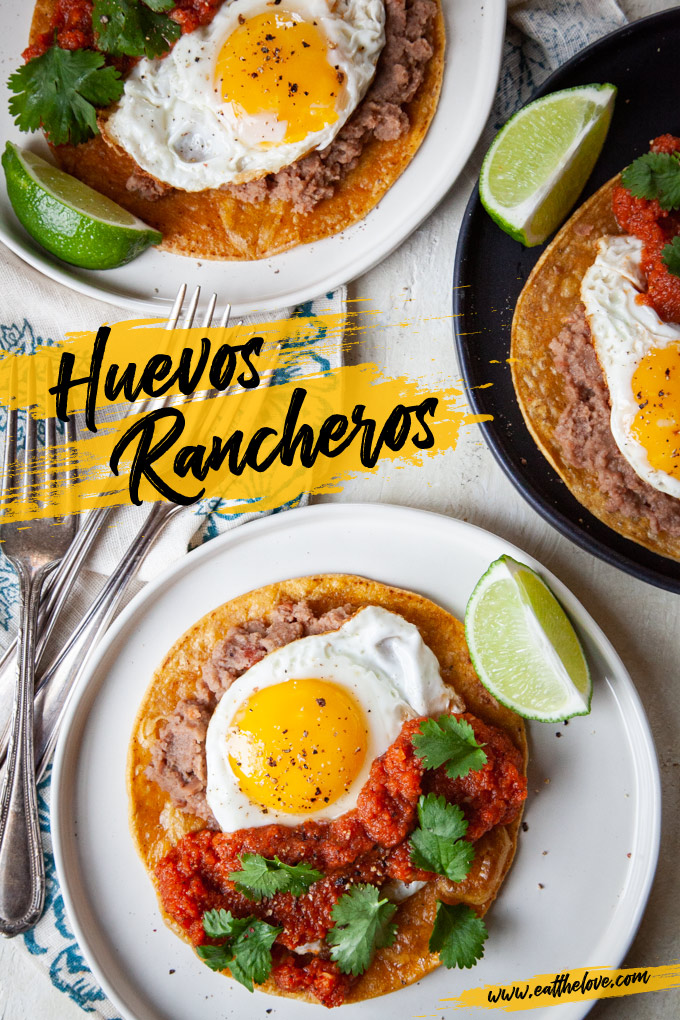 This post was sponsored by Muir Glen, Whole Foods and the Feed Feed. I was compensated for this post and for developing the recipe. However, all opinions below are completely my own.
Growing up in the suburbs of the Midwest, I had very little experience with Mexican food that didnt come from a chain restaurant. It wasnt until I moved out to California some 20+ years ago that I discovered huevos rancheros, an eggs and salsa dish that was on nearly every breakfast and brunch menu here in San Francisco. Since then, Ive had it a dozen different ways, from eggs and salsa with the tortillas on the side, to eggs baked into the tomato salsa itself (not unlike a Mexican version of shakshuka) to the classic preparation of eggs on tortilla with the rancheros salsa sauce over the entire thing. Its this classic version, a variation of a vegetarian breakfast tacos, that I tend to gravitate toward, despite loving all the others. My only regretnot learning about about huevos rancheros earlier!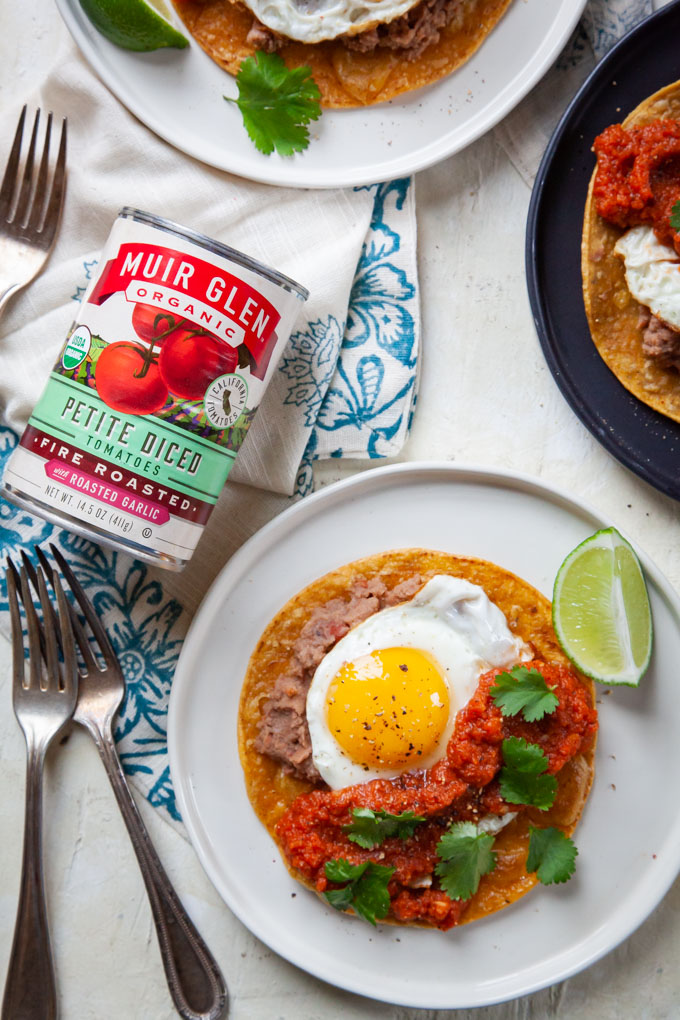 What is Huevos Rancheros?
Huevos rancheros translates to Ranchers Eggs and are a typical breakfast dish that is made for a mid-morning meal in rural Mexican farms. Though there are many variations, the most common one that Ive found again and again on menus include a lightly fried corn tortilla, smothered with refried beans with an over easy or sunny side up egg on top. The ranchero salsa sauce is then added, which is made of tomatoes, chili peppers, onions and garlic.
Ive made mine the classic way, including some cilantro as garnish because I love cilantro. That said, I know cilantro is a polarizing ingredients, so feel free to leave it out or substitute flat leaf parsley in its place.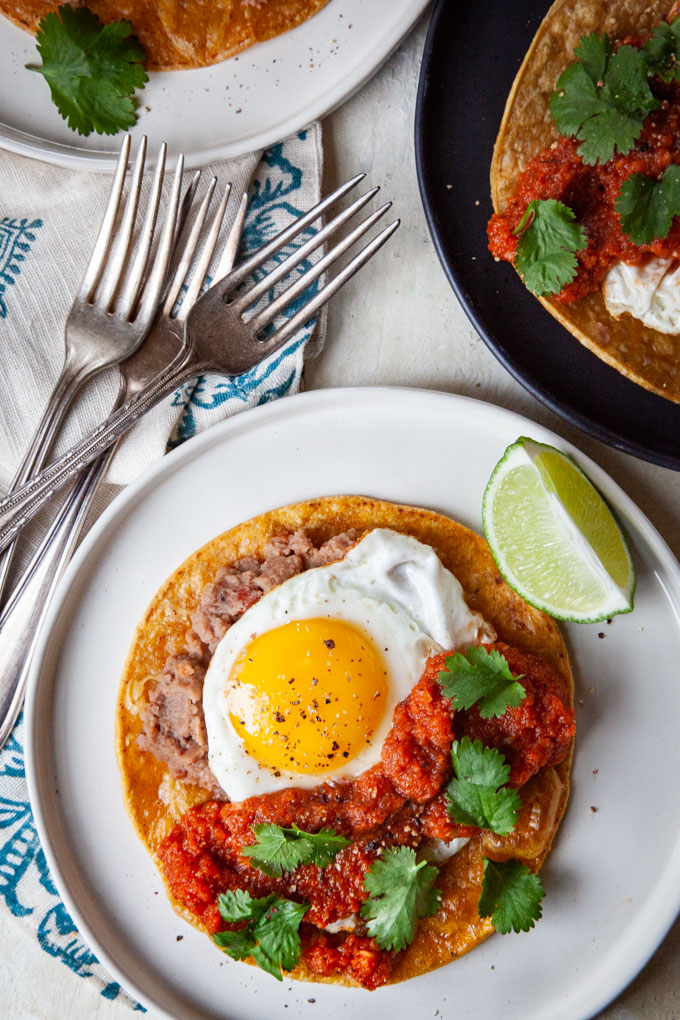 How do you make Huevos Rancheros?
Huevos rancheros is a rustic dish that is easy to make! First you make the salsa by pureeing Muir Glens fire roasted petite cut tomatoes with a 1/4 onion, a serrano chile, some oregano and chili powder in a blender or food processor. Then saut some chopped garlic and simmer the salsa a bit on the stove to reduce it.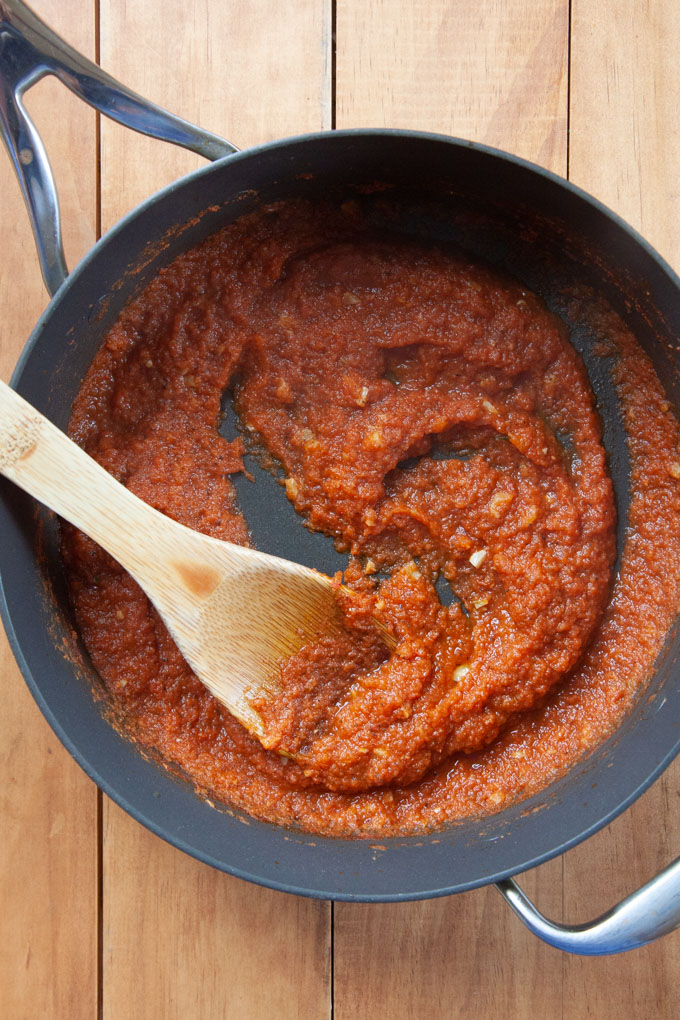 While the salsa is reducing, I heat up some refried beans (I used store-bought canned for ease, but you can use homemade if you wish). Pan fry some corn tortillas and fry up the eggs.
Then assemble it all! Plate the tortilla, smear some refried beans over it, add the egg and smother with salsa. Salt and pepper to taste and sprinkle some cilantro leaves over the whole thing if you want to get fancy. Breakfast, Mexican farm style, is served!
What can you put on Huevos Rancheros
The basic huevos rancheros has just corn tortilla, egg and salsa on top. Ive added refried beans under the egg on top of the tortilla, which is also a common addition, along with a sprinkling of cilantro. But as the dish has migrated to the U.S., folks have started evolving it. Here are some suggested additions that Ive seen on huevos rancheros on menus all over.
Cilantro leaves
Lime wedges
Sliced green onions (usually just the green part)
Chopped chives
Avocado slices or cubes
Sour cream
Cheddar cheese
Monterey Jack or Pepper Jack cheese
Cojita, an aged Mexican cheese
Fresh grilled corn kernels
Sliced black olives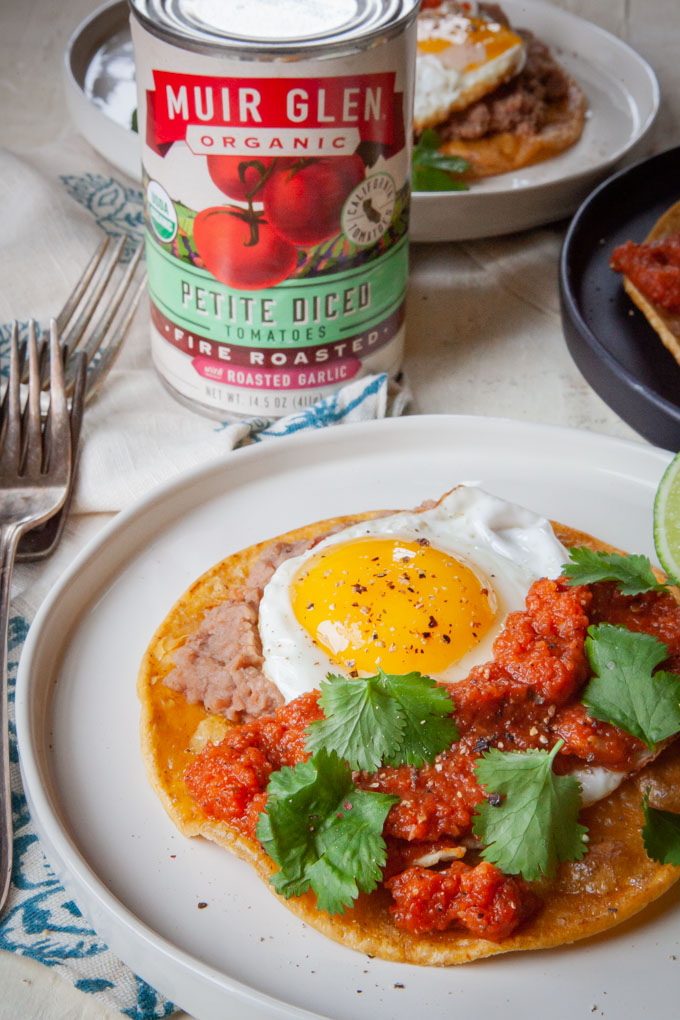 Why use canned tomatoes?
I love fresh tomatoes but for this recipe I opted to use Muir Glens fire roasted tomatoes. Theyre already chopped and have a smoky charred flavor to them. More importantly, tomatoes arent in season all year round, but when I use canned tomatoes, I know Im getting tomatoes picked and canned at their prime season. This way I can have the best huevos rancheros all-year round.
Can I make huevos rancheros ahead?
Huevos rancheros really tastes best when its made fresh. Fried eggs just dont sit very well! But you can totally make the salsa ahead of time. In fact, if you want to make a double batch of the salsa, you can make it ahead of time, using half of it one day and then the rest a few days later. The salsa will keep in the fridge for up to 5 days in an air tight container.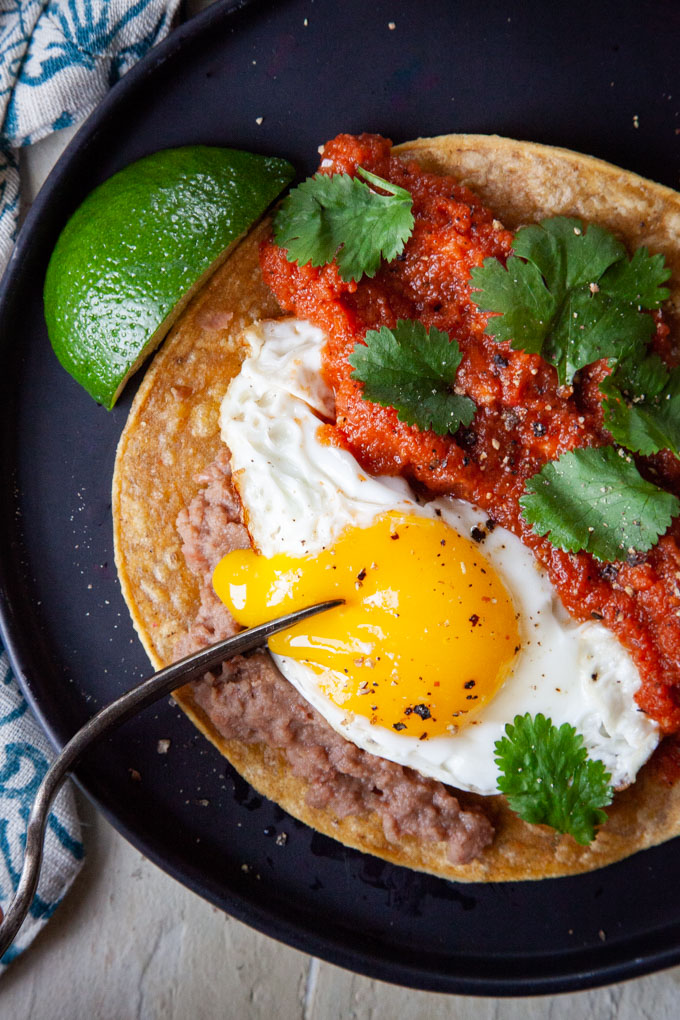 Can you freeze the salsa?
Yes! This salsa freezes well. Just double the recipe and reserve half of it for another time. Let the salsa cool to room temperature than place it in an airtight container or ziplock bag. Freeze it (dont forget to label it with a date) up to 2 months. Just thaw it out again in the refrigerator overnight. The salsa might seem more watery, so just reduce it again on the stove as you warm it up.
If you like this huevos rancheros recipe, check out some of these other Mexican-inspired recipes:
Right now Whole Foods is running a special 10 for $10 promotion on Muir Glen canned tomatoes from January 29, 2020 to February 12, 2020! Check out where the closest Whole Food is to your place at http://bit.ly/wf-stores to stock up on Muir Glen tomatoes.
Print
Huevos Rancheros
Huevos rancheros means ranchers eggs in Spanish and is a common dish served in rural farms in Mexico. The simple dish is easy to make, especially when you use canned tomatoes for the salsa and store-bought refried beans. Feel free to substitute homemade refried beans if youd like. If you are sensitive to heat, substitute the serrano pepper for jalepeo pepper or 1/4 green bell pepper instead. This recipe can easily be doubled.
Course
Breakfast, brunch, Main Course
Cuisine
American, Mexican
Keyword
eggs, salsa, tacos
Ingredients
Salsa
1/2

cup

chopped yellow onions

1

medium serrano pepper, chopped

can sub a jalapeo

1/2

teaspoon

dried oregano

1/4

teaspoon

cayenne pepper

optional

1

teaspoon

salt

1

14.5 ounce can Muir Glen Fire Roasted Diced Tomatoes with Garlic

1

tablespoon

olive oil

2

cloves

garlic

minced
To assemble
1/4

cup

olive oil

plus more as needed

4

corn tortillas

1

cup

refried beans

canned or homemade

4

large eggs

cilantro leaves

for garnish, optional

1

lime

cut into wedges, optional
Instructions
Place the chopped onions, serrano pepper, oregano, cayenne pepper and salt in a blender or food processor. Add the canned tomatoes and blend until smooth.

Heat the olive oil in a medium sauce pan until it starts to shimmer, then add the garlic. Cook for 10 to 15 seconds until it starts to smell fragrant. Dont let it brown. Add the tomato puree and bring to a boil. Reduce heat to a simmer, and let cook for 5 to 10 minutes, until salsa has darkened a bit and thickened.

While the salsa is reducing, place the olive oil in a medium skillet. Heat until it starts to shimmer, then place 1 tortilla in the oil. Cook until the edges start to brown and harden a bit, flipping the tortilla to make sure both sides are fried. You dont want to fry the tortilla completely hard, just crisp it up slightly. Remove from oil and place on a plate with a paper towel to drain it a bit. Repeat with the remaining tortillas, stacking the tortillas on top of each other with a paper towel in between.

Once the tortillas are fried, plate them. Heat the refried beans in a microwave safe bowl or on the stovetop in a small pan. Smear about 1/4 cup of refried beans on each tortilla.

Cook the eggs by reheating the remaining oil in the same pan you fried the tortillas in. Crack an egg into the pan, making sure there is enough hot oil to fry the egg white crispy. Fry to your desired doneness (I prefer over easy). Remove egg and place on the refried beans. Repeat with the remaining eggs, adding more oil if necessary.

Top the fried eggs with the warm salsa. Sprinkle salt and pepper to taste, then garnish with cilantro leaves and serve with lime wedges.
The post Huevos Rancheros [Sponsored Post] appeared first on Eat The Love.