To make Roasted Cauliflower Tacos, cauliflower florets are tossed in taco seasoning and roasted until tender and golden. No one will miss the meat in this vegetarian twist on taco night.
If ever there was a meal that was made for easily (and somewhat sneakily) swapping in vegetables for meat, it's tacos! Tacos are so layered with flavors and textures that one more delicious element just blends right in. And cauliflower florets? They really are built for taco-filling stardom. Roasted until golden brown, cauliflower florets have a lightly crispy crust and tender centers. They are making these vegetarian tacos with crisp lettuce and creamy Avocado Crema a new favorite at our house. I think they'll be a hit at your house too!
Ingredients
Cauliflower Florets – These are the star of the tacos. Buy the pre-chopped into florets for super easy prep. See below for tips to getting super golden, crisp roasted cauliflower florets.
Taco Seasoning – Any store-bought taco seasoning makes a great flavor base for these tacos. If you prefer to make your own taco seasoning, I've got you. Use that recipe, or check out the notes section of the recipe below. (If making a gluten-free taco, check the ingredients in your store-bought taco seasoning as some ingredients including gluten can sneak into those packets.)
Tortillas – These are great with flour or corn tortillas. Be sure to grab gluten-free tortillas, if needed.
Romaine Lettuce – Shredded lettuce is a fresh contrast to the warm roasted cauliflower. Use a lettuce that has a nice, crunchy texture like romaine hearts or iceberg lettuce.
Diced Onions – These add a tart flavor and a bit of crunch to the tacos. Feel free to skip them if you're not an onion fan. 
Shredded Cheese – I've been on a shredded Monterey Jack kick, so I like the mild flavor and slightly creamy texture of that cheese here, but any cheese like cheddar or Mexican blend will work well. 
Avocado Crema – Creamy, rich avocado crema is a great topping for these tacos. Get the full recipe for Avocado Crema

here

. If you prefer, these are also great with guacamole, salsa, pico de gallo, or fresh chopped tomatoes. 
How to Roast Cauliflower
To get roasted cauliflower that is golden brown, crisp on the outside and tender in the middle, there are a few keys to success.
Use Dry Cauliflower – Cauliflower florets that are slightly damp will steam rather than roast and won't give you that crisp, golden exterior. Instead, make sure that your cauliflower florets are very dry before roasting them. If planning ahead, my favorite thing to do is to rinse the florets and then place them in a colander in the fridge for at least an hour and up to a day. The cold, dry refrigerator will produce florets that are perfect for roasting.
Don't Crowd the Pan – The other key to crispy, golden roasted cauliflower is to keep the florets spread out on the pan as they roast. If they seem at all crowded, use a second sheet pan. The heat needs to circulate all around the cauliflower to get it crisp on all sides.
More Tex Mex Favorites
Favorite Tools
Half Sheet Pan – All you need for this easy meal is a large sheet pan (or two – see the notes above about not crowding the cauliflower).
Cuisinart Food Processor – If you're making the avocado cream to finish these tacos, a food processor makes it a breeze.
Cauliflower Tacos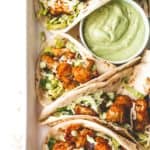 For Cauliflower Tacos, cauliflower florets are tossed in taco seasoning and roasted until tender and golden. No one will miss the meat in this vegetarian taco night.
Want to adjust the servings in this recipe to make more or less? Just click on the number next to "servings" and you can easily scale the recipe. Just be sure to use an extra sheet pan so you don't crowd the cauliflower on the pan.
For the Tacos:
20 oz Cauliflower Florets ((buy the pre-chopped florets to save time; see note))
1 Tbsp Cooking Oil ((I typically use avocado oil or grapeseed oil))
1 1/2 Tbsp Taco Seasoning ((see note))
12 Taco-Sized Soft Tortillas ((flour or corn; use gluten-free corn if needed))
1 heart Romaine Lettuce, shredded
1 small White Onion, finely diced ((optional))
1 cup Shredded Monterey Jack Cheese
Other toppings of choice like guacamole, salsa, pico de gallo, fresh chopped tomatoes or avocado crema (below)
Avocado Crema:
2 Avocados, peels and seeds removed
6 sprigs Fresh Cilantro ((you can include the stems; if you just want to use cilantro leaves, you'll need about 1 cup of lightly packed leaves))
1/2 cup Sour Cream ((see note))
1/2 tsp Salt
1/4 cup Water
Juice from 1 Lime
Cayenne Pepper or Hot Sauce ((optional, only if you want this to be spicy))
Heat oven to 400°F.

Toss cauliflower florets with oil and taco seasoning.

Spread out on a sheet pan.

Roast cauliflower, shaking the pan halfway through cooking, until cauliflower is tender and golden, 25 to 30 minutes.

While cauliflower cooks, make avocado crema.

Combine avocados, cilantro, sour cream, salt, water, and lime juice in a food processor.

Blend until smooth.

Add more water, if needed, until the crema is still thick but pours easily off a spoon.

Taste the crema and add some more lime juice or salt, if needed. If you'd like some spice add a pinch of cayenne pepper or some hot sauce.

When the cauliflower is done roasting, warm the tortillas.

You can do this by covering the tortillas with a slightly damp paper towel and microwave until warm, 15 to 20 seconds.

Alternatively, you can warm the tortillas over the burner of a gas stove for a few seconds on each side to lightly blacken them in spots.

Set out the cauliflower, tortillas, and toppings to assemble tacos at the table.
For a gluten-free version of this recipe, be sure to use gluten-free taco seasoning (or make your own with the recipe below) and use gluten-free corn tortillas.
Wash cauliflower and get it as dry as possible before roasting. That is the key to golden roasted cauliflower. I like to rinse mine in a colander and transfer it to the fridge for up to a day before cooking. The cold, dry refrigerator will help the cauliflower to dry out before roasting. 
Store-bought taco seasoning works just fine here, but if you want to toss together your own, just combine:
2 tsp Chili Powder (I like Ancho Chili Powder with gives it a bit more spicy, smoky flavor)
2 tsp Smoked Paprika
1 tsp Ground Cumin
1 tsp Salt
1/2 tsp Dried Oregano
1/4 tsp Garlic Powder
1/4 tsp Black Pepper
The post Roasted Cauliflower Tacos appeared first on Inquiring Chef.