These Spicy Mexican Burgers are packed with all the classic taco components. The burgers themselves consist of spicy, smoky chicken patties covered in gooey pepper jack cheese and then theyre smothered with smashed avocado, hot salsa, and crunchy tortilla chips.
Spicy Mexican Burgers
I wasnt prepared for just how gooey, juicy, and utterly delightful these Mexican burgers would be. I mean, with a lineup of taco-seasoned ground chicken, gooey pepper jack cheese, smashed avocado and crispy tortilla chips, you know this Mexican sandwich is going to be good. But the sum of its parts smashed between two burger buns and topped with spicy salsa iseverything.
It could also be my love for chicken burgers that leads the charge in my infatuation for these Mexican burgers, since weve shared countless versions like thisSpicy Chicken Burger with Wasabi slaw, these ridiculous Mozzarella Stick Chicken Burgers and these super healthy 5-Ingredient Cilantro Lime Chicken burgers.
I dont know what it is about chicken burgers, but I seem to never be able to get enough of them.
Oh wait, pretty sure I DO know what it is about them. I can actually feel sort of guilt-free about inhaling a chicken burger, unlike when I inhale a 80/20 beef burger and feel like a much fuller, rounder version of myself afterwards.
Yes, theres still the gratuitous addition of pepper jack cheese smothered on those Mexican burgers, but theyre also packed with lean chicken, heart-healthy avocado, and a whole-wheat bun. Oh, and those crunched up tortillas you see there? Baked!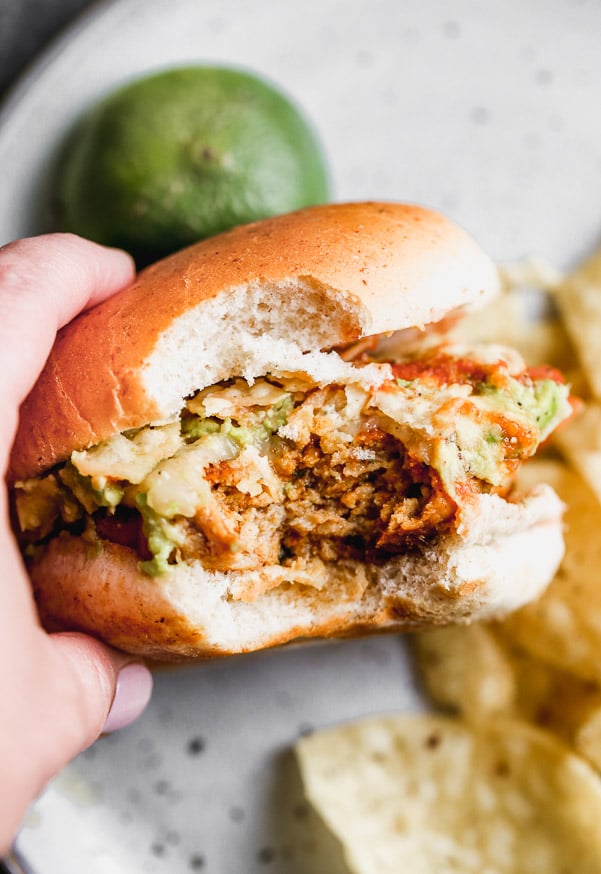 Ingredients in Mexican Burgers
Ground chicken. I typically go with ground chicken breast for my chicken burger recipes, but in this version I simply went with a lean ground chicken instead. It has about four grams of fat per four ounces, so Id try to stick to something similar to that.
You need to be careful when buying ground chicken, a lot of times the pre-packaged ground chicken will include the skin, which really ups the fat content of the ground chicken. Make sure to look for ground chicken breast or lean ground chicken.
Alternatively, if you want to save a little bit of money, you can buy whole chicken breasts and grind them up yourself in the food processor.
Taco seasoning. I take a slight shortcut in these Mexican burgers with pre-packaged taco seasoning. Use whatever brand is your favorite.
Salt. Normally I recommend about one teaspoon of salt per pound of chicken, but since taco seasoning already has some salt in it, I lowered the amount to 3/4 teaspoon. Remember, the most important factor in making a good chicken burger is to season it correctly since chicken breast has virtually no seasoning.
Jalapeo. I like a really spicy chicken burger, so I not only add minced jalapeo to the chicken patty, but also to the smashed avocado. If you like things on the more mild side, you could leave out the jalapeo all together or take out the stems and seeds.
Avocado. To save time, instead of making a full-on guacamole, I just smashed some avocado with a little bit of lime juice, salt, and as aforementioned, jalapeo.
Cheese. Again, going with the spicy theme, I go with a spicy pepper jack cheese. I love that its hot, but not too hot and melts beautifully.
Salsa. Your favorite salsa!
Tortilla chips. There is absolutely no need to use full-fat chips here, buy baked and save yourself some fat and calories.
Buns. You could easily serve these opened-faced without bun, but theyre also wonderful with a simple whole-wheat bun.
How to make Mexican Burgers
Making this spicy Mexican burger recipe is stupid easy. Heres how we do it!
Make the patties. Add the ground chicken, taco seasoning, salt, and jalapeo to a medium bowl. Use a fork to combine everything together. From into four equal patties.
Cook the burgers. Heat a large cast iron skillet to a medium-high heat. Add a little bit of olive oil. Once the oil is hot, add the burgers. Sear until golden brown, it should take about 3-4 minutes. Flip and cook another minute or two.
When the burgers are about 1-2 minutes shy of cooked through, top with a copious amount of pepper jack cheese. Add a little bit of water to the pan, cover and let the burgers steam to lock in moisture and quickly melt the cheese.
Make the smashed avocado. While the Mexican burgers cook, add avocado, lime juice, and remaining jalapeo to a small bowl. Use a fork to smash. Season with salt and pepper.
Assemble. Use a spatula to transfer Mexican cheeseburgers to the bottom of a bun. Top with a little bit of the smashed avocado, followed by a spoonful of salsa and finally, a handful of crushed tortilla chips.
Can I make these in advance?
You form the patties in advance and store in the fridge until youre ready to eat. Because chicken tends to dry out when reheated, I wouldnt recommend actually cooking them in advance.
However, if youre wanting to eat this Mexican burgers for leftovers, you can do that. Just heat the patty itself in the microwave in 30-second increments until warmed through and the cheese has melted.
Do I have to use ground chicken?
If you dont like ground chicken, you can also use ground turkey or even ground beef.
Substitutions and Tips and Tricks for Recipe Success
Similar to cooking any type of chicken, you want to make sure you dont overcook the chicken patties. They shouldnt take long to cook, 7 minutes, max!
If your palate cant handle a ton of spice, Id recommend leaving out the jalapeo in the chicken patties, or reduce the amount a little bit. On the contrary, if you want your mouth on fire, pack that baby with minced jalapeo.
While we prefer pepper jack cheese for these Mexican burgers, you can use whatever you want. chihuahua Mexican cheese is an awesome melting cheese that would be perfect for these spicy Mexican burgers, its pretty mild, but has a lovely flavor similar to white American cheese.
If calories dont matter, think about topping the cheese burgers with crushed Doritos instead of tortilla chips. Yum!
What to serve with Mexican Burgers
If you want something a little fancier than your average guacamole, whip up this Goat Cheese Avocado Dip. Just as simple as regular guacamole, but a little bit more exciting.
Chipotle Raspberry Black Bean Dip is probably my favorite dip on the planet. Its packed with cream cheese, a spicy raspberry chipotle sauce, and lots of fiber-rich black beans. So addictive.
These Fajita Chicken Burgers arent necessarily something to serve with Mexican Burgers, but if youre looking for another variation, we love these. Theyre more vegetable-heavy and smothered in an easy queso sauce.
Spicy Mexican Burgers
These Spicy Mexican Burgers are packed with all the best classic taco components. Spicy, smoky chicken patties, covered in gooey pepper jack cheese and smothered with smashed avocado, hot salsa, and crunch tortilla chips.
1 lb ground chicken
3/4 tsp kosher salt
2 tbsp taco seasoning
1 medium jalapeno, minced
2 tsp olive oil
1 cup shredded pepper jack cheese, divided
1 large avocado
juice of half a lime
1/2 cup salsa
1 cup crushed tortilla chips
4 whole-wheat buns
Add chicken, 3/4 teaspoon salt, taco seasoning and half of the minced jalapeno to a medium bowl. Use hands or a fork to mix everything together. Do not overmix. Form into four patties.

Heat a large cast iron skillet to a medium heat. Add oil. When the pan is hot, add chicken burgers. Cook until seared and golden brown on one side, about 3-4 minutes. Flip and cook another 2 minutes. Evenly divide the cheese between the four patties. Add one tablespoon of water to the pan and cover with a lid. Steam the burgers until the cheese has melted, about 1-2 minutes.

While the patties cook, add avocado, lime juice and remaining jalapeno to a small bowl. Smash together. Season with salt and pepper.

When the patties are done cooking, use a spatual to place on bottom bun. Evenly divide smashed avocado on top. Follow up with the salsa and then cover in crushed tortilla chips. Cover with the top part of the bun. Serve!
The post Spicy Mexican Burgers appeared first on Cooking for Keeps.