This easy game day taco bar is filled with all your favorite flavors and is so simple to put together!
Im proud to partner with Conagra to bring you these ideas that are my own.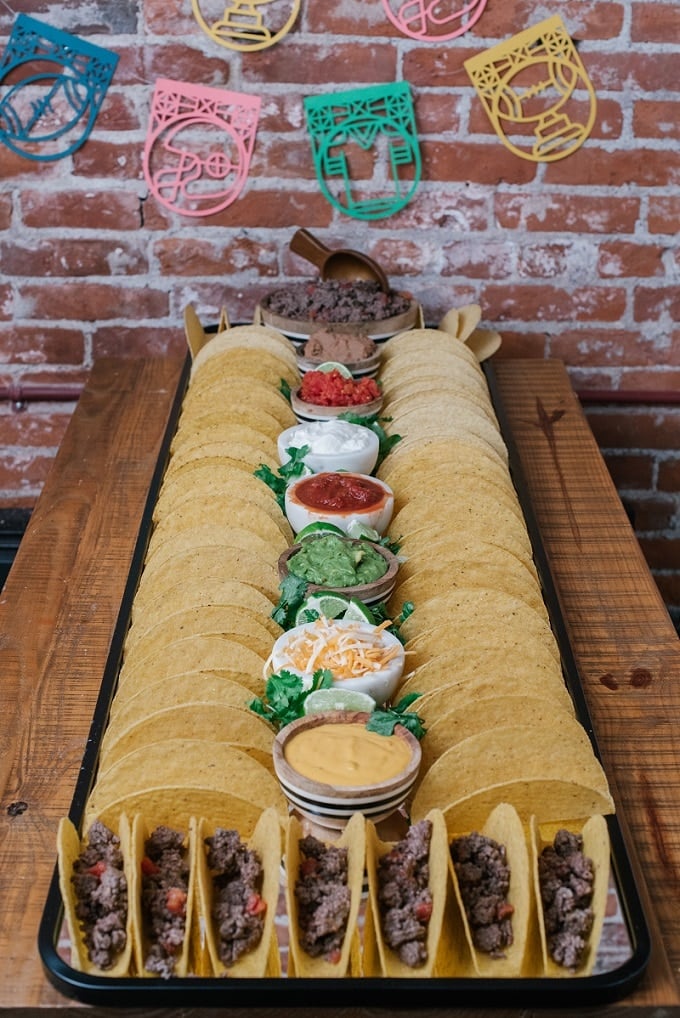 We love entertaining in our home, especially for game day good food and friends make any game even better.
This quick and hearty taco bar is a favorite menu option and it looks so impressive.
To get ready, I utilize Walmarts Online Grocery Pickup its an absolute staple in my world.
Every week, I load my online cart with the items we need and select my pickup time.
When I arrive, just pull into a space and they come out to load the order into my car. Its incredibly simple and fast.
It means I get all my must-have products without the hassle and it leaves me more time for getting ready for our celebrations.
For this taco bar, Im using Rotel Original Diced Tomatoes and Green Chilies and Rosarita Traditional Refried Beans, along with other yummy toppings.
3-Ingredient Taco Meat
Ingredients
2 pounds hamburger
1 1.25-ounce packet taco seasoning
1 10-ounce can Rotel Original Diced Tomatoes and Green Chilies
I love the Rotel Original Diced Tomatoes and Green Chilies for a variety of reasons. Made with vine-ripened tomatoes and zesty green chilies plus spices, its an easy way to make any recipe bold, fresh, and full of flavor. You can add them to your meat, soup, queso or more.
Method
STEP ONE: Brown the ground beef over medium-high heat, using a wooden spatula to break the meat into small pieces to help it cook evenly.
PRO TIP: You can drain the meat if you have excess grease before adding your seasoning.
STEP TWO: Add in Rotel and taco seasoning and stir to evenly distribute.
STEP THREE: Simmer over medium heat for about five minutes to allow liquid from the RO*TEL to be absorbed and then its ready to serve.
PRO TIP: You can keep your taco meat in a crockpot to keep it warm for everyone who is snacking throughout the party.
Taco Bar Set-Up
I lined a long tray with hard-shell tortillas and added my toppings in the middle.
PRO TIP: You could also offer a plate of fresh soft-shell tortillas for guests to enjoy.
You can fill the tacos with meat if youd like or leave them empty for everyone to make their own.
PRO TIP: If youre eating immediately, you could fill the shells with meat, otherwise, it is usually best to wait so they dont get soggy!
I placed the taco meat in a large bowl with a serving spoon at one end after it was done cooking.
Everyone can start at one end and work their way down the tray, selecting their toppings.
PRO TIP: You could position this on a long table so guests can serve themselves from either side to make assembly move a little quicker.
Taco Bar Toppings
For our taco bar, in addition to the taco meat I also offered Rosarita Traditional Refried Beans, queso, shredded cheese, sour cream, guacamole, salsa, and Rotel Original Diced Tomatoes and Green Chilies.
I love Rosarita Traditional Refried Beans for over 70 years, theyve been the perfect, delicious side dish to all our Mexican favorites. You can warm them on the stovetop or in the microwave.
You could also offer lettuce, onions, grilled corn, Pico de Gallo, jalapenos, rice, salsa verde or sliced avocado.
You could also offer chicken, steak, fish, or shrimp instead of or in addition to the three-ingredient taco meat.
This satisfying and delicious taco bar is perfect for serving a crowd from any event from game day to movie night to a family party.
Want even more yummy ideas? Be sure to visitloveeverylastbite.com/game-day, to vote for your favorite recipe and enter to win a prize pack!
The post Taco Bar appeared first on Spaceships and Laser Beams.