Its Taco Tuesday, but weve got more than just tacos on the brain. Our love of Mexican food knows no bounds. Here are five spots that not only have awesome tacos, but plenty of other dishes youve gotta order when you check them out.
The Taco Stand: Carne Asada Fries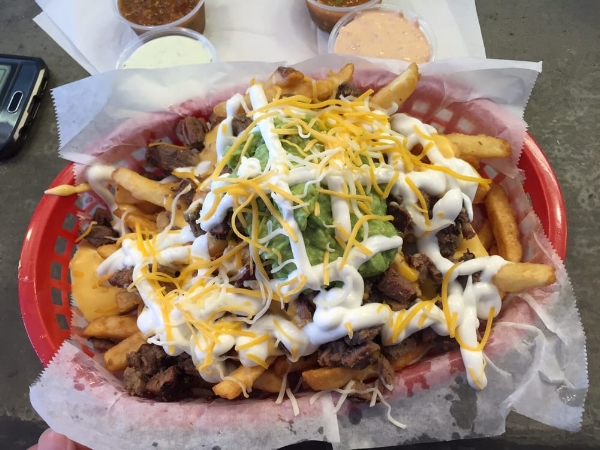 Late night bites in Wynwoods The Taco Stand arent complete without the carne asada fries. These babies are piled high with flame grilled Angus steak, guacamole, sour cream, and tons of melted cheese.
313 NW 25th St, Miami, FL 33127
Taquiza: Totopos and Guacamole
If you havent had a Taquiza totopo, you havent lived. The light and puffy chips are served warm with a side of guacamole or pico de gallo check out their South Beach location for some killer cocktails.
7450 Ocean Terrace, Miami Beach, FL 33141 AND South Beach location at 1351 Collins Ave!

222 Taco: Nacho Friends with Chorizo
Tucked away into Normandy Isle, youll find 222 Taco and some of the most underrated nachos in town. The Nacho Friends are topped with beans, queso, crema, guac sauce, candied fresno chilis and your choice of protein. Protip: go for the chorizo.
1624 79th Street Causeway, North Bay Village, FL 33141
Tacology: Pomegranate Margaritas
Whats a Mexican meal without a margarita or two? Grab tacos at Brickell City Centres Tacology and wash them down with one of the giant pomegranate margaritas.
4th floor Brickell City Centre, 701 S Miami Ave, Miami, FL 33131
Taqueria el Mexicano: A hidden mezcal bar
A trip to Taqueria el Mexicano can easily go from having a taco dinner to an entire evening out. This taco spot just opened a fancy hidden mezcal bar, that requires a trip through a candy shop to get to. Sounds like a pretty sweet night out to us.
521 SW 8th St, Miami, FL 33130