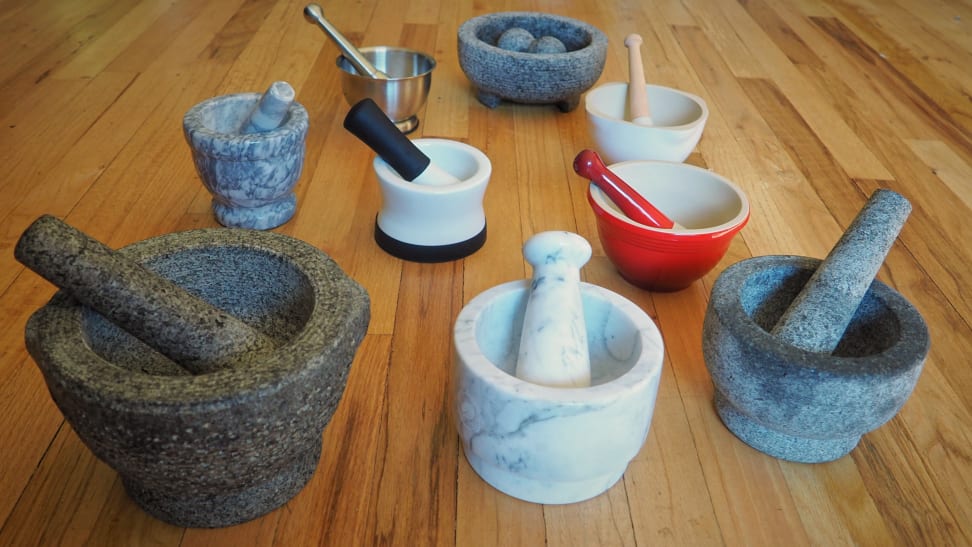 — Recommendations are independently chosen by Reviewed's editors. Purchases you make through our links may earn us a commission.
If you have a food processor or spice grinder, you might not think you need a mortar and pestle, like our top pick, the Frieling Cilio Goliath Mortar and Pestle (available at Amazon for $59.99).
In some ways, you could be right: Modern electrical appliances can do everything this ancient tool can do, faster and without the extra elbow grease. But are you sacrificing flavor by tossing pesto ingredients into a food processor, and can you get more out of spices like peppercorns and coriander seeds if you crush them by hand? After testing nine of the best mortars and pestles, we can say that the food we made in these hand-powered tools had an extra-special quality to them. Doing things the old-fashioned way and crushing the ingredients (instead of cutting them with a blade) released more flavors and aromas, resulting in a better-tasting product.
That said, not all the mortars and pestles could handle the tasks we threw at them. In fact, some were extremely frustrating to use and we could only manage it for a limited amount of time. Some were also lacking a rough enough interior to pulverize spices or create a paste. Others had too-short pestles that rubbed our palms uncomfortably against the bowl as we used them. The ones that exhibited the best results and were the easiest to use were made from granite, but we also had a few favorites made from stoneware and marble that doubled as gorgeous serving bowls.
Here are the best mortars and pestles we tested ranked, in order.
Frieling Cilio Goliath Mortar and Pestle
ChefSofi Mortar and Pestle
Laevo Reversible Marble Mortar and Pestle
Emile Henry Mortar and Pestle
Le Creuset Mortar and Pestle
Gramercy Kitchen Co. Mortar and Pestle
Vasconia 4-Cup Granite Molcajete
Cooler Kitchen EZ-Grip Silicone and Porcelain Mortar and Pestle
NewlineNY Stainless Steel Hand Masher and Bowl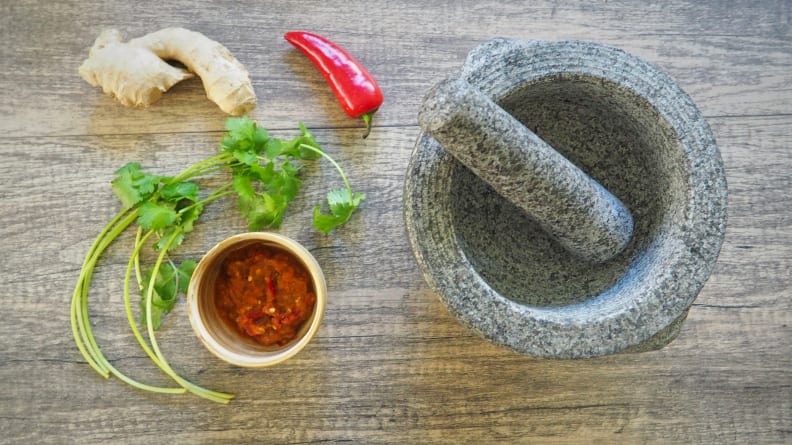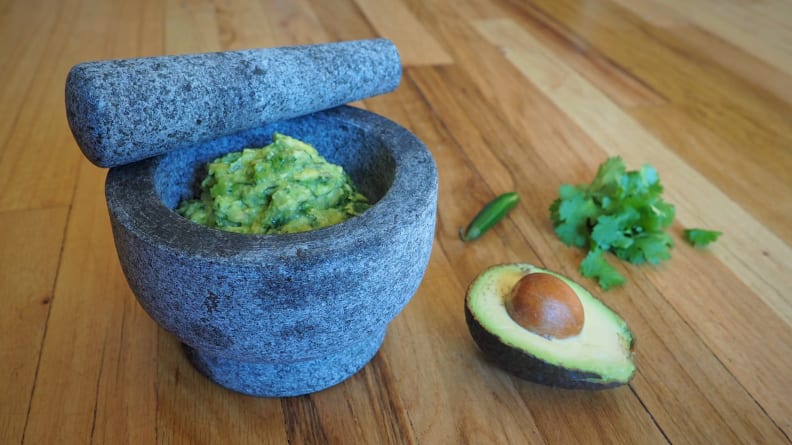 How We Tested
The Tester
Hi, I'm Lindsay Mattison, a trained professional chef and a from-scratch proponent. If I can grind a pork shoulder to make sausage or simmer tomatoes all day long for a world-class sauce, I will! That's not to say I take shortcuts from time to time, but I always grind dry spices by hand in a mortar and pestle. It's also great for making pastes, sauces, dips, and more, and I'd love to help you find one that ignites your passion for making handmade food.
The Tests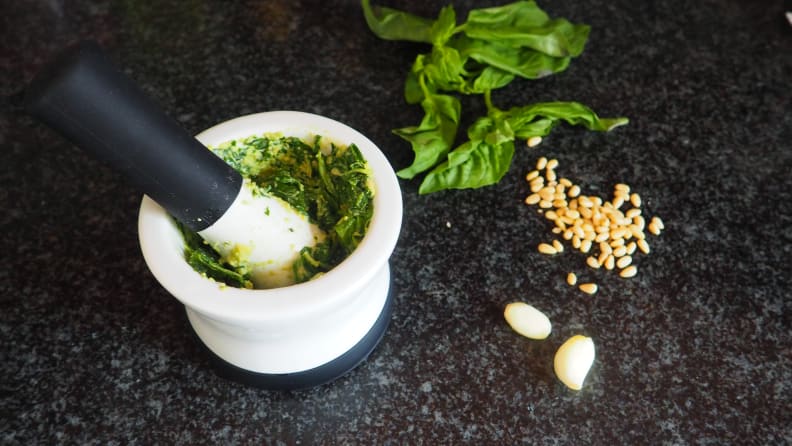 Our tests for the mortar and pestle were twofold: Test how it could handle grinding spices like peppercorns and seeds, and see if it could mash the fibers of ingredients to create pastes and purees. We started by testing a teaspoon of peppercorns and a tablespoon of fennel seeds in each mortar and pestle. The successful models not only ground the seeds into dust, but they did so quickly and without spilling out the edges of the bowl. From there, we got to work making a paste out of garlic, which we later turned into a four-serving batch of pesto by adding basil leaves, pine nuts, olive oil, and finely grated cheese. We also made a batch of guacamole, which allowed us to see how the pestle could handle slippery avocado. To finish, we pulverized onion, garlic, ginger, cilantro stems, dried and fresh chili peppers, and lemongrass, looking for the models that could turn this mixture of loose ingredients into a fine paste.
All the while, we were evaluating the mortar and pestle's material along with its size, shape, capacity, and overall ease of use. Did the mortar have rough ridges to break down the food's fibers, and was the pestle heavy enough to do most of the work for us? Did our hands and wrists tire after the tests, and did the pestle have an ergonomic grip? Was the pestle long enough or did our hands rub against the side of the mortar as we used it? As a final testing note, we assessed whether the mortar and pestle were large enough to handle all the tasks we threw at it. In the end, we found that some materials and sizes simply worked better than others.
What You Should Know About Mortars and Pestles
Every task you can throw at a mortar and pestle can be done—more hands-off and faster—by an electrical appliance. Food processors or blenders can make pesto and curry paste, and spice grinders can turn hard peppercorns into a pile of dust in a matter of seconds. You can even make things like guacamole without any extra tools—just chop your ingredients and combine them with a fork in a regular old bowl.
So why invest in a mortar and pestle? It's traditional, and it preserves the way food was made for hundreds of years. Before electricity, how do you think curry paste was made? In a mortar and pestle. How about crushing spices to add pungent flavor and fresh aromas to soups and stews? Yup, you guessed it, the mortar and pestle. What makes this device so special is its ability to crush food and mash plant fibers until they're as soft as a puree. When we compared hand-made pesto in the mortar and pestle with the one we made in a blender, the difference was night and day. Our hard work and elbow grease produced a sauce that had more flavor and aroma as compared to the one made with the stainless steel blades of the blender. Even guacamole tasted better—crushing the onion, garlic, and cilantro before adding the avocado brought out essential oils and flavors that weren't detectable in our fork-mashed version.
Once you have a mortar and pestle, you'll use it for so much more than grinding spices. Pull it out the next time you make salad dressings or dips; use it to crush fresh herbs to release their essential oils; you can even pulverize fruit for pie filling or baby food. The possibilities are endless!
What to Look For in a Mortar and Pestle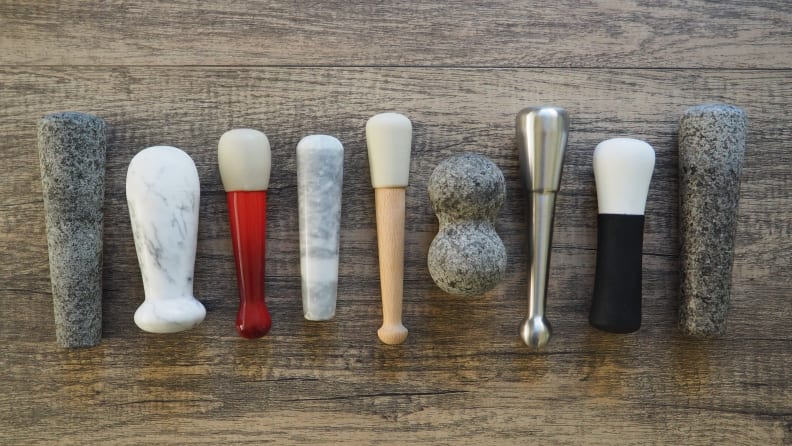 Not all of the mortars and pestles passed our tests. The stainless steel model wasn't able to do much more than crush peppercorns, and the marble and stoneware versions didn't have a rough enough interior to fully pulverize fresh and dried chilies into a paste.
When looking for a mortar and pestle, the first thing to look at is the pestle weight, size, and shape. If it's not comfortable to use, it doesn't matter how effective it is, so it's worth being picky in this department. Too-short pestles forced our hands into the mortar, scraping them against the sides, and ones without broad bottoms seemed to push food around the inside without actually crushing it. When you're looking at the setup, you want the pestle to stick out of the bowl a few inches. Ideally, it's also rounded on the top so it won't dig uncomfortably into your palm as you use it. It's also good if it's heavy—that means it will do a lot of the crushing for you!
From there, you want a mortar that's not polished on the inside. The more rough grooves it has, the better; these grip onto the food and help obliterate the fibers to create a paste or puree. Stoneware and marble mortars and pestles have lightly rough insides, but the granite models seemed to do the best job at gripping and ripping. They also felt the sturdiest, not moving around as much as we used them, and we weren't afraid they might crack and chip like ceramic.
The final factor is bowl shape and size. Mortars that were too wide don't have adequate rims to keep the food from spilling out as you crush it. This becomes especially problematic with tiny little peppercorns, which just love jumping around on the countertops. When it comes to size, it's really up to you to decide how you'll use it. If you cook for a crowd and you want plenty of extra space, go for a mortar with a four-cup capacity. A two-cup mortar and pestle works just fine for most tasks, and anything smaller than that can likely only handle crushing small amounts of nuts or seeds.
---
Other Mortars and Pestles We Tested
More Articles You Might Enjoy