It happens to all of us: you go to a restaurant and try something new from the menu, and it's so good you just can't stop thinking about it. If you have ever had that experience, I've got some good news for you! These Top 10 Secret Restaurant Recipes are the recipes you've been searching for.
Personally, my favorite recipe from this list is the recipe for Red Lobster's cheddar bay biscuits. They're so simple and so delicious! However, you really can't go wrong with any of these recipes. I often try to switch up my weekly dinner routine so that I don't end up in an unending flavor rut. And when I do, these are the recipes I turn to!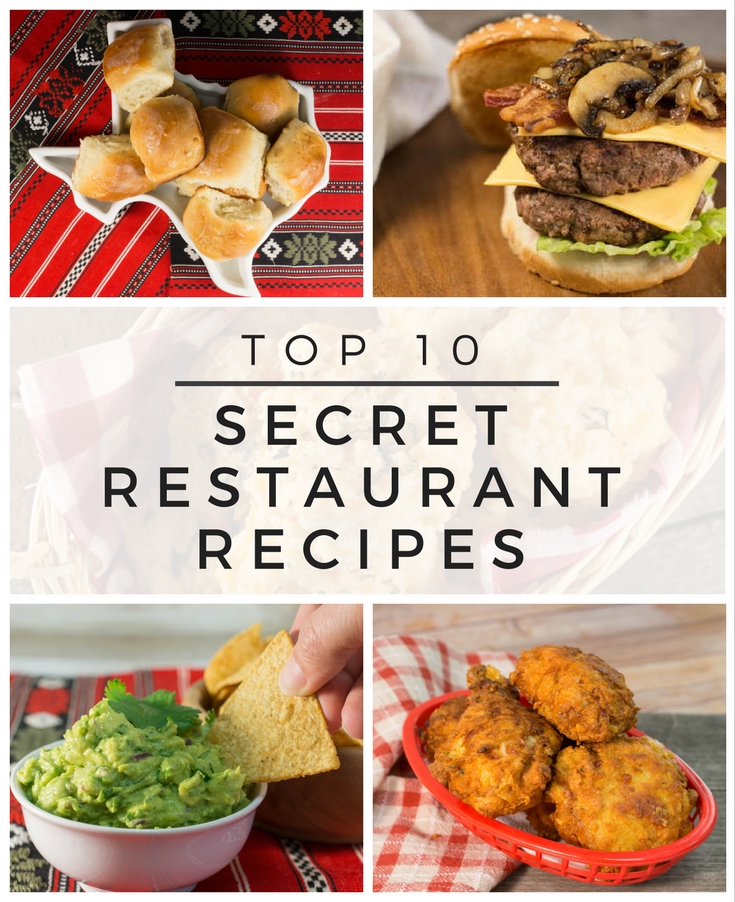 Olive Garden's Breadsticks
The breadsticks are half the reason to go to Olive Garden in the first place. Let's be real. They're so warm and buttery, and don't even get me started on that dipping sauce. And they're so much easier to make than you might expect!
Red Lobster's Cheddar Bay Biscuits
When I was a kid, I would always ask to go to Red Lobster on my birthday just so I could have these. Eventually, my mom figured out a way to make them at home, and my life was never the same. You should definitely give this recipe a try.
KFC Fried Chicken
This recipe is one my grandma goes to all the time. She loves KFC, but like many people, she's been trying to make more of her favorite foods from scratch. With this recipe for KFC's Fried Chicken, she can have her favorite chicken at home.
Applebee's French Onion Soup
There's nothing more comforting on a cold winter evening than a piping hot bowl of French onion soup. Applebee's has possibly the most famous version of this classic French soup, and now you have the recipe, too!
Cracker Barrel's Homestyle Mashed Potatoes
Nobody does mashed potatoes quite like Cracker Barrel. When it comes to comfort food, this warm and cozy side dish recipe is a personal favorite of mine.
Chipotle's Guacamole
This guacamole is what dreams are made of. It's just the right amount of spicy, and that texture just can't be beat. I always use this recipe when I need to make an appetizer for the big game. Plus, it's super easy to make, too!
McDonald's Shamrock Shake
This famously green milkshake from McDonald's is my favorite part of spring. It's bright and flavorful, like no other milkshake I can think of. But now that you've got this recipe, there's no need to wait until the springtime to indulge.
Starbucks Green Tea Frappuccino
Need a quick little caffeine boost for those long afternoons but you're not a coffee fan? This Starbucks green tea frappuccino is the drink you've been waiting for. Matcha green tea powder is simply the best!
The Famous Five Guys Burger
I'm getting hungry just thinking about this recipe. If you've ever tried Five Guys' amazing burgers, then I'm sure you're excited about this recipe, too. They're thick and juicy, and it's just the secret restaurant recipe you've been waiting for.
Texas Roadhouse Rolls
There's nothing that gets me quite as excited as when the waiter brings out a big basket of these rolls! Especially when they're nice and warm. While you're at it, you can make some of this Texas Roadhouse butter to go on top.
What's one secret restaurant recipe you wished you could make at home?
Let us know below in the comments!
---
Your favorite restaurant items might not be around forever! If your favorites have been discontinued, check out our collection of Discontinued Fast Food Items!