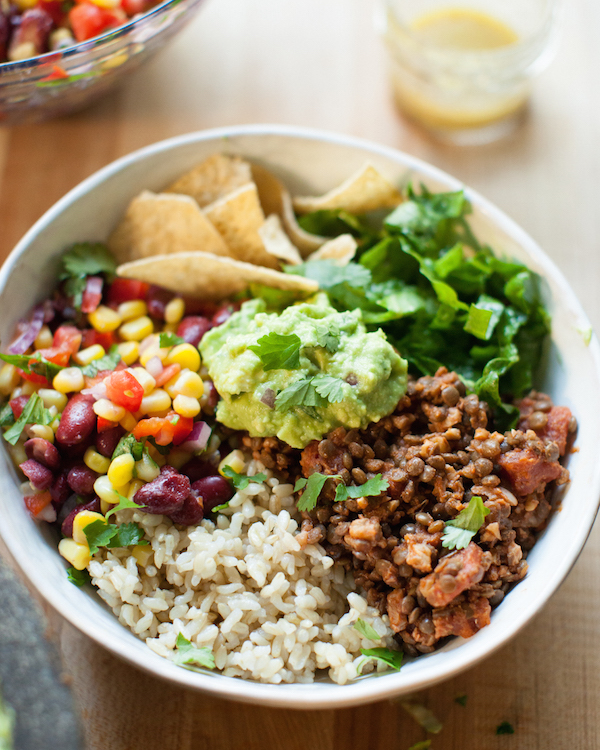 Call me basic, but my favorite meal might be a simple burrito bowl. Not any ol vegan burrito bowl, of course. I have standards! The bowl must have guacamole (duh!), every element must compliment the rest, its got to be colorful, has to be supremely delicious, and it needs to fill me up. A basic burrito bowl just wont do. Despite the laundry list of needs, my favorite vegan burrito bowl is really easy to make and doesnt require any special skill in the kitchen. You are going to want to make this recipe over and over and overevery week!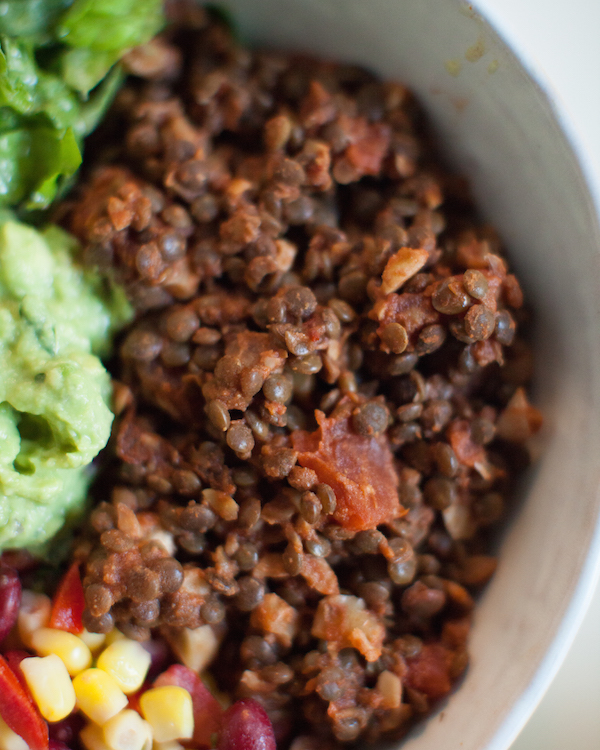 I know we all love Chipotle burrito bowls, but nothing can compare to this. Sofritos move aside: lentil walnut taco meat is so much more delicious. I know Im not the only one who worries endlessly about dairy and meat cross contamination at Chipotle. Do yourself a favor, and make this burrito bowl your new go-to.
The most fun part of the bowlaside from the guacamoleis the meaty vegan taco meat made with lentils and walnuts. The combination of black lentils (which hold their shape and texture better than green lentils), and diced walnuts makes the best replacement for ground meat. I love that the ingredients are wholesome and nutritious! Season that up with oregano, cumin, chipotle pepper, and loads of garlic, and youve got yourself a party.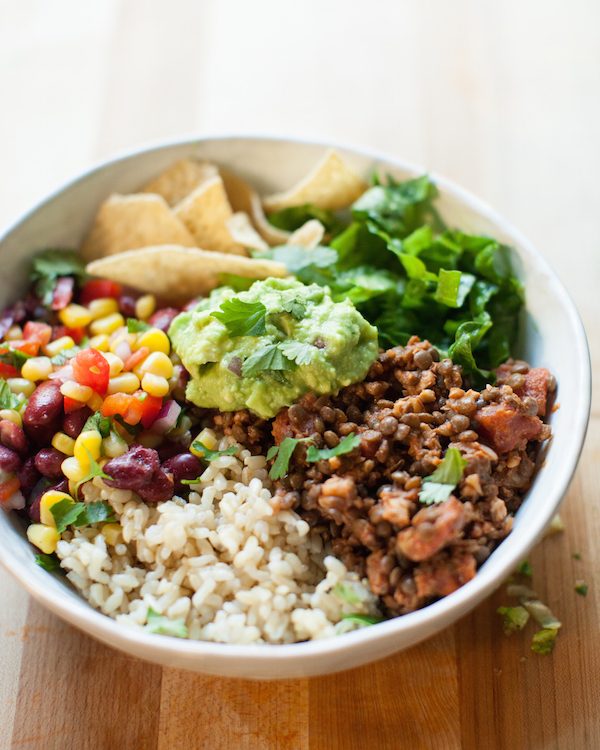 Best of all youll have plenty of leftovers so you can eat this vegan burrito bowl throughout the week. Its my very favorite meal prep recipe! The lentil walnut taco meat can also be used for tacos, burritos, or taco salad. The corn and bean salad is great in all of the above too. And the guacamole is good on pretty much anything!
Also check out my amazing meaty vegan nachos, and my cauliflower walnut taco meat!

Better than Chipotle Vegan Burrito Bowl
The bean salad, lentil walnut taco meat, rice, and dressing should all stay fresh for up to 7 days. If you plan on eating this throughout the week, you may need to make guacamole fresh since it only lasts a day, and is really best made fresh.
Ingredients
Taco Bowl (assembly measurements are per serving)
2 cups romaine, chopped
2 tbsp lime vinaigrette (recipe below)
cup cooked brown rice
cup lentil walnut taco meat (recipe below)
cup corn & bean salad (recipe below)
cup guacamole
handful of tortilla chips
fresh cilantro
Lime Vinaigrette
2 tbsp fresh lime juice, from about 1 lime
2 tbsp apple cider vinegar
1 tablespoon dijon mustard
2 teaspoons maple syrup or agave
teaspoon black pepper
teaspoon cumin powder or cumin seeds
cup extra virgin olive oil
Lentil Walnut Taco Meat
2 tbsp extra virgin olive oil
4 cloves garlic, minced
1 cup walnuts, chopped finely
2 cups cooked black lentils (or use green or french lentils. Dont use red lentils)
1 14-oz can diced tomatoes
-1 chipotle pepper, minced
2 tsp chipotle sauce (from the can of chipotle peppers)
1 tsp oregano
1 tsp cumin powder
1 tsp salt
Corn & Bean Salad
Black Bean Corn Salad
1 can red kidney beans or black beans, drained and rinsed
2 cups frozen or fresh corn, thawed or grilled or quick sauted if fresh
1 ripe tomato, diced
cup red onion, diced (optional)
cup fresh cilantro, chopped
teaspoon salt + more to taste
juice of 1 lime
Instructions
Taco Bowl
Place the romaine in your serving bowl, and toss with the salad dressing.
Add the other ingredients to the bowl, and garnish with fresh cilantro.
Lime Vinaigrette
Place the ingredients into a jar.
Tighten the lid and shake until emulsified.
Lentil Walnut Taco Meat
Warm oil in a skillet over medium heat.
Add the garlic, and saut for about 30 seconds or until fragrant and slightly golden. Be careful not to burn it.
Add the chopped lentils, and stir well. Toast for about 3 minutes, or until fragrant.
Add the lentils, tomatoes, chipotle pepper and sauce, oregano, cumin, and salt.
Stir well, and bring to a simmer. Cook for 10 minutes, then season to taste with salt if needed.
Black Bean Corn Salad
Place the ingredients into a mixing bowl and stir well. Season to taste with more salt if necessary.
The post Ultimate Vegan Burrito Bowl appeared first on Sweet Potato Soul by Jenn Claiborne.